The DOUGLAS Autograph Collection offers a perfect fusion of culture, craftsmanship, and connection right in the heart of downtown Vancouver for travelers of all ages, including pets.
Located at 39 Smithe Street, the DOUGLAS offers a perfect fusion of modernist elegance, artisanal and locally infused dining, and refined urbanism that set the stage for an unforgettable stay.
Getting to Douglas Autograph Collection Hotel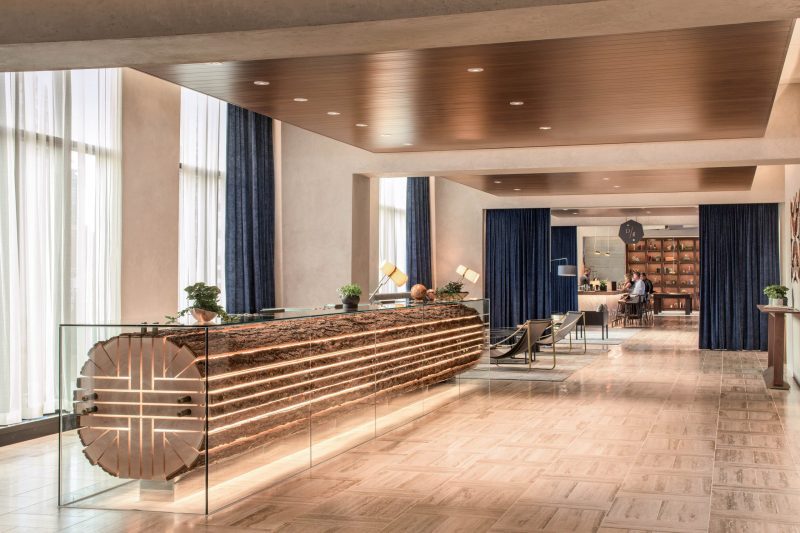 To get to the DOUGLAS Autograph Collection Hotel in Vancouver, you have many options for transportation:
Public Transportation
SkyTrain: if you're coming from Vancouver Airport (YVR), you can take the Canada Line SkyTrain towards Waterfront Station. Get off at Vancouver City Center Station.
Once you exit the station, it's a 10-minute walk to the hotel, which is located at 39 Smithe Street, Vancouver, BC V6B 0R3.
Private Transportation
1. Ride Sharing: Another option is to take a taxi or use a ride-sharing service like Uber or Lyft from Vancouver Airport to the Douglas Autograph Collection Hotel. The distance is 13 kilometers (8 miles). Depending on traffic conditions, it usually takes around 20–30 minutes.
2. Rental Car: If you prefer to rent a car, you can do so at Vancouver Airport. Drive to the hotel. Simply follow Grant McConachie Way and BC 99 N until you reach Pacific St/BC 7A W. From there, just look for signs leading to Downtown Vancouver. The hotel is conveniently located near BC Place Stadium.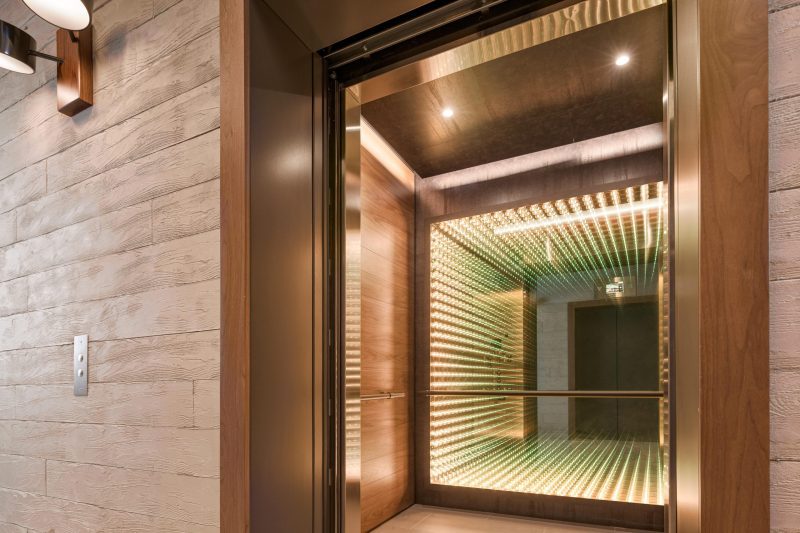 The DOUGLAS Autograph Collection Hotel is located around 13 kilometers (8 miles) away from Vancouver Airport (YVR) by road. The travel time by car usually ranges from 20 to 30 minutes, depending on the traffic conditions.
If you prefer to take the SkyTrain, it's approximately a 30-minute journey considering the time it takes to walk from the station.
Rooms & Suites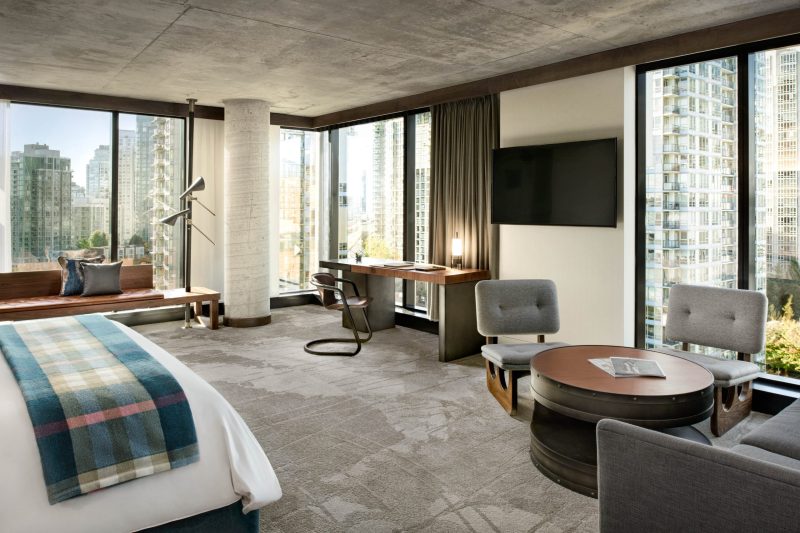 Luxurious Accommodations at Apartment 108
The DOUGLAS Autograph Collection Hotel is synonymous with redefining luxury. Apartment 108, in particular, embodies the pinnacle of opulence. This luxurious living space boasts modernist elegance, characterized by clean lines and opulent textures that create the perfect backdrop for a sumptuous stay. Apartment 108 is more than just a room; it's an experience in itself.
THE LOFT: Where Art Meets Luxury
For those with a passion for art and luxury, THE LOFT at The DOUGLAS is a must-visit space. It's a bright, fresh, and playful environment purposefully designed to showcase bold artwork. Minimalist aesthetics blend seamlessly with artistic expression, creating a space that delights art enthusiasts. Here, every corner is a canvas, and every moment is a celebration of creativity.
THE DEN: A Cozy Retreat with Nostalgia
Seeking a cozy and comfortable retreat with a touch of nostalgia? Look no further than THE DEN at the DOUGLAS. With its rich tones and stylish accents, this space strikes a balance between youthful energy and a deep appreciation for the past. It's the perfect spot to unwind, read a book, or simply soak in the ambiance of this unique retreat within the hotel.
Dining at the DOUGLAS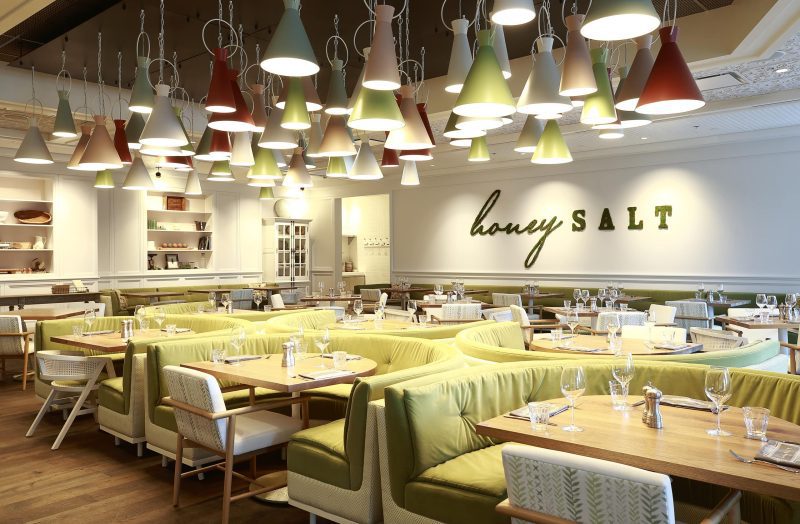 Situated in the vibrant cultural district of Parq Vancouver, The DOUGLAS offers unrivaled access to eight exquisite dining establishments curated by culinary talents like Elizabeth Blau and chef Kim Canteenwalla.
Whether you're savoring handcrafted cocktails at the rooftop bar or indulging in a sophisticated steak and seafood feast at the chic restaurant, dining at The DOUGLAS is a luxurious experience in itself. The culinary offerings here are a testament to the hotel's commitment to providing the finest in hospitality.
The dining options include:
Steakhouse | The Victor
This restaurant offers a classic steak and seafood experience, specializing in surf and turf dishes, fresh-caught Pacific Northwest seafood, specialty steaks, and a sushi and raw bar.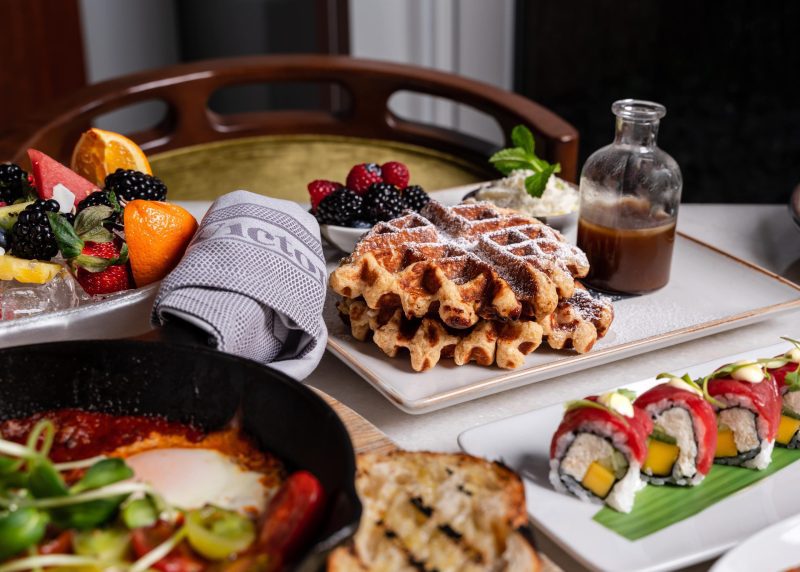 Farm-to-Table & Canadian Cuisine | Honey Salt
Dedicated to celebrating the best of downtown Vancouver with a dynamic, seasonally inspired menu that showcases local ingredients, emphasizing farm-to-table offerings.
Comfort Food & Casual Dining | BC Kitchen
Known for creative comfort foods, including gourmet pizzas, burgers, and Mexican street fare, all served in a fun and approachable ambiance.
Lotus Whiskey & Tea Lounge
Offers high-quality teas during the day and impressive whiskeys in the evening, providing an elegant space to enjoy internationally brewed loose-leaf teas.
D/6 Lounge
A rooftop bar with stunning views, serving craft beer, wine, and cocktails.
The Premier Rooftop Lounge
A hip and exclusive nightlife experience perched above the city.
Passione Gelato
Known for delicious gelato with inventive flavors.
Le Doux Ciel
A coffee house and cafe-style eatery offering teas, desserts, pastries, and small refreshments.
Centre Bar
A vibrant downtown Vancouver gathering spot with distinctive cocktails, ample draft beers, and top-tier spirits, conveniently located with access to BC Place and Rogers Arena.
Spa by JW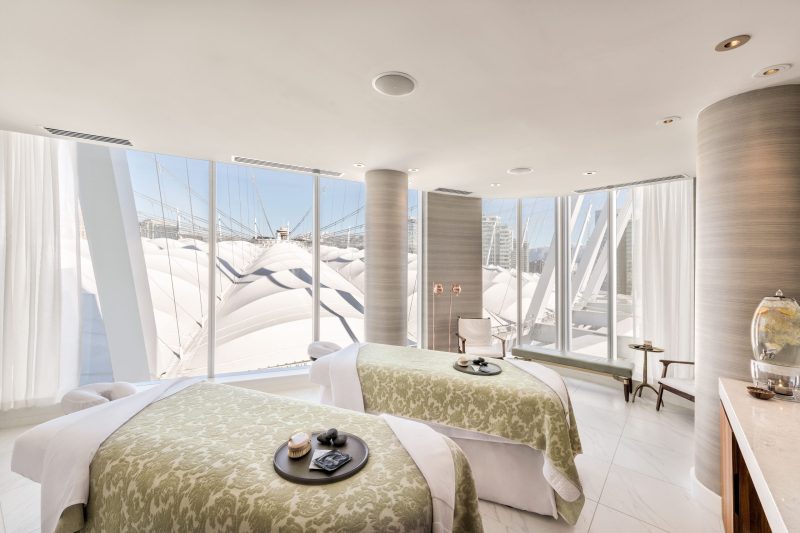 Indulge in Luxurious Spa Services
At Spa by JW, located within the DOUGLAS, your well-being is a top priority. This luxury day spa offers tailored spa services that cater to your unique needs, whether you seek calmness, renewal, balance, or nourishment. The spa features five well-appointed treatment rooms, each designed to transport you to a state of bliss. For couples seeking a shared experience, the hotel's couple's room provides panoramic views of BC Place and the breathtaking False Creek.
Following your treatment, you can also explore the additional wellness facilities at Spa by JW, including a fitness center, steam rooms, a manicure and pedicure bar, and the Aqua Lounge—an outdoor pavilion featuring a relaxing hydrotherapy tub. This holistic approach to rejuvenation ensures that your stay at The DOUGLAS is nothing short of transformative.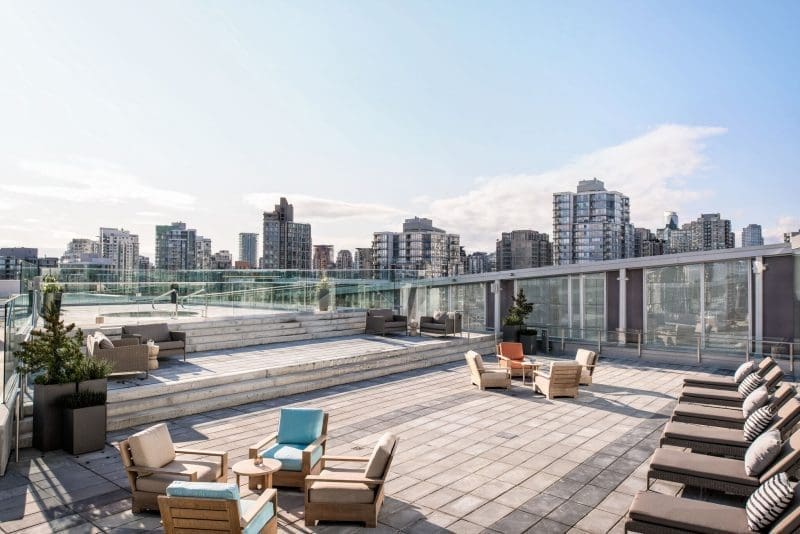 Some of the most prominent spa services include:
Elemental Balancing offers a range of treatments to rejuvenate and restore your body and mind. The "Spirit of the Mountains Body Treatment" hydrates and soothes the skin, inspired by Vancouver's Lions Mountains.

 

"The Whole You" includes a customized massage and facial for optimal skincare. They offer Registered Massage Therapy (RMT) sessions, including therapeutic and maternity massages, with receipts for medical reimbursement.

 

"Beyond Calm" provides relaxation and stress relief, while "Find Your Balance" focuses on aligning the physical structure and energy balancing.

 

"Reset" offers a deep pressure massage for muscle rejuvenation and many more.
Nearby Points of Interest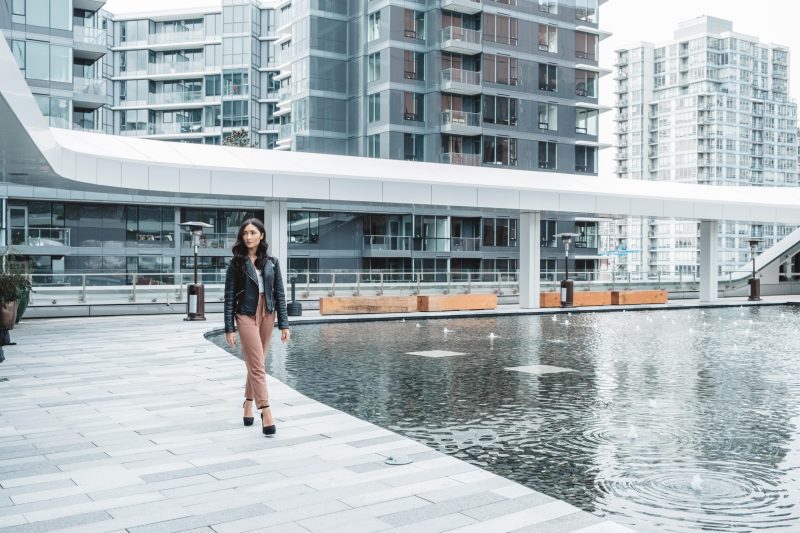 While The DOUGLAS offers a world of luxury within its walls, its prime location in downtown Vancouver means you're also in close proximity to some of the city's most iconic attractions:
English Bay Beach
Enjoy swimming and sunset views against the backdrop of Vancouver's seawall and the vast expanse of the Pacific Ocean.
Stanley Park
Explore a 1,001-acre park surrounded by Vancouver Harbour and English Bay, offering a natural escape in the heart of the city.
Chinatown
Immerse yourself in the rich history of this neighborhood, home to the Dr. Sun Yat-Sen Classical Chinese Garden, the Vancouver Chinatown Millennium Gate, and historic buildings.
Gastown
Discover Vancouver's oldest neighborhood, known for its historic charm, art galleries, fashionable stores, and restaurants.
Olympic Village
Visit this vibrant area originally built for the 2010 Vancouver Olympic Games, which now houses some of the city's best craft breweries.
Things to See and Do Nearby
Seawall
Enjoy a run or leisurely stroll along Vancouver's seawall, taking in breathtaking water views and the fresh West Coast breeze.
Grouse Mountain
Experience the best of British Columbia with breathtaking views. Hike the Grouse Grind or partake in various adventurous activities.
Capilano Suspension Bridge
Traverse a thrilling suspension bridge 230 feet above a river in the west coast rainforest. Perfect for families.
Elevated Gaming
If you're a gaming enthusiast, explore a 72,000 sq-ft facility with cutting-edge tech and private salons for discreet gaming.
Kids Market at Granville Island
Enjoy indoor and outdoor play in a 100-year-old factory housing over 25 shops for toys, games, and more.
The Aqua Bus and False Creek Ferries
Discover Vancouver's urban waters via passenger ferry services, offering scenic cruises through the city.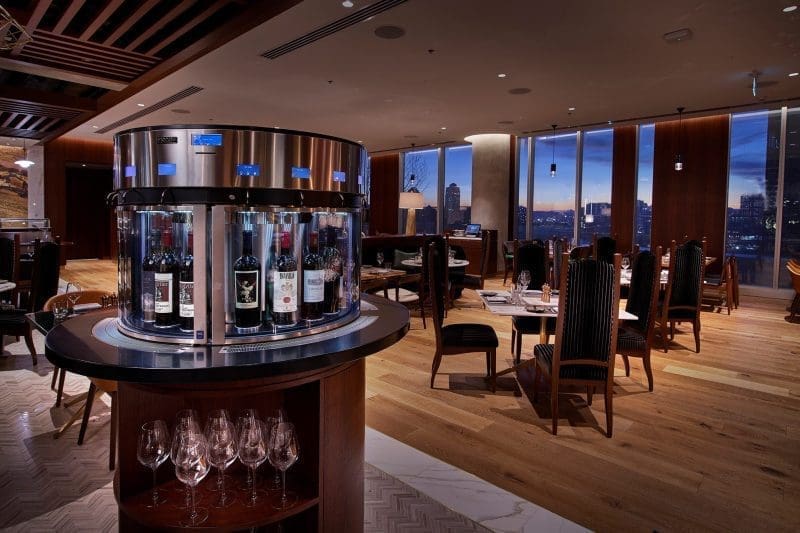 From its opulent accommodations to its commitment to holistic well-being, this hotel is a sanctuary of elegance and indulgence. Combined with its prime location near some of Vancouver's most iconic attractions, a stay at the DOUGLAS promises a truly memorable and enriching experience.
Click here for Douglas Hotel's availability, current offers, stay packages, and more.