Planning your first or next adventure to eastern Africa? Discover six lodges to know across Eastern Africa including in Rwanda, Uganda and Tanzania. These camps and lodges have established many different sustainable safari practices including the employment of organic farming, unique composting practices, and the banning of single-use plastics.
Wilderness Bisate
Rwanda 
With its dramatic views of the Bisoke and Karisimbi volcano peaks, and opulent Forest Villas warmed by a central fireplace, Wilderness Bisate Lodge is a model of sustainable ecotourism. With just six villas, Wilderness Bisate was Rwanda's first genuinely luxurious and eco-sensitive safari lodge, centered on Africa's most immersive wild primate experience.
Guests at this sustainable eastern Africa safari lodge have the opportunity to reconnect with nature on the walking trails around Bisate and engage with the local people. Guests may also seize the direct gaze of a silverback gorilla! 
In addition to reforesting the 103 acre-area with over 7,000 indigenous trees, Wilderness' Bisate Lodge also keeps a light ecological footprint through sustainable food and waste practices.
For example, fresh supplies for the kitchen are picked straight from the camp's own organic vegetable gardens, where companion planting is practiced, as well as succession planting. This is to ensure the soil is continually renewed and enriched.
Kyambura 
Lodge
Uganda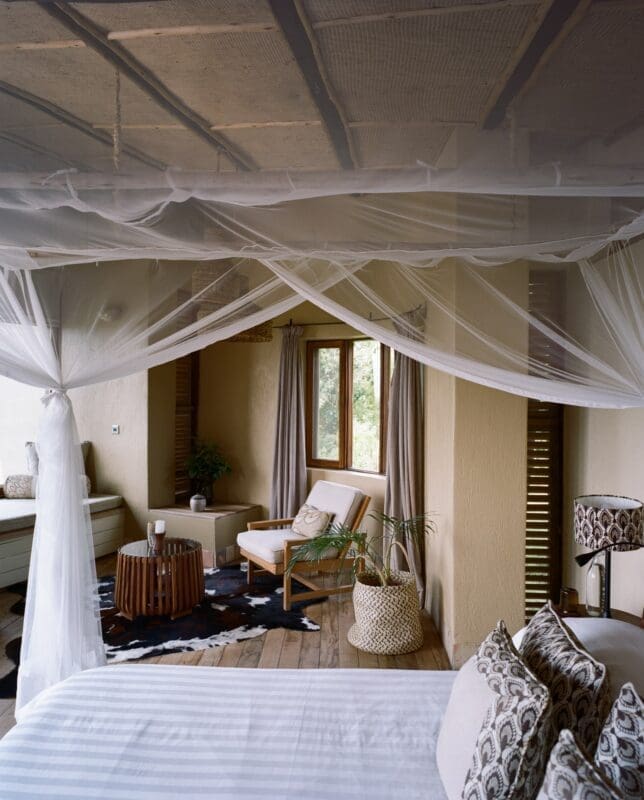 Kyambura Lodge is a popular destination to trek the Forgotten Chimpanzees of the Kyambura Gorge, a sunken forest where a family of 28 chimpanzees sadly find themselves isolated from other forests due to land degradation and habitat loss to encroaching villages. Guests can contribute to the reforestation of 3km of land to provide protection for these chimpanzees. The 3km of land is secured to serve as a buffer along the northern part of the Kymabure Gorge.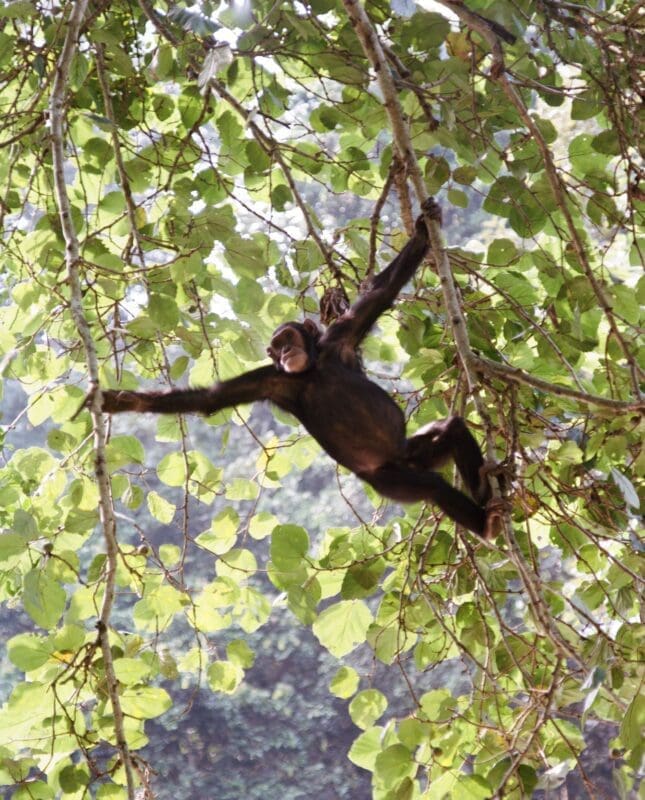 At Kyambura Lodge guests can also visit the Kyambura Women's Coffee Cooperative, a community-based initiative designed to provide vocational training to women. Members of the cooperative commit to growing the coffee organically, without the use of pesticides or chemical fertilizers.
The coffee is sold to Volcanoes Safaris and served in all four luxury lodges. Coffee tours are also a popular attraction for Volcanoes Safaris guests, who can see how African coffees are harvested and processed before sampling the 'best cup of coffee in Uganda'.
The coffee plantation also acts as a buffer zone between the protected area of the gorge and local farmlands. This reduces animal and human conflict.
Lemala Wildwaters Lodge
Uganda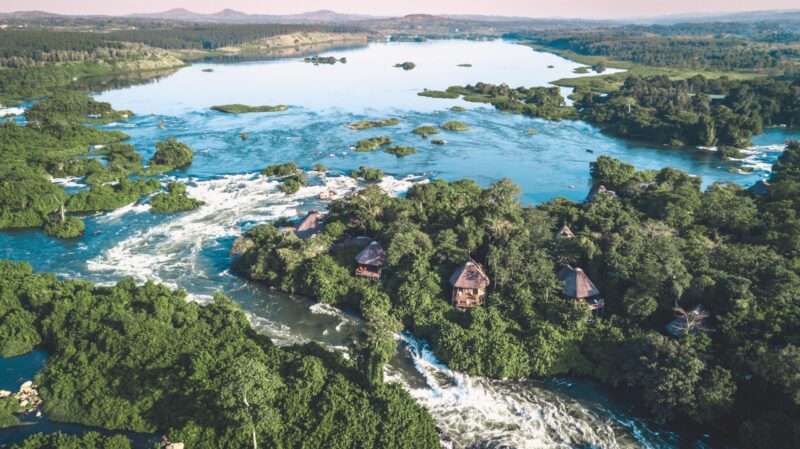 Lemala Wildwaters Lodge sits on Uganda's iconic Kalangala private island, in a 16-acre rainforest reserve on the Nile River in Uganda. This 10 suite eco-resort practices the strictest of guidelines in conservation, education, and empowerment. The lodge operates 100% off the grid with zero emissions.
Lemala Wildwaters Lodge is both a tranquil rainforest retreat and an adventure lover's paradise. The resort boasts a plethora of activities from white water rafting to horseback riding.
This sustainable eastern Africa safari lodge works with the local fishermen to give them access to responsibly fish anywhere on the river from the island.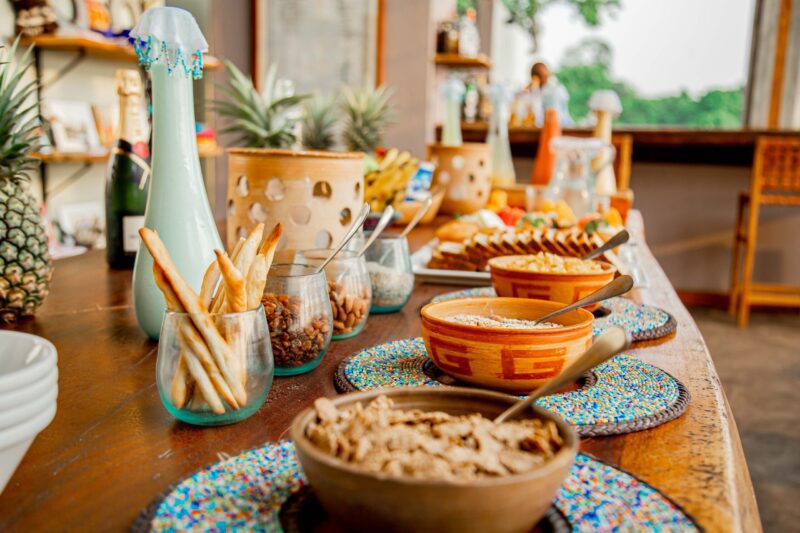 To ensure fish stocks remain healthy, Wildwaters Lodge only buys fish bigger than 800 grams. For more unique produce, Wildwaters provides the locals with a seed bank, where they can grow their own produce, which the lodge buys back for guest consumption back at the lodge.
This is the ultimate location to enjoy one of the last wild areas on the Nile and is the perfect extension to an East African safari.
Wilderness

Magashi Camp
Rwanda
Wilderness Magashi Camp is situated in the diverse north-eastern corner of Akagera National Park, overlooking beautiful Lake Rwanyakazinga. Akagera comprises some of the most scenic savannah in East Africa – open plains, woodlands, lakes, swamp, and grassy low mountains. The region is also home to one of Africa's highest hippo densities, some very large crocodiles as well as the rare sitatunga, and more than 520 bird species. 
Wilderness Magashi boasts six spacious and airy tents that offer uninterrupted views over Lake Rwanyakazinga. The camp's main area comprises a luxurious lounge, dining and bar area, pool, and expansive viewing deck with a convivial fire pit.
The architecture and interiors pay homage to traditional Rwandan culture. Wilderness' purpose in this area is to help conserve Rwanda's last protected savannah ecosystem. This also includes endangered species like the black rhino and the rare and elusive shoebill.
Mosetlha Bush Camp and Eco 
Lodge
South Africa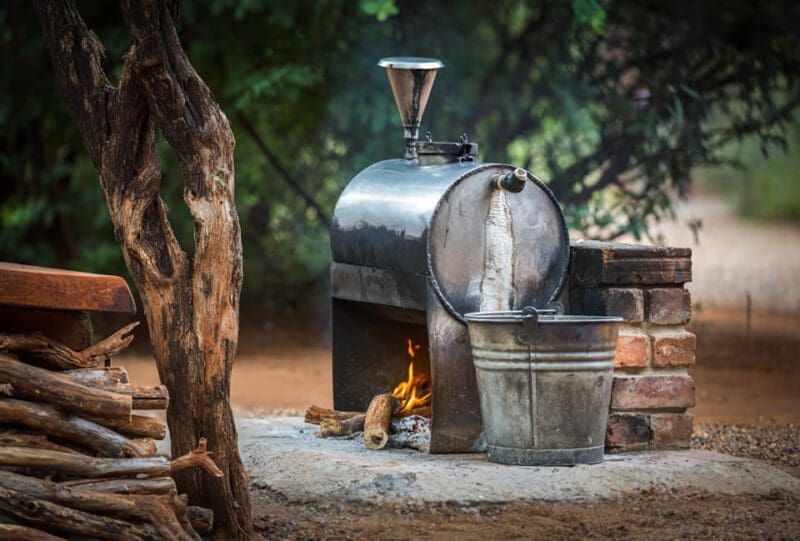 Mosetlha Bush Camp and Eco Lodge in Madikwe Game Reserve is located in the easternmost region of South Africa.  The camp has an incredibly light footprint (ticking all 10 boxes to be an official eco-lodge) and is one of very few luxury camps that are still purposely off grid.
In addition, the lodge brings in fresh water daily, uses lanterns by night, and a donkey boiler to heat water for the shower.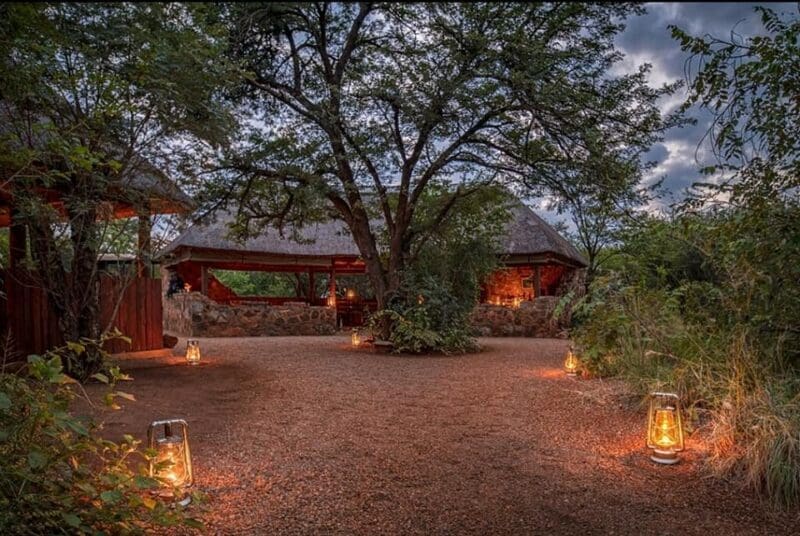 Hearty, delicious meals are prepared from scratch using free-range, mostly organic ingredients. Meals are prepared by chefs sourced from the local community. Guests love trying traditional dishes. Dishes include Bobotie (curried mince dish), potjiekos (stew slow cooked in a cauldron-type iron pot over hot coals), and a braai (Barbeque).
For dessert at this renowned bush camp, guests will try traditional South African dishes like Malva pudding, milk tart (custard pie), and peppermint tart.
Segera Camp
Kenya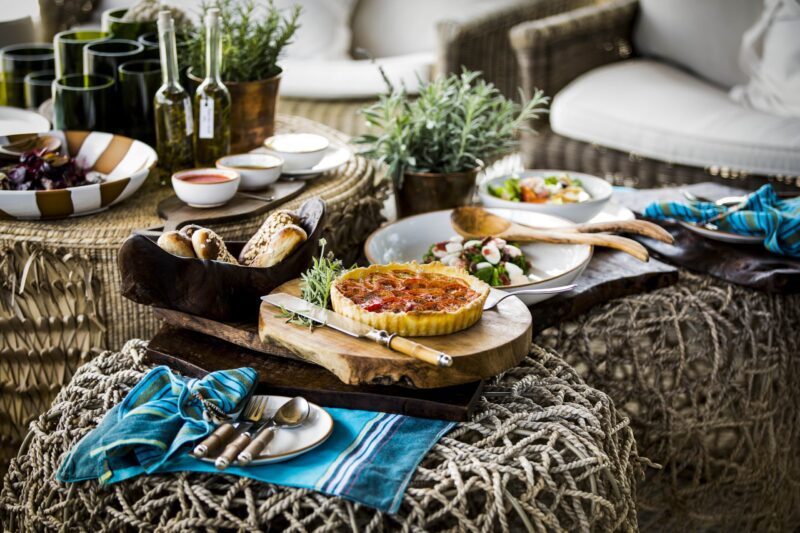 Segera Camp in eastern Africa is inspired by a balance of 4 core concepts known as the 4Cs: conservation, community, culture and commerce. This ethos has made the retreat a tangible example of successful multiple land-use efforts, and proof that luxury can be sustainable. 
Guests directly help support the lodge's 4C projects from solar farms and beading co-operatives to the female anti-poaching rangers academy.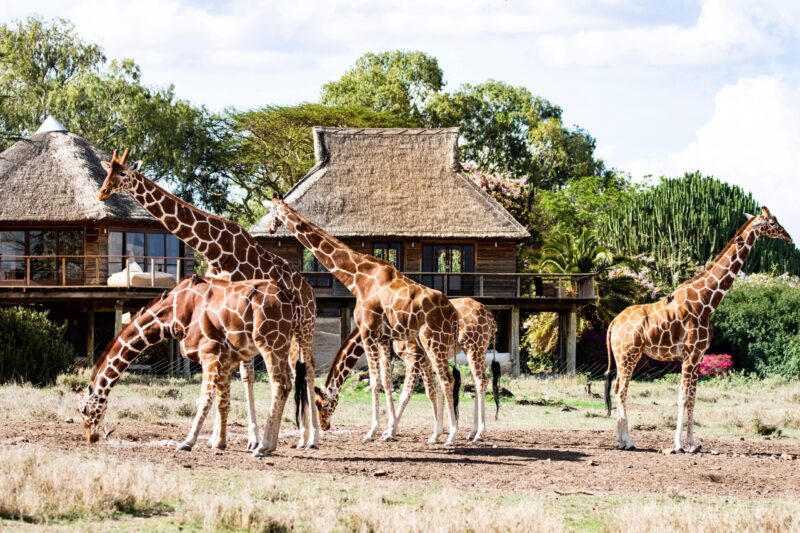 Every aspect of the retreat has a light footprint. Every room is solar powered, grey water is captured and reused, and waste is recycled or composted in their organic gardens. 
Lastly, the camp has an inhouse water bottling system for distilling still and sparkling water.