You can't take a trip to the Windy City without indulging in a Chicago-style hot dog or deep-dish pizza. From street food to edible helium balloons, this list compiles Chicago's finest decadents. 
The Chicago-Style Hot Dog
Who: Gene & Jude's
Why: C'mon do you even have to ask? A trip to the city without tasting Chicago's finest, seems like a waste to me. The infamous dog is said to be "dragged through the garden," due to the amount of toppings on its all-beef frankfurter on a poppy seed bun. Now, here's the twist: take all that goodness and throw a heap of fries on top. The iconic Gene & Jude's offers the "Depression Dog," a twist on the traditional version, earning the dog to be raved about from any Chicagoan you question. 
Deep Dish Pizza
Who: Labriola Ristorante & Cafe or Lou Malnati's
Why: Deep dish pizza pizza is another iconic staple in the Chicago bucket list. And, let me give you a bit of a local's advice: a fork and knife are required. Flakey, buttery dough large enough to form a bowl contained with yummy toppings, sauce, and gooey cheese can get any visitor and native alike drooling. Stop by Labriola's off Michigan Ave., or Lou Malnati's for a classic choice, sure not to disappoint. 
Helium Balloons
Who: Alinea
Why: Yep, you heard that right—balloons you can eat. If you have all the right connections, you may be able to steal a seat at this elite 3-star Michelin restaurant. Dubbed the "best restaurant in America," Chef Grant Achatz redesigns what can be considered edible. Your food becomes a piece of art (almost) too pretty to dig into. 
Surprise Cuisine
Who: Oriole
Why: Another Michelin restaurant, Oriole takes the cake for the element of surprise. Locals suggest that visitors not look at the menu beforehand. Each meal is served as a complex, flavorful, and interesting dish. 
Hawaiian Rolls
Who: Bellamore
Why: Ever heard of the reputation of The Cheesecake Factory's bread? Well, the Hawaiin rolls served at the beginning of the meal are sure to hook you, followed by Bellamore's selection of artistic American food.
Salty & Sweet Dishes
Who: Blackbird
Why: Mixing contrasting flavors, Blackbird, delivers a surprise with each meal. For example, order the "Feta Yogurt," listed as only cucumber and dill, and be wowed with a cool and refreshing dill sorbet. 
Crème Brûlée
Who: Aba
Why: Rich custard—topped with a decadent layer of caramelized sugar—in the form of a pie. Sorry apple, and pumpkin, you've got a run for your money. 
Champagne of Cocktails
Who: Good Measure
Why: The signature drink of choice at Chicago's Good Measure, features a twist on the classic cocktail choices. The River North dive bar offers chilled Japanese whiskey and super carbonated soda (and with a few extra tricks) you're served a cocktail to die for. 
Apple Martini
Who: Booth One
Why: Before you shake your head and reminisce on your younger days (which consisted of plenty of these), you have to try this martini out. An older, classier version, consisting of vodka, apple brandy, green-apple liqueur, lemon juice, and demerara syrup, is sure to satisfy your taste buds. 
Parsnip Cake
Who: Good Fortune
Why: An interesting blend of flavors, pastry chef Chelsea Tripp combines sweet and savory in this dessert featuring celery root. Enjoy a scoop of honey ice cream on the side. 
Number 12: Mexican Paella
Who: Bar Sotano
Why: Sure, Texas and Arizona have got Mexican food down to a science, however, chef Rishi Manoj Kumar's paella pairs perfectly with a Tecaté or cocktail of your choice. Made with rice, chicken thighs, shrimp, chicharrones, avocado, tomatoes and peas.
Artisan Pasta
Who: Monteverde
Why: Former Top Chef contestant and chef Sarah Grueneberg and pasta makers at Chicago's Monteverde, crafts beautiful pasta dishes exclusive to each night. Finish the meal off with their apple walnut sundae, featuring graham crackers, blondies, salted caramel, and toasted marshmallows.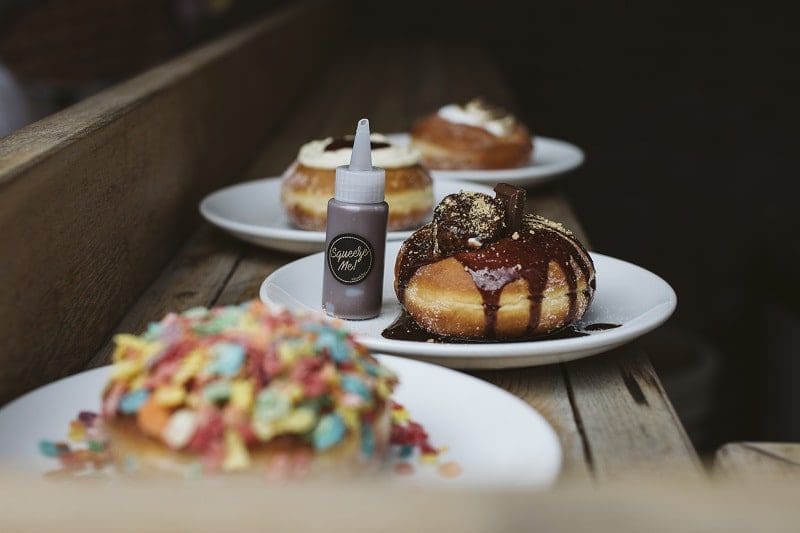 Doughnuts
Who: Stan's Doughnuts or BomboBar
Why: Other than hotdogs and deep-dish, Chicago knows how to do another thing pretty darn well: doughnuts. Stan's offers locations all across the city, stop in for any doughnuts imaginable. On the go? BomboBar, attached to another city favorite, Bar Siena, offers the Italian bomboloni, loaded with caramel, chocolate, or other delicious fillings. 
Sushi
Who: Sushi-san
Why: Order the Mr. Maguro if you're a tuna fanatic. A plate contains 10-pieces of "sea-kissed, ruby-red cuts of tuna loin, Chutoro and Otoro, plus one roll." As a dedicated sushi lover, I can confidently say this may be the best tuna rolls I have come by.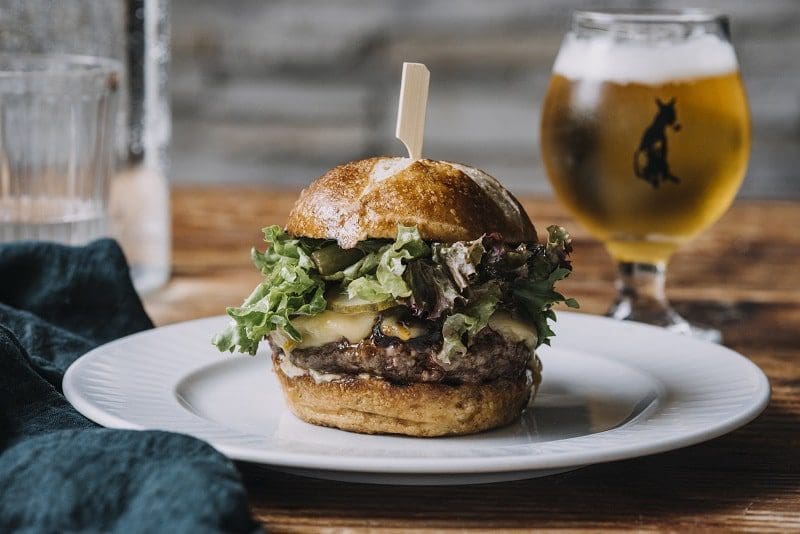 Burger
Who: Table, Donkey & Stick
Why: This burger is not in your classic American grill out form, and it's definitely not for those who are not willing to be adventurous. Table, Donkey & Stick pushes the limits of what a burger can do. After ordering any off the menu, your taste buds will be pleasantly surprised with the burst of unusual and savory flavors. 
Western European Wines
Who: Income Tax
Why: A beautiful selection by the bottle or glass, Income Tax offers some of the most incredible wines. These are characterized by intense flavors that offer the most excellent finish. 
Pig Face
Who: Girl & the Goat
Why: I know this sounds scary, but trust me. A Chicagoan favorite, the Girl & the Goat, is an iconic restaurant that gets its traffic from locals and visitors alike. Chef Stephanie Izard, from Top Chef, hits the head on the nail with her masterful dishes. The wood oven-roasted pig face is an adventurous and tasty dish that will surprise you.
P.S., order two of the Pan Fried Shishito Pepper bowls, trust me, you'll go through them faster than you think.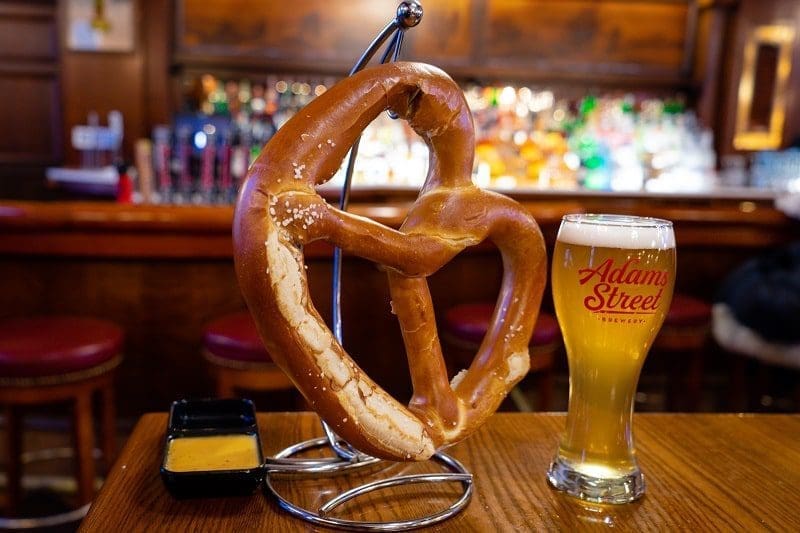 German Pretzels
Who: The Berghoff
Why: In Chicago Food Bucket List Order a pint and grab a seat at Chicago's most famous German restaurant, The Berghoff. Indulge in the Bavarian pretzels (perfect addition to your cold beer), or the incredible spätzle. 
Seafood
Who: The Signature Room at the 95th
Why: The views from the 95th are some of the most beautiful in Chicago. Take a date here if you're trying to impress. Order the twin lobster tails or a seafood tower for a perfect complement to their extensive cocktail list.