Long Island is one of the most popular tourist destinations for many reasons. Now, traveling to Long Island has never been easier. With direct connections via both Penn Station and Grand Central via train, in addition to the newly revamped La Guardia Airport, there are many ways to arrive to and explore this stunning New York region.
While Long Island is a popular summertime destination, the rest of the year is prime time to explore its many attractions. From world-class golf courses to historic Gold Coast mansions, there's something for everyone here. Whether you're looking for a luxurious getaway or a family-friendly vacation spot, plenty of hotels across Long Island will suit your needs. Below we highlight the top hotels on Long Island.
The Baker House 1650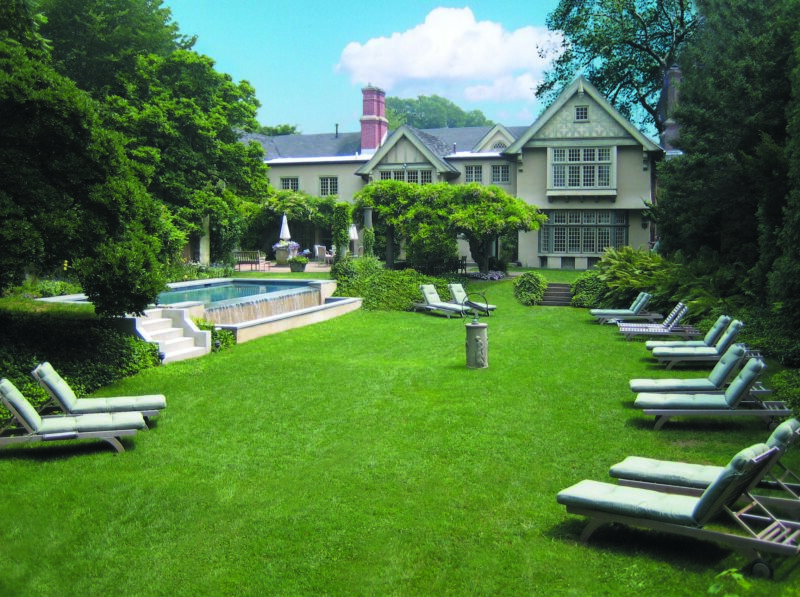 The Baker House 1650 is a luxury bed and breakfast in East Hampton. It's an elegant property on the National Register of Historic Places, with guest rooms decorated with antiques and period pieces.
Each room at The Baker House 1650 has its own bathroom and comes with a breakfast basket filled with goodies from local shops or a homemade breakfast in their dining room. The facility boasts an award-winning spa experience exclusively for guests.
Nearby restaurants include East Hampton Grill, Bostwick's Chowder House, and Nick and Toni's. 
The Quogue Club
The Quogue Club is a sophisticated hotel in Southampton. The hotel offers easy access to the Atlantic Ocean and has access to private tennis courts. Nearby activities include fishing, boating, surfing, biking, golf, tennis, paddle boarding, kayaking, shopping, dining, and so much more. The Quogue Club is considered family-friendly, with many nearby family-friendly activities and dining experiences. Amenities also include a child-friendly lounge!
Nearby restaurants include Saaz Indian Cuisine, Sant Ambroeus Italian Restaurant, and La Hacienda Mexican Restaurant. 
Aqua Beach Hotel
Aqua Beach Hotel is a luxury boutique hotel in Aquebogue on the North Fork. It features modern design and décor with outdoor terraces overlooking the Peconic Bay with direct beach access. Take advantage of the in-room massage options, s'mores under the stars, personalized wine tours, complimentary bicycles, paddleboards, sauna and more.
Nearby restaurants to Aqua Beach Hotel include Barrow Food House and Jerry and the Mermaid.
Marram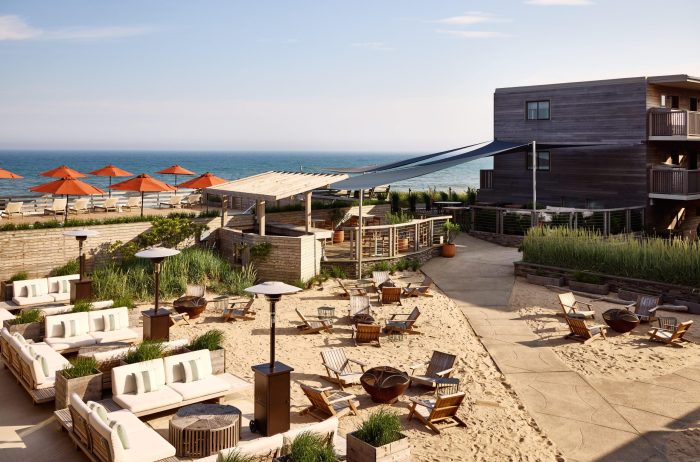 Marram is an eco-friendly boutique hotel located in Montauk, New York. The hotel offers several different complimentary wellness experiences and activities including daily yoga, morning meditation, complimentary cruiser bikes, guided nature walks, stargazing, fireside chats, and more.
This ninety-six-room boutique hotel offers an authentic oceanfront experience. Marram offers an outdoor seasonal counter-service cafe with plenty of lounge space to relax and spend time with new friends. Cap off the night with s'mores by the firepits with great company. 
Nearby restaurants include Harvest on Fort Pond, Hooked Seafood, and Gosman's Dock.
Gurney's Montauk Resort & Seawater Spa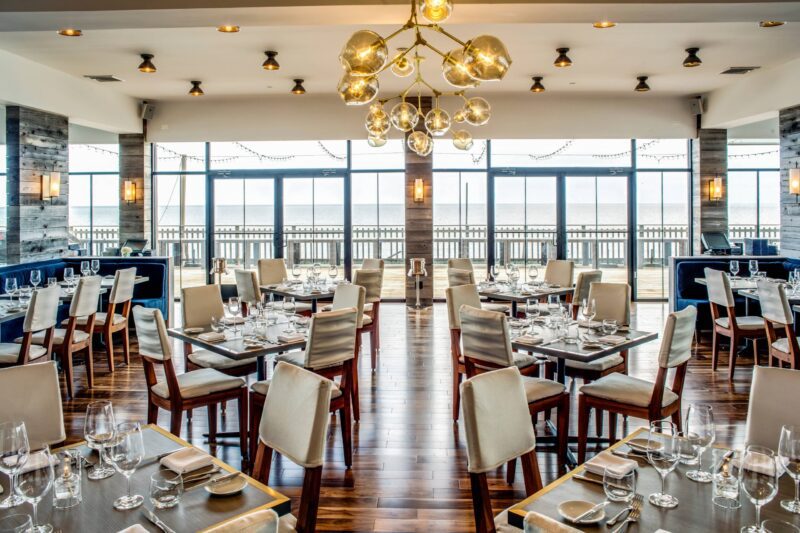 Gurney's Montauk Resort & Seawater Spa is a luxury oceanfront resort with an award-winning spa and onsite restaurants. The hotel offers a variety of rooms and suites, including oceanfront rooms and suites with private balconies overlooking the ocean. The resort also has an indoor saltwater pool, a fitness center, and several pop-up shops and wellness offerings throughout the summer season.
Guests can enjoy the spa services at Gurney's Seawater Spa, complimentary cruiser bikes, or the relaxing atmosphere at the serenity pool. Located directly on the beach with many onsite eateries, this hotel is perfect for couples and families alike. Gurney's is very family friendly and offers a Kid's Club and wide variety of activities for children throughout the day.
The Camp Gurney's kids club is offered in the summer with activities like crafting, pool time, and movie nights, all open to children of resort guests.
Nearby hotels include Harvest on Fort Pond, Hooked Seafood, and Westlake Fish House.
Bellport Inn
The Bellport Inn offers accommodations near the Great South Bay. Bellport Inn is a historic property dating back to 1889 located right in the heart of Bellport Village. There are individual buildings with different layouts accommodating different numbers of persons. Guests of all ages can enjoy complimentary treats, outdoor showers, fire pits, local wine and spirits, and much more.
Dogs are allowed in designated rooms, requiring a pet deposit, and must be under 20 pounds.
Nearby restaurants include Milano Pizza, Bellport Country Club, and Porters on the Lane.
The Reform Club
The Reform Club is a boutique luxury hotel located in Amagansett and is considered to be one of the top hotels on Long Island. The hotel features seven suites, three cottages, and 21 house. Guest rooms include a mix of contemporary artwork, oil paintings, photography, sculpture and abstract works. These works were selected from the likes of MoMA recognized artist Dan Rizzie, British artist Humphrey Ocean. and Judiet Reigl.
The Reform Club houses a remarkable collection of contemporary art, oil paintings, photography, sculpture, and abstract work. Each cottage and each suite has its own unique masterpieces. This creates a unique atmosphere that harmoniously blends with nature and architectural elements.
Nearby restaurants include Coche Comedor, Organic Krush, and Wölffer Kitchen. 
Oheka Castle
Set in the heart of Long Island in Huntington, Oheka Castle is widely recognized as one of the most extravagant and iconic residences in America. Oheka Castle was constructed in the early 20th century and has since become a luxurious hotel, event venue, and popular tourist destination.
As one of the top hotels on Long Island, the hotel nestled within the historic Oheka Castle offers guests a chance to stay in one of its many suites or rooms, each one decorated in different styles and varying in size. Other features include a fitness center, spa services, and 24-hour room service.
Oheka Castle is a majestic location for weddings and other elegant events. It is one of the most prestigious wedding venues in the world.
Nearby restaurants include OHK Bar & Restaurant, The Shed Restaurant, and Prime.
The Vanderbilt Hotel Suites
The Vanderbilt Hotel Suites is Long Island's first luxury rental apartment building and hotel that is just 40 minutes from New York City and close to the center of the vibrant village of Westbury. The Vanderbilt is considered to be one of the best hotels on Long Island. The hotel originally opened in 2018.
Guests may enjoy the hotel's private courtyard, outdoor swimming pool, grab café, fitness center, and yoga room. Complimentary onsite parking is available for guests.
The Vanderbilt Hotel Suites is also located 18 miles from JFK airport, and 1.5 miles from the Long Island Railroad Station. The Westbury Shopping Plaza is also just a few minutes' walks away.
Nearby restaurants include Juniper at The Vanderbilt and The Polo Lounge. 
Viana Hotel & Spa
The Viana Hotel & Spa offers a 24-hour front desk, an outdoor pool, and free WiFi access throughout the property. This is a Wyndham Hotel property located in Westbury and is rated as one of the top hotels on Long Island.
Viana Hotel & Spa is known for their full-service spa, onsite restaurant named Marco Polo's Restaurant & Bar, and as a meeting or luxury event venue. Viana Hotel & Spa is family-friendly and pet-friendly.
Nearby restaurants include the Cafe Baci and Casa di Fratelli, and El Mercadito.