It's going to be fall in just a few months, and America's favorite season brings with it splendid colors, beautiful weather, pumpkin goodness and the best for the last, Halloween!
One of the best things to do during fall is leaf peeping or hunting for the perfect fall foliage. New York fall foliage is one of the best with an array of colors, which attracts many fall admirers during autumn. 
Whether you're from NYC or just visiting, we have listed some of the best destinations for fall foliage in and around New York.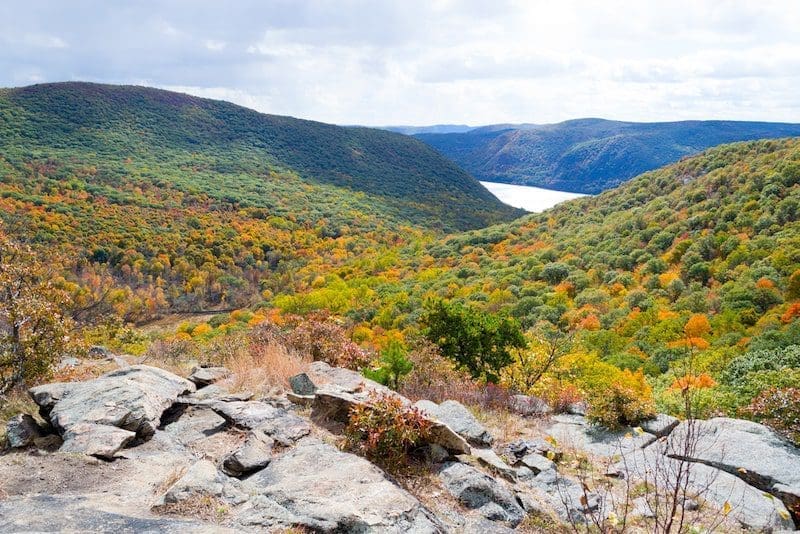 Poconos
Alright, we know this one is not in New York but it is such a gorgeous place so close that it had to make the list. 
The Poconos is an all year destination  but when it comes to fall no other place shines like the Poconos Mountains, with hills covered with expansive forests that light up with all the Fall colors and are only a stone's throw away from New York city. 
There are plenty of exciting ways to explore the Poconos Fall Foliage, you can take a scenic drive through Route 507, Route 402, and Route 209. 
You can also hike through the scenic woodlands in Tobyhanna, Honesdale, Lake Wallenpaupack and state parks like Hickory Run State Park, and Promised Land State Park. 
A  relaxing ride on a kayak or a canoe along Delaware Water Gap is another excellent way to take in the fall colors of the Poconos. You can also enjoy the fall foliage through a  train ride on the Lehigh Gorge Scenic Railway which runs through the Lehigh valley. 
Peak foliage
Early November
Fall trees
White Oak, Red Maple and Shagbark Hickory
Coldspring
Coldspring is a beautiful small town in New York that is popular among leaf peepers and fall foliage enthusiasts, and is easily accessible by train and every year hosts a good number of tourists who want to experience the best fall foliage in New York with fewer crowds. 
The gazebo offers one of the most stunning views and is the most popular point among tourists. If you are up for a hike you can enjoy the majestic forests much more up close as you take on the Bull Hill and Breakneck Ridge hikes. 
If you plan on hiking make sure to carry the necessary gear and plan your time accordingly. You can also enjoy the foliage along the Hudson River on a boat tour. These narrated tours start from Manhattan and New Jersey.
Fall Trees
Red Oak
Red Maple 
Peak foliage
Late October and early November
Catskills
The Catskills fall foliage is without a doubt one of the best in the country, when the fall arrives and the verdant green hills are long gone and shades of bright red, orange and golden yellow have taken their place, and are the quickest and easiest place to reach from New York city . 
The Catskills offers a variety of trendy restaurants, fall festivals and events to go along with the magical scenery. You can explore the fall foliage through a range of different hikes which vary from beginner friendly and challenging ones. 
If hiking is not your jam, you can enjoy spotting the foliage as you drive along the splendid roads like Mountain Clove Scenic Byway and Catskill Mountains Scenic Byway which guarantee  paintings like vistas everywhere. 
You can also board the Catskills Mountain Railroad for a unique and relaxing leaf peeping experience as you bask on the Catskills fall foliage. To add a dash of thrill and adventure to your leaf peeping  day try the zipline from Hunter mountain 
Peak foliage
Second and third weeks of October
Fall trees
Red Oak, Chestnut Oak and Red Maple and Birch
Adirondacks Mountains
The Adirondacks span over six million acres and when fall sets in, colors of burgundy, bronze, red and yellow run wild covering the mountainsides. You can summit the Indian head, a relatively easy hike for an overhead view of fiery forest. For an aerial view of the region take a gondola or drive to Whiteface Mountain. 
Enjoy the Adirondack fall foliage as you paddle along the kayaking destinations like  Lake George, Raquette Lake, Long Lake, or Lake Placid. If you're particularly feeling lazy, take a ride on the Adirondacks scenic railway, and take in the fall foliage without having to break a sweat. 
Peak foliage
Late September to Mid October
Fall trees
Sugar Maple, Red Maple, American Beech, Yellow Birch, Northern Red Oak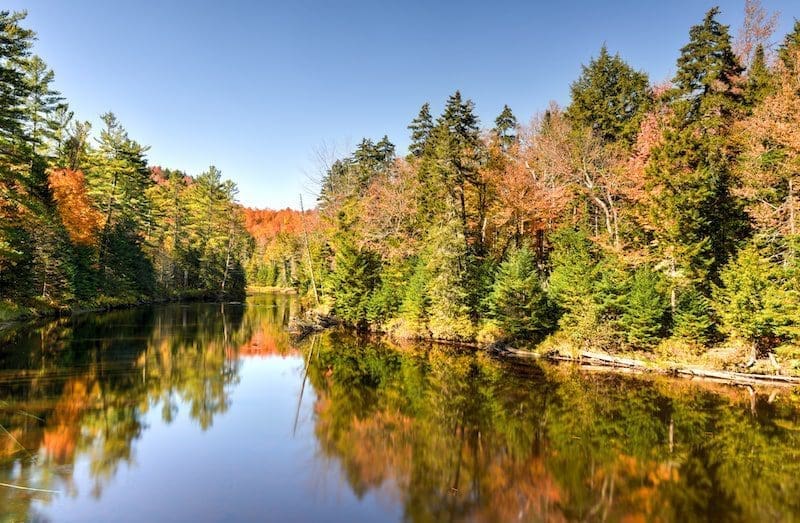 Bear Mountain State Park
Bear Mountain State Park is the perfect leaf peeping destination for busy bees looking for a quick getaway from the city, it is just an hour from Manhattan. This state park transforms from a humble state park to one of the most gorgeous locations in the region during the pumpkin season. It offers stunning visuals of bright orange landscapes, which you can enjoy with a leisurely stroll along the park. You can also take on the hike but beware it is known to be challenging with some rock scrambling necessary.
At the summit you can find the Perkins Memorial Tower and on a clear day you can even see the NYC skyline. If you happen to be visiting with kids, do check out the Trailside Museum and Zoo located within the park where you can spot rehabilitated bears, reptiles and birds. Pack a picnic for some calm downtime with your loved ones.
Peak foliage
Mid or late October
Fall trees
Chestnut and Red Oak 
New York is a splendid destination to enjoy the foliage this autumn, make sure to include some of these places in your fall checklist. However, timing is a tad bit tricky when it comes to New York fall foliage. There's no telling when exactly the leaves change color, so make sure to check the local fall reports.
Also if you are a New Yorker and want to enjoy fall in NYC head to Central Park, Fort Tryon Park for iconic locations for pictures, for lesser crowds, unique gothic architecture and brighter colors Green-Wood Cemetery would be perfect.