Escape the Big Apple and explore New York's prettiest and most charming towns located in Long Island, Westchester County, along the Hudson River, and just outside of Albany.
Below are some of the most beautiful towns and villages across New York State to add to your itinerary when planning your next NY getaway.
Amagansett
Amagansett is a small village amongst the enclave of the Hamptons on the eastern end of Long Island. This beautiful village in New York State is known for its stunning properties and homes on the ocean, the boutique shops and restaurants on Main Street, and a casual hip vibe all year round. The easiest way to get to Amagansett is by train via the Long Island Railroad (LIRR) from NYC that takes approximately two hours.
The village is and has been home to many celebrities throughout the years including Sarah Jessica Parker and Matthew Broderick, Sir Paul McCartney, Diane Sawyer, Suzanne Vega and Jerry Seinfeld. Marilyn Monroe and Arthur Miller spent a summer there in the late 1950's.
The hamlet of Amagansett derives its name from the Montaukkett Native Americans. The name means "place of good water" from a water source near what today is known as Indian Wells Beach.
Amagansett Square is a great spot for relaxing and shopping during the day. Grab a cup of coffee from Jack's Stir Brew or from Organic Krush just across the way. The Stephen Talkhouse is a fun venue during the evenings and hosts a variety of well-known bands and musicians throughout the year. For overnight stays, The Roundtree has beautiful onsite cottages and guest rooms, and is also a dog-friendly hotel.
Bellport
Bellport is a village located on the Great South Bay of Long Island. It is known for its quaint and charming atmosphere, historic homes, and beautiful waterfront. The village has a population of around 2,000 people and covers a small area of approximately 1.5 square miles.
One of the main attractions in Bellport is its picturesque Main Street, which is lined with independent shops, art galleries, restaurants, and cafes.
Bellport is also home to several parks and recreational areas, including the Bellport Country Club, which offers golf, tennis, and swimming facilities, and the Ho Hum Beach, a popular spot for swimming and sunbathing. Ho-Hum Beach offers beautiful views of the Great South Bay.
The village also has a marina and a ferry terminal that provides access to nearby Fire Island.
In the heart of Bellport is Gateway Playhouse, a historic theater that hosts a variety of plays, musicals, and concerts throughout the year.
The charming village of Bellport is home to a variety of independent shops, including Bellport General a boutique shop on Main Street offers a curated selection of gifts, jewelry, accessories, and home goods from local and global artisans; The Golden Sparrow, a clothing and accessories boutique that offers a chic selection of women's clothing, shoes, jewelry, and handbags from emerging designers; and Swezey's, a family-owned general store has been a staple in Bellport since 1905 and offers a wide range of products, including hardware, gifts, toys, and clothing.
Stay at The Bellport Inn in the heart of the village. This family-owned Inn is located just a few blocks from Main Street and a 5-minute drive from Ho-Hum Beach, and offers 22 comfortable rooms, a seasonal outdoor pool, and continental breakfast.
Cooperstown
By Michele DeBella of From Inwood Out
The Central New York village of Cooperstown hugs the southern shore of Otsego Lake, a body of water so clear that James Fenimore Cooper called it Glimmerglass Lake in his 19th century novels about the region. The downtown area is made up of gift shops, boutiques, and restaurants, as well as historic homes and buildings that date back to the era of the author's father and village founder, William Cooper.
Visitors who are interested in history will find no lack of things to do. One intriguing activity is the Cooperstown Candlelight Ghost Tour, a walking tour in which a guide discusses the local historic homes and the residents who are said to linger, even long after their deaths.
These days, the main attraction in Cooperstown is the Baseball Hall of Fame and Museum, which welcomes hundreds of thousands of visitors every year who come to pay homage to their favorite sports heroes.
And finally, a lake as enticing as Otsego should be enjoyed up close. The Glimmerglass Queen Tour Boat Company offers one-hour cruises. They also rent kayaks and paddleboards for those who prefer to paddle around on their own.
While in town, stay at the historic Otesaga Resort Hotel for a luxury lakefront experience, and dine at the hotel's Hawkeye Bar & Grill, which serves regional dishes based on seasonal ingredients.
Cooperstown is located 70 miles west of Albany. Because it is a rural destination, it is most conveniently accessed by car.
Greenport
Greenport is a gorgeous seaside village on Long Island's North Fork, or about two and a half hours away from New York City. The best way to get to Greenport is either via the Long Island Railroad, by bus, or by car.
The village is also accessible by the Cross Sound Ferry that goes between Orient Point and New London, Connecticut. The ferry is fifteen minutes away from Greenport. Once you arrive, you will instantly notice that the village of Greenport is easily walkable.
The tourism industry and commercial fishing industry are the two largest revenue sources. The village is also home to the East End Seaport Museum & Marine Foundation. The Foundation hosts the annual Maritime Festival in September.
Greenport is home to many top-rated restaurants that serve up a local, farm to table menu including Bruce & Son, First and South, and Noah's (pictured above). The famous Claudio's Restaurant was once the oldest single family-owned restaurant in the United States before it was sold to new owners in 2018.
There are also several great boutique clothing and accessory shops, ice cream parlors, and antique shops. A great coffee shop for those who love espresso and cappuccinos is Aldo's Coffee Company that offers back patio seating and of course the best biscotti around!
For a weekend getaway, stay at or the Coffey House Bed and Breakfast in nearby East Marion.
Hudson
By Shobha George of Just Go Places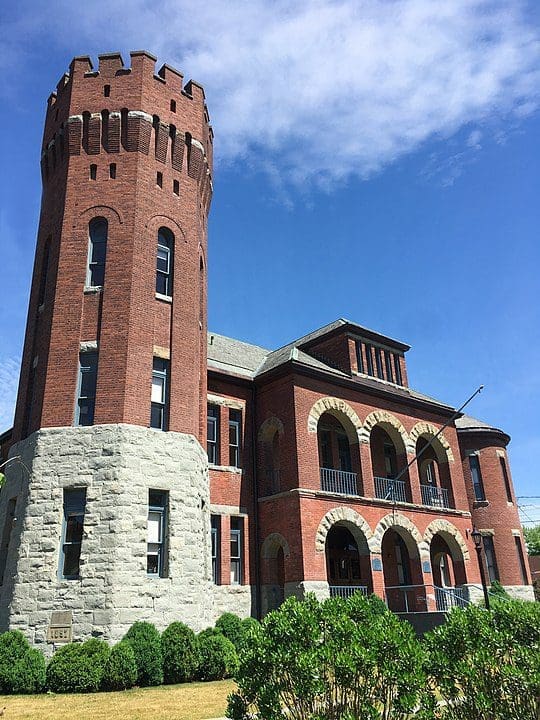 Located in the Hudson Valley, the town of Hudson combines the charm of a small-town America with the hipster vibe of Brooklyn. Hudson is an easy weekend getaway from New York and also for weekend homes for New Yorkers.
Approximately 120 miles away from New York City, Hudson is easily reached by road and by train. For example, Hudson is located two hours away by a direct Amtrak train from Moynihan Train Hall near Penn Station in Manhattan. Alternatively, Hudson is only 1 hour by train from Albany.
The town of Hudson has an interesting back story as well. It was once almost the capital of New York State and then became the center of the Hudson River School of painting, a mid-19th century style of American art influenced by Romanticism. An important development in the history of American art, the Hudson River School were the first to create a style of art that was purely American and not copying Europeans.
Along with lots of great restaurants and coffee shops, there are also art galleries, boutiques and antique stores. The shopping in Hudson is excellent with globally sourced vintage and antique clothes and home goods. Pretty much everything is located on Warren Street, the main street in the town that stretches about a mile long. There are hiking trails nearby if you want to explore Hudson Valley.
The small boutique hotel, The Maker Hotel, is full of a variety of design inspiration perfectly suited for any hip interior with its Moroccan rugs and midcentury modern furniture. For the ultimate in cuteness. Check out Grazin' Burger which serves farm to table food operating out of a vintage steel diner.
Ithaca
By Jan of Leisurely Drives
Ithaca is a beautiful college town nestled in the Finger Lakes region of New York State. It has its own airport and Amtrak runs trains from New York city. Albany is the nearest major city – a good 3-hour drive.
Ithaca is a town known for its stunning natural beauty, towering waterfalls, and gorges. Two impressive cascade falls are Ithaca falls which plunges 45 meters into Cayuga Lake in the middle of town and Buttermilk falls – the tallest in the finger lakes area. There are many more waterfalls that require a hike to access.
There are plenty of hiking, biking and boating opportunities here. Cayuga Lake, the largest of the finger lakes, is a great place for boating and kayaking. The popular Cayuga Lake wine trail includes wine tasting. Cascadilla Gorge is located within the city and is a good hiking point for visitors with nine falls along the way.
Ithaca has several choices for good food. Just a taste in downtown is a Spanish tapas place. Another choice for delicious food is Mix Kitchen and Bar, a vibrant restaurant with fusion foods including vegetarian and vegan options.
High end hotels with great reviews include Hilton Garden Inn downtown and Statler Hotel – in the heart of Cornell campus.
Kingston
By Neha of Travelmelodies
Located around 2 hours from New York City, Kingston is a beautiful and historic town in the Hudson Valley. Kingston also holds a special place as being the first capital city of New York State before getting burnt by the British. Did you know about it?
Kingston is located about 100 miles north of NYC and 60 miles south of Albany and has its own train and bus station.
One of the best ways to explore the scenic beauty of this area is by taking the scenic steam-engine train by Catskill Mountain Railroad. The 2-hour scenic ride begins from Kingston taking through the Catskill Mountains giving an insight into the natural beauty of the Catskill Mountain region. It is especially beautiful during fall season.
Hudson River Maritime Museum is another interesting place to visit to learn about maritime history and admire the various models of ships and boats.
Spend the evening taking a stroll through the lively Uptown Kingston neighborhood brimming with restaurants, cafes, studios and beautiful architecture.
If looking for a boutique hotel, then Hotel Kinsley in the uptown will charm you with its decor and style.
Lake Placid
By Sean Lau of LivingOutLau
Lake Placid is a small village located in the Adirondack Mountains of Essex County. This beautiful village is about a 5-hour drive from New York City, a 6-hour drive from Buffalo, or a 2-hour drive from Albany. Together with Saranac Lake and Tupper Lake, they make up a region known as the Tri-Lakes region in Upper New York.
With a population of about 2300 residents, Lake Placid is an idyllic village for visitors to escape the bustle and hustle of concrete jungle and spend some time in pristine nature. Needless to say, with such a small population, the town is quite a sleepy town. However, once upon a time, Lake Placid was bustling, as it hosted the 1932 and 1980 Winter Olympics.
Though that glorious past is just a faint of memory, Lake Placid continues to be a sublime winter destination on the East Coast. Plenty of ski resorts surround the small, charming village, ready for sporty travelers to enjoy its excellent slopes. In the village, the Mirror Lake freezes in the winter. Visitors take this opportunity to ice-skate, dog sled, or even play ice hockey.
In the summer, visitors can enjoy a nice relaxing stroll along the shoreline of Mirror Lake or hop on a scenic cruise on Lake Placid. There are also numerous hikes around Lake Placid that showcase its natural beauty, such as the Haystack Mountain Trail. Make sure to explore the Main Street of Lake Placid, where you will find an abundance of excellent restaurants and boutique shops. Smoke Signals is one of the best restaurants in Lake Placid, serving delicious barbeque foods and beers on tap with a lakefront patio.
If you are visiting Lake Placid, you must stay at Crowne Plaza Lake Placid, arguably the most famous hotel in town. This luxury hotel overlooks Mirror Lake and the surrounding lush mountains. It also contains plenty of amenities, such as a golf club, tennis courts, putting green, indoor pool and a fitness center!
Montauk
Located at the end (or very beginning) of Long Island's South Fork, Montauk is a well-known hamlet in the town of East Hampton. The most convenient way to arrive in Montauk is by train. Small planes and helicopters can fly into the Montauk Airport.
Most famous for the Montauk Point Lighthouse commissioned by George Washington (pictured above), it is a major tourist destination during the summer months.
To note the lighthouse, it was the first lighthouse in New York state and is the fourth oldest active lighthouse in the United States and is located adjacent to Montauk State Park. The hamlet is most famous for commercial fishing and as a summer getaway destination along the Atlantic coast.
The village is home to many waterfront restaurants, shops, and hotels, most of which are open from April-December. One of the few year-round businesses is Gurney's Resort & Seawater Spa. Some of the best restaurants in Montauk include Navy Beach, Harvest on Fort Pond, Inlet Seafood Restaurant, The Crow's Nest, and Joni's Kitchen. John's Drive-In is a great spot for homemade ice cream and retro-style burgers.
You may recognize Montauk from television. The Showtime TV series, The Affair, is set in Montauk. Also, the village was featured in season 3 of the sitcom, Friends.
Rhinebeck
Rhinebeck is located two hours north of New York City on the east side of the Hudson River in Dutchess County, also known as the Hudson Valley. The best way to get to Rhinebeck is by train via Poughkeepsie or by car.
The town of Rhinebeck is home to a wide range of restaurants centered around their active farm to table movement, as well as a thriving music, film, and theatre culture. There are also over 40 specialty shops in the heart of the village. For outdoor enthusiasts, the town is home to several hiking and biking trails.
Cute shops to visit include Land of Oz Toys, Hummingbird Jewelers, and Periwinkles that showcases several local artisans. Montgomery Row is a great shopping block filled with many quaint shops like Krause's Chocolates, Paper Trail, Olivia! Gourmet Olive Oils, and many more. For wellness enthusiasts, there is Clear Yoga, and Breathe Studio: Barre & Pilates.
Rhinebeck is home to the annual agricultural fair, the Duchess County Fair. For overnight visits, stay at Mirbeau Inn & Spa or Beekman Arms and Delamater Inn.
Sag Harbor
Sag Harbor is a beloved village located two hours and fifteen minutes away from New York City by car or bus. The village was once a major whaling and shipping port in the 19th century, and it even used to have a train station!
Sag Harbor is now a popular coastal town that becomes quite active during the summer months and during the holiday season. Landmarks in the village include the Sag Harbor Windmill, the historic American Hotel, Sag Harbor Old Jail House, the Whaling & Historical Museum, and the Sag Harbor Cinema (pictured above).
The village is very walkable, with dozens of charming boutique shops, restaurants, and wellness center throughout. These shops are predominantly located on Main Street, Division Street, Bay Street, and on the Long Wharf. Sag Harbor also has an impressive concentration of exceptional restaurants, many of which are open year-round. Year-round restaurants include Il Cappuccino (you must try their garlic knots!), Espresso for top notch Italian takeout, Sen for the tastiest sushi in the Hamptons, Page at 63 Main, Lulu Kitchen & Bar, and Estia's Little Kitchen on Sag Harbor Turnpike.
Seasonal restaurants not to miss include the Dock House on the Long Wharf for the best clam strips and lobster rolls, and the Beacon for some of the best sunset views and it is considered to be one of the top essential Hamptons restaurants. If you are looking for a great local hangout spot, The Corner Bar and Murph's Tavern are great options.
Saratoga Springs
Saratoga Springs is a popular resort town located forty minutes north of the New York state capital, Albany, and one hour from Bennington, Vermont. This beautiful NY town is home to the oldest horse racing track in the United States. The name, Saratoga Springs, reflects the presence of mineral springs in the region.
Saratoga Springs is the busiest when the Saratoga Race Course is open, or during the summer season. The town is home to several brand retailers, as well as local boutiques, making it a unique and upscale shopping destination. A must is walking along the Beekman Street Arts District.
Notable arts and culture venues include The Saratoga Performing Arts Center (SPAC) an outdoor amphitheater. The Philadelphia Orchestra and the New York City Ballet call SPAC home during the summer. One of SPAC's most popular events is their weekend-long jazz festival in late June called Freihofer's Saratoga Jazz Festival.
Museums in Saratoga Springs and the surrounding area include the National Museum of Dance and Hall of Fame, the National Museum of Racing and Hall of Fame, and the Saratoga Automobile Museum. There are also more than 20 golf courses in the area, perfect for golf enthusiasts!
For a truly luxurious getaway, stay at The Adelphi Hotel on Broadway in the center of Saratoga Springs. The hotel is located two miles from the Saratoga Springs train station.
Saugerties
By Tanya Bindra of My Right Sock
Saugerties is a charming, cozy little town in Ulster County, New York. You can arrive here by taking Exit 20 off the News York State Thruway. The nearest airport to Saugerties is 42 miles away in Newburgh (SWF Airport). Other nearby cities include Albany (47 miles) and New York City (90 miles).
Saugerties in the Hudson Valley is steeped in history and culture. It also packs in surprises like gourmet cafes, farm-to-table eateries, beautiful nature trails and splendid views.
Saugerties has another claim to fame: it's where Jimmy Fallon grew up!
One of the best things to do in the town is to visit the Saugerties Lighthouse. Built at the mouth of the Esopus Creek, the lighthouse tower offers vantage views of the Catskill Mountains and the Hudson River. Another must-see is Partition Street, a long road lined with life-sized storefronts and quirky restaurants. You can also sample Dutch beer and cuisine with a Southern twist at the Dutch Ale House on Main Street.
After a long day, take a break and rest your feet at Diamond Mills, a luxury boutique hotel located in the town center. All their rooms have balconies which offer magical views of the Esopus Creek, and the soothing sound of the waterfalls. The hotel has several amenities and is close to most attractions in the area.
Shelter Island
Shelter Island is an island town set between the North and South Fork of Long Island. The town is only accessible by car ferry or private charter. You can take your car on either the North of South Ferry or you may choose to ride your bicycle around Shelter Island. Visiting this beloved East End destination is like stepping back in time. You may notice right away that there aren't any traffic signals on Shelter Island!
This peaceful town is home to a picturesque nature reserve and park, antique shops, beautiful beaches, and several locally owned restaurants and shops. The best way to get around is by car for a seamless commuting experience day or night.
After a hike and bird watching excursion through Mashomack Preserve, grab a bite to eat at Marie Eiffel Market. Shop for books at Black Cat Books on RT 114, and visit Shelter Island Pharmacy for a quaint, country town shopping experience. For dinner, visit Vine Street Cafe for delicious local fare.
For a memorable, one-of-a-kind overnight stay, come to the Ram's Head Inn. The Ram's Head Inn hosts live music on the weekends and is home to a stellar restaurant and bar, as well as an expansive outdoor space for families to relax and play. There are also several notable bed and breakfasts on Shelter Island including SEVEN on Shelter and The Candlelight Inn; and Sunset Beach Hotel is a popular romantic beachside hotel and restaurant.
Sleepy Hollow
Sleepy Hollow is a beautiful and historic New York village in the town of Mount Pleasant in Westchester County, east of the Hudson River. The village is internationally recognized through the 19th century short story, The Legend of Sleepy Hollow.
Sleepy Hollow's most famous former resident is the author, Washington Irving, who lived in Tarrytown and is buried in Sleepy Hollow Cemetery. Perhaps it comes as no surprise given Irving's story about the "Headless Horseman," the town is considered by some to be one of the most haunted places in the world.
Notable sites to visit while visiting this beautiful New York town include the Philipsburg Manor House and the Old Dutch Church of Sleepy Hollow. Halloween is the most popular time to visit as is during the Christmas season and late springtime.
For dining options, visit Bridge View Tavern on Beekman Avenue for traditional pub style dishes, and Horsefeathers in Tarrytown for traditional American fare that offers a lovely sidewalk patio dining experience.
If you desire a luxurious overnight stay, look to Castle Hotel & Spa in nearby Tarrytown or The Ritz Carlton New York in White Plains, within close proximity to the train station that takes you to NYC or upstate New York.
Southampton
Southampton serves as the gateway to the South Fork of Long Island, located just under two hours away from New York City. The easiest way to arrive to Southampton is by train via the Long Island Railroad. There are also busses leave from Manhattan and Queens.
The Village of Southampton is a picturesque region known for its upscale shops, boutique fitness studios, art galleries, and restaurants. Walk along the village's Main Street and Jobs (pronounced Joh-bs) and spot a number of recognize high end shops. These shops include like Akris, Bandier, Intermix, Aerin, and many others.
A visit to Southampton should always include a trip to Cooper's Beach and to Agawam Park. Agawam Park hosts a weekly farmer's market on Sunday afternoons. Cooper's hosts a number of drive-in movies. On the way to the beach, spot dozens of sprawling mansions and estates that line the country streets.
The favorite restaurants of the locals and regular visitors are Union Sushi and Steak, Tutto Il Giorno South, Sant Ambroeus for the best coffee and gelato, 75 Main, and Sip'n Soda for some of the best ice cream sundaes, pictured above. A great spot to grab a sandwich and soup is The Village Gourmet Cheese Shoppe.
Notable hotels include the wellness retreat hideaway, Shou Sugi Ban House tucked away on Montauk Highway, and A Butler's Manor on North Main Street.
Watkins Glen
By Mark and Kristen Morgan of Where Are Those Morgans?
Charming and idyllic village Watkins Glen is nestled on the southern tip of Seneca Lake in New York's incredibly popular Finger Lakes region. The village can be reached in under 1 hour 30 minutes from Rochester and in 4 hours 30 minutes from New York City.
Did you know the Finger Lakes is a world-famous wine producing region? Throw in booming breweries, distilleries and hard cider production and you have a tasty trip on your hands.
Watkins Glen is steeped in motor racing history. This beautiful town played host to the first US road race following the conclusion of World War II. Today, NASCAR, Indy and many more races take place at Watkins Glen International racetrack.
But the star of the show and must-visit attraction is the extraordinarily spectacular Watkins Glen State Park gorge trail hike.
The famous trail consists of a beautifully crafted 1.5 milestone walkway and over 800 stone steps. This trail collectively transports hikers through a dramatic narrow gorge, passing by nineteen waterfalls and culminating in a staggering scene at Rainbow Falls.
Nickel's Pit barbecue, Jerlando's Italian and Thai Elephants are just three among a long list of highly rated restaurants to try out in town.
As for luxurious accommodation, look no further than top rated Idlwilde B&B which offers excellent homemade breakfast, romantic Seneca Lake views and stunning grounds.