Many of the beloved coffee shops across the Hamptons and Montauk are open. With so many choices and ways to order your cup of joe, we want to help make the decision as simple as possible. Whether you are just passing through or are specifically looking for a certain style of brew, we highlight the best of where and how to order coffee across the Hamptons.
Grindstone Coffee & Donuts
Sag Harbor
In addition to an insanely good lineup of donuts made fresh throughout the day, Grindstone Coffee sells their own locally roasted coffee. Their varieties are also sold by the bag. Delivery orders are also available through Uber Eats. Open 7am-4:30pm every day. 631-808-3370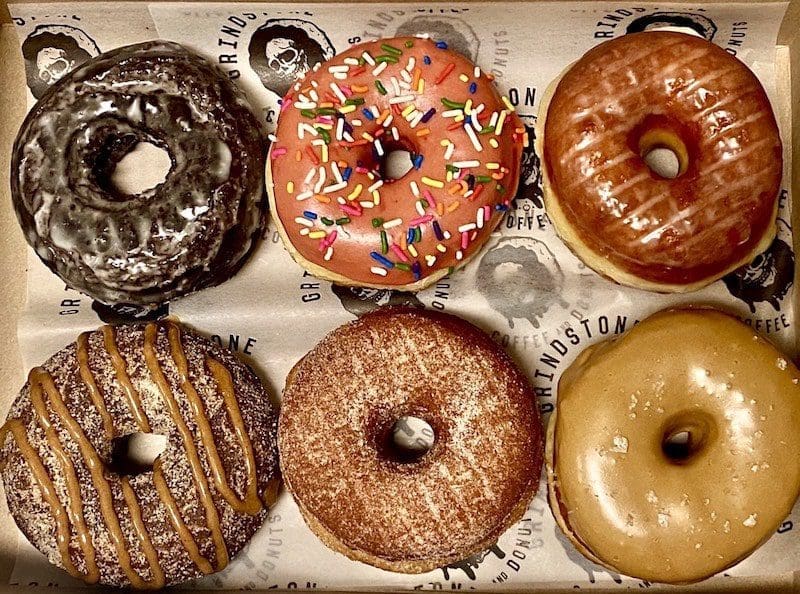 Hampton Coffee Company
Aquebogue (North Fork), Montauk, Southampton, Water Mill, Westhampton
Hampton Coffee Company has been an East End staple since 1994. In addition to a full menu of freshly brewed coffee and coffee beverages, they have a full food menu currently available to-go. Menu items include authentic Mexican specialties, burgers, sandwiches, and more.
Online, app, or phone-in ordering is available. If you happen to be driving past, they offer the option to order coffee and food inside (masks are required). Online orders are picked up in designated cubbies. Phone-in orders may be picked up curbside, you would receive a text when your order is ready. The best way to order is via their HCC Perks app. 631-726-2633
Hello Oma
East Hampton
Located on Race Lane close to the railroad station, Hello Oma is currently doing delivery and pickup services with advanced ordering. Partners Coffee, based in Brooklyn, is their in-house coffee. In addition to takeout coffee options, they also sell a full menu of food items like their own Hello Oma granola, baked goods, sandwiches, prepared foods, and so much more. In need of a juice fix? Hello Oma also has fresh pressed organic juice.
Hours are currently 7:30am-12:30pm, though they are also flexible with times. 631-604-6035
Jack's Stir Brew Coffee
Amagansett and Sag Harbor
Their Amagansett and Sag Harbor locations are currently open. Walk-in ordering is available. Delivery is available out east via Uber Eats. Our favorite is the Happy Jack, their honey cinnamon latte, available iced or hot. For those nippy mornings, try their Mountie, the maple-cinnamon hot latte. They also sell their own bags and tins of organic coffee. Juices, snacks including Lil Bucks, and more are also available. 631-267-5555
Left Hand Coffee
Montauk
Left Hand Coffee in Montauk is open for pickup seven days a week beginning at 8am. You can also order ahead for pickup through the joe.coffee app. In addition to a full coffee menu, including our favorite Nutella Latte, they sell kombucha, juice from Raw Juicery, and more. Left Hand also has an online market for organic produce, coffee beans, snacks, and more. 631-238-5434
Sagtown Coffee
Sag Harbor
No wonder Sagtown Coffee is a top choice for Sag Harbor locals. Their coffee beverages are consistently prize-worthy, so you always know what to expect. Contactless curbside pickup and window service is available. In addition, they have several tables to sit up outside their coffee shop. Sagtown is located on Main Street steps away from the iconic Sag Harbor Cinema.
Sagtown sells a variety of baked goods, juices, wellness and vitality shots, acai bowls, smoothies, breakfast sandwiches, and more. Open every day 6am-5pm. 631-725-TOWN (8696)
Sant Ambroeus
Southampton
Known for their top-notch quality and exquisite offerings, Sant Ambroeus is currently open for takeout and delivery. Choose from a wide selection of coffee, bakery items, and northern Italian cuisine. Their Italian coffee bar menu has everything from espresso to cappuccinos that pair well with any one of their menu items. Delivery is available via Uber Eats in the Hamptons. Customers can also call directly to place an order for pickup. 631-283-1233