Every winter, Long Island becomes a winter wonderland. This is the place to be if you love the cold, from snowshoeing and cross-country skiing to ice fishing and ice skating. When the days get shorter and the nights get longer, it's time for Long Island to show off. The area is home to some of the best winter activities, from quaint towns with holiday events and charming shops to snow-covered trails and cozy pubs where you can warm up with a hot toddy.
Winter on Long Island is a magical time of year. We have some of the best snowmobiling trails in the country, and there are plenty of places to go horseback riding in the snow. If you're looking for a quieter winter activity, enjoy an afternoon of relaxing at one of our local wineries or breweries. Here are some great winter activities across Long Island.
Shop the East End Food Market
Riverhead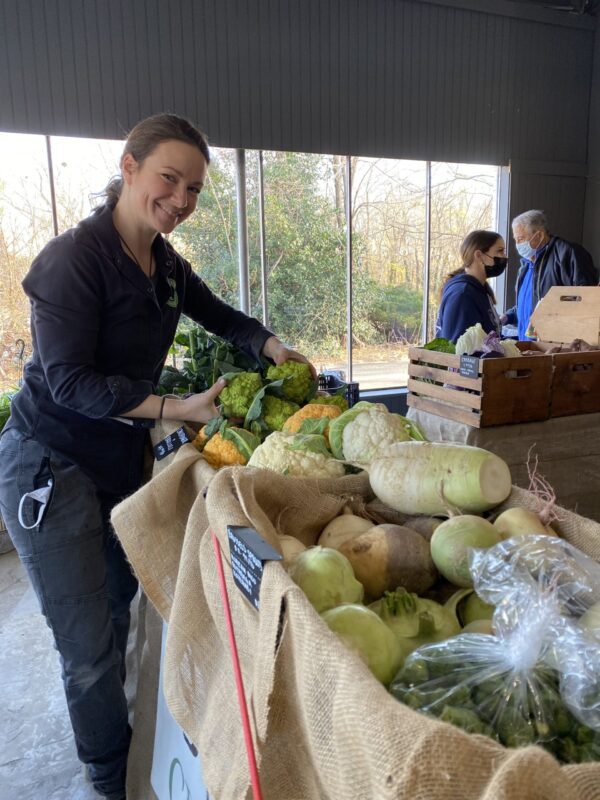 East End Food Market runs from May through October. The Winter Market is open every Saturday between 9am and 1pm through April 29, 2023. The market offers local food, wine vendors, and music and activities with local non-profit organizations.
The market is an excellent stop for a day trip to East End, regardless of whether you visit the North Fork or South Fork. Meet staff, volunteers, and vendors to learn more about the community. 
Cradle of Aviation Museum
Uniondale
The Cradle of Aviation Museum includes 75 air and spacecraft in eight galleries that cover over 100 years of aerospace history await you at the Donald Everett Axinn Air & Space Museum Hall. Over 150,000 square feet of spacecraft and air are featured, including 75 hot air balloons and an Apollo Lunar Module. Learn about Long Island's role in aviation and why it is called the Cradle of Aviation.
The museum's eight galleries are arranged chronologically. Volunteer docents can be found throughout the museum to share their aviation knowledge. Over 30 exhibits are available to be used, and a half-dozen cockpits can be climbed into. There is also a short film throughout the museum. Check out this virtual tour of the museum before visiting. 
Ice Skating
Ice skating is one of the best winter activities for kids and adults. In addition to skating, most of these centers also have a snack bar and skate rental facilities. Options include indoor and outdoor rinks – options for anyone and everyone.
Long Island ice skating rinks include
Andrew Stergiopoulos Ice Rink/Parkwood Ice Skating Rink in Great Neck
Newbridge Arena in Bellmore
Northwell Health Ice Center in East Meadow
Port Washington Skating Center in Port Washington
Christopher Morely Park in Roslyn
Grant Park Rink in Hewlett
Marjorie R. Post Park Ice Rink in Massapequa
Syosset-Woodbury Community Park Ice Rink in Syosset
Town of Oyster Bay Ice Skating Center in Bethpage
Freeport Ice Rink in Freeport
Iceland Long Island in New Hyde Park
Long Beach Ice Arena in Long Beach
Dix Hills Ice Rink in Dix Hills
The Rinx in Hauppauge
The Rinx at Harbor Front Park in Port Jefferson
Tanger Outlets Deer Park Outdoor Rink in Deer Park
Buckskill Winter Club in East Hampton
Southampton Ice Rink in Southampton
Superior Ice Rink in Kings Park
Santa's Christmas Tree Farm in Cutchogue
Visit the Wineries and Microbreweries
Long Island is also known for its wineries and microbreweries. Many offer tours and tastings year-round. However, if you visit during the winter, you'll find special events like wine festivals, live music concerts, comedy shows, and more!
Businesses to know on Long Island in the winter:
Ackerly Pond Vineyards/ Bella Vita Vineyard in Peconic
Bedell Cellars/Corey Creek Vineyards in Cutchogue
Clovis Point in Jamesport
Comtesse Therese in Aquebogue
Diliberto Winery in Jamesport
LI Vineyard Tours in Freeport
Macari Vineyards & Winery in Mattituck
Palmer Vineyards in Riverhead
Paumanok Vineyards in Aquebogue
Peconic Bay Vineyards in Cutchogue
Pellegrini Vineyards in Cutchogue
Precious Moment Limousines in Commack

 

Pugliese Vineyards in Cutchogue
Regency Wine Tours in Nesconset
Roanoke Vineyards in Riverhead
Shinn Estate Vineyards in Mattituck
Waters Crest Winery in Cutchogue
Visit the Fire Island Lighthouse
Fire Island
Fire Island Lighthouse was an important landmark to transatlantic ships arriving in New York Harbor around the turn of this century. Fire Island Light was the first sight of land for many European immigrants upon their arrival in America.
In 1826, Fire Island's first lighthouse was built. It was an octagonal, cream-colored pyramid of Connecticut River Blue split stone that stood 74 feet high. The tower was located at the end of the island, near the inlet. The tower's low height made it ineffective. It was nearly completely removed, and the stone was used to make the current lighthouse's terrace.
The original lighthouse is now a circular ring made of stone and brick. The inlet lies approximately six miles west of the original lighthouse due to littoral drift, which is the westward migration and movement of sand along beaches.
Fire Island Lighthouse was relit on Memorial Day, May 25, 1986 and reinstituted as an official navigation aid. The Fire Island Lighthouse Preservation Society (FILPS) took over the maintenance and operation of Fire Island Lighthouse and Keeper's Quarters in December 1996. This was through an agreement with National Park Service.
Two 1000-watt bulbs currently light the light. They rotate clockwise and give the illusion of flashing every 7.5 seconds. It is visible from approximately 21-24 miles. FILPS assumed ownership and management of the beacon's maintenance from the United States Coast Guard in January 2006. As a private aid to navigation, the beacon will remain on all charts.
Seal Watching/Seal Hikes
The North Shore of Long Island is home to the largest colony of harbor seals in New York State. They congregate along the shoreline from December through April. The best place to see them is at Fort Tilden in Queens County, where seal-watching tours are offered by the National Park Service.
It's also possible to see harbor seals on Long Island. Here are some of the most popular ways to seal watch.
Jones Beach Seal Watching
Montauk Seal Walks
Atlantic Marine Conservation Society
CRESLI Seal Walk
Horseback Riding
Horseback riding is a popular activity for everyone of all ages across Long Island. There are many scenic trails, farms that offer horseback riding lessons and pony rides as well as indoor equestrian competitions year-round.
A popular horse lovers' destination for visitors to Long Island is Deep Hollow Ranch in Montauk off of Montauk Highway. Deep Hollow Ranch was originally established in 1658 and is the oldest cattle ranch in the United States. Visitors to Deep Hollow Ranch can greet the horses, take lessons, and ride on trails through the woods and the white sandy shores of Montauk.
Other great riding trails include Muttontown Preserve in Syosset with Big River Barn Rescue, Inc., Parkview Riding Center in Connetquot State Park in Central Islip, and Rocky Point Pine Barrens State Forest that offers five horseback riding trails.
Visit the Gold Coast Mansions
Wealthy families built the Gold Coast mansions on Long Island, but now they are open to the public for tours. During your tour, you will see how these families lived during their time on Long Island. You will also see how their lifestyles changed as they moved from one mansion to another. Some mansions have been converted into hotels or restaurants, while others still serve as private residences.
Dine-In Igloos
Flora, an upscale restaurant in Westhampton Beach, offers a unique dining experience with its igloo seating area. Guests can dine within the icy walls while enjoying their food and drinks at a table or bar stool. It's a great spot for date night or a family dinner!
The Coach Meeting House has an igloo and a firepit village. Keep it casual and cozy. An igloo can be booked for groups. Each igloo has an outdoor firepit. The igloo has a Roku TV and a Bluetooth speaker. Adirondack chairs are also available. 
Mirabelle Restaurant & Tavern offers fine dining amid its dazzling winter igloos. Each party will have its own server for 2 hours. 
Enjoy lunch in RGNY's winter greenhouses, an igloo with edges. Each guest receives a personal couch, comfortable seats, a speaker, and an adjustable heater in the greenhouse that overlooks this beautiful Riverhead vineyard. 
The Patchogue steak and seafood restaurant offers outdoor igloo dining throughout winter. Enjoy delicious appetizers and winter cocktails while you enjoy your friends and family. To keep you and your guests warm and cozy, the Oar's igloos have lights, garland, and a faux fireplace and are decorated for the holidays. 
And There's More!
Winter is a beautiful time of year. It's cold, but the snow is gorgeous, and you can hike in the woods. Winter also means more indoor activities like watching hockey, playing indoor tennis, or going bowling. There are a lot of activities to do when it's cold outside.
The best way to enjoy winter is to go hiking. There are so many trails that are perfect for hiking in the wintertime. You can even get a permit to go camping this time of year!
Hockey games are always fun no matter what time of year, but they're especially fun during the winter because they take place inside an arena! You can watch these fast-paced games with your friends or family and cheer for your favorite team!
If you're looking for something educational and fun during the winter months, we highly recommend visiting the Science Museum of Long Island in Manhasset! This museum offers many interactive exhibits that will keep you occupied for hours on end!