Below are seven of The Hamptons' must-try sushi restaurants from Southampton and Water Mill to Montauk, all sure to give you a delicious sushi fix!
Yama-Q
Bridgehampton
Yama-Q Sushi can be found in the heart of Bridgehampton at 2392 Montauk Highway. This unassuming sushi spot has been satisfying customers since 1997 and has no plans of stopping.
Yama-Q offers fish straight-from-the-boat prepared by chef-owner Hisao Shiroyama. Shiroyama has been in the restaurant business on the South Fork for over 30 years. In particular, he has worked hard to ensure Yama-Q's menu offers delicious traditional Japanese sushi as well as healthy vegan choices. 
If you meet a fan of Yama-Q, it's likely they have been going there for years and will recommend you try it, so take their word for it! Yama-Q is currently open solely for takeout. 631-848-7712
O by Kissaki
East Hampton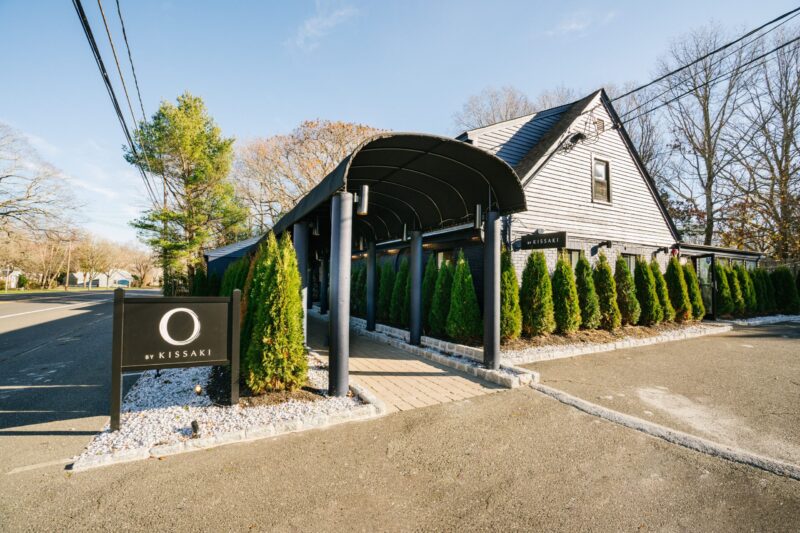 Located on Montauk Highway in East Hampton, O by Kissaki's menu includes a selection of small plates, grilled dishes, sushi, nigiri, and pasta and rice dishes as main course options.
Nigiri options include the Otoro (fatty tuna), Akami (lean bluefin tuna), and Hamachi (Aburi with aji picante).
Sushi rolls to know are Sake-Cu Futomaki: Salmon tartare, goma-ae, tofu, cucumber &
avocado; and Maguro Mama Futomaki: Spicy tuna, sweet potato tempura, cucumber &
avocado.
For a truly Italian and Japanese twist, try the Matcha Tiramisu. This delectable dessert is a creamy and sweet finish to any meal at O by Kissaki. 
O by Kissaki in East Hampton is currently open for dinner seasonally. 
Kissaki
Water Mill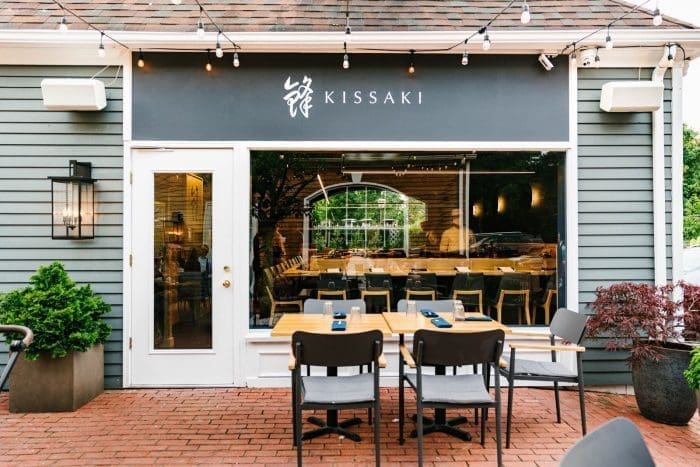 Kissaki, set off of Montauk Highway in Water Mill, unlocks an innovative culinary journey featuring omakase, nigiri plates, ramen, and of course their signature sushi dishes. Notable favorites include Ebi-Hamachi with yellowtail tartare and shrimp tempura, and Maguro Mama with spicy tuna and sweet potato tempura. Their desserts are also one for the books, like their soy caramel filled Japanese Cheesecake. Dessert menu items also rotate on a regular basis. 
Kissaki's Water Mill location is open Wednesday-Sunday beginning at 6pm for indoor dining, courtyard dining, takeout and delivery. 631-709-8855
Suki Zuki
Water Mill
Suki Zuki is on Montauk Highway in the peaceful hamlet of Water Mill between Southampton and Bridgehampton. Located across from the street from the historic Water Mill windmill, it is the go-to place to get your sushi and sake fix!
As many Hampton residents know, reasonably priced, GOOD sushi can be hard to come by, but Suki Zuki solves this problem.
Here, you can find tasty sushi options without burning a hole in your wallet. Customers rave about the perfectly crafted Sushi Rolls, the Chicken Teriyaki Salad, and Spicy Tuna Sandwiches. 
Suki Zuki is open Thursday-Tuesday from 5:30-9pm. 631-726-4600
Inlet Seafood
Montauk
Time to head to the end of the island for some fresh Montauk-caught fish! Inlet Seafood has been named one of the best seafood restaurants on Long Island by Newsday in 2013, 2015 and 2019. Impressive right? You'll be even more impressed once you bite into some of their freshly caught fish. Inlet is owned by six commercial fishermen from Montauk who catch your dinner and then serve up an "ocean to table" experience.
Try the spiced yellowtail and jalapeno sashimi with yuzu sauce or a tuna tartare; or if you're craving something warm, go for the shrimp shumai dumplings or a pan-seared striped bass or fluke piccata with mashed potatoes. The second floor is waterside which allows you to enjoy your meal with a flawless view of the ocean.
Inlet is open in-season 6 days a week Sunday-Thursday noon-8:30pm, and Friday & Saturday noon-9pm. 631-668-4272
Salivars Clam & Chowder 
Montauk
Salivars Clam & Chowder is a somewhat "secret" sushi spot in Montauk, located at 470 W Lake Drive. They are a family-run restaurant that offers both dockside and rooftop seating. It's the perfect place to bring family or friends to enjoy locally caught seafood, and although it's not known for its sushi bar, the sushi is top notch. They have everything from classic sushi to mouthwatering special rolls such as the Crazy Roll: tempura shrimp, avocado, spicy tuna & eel; and the Super Dave Roll: tuna, salmon, yellowtail, avocado & spicy sauce, with eel on top.
Salivars' pickup orders and outdoor dining is available everyday but Wednesday, Fridays and Saturdays from 5-10pm, Saturdays and Sundays from 12-11pm and Mondays and Tuesdays from 5-10pm. Order online or give them a call! 631-668-6252
Union Sushi and Steak
Southampton
Union Sushi and Steak is open year-round in the heart of Southampton Village in Bowden Square, featuring a dual menu of mouthwatering sushi and steak dishes.
Their sushi and raw bar menu that includes traditional and signature rolls like the Union Roll: Lobster & avocado topped with marinated skirt steak, eel sauce & yuzu mayo; and Cryder Roll: Shrimp and avocado topped with fluke, jalapeños, and buffalo & habanero sauces. Select sushi rolls are gluten-free.
Fan favorite dishes include the Bao Buns and Dune Beach Roll with crab, avocado, and salmon. 
Both outdoor and indoor dining options are available. 631-377-3323
Sen
Sag Harbor
Sen is a luxurious sushi restaurant located on 23 Main Street in Sag Harbor with indoor and outdoor dining in the front and in Sen's Garden. Both the food and drinks at Sen have a modern twist, and each dish is presented in a chic way. Combining unique foods with creative designs leaves customers satisfied both visually and flavor-wise.
Sen recently opened their shaded, grass covered back garden for outdoor dinner seating, so make sure you don't miss out! There is a menu for both the garden and take out, offering shared plates, starters, teriyaki entrees and sushi rolls. Everything from the crunchy rice tuna to the chicken curry katsu to the endless options of special & classic sushi rolls will melt in your mouth. Don't forget to try a specialty drink! A favorite is the Limited-Edition Lychee Martini! 631-725-1774