Travel into the heart of history to the most beautiful towns in Illinois. With historic museums to explore the rich history of each town and supporting small businesses, these towns are sure to make you feel welcome and at home. Explore the range of scenic parks in each town for a unique experience like no other. Each of these beautiful midwestern towns are enjoyable for friends and family alike.
Arthur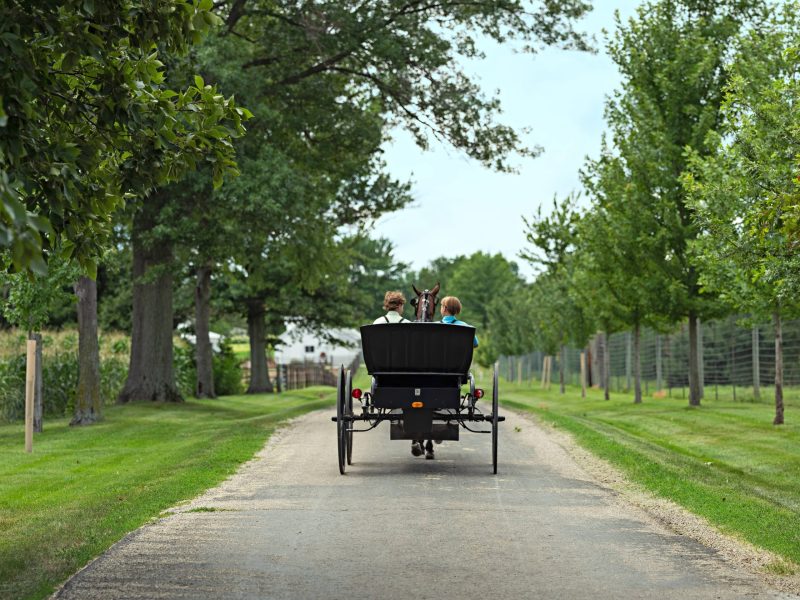 Beginning in the heart of Illinois Amish country is the small town of Arthur. Arthur will grant you a unique experience no matter the reason you visited. From small businesses to learning about the rich history of the town, the quaint town of Arthur will leave you with an abundance of knowledge. 
Start your trip off by visiting the Green Meadow Farms, where you can take a buggy ride and check out the farms. You can then head to downtown Arthur and do some shopping, with a range of numerous shops with unique items. With ACM Tours, you can have an Amish-style cooked meal from one of the many residents in the area. You can learn about their history as well as have a wonderful meal. 
Yoder's Kitchen has a variety of Amish style meals to try and a delicious bakery to check out. This is the perfect place to stop after exploring the town. For dinner, check out Pauly's BBQ for some much-needed delicious BBQ. 
The Prairie Sunset B&B is the perfect place to book to soak in the rural lifestyle. Although it's on the smaller side, the breathtaking farmland makes up for it. The Green Mill Best Western is another choice if you're looking to stay in a hotel rather than a bed and breakfast. With modern amenities, it's the ideal spot to wind down and relax.
Elmhurst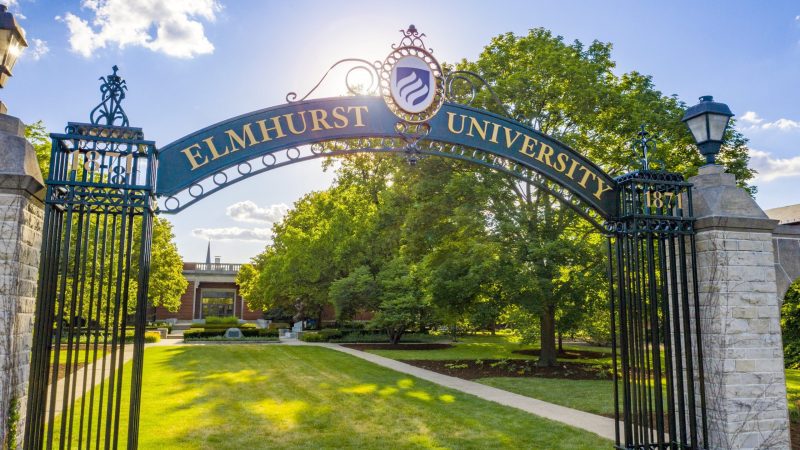 Traveling north from Arthur you'll reach the lively town of Elmhurst, Illinois. Located just 16 miles west of Chicago is a town filled with theater, art, and monthly festivities. Elmhurst has a bustling downtown area with food and shops galore. When you plan a trip to Elmhurst, it'll be tricky to check off everything there is to do! 
Begin your trip by visiting the beautiful Elmhurst University, one of the top 10 in the midwest. Whether you're on a college tour of learning about the art aspect, Elmhurst University should be on your list. With its origin circling back to 1924, the historic York Theater is an amazing restored building featuring new movies. The Elmhurst Express Trolley offers a 30 minute ride around the town, making 6 stops for you to explore. 
151 Kitchen and Bar is the ideal spot to grab a bite to eat before heading to the historic movie theater across the way. They have classic midwestern dishes and local craft beers that the town loves. Another place is Armand's Pizzeria. They have the best thin crust pizza in Illinois. 
Book your stay at the Springhill Suites Marriott that has a complimentary shuttle that'll bring you to local spots in Elmhurst. Another option is the Courtyard Marriott that will offer a similar stay to the other hotels. 
Galena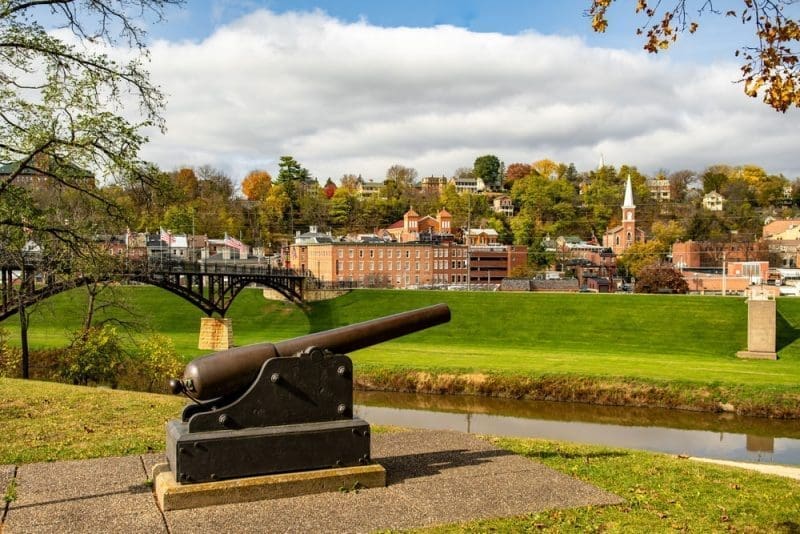 Known for its exquisite 19th century architecture, Galena is a must-see town in Illinois. Home to the U.S. President and Civil War General Ulysses S. Grant, this town is full of history waiting to be discovered. 
Galena offers the experience of learning how to drive antique tractors at Dittmar Farms. This family owned farm is the perfect place to get a feel for the way life is in Galena. Take a tour of the home of Ulysses S. Grant and brush up on your U.S. history. You can also take a walk through Galena's historic main street, home to over 100 shops to explore. 
For fine dining, head to the Courtyard Restaurant at the Desoto House Hotel. Whether you go for brunch or dinner, every meal is delicious. A more casual choice perhaps for lunch would be Culver's Restaurant, famous for their butterburgers. 
Book your stay at Abe's Spring Street Guest House. Built in 1876 and originally an icehouse, this lodging spot has private suites sure to make you feel welcome in Galena. For a similar stay, book a room at the Belle Aire Mansion Guest House, one of the oldest homes in Galena. 
Greenville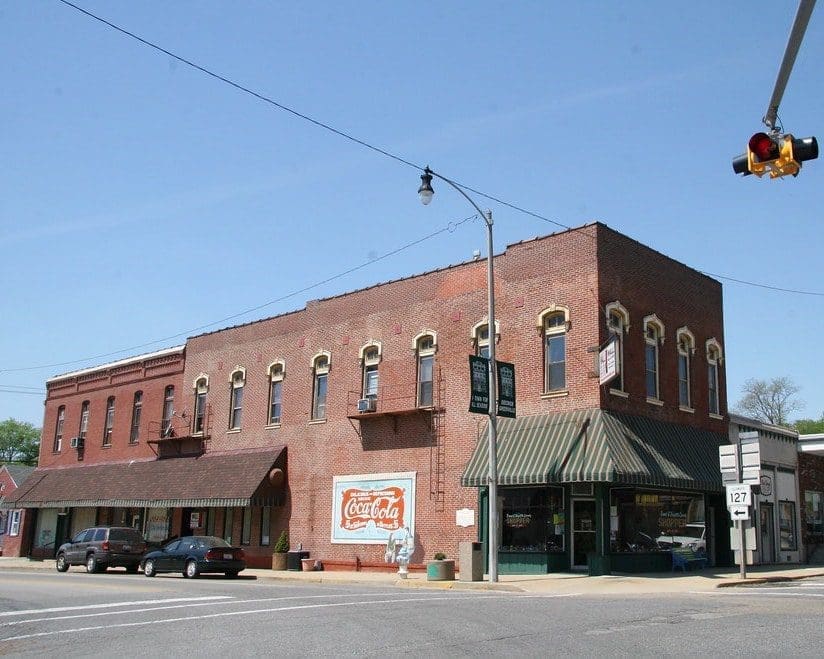 Rich with history, the quaint town of Greenville, Illinois should be on your bucket list. Home to Greenville University and numerous museums, this little town is sure to give you an experience and a great deal of knowledge. 
The One-Room School Museum, a real one-room school, is fully furnished with items from over 70 one-room school houses. The Andrew Carnegie Public Library is another attraction. Built in 1905, the original library is a sight to visit. Visit Greenville's bustling downtown district that is home to unique murals alongside buildings and several shops. 
Grab lunch at the Corner Cafe with delicious choices of sandwiches, burgers, and salads. Another locally loved place is Lu-Bob's Family Restaurant for a classic American meal. 
For a relaxing stay after a long day of exploring, check in at the Comfort Inn. This fully equipped modern hotel will make for an easy-going trip to Greenville. Another choice is the Surestay by Best Western.
Ottowa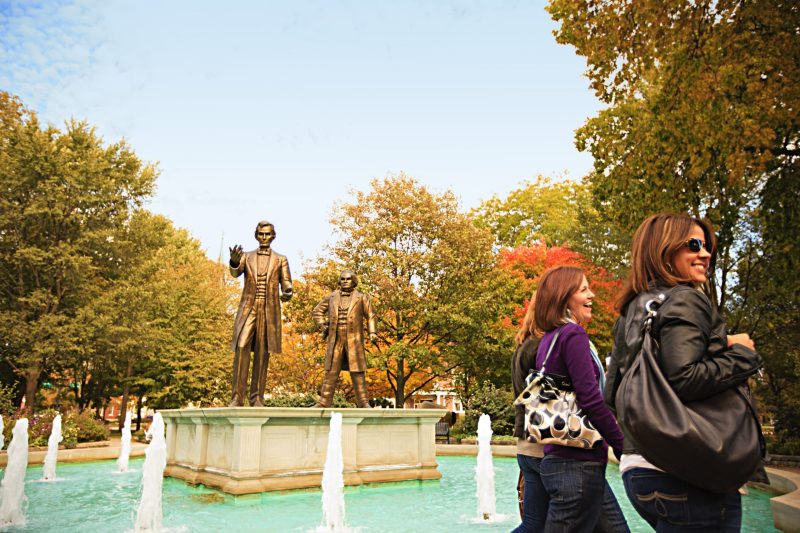 Also called "the middle of everywhere", the town of Ottawa, Illinois is just that. With beautiful state parks and historic attractions of deep culture, this small town will bring you everything. Surrounded by beautiful nature sites and home to all kinds of cuisine, Ottawa will bring you a relaxing trip filled with great activities. 
Begin your Ottawa adventure with a self-guided tour, The Ottawa that Lincoln Knew tour. You can learn about the history of the town through the eyes of Lincoln! Check out the Abraham Lincoln/Stephen Douglas Debate Site in Washington Square, where the first senatorial debate between the two was held. For a nature adventure, head to Caitlin Park for a range of activities. With 14 trails to explore, you can do everything from horsebacking to biking on these scenic trails. 
When you're ready to eat, head to Captain's Cove Bar & Grill, a waterfront restaurant overlooking the Starved Rock Marina. With a variety of seafood dishes and classic American dishes, this is a great choice that will leave you stuffed. Another choice is Anne's Hideaway, a fine dining establishment with a delicious menu. 
The Heritage Harbor Inn features all kinds of vacation rentals that are perfect for any kind of trip. Whether you'd like a waterfront view or a pet-friendly place, they have it all. You can also book a room at the Fairfield Inn & Suites if you're looking to stay in a hotel.
Princeton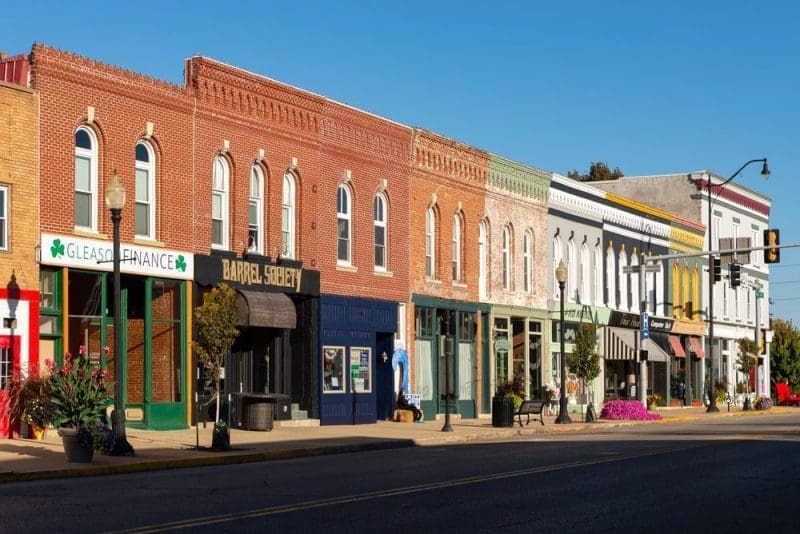 The quaint town of Princeton, Illinois is sure to make you feel like a local. It's the perfect weekend getaway with friends of family, with a quick trip on the Amtrak railway. This historic late 19th century town has various parks to explore as well as a lively main street. 
The South Shopping District has all of the unique shopping you could ask for. There are no chain stores here, only locally owned shops. There is also a Farmers Market every Saturday on South Main Street with fresh produce and baked goods! The Hennepin Canal Parkway is a great destination to bike, hike, and go horseback riding. City County Park is another great place to explore that has hiking trails, a playground, and barbeque areas. 
Barrel Society Inc. is the perfect spot to grab food and relax after a day of exploring. Located on North Main Street, you can grab a bite to eat and hit the shops after! Prime Quarter Steakhouse is another great option that offers steak and seafood galore. 
The Flats at Elm Place are furnished apartments right on Main Street, perfect for a getaway with friends. Book a room at the Econo Lodge located just near Main Street. This is an easy-access place that is perfect for a one or two night stay.
Quincy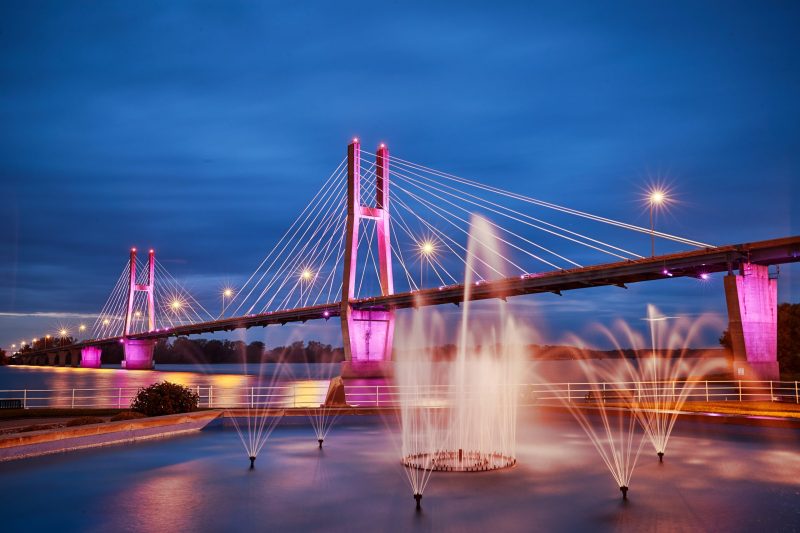 Next up is the small town of Quincy, Illinois, also known as "Gem City". Quincy has an array of museums to explore for a rich history lesson as well as family-friendly farms to check out. Plan your trip accordingly so that you may see everything Quincy has to offer! 
Begin your trip by going on the East End Walking Tour, through the East End Historic District to see the amazing architectural properties that were popular styles in the U.S. during the Civil War. The Dick Brothers Brewery is definitely a site to see, with it being one of the largest in the U.S. take a tour of the place and learn of the history surrounding it. The Autumn Moon Family farm is the perfect place to explore during the fall, with a pumpkin patch to pick out pumpkins and games for kids. 
Visit Carter's Coffee Bar for unique flavors of coffee and baked goods. Stop here to regain your energy and continue your exploring of Quincy. The Abbey restaurant offers different steaks and seafood to choose from, along with a great drink selection. 
The Gaslamp Inn and Eatery is the perfect place to stay for a weekend away. This B&B is home to three suites that will make you feel as if you're living in the 1930s! Another great option is the Microtel Inn and Suites, with different rooms to choose from and modern amenities.
Woodstock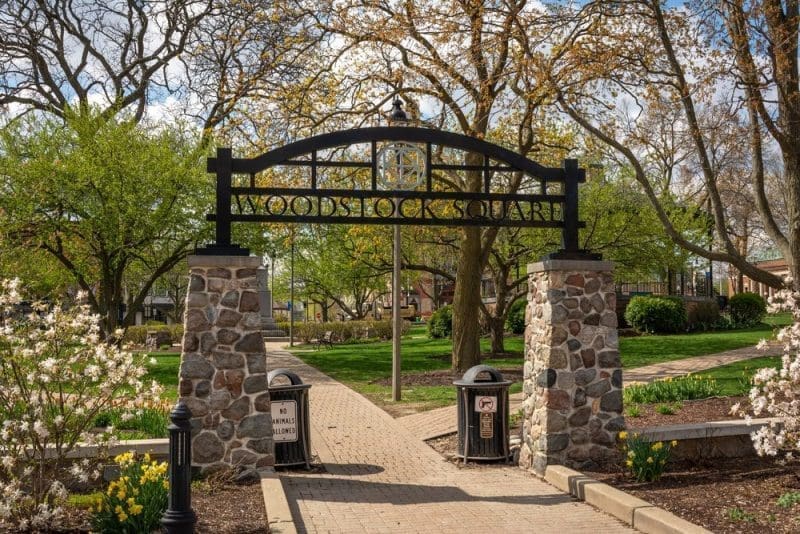 The last stop of the most beautiful towns in Illinois is the historic town of Woodstock. Woodstock offers unique shopping to check out during your stay, as well as museums and other attractions. There is an array of entertainment to see in here, so book your trip to Woodstock now! 
The first place you should check out is the Woodstock Opera House which was built in 1889 and is a beautifully crafted building. The opera house still provides entertainment today including annual concerts and art exhibitions. The Illinois Railway Museum, the largest in America, was founded in 1953. Take a tour through this attraction and learn about its rich history. Explore the unique shopping Woodstock has to offer including hand-crafted pottery and rich antiques. 
D.C. Cobb's Tavern has plenty of gourmet burgers to satisfy your hunger. This is a great place to have lunch or dinner after a long day of exploring. For a more casual place, Offsides Sports Bar and Grill offers delicious food and a family friendly environment. 
You'll want to check out the Cherry Tree Inn B&B to stay during your trip. This historic Victorian bed and breakfast will provide you with a relaxing stay in a beautiful home. For a bigger place, the Best Western Woodstock Inn is the one for you. Both places to stay are great and will make your visit to Woodstock complete.