Take a much needed romantic and restful vacation to Long Island's North Fork to the Coffey House Bed and Breakfast. A luxurious getaway awaits you year-round. The B&B in East Marion is set on two acres of luscious lawn with a spacious gazebo and expansive herb garden.
Your soon-to-be memorable stay is just seven miles away from the Orient Point Ferry dock. The B&B is also just over two hours away from NYC.
Rooms & Amenities
The Coffey House B&B includes four guest rooms. There is one beautifully appointed and spacious luxury suite, in addition to three charming traditional bedrooms. All of the rooms have full private baths. The luxury suite's bathroom has an oversized soaking tub, vanity, and a glass enclosed shower. One of the traditional bedrooms is located on the main level of the home.
All guest rooms are furnished with antique wrought iron queen size beds, high quality plush comforters and linens, and bathrobes. Central air and heating are throughout the home.
A sample of amenities include their living room where you will find a selection of board games, books, and a cozy fireplace. The recreation area in the finished basement includes a pool table, and a large flat screen television with cable and a full DVD library. There is a small kitchen area with a stocked fridge full of beverages, as well as a Keurig coffee maker and microwave.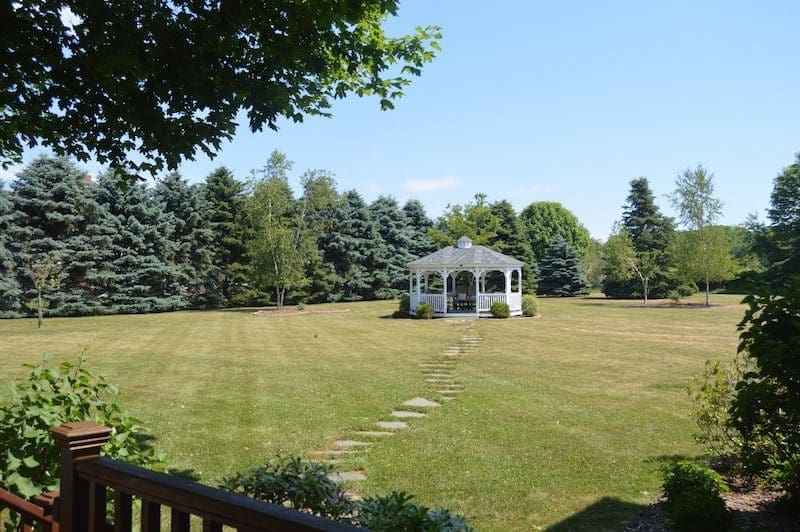 North Fork Dining Recommendations
Owners Ellie and Rick Coffey recommend the following restaurants nearby on the North Fork. Though it is important to note that there are so many great choices. It is always a tough decision to narrow it down to just a few in Greenport:
Lucharito's: for the rotating menu of classic and gourmet tacos (and Lauren, the best server ever!)
First & South: for the to-die-for First Fries and South Street Chowder. The positive energy these two establishments radiate is a tribute to the amazing vision of Marc LaMaina and Sarah Phillips Loth and their respective staff. 
Brix & Rye: If you are so inclined and would like to close out your evening with a perfect nightcap, we wholeheartedly recommend visiting Evan and ask him to create something special for you.
1943 Pizza: If you still happen to be hungry, you can order off the menu, which is connected to Brix & Rye.
Visitor's Itinerary
"Whenever possible, we usually allow our guests an early noon check-in so they can maximize their time with us," explains Coffey.  
For those guests looking to visit the newly opened wineries, we recommend contacting Jo-Ann Perry of Vintage Tours. Jo-Ann provides an always entertaining and insightful guided winery tour of three charming wineries on the North Fork. This includes a picnic lunch at one of the vineyards.  
On their way home, we encourage all of our guests to stop at one of the local farm stands. No trip to the North Fork is complete without stopping at Briermere Farms. They are famous for their fruit pies. Our personal favorite is the Strawberry Cream pie!"
Breakfast at the Coffey House B&B
The Coffey House B&B's three-course breakfasts usually revolves around what is fresh and in-season. Ellie's just-out-of-the-oven baked goods, like banana bread, cinnamon pecan scones, are a guest favorite," explains Coffey. "Guests also love her fresh fruit parfaits with homemade granola, honey-vanilla yogurt and strawberries from Blossom Meadow Farm." 
"If they save room, we prepare farm-to-table frittatas made with fresh eggs from the North Fork Egg Farm, and seasonal vegetables from Sep's Farm. We use herbs from our backyard garden."
Get ready to taste the freshest basil around, straight from their garden!
Personal Dining Favorites
How do you both spend your time on the North Fork?
Breakfast
"When we are not serving our guests at the Coffey House, Ellie and I will usually travel into Greenport to enjoy a cappuccino along with a scone or croissant at Aldo's Coffee Company. 
If you get lucky and he is not too busy roasting coffee, Aldo might stop by your table and regale you with stories of his worldwide travels. If you are really lucky, he might even pass along a recipe or two.
Lunch
We will often stop by the Port Waterfront Bar & Grill for lunch. They are located not too far from Aldo's, close to the North Ferry dock.
On a recent visit, Ellie and I shared their delicious Baked Clams and Elote Mexican Street Corn appetizers. We had Yellowfin Tuna Poke paired with a bottle of Bedell Sparkling Rosé. Fabulous!
Dinner
Our definite "go to" spot is the Hellenic Snack Bar & Restaurant. They are conveniently located just a few steps from the Coffey House Bed & Breakfast. 
Since moving here in 2002, George and Maria Giannaris, his parents, John and Anna, and the amazing Team at Hellenic have become like a family to us. 
When we do eat there, which is often, Ellie and I usually make our way to the Fire Pit and Adirondack Chair area located on the west side of the restaurant just off of the patio. We get the 'small plate' Greek platter that comes with your choice of 3-5 appetizers.
Some are Dolmades, Grilled Haloumi, Spanakopita, Red Beets Skordalia, and Calamari. Pair this with a "Wine Flight" of four local Long Island wines, it is a perfect way to prepare for the main course. For Ellie, that would be the Pastichio while I lean towards whatever fresh fish George has purchased that morning. My personal favorite is the broiled whole fluke."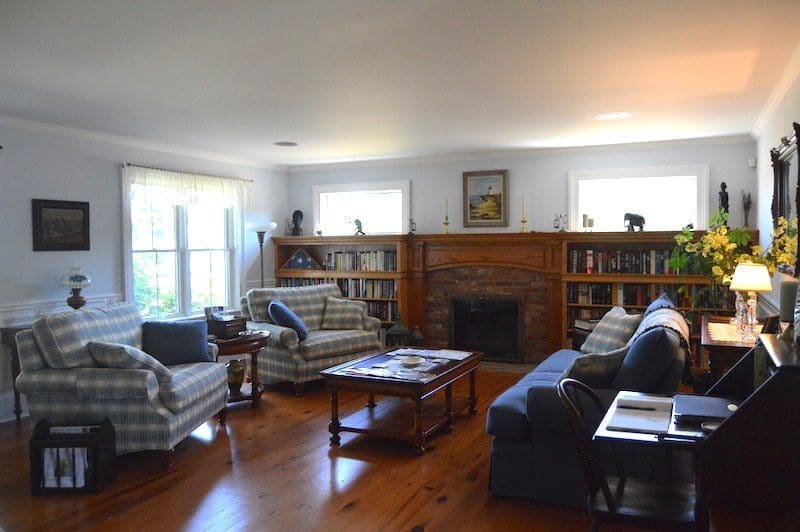 Guest Packages
"Over our 13 years of operating the Coffey House, we have had a fair share of marriage proposals, brides-to-be and bachelorette parties and "babymooners".  
Ellie personally answers the phone and is available to discuss and coordinate wine tour packages, reservations or any special requests you might have," adds Coffey.