Remember, the only way to get to know a region is to ask a local! Today and every day, we celebrate the members of our local community who are actively supporting our restaurants. Locals are revealing their favorite dishes at some of our beloved North Fork-based restaurants. These restaurants are offering curbside pickup, takeout, and or delivery during COVID-19.
1943 Pizza Bar
Greenport, 631-477-6984
"We order from 1943 Pizza at least once a week even though we live in Mattituck. They are so incredibly friendly, and accommodating. Picking up the food tends to be a highlight of our day." -Jennifer Yoerges Lee
"The lemon arugula salad!" -Alexa Suess
Barrow Food House
Riverhead, 631-779-3379
"The chicken sandwich and fries! All the food there is amazing, everything from vegetarian burgers, duck confit breakfast burrito, duck wings and unique salads. The young couple who owns it are sweet, passionate people who worked under Claudia Fleming at North Fork Table & Inn. Amazing craft beer and wine selection and the cocktails are awesome too!" -Michelle Demetillo
"And the roast beef!" -Ian Serrano
"The Chicken sandwich and pork sandwich and fries. Everything they make is great." -Lisa Kaval Mc Abinette
"Anything (and I mean anything) from Barrow Food House! My go-to order is the spaghetti squash latkes, their hand cut fries (don't ever skip these!) and the bean and mushroom burger. Their smash burger, roast beef sandwich, and the barrow breakfast sandwich are also amazing. Their cocktails are innovative, and they always have a very cool selection of beer and wine. Incredible food made by incredible people with the best (fresh and local!) ingredients." -Tiffany Maria
Buoy One
Riverhead, 833-286-9663
"I love their fried oysters! They are crunchy & tender even after delivery!" Claire Thompson
"Buoy One's Hot Pot with an extra side of snow crab & buffalo wings." -Chris Kempner 
CJ's American Grill
Mattituck, 631-315-5311
"The Ahi Tuna Poke at CJ's American Grill! Oh so good!" -Tanya Rene
Cooperage Inn
Baiting Hollow, 631-727-8994
"My favorite meals so far were their chicken pot pies. The Cooperage Inn has always been a favorite restaurant of ours, even before we moved east. The service was contactless, I felt safe, and the pot pies were amazing! I even convinced my parents to drive east and buy a few, which they loved, too!" -Ally Baba
Cucina 25
Riverhead, 631-381-0388
"My favorite dish is the plain cheese pie because it's the best in town. You can't beat the taste, the price, AND the service!" -Ariana Mielnicki 
Digger's
Riverhead, 631-369-3200
"Digger's all the way! I love their steak tidbit sandwich." -Maureen K. Andrychowski
East on Main
Mattituck, 631-298-7208
"You absolutely have to get a steak at East on Main! They butcher in house, the meat is cooked perfect, super tender, juicy and delicious!! Did I mention cheap?" -Jon Dēmo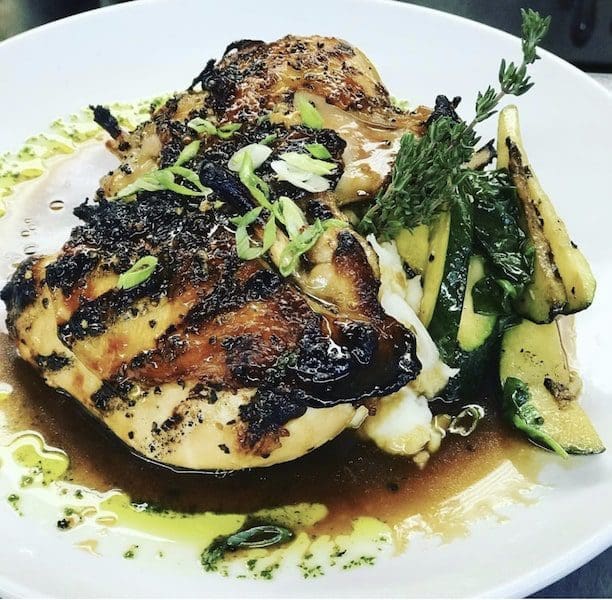 Farm Country Kitchen
Riverhead, 631-369-6311
"My favorite "dish" is the bonfire wrap from Farm Country Kitchen. It's the perfect blend of chicken bacon avocado with the most amazing bbq sauce and a lil side of pasta. It's perfection for about $10." -Joan Mlodynia
Front Street Station
Greenport, 631-333-2050
"The marinated Filet is the best with their amazing mashed potatoes!" -Gabrielle Stroup
"The fried chicken from Front Street was out of this world!" -Lori Cohen
Golden Jalapeños
Calverton, 631-740-9500
"My favorite takeout dish has been the pastor tacos! They serve them on corn tortillas with fresh pineapple and they are just to die for. I order from them at least once a week! The owner Luis is so sweet and friendly and makes every trip to pick up your food so enjoyable." -Corinne Smith
Hellenic Snack Bar & Restaurant
East Marion, 631-477-0138
"The Dolmades, Horiatiki Salad, Gyro Platter, Baklava & fresh lemonade. It is good for two and they deliver!" -Ian Serrano
"A gyro from them is heavenly!" -Alexa Suess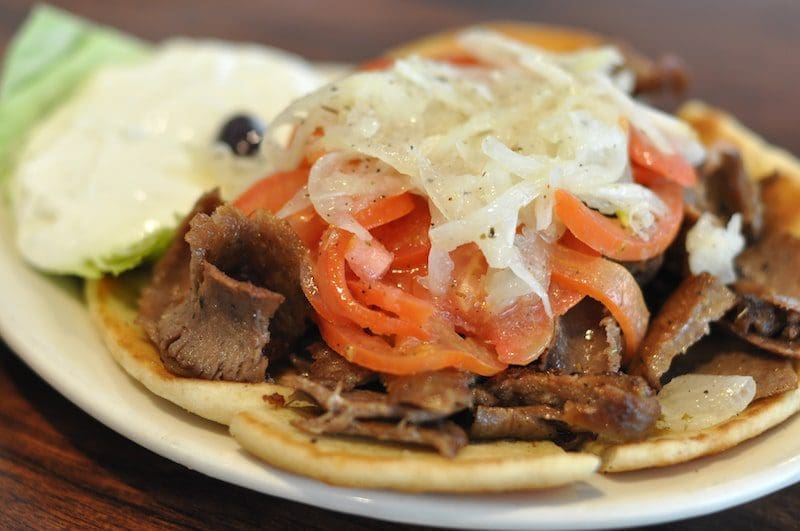 Il Giardino Restaurant
Aquebogue, 631-779-3900
"From the chicken parm, the pastas, or even the salads. Literally anything you get on the menu will be amazing!" -Kelly Zilnicki
Jerry and The Mermaid
Riverhead, 631-727-8489
"The shrimp scampi!" -Christine Marie
"My favorite dish has been the Jerry's marinated burger with sweet potato fries. Absolutely the best burger hands down." -Michelle Miller
"We LOVE Jerry's prime rib with mashed potatoes! We just ordered it last week as a celebration of me coming out of my room for over 2 weeks dealing with covid! Was worth every bite! It's our go to restaurant when open as well! We celebrate every birthday and special occasion there! Service is wonderful and the view is great!" -Kim Espinoza
"I enjoyed the Clams Casino and Oysters Rockefeller as well as the wings. All delicious! Prompt and friendly service. Ohh..and the quarantine quart of rum punch." -Lynn Nyilas 
Lenny's
Riverhead & Jamesport, 631-722-8589
"The Chicken Marsala at Lenny's! My husband's favorite is the bolognese." -Sue Baydala Stype
"Chicken ala Vodka from Lenny's in Jamesport. Our favorite restaurant: great food, great service and large portions!" -Sally Blados
Lucharitos
Riverhead & Greenport, 631-477-6666
"I love everything on the menu! I frequent Little Lucharitos [Riverhead] for the variety of meats and styles for the tacos, the empanadas, the buffalo cauliflower, and especially those crispy wings! Top it all off with a fresh fruit margarita or two to make the meal complete!" -Ariana Mielnicki 
Magic Fountain
Mattituck, 631-298-4908
"I've been enjoying their Chocolate Peanut Butter Chunk ice cream! They've been excellent about keeping service open and safe for employees and customers. In these times ice cream might seem like a small thing, but it's been a delightful pick-me-up each week that's helped my family stay positive." -Jenna Rose
Michelangelo Pizzeria
Mattituck, 631-298-4100
"I love Michelangelo's! Their pizza is great, it has a crispy crust and is not greasy at all! The baked ziti pizza was amazing and loved by all my coworkers when we celebrated a birthday. The garlic knots were cooked perfectly and very tasty. Employees were amazing, very kind and efficient." -Rylee Warner
North Tavern
Wading River, 631-886-2102
"They have the most delicious sliders with blue cheese, and pierogis on the North Fork!" -Suzanne Cohen
"My favorite dish is their meatloaf in puff pastry! It's comfort food at its best. The folks at North Tavern always make us feel like family and they continue to do so even during these difficult times." -Sherry Venero Turpin
Star Confectionery
Riverhead, 631-727-9873
"The Bacon cheeseburger deluxe because nobody grills up a burger like Anthony Meras!! Riverhead's finest!" -Shelley Berdan Papa
Smitty's All American Grill
Riverhead, 631-998-4232
"My favorite meal is the prime rib. Juicy cut of meat cooked to perfection, glazed carrots, roasted potatoes. A savory dish that delights your taste buds. Large amount of food for a great price! Service was top notch!" -Cindy Wosch
**
A special thank you to the members of East End Take Out on Facebook for your support in creating this article and highlighting your favorite North Fork restaurants and dishes!