Hop right into celebrating the Easter holiday by treating your family and friends with gifts and fun surprises. Our Easter Gift Guide highlights gift ideas for everyone of all ages and interests.
BunnySlippers
BunnySlippers.com is a small family business from Portland that features the best selection of slippers on the internet for adults, kids and babies. Their Bunny Slippers and Animal Slippers are a fun addition to Easter baskets and Easter celebrations, that will also be enjoyed year-round by everyone in your family.
Their Easter Collection includes a variety of animal designs including Gray Bunny Slippers, Fuzzy Frog Slippers, White Llama, Fuzzy Bee, Goat Slippers, and many more options. They also sell spa slipper sandals, booties, and socks.
Carrot Seed Cleanser
Primal Life Organics
Primal Life Organics creates skincare dental care made with plant-based ingredients, eco-friendly packaging and sustainable processes. Perfect as a gift for the Easter holiday, the Primal Life's Carrot Seed Cleanser gives normal, sensitive, and especially oily skin, exactly what it needs. This vegan and gluten-free cleanser is formulated with organic saponified oils, including Rosehip Seed Oil and Carrot Seed Oil.
Cross and Initial Charm Necklace
Isabelle Grace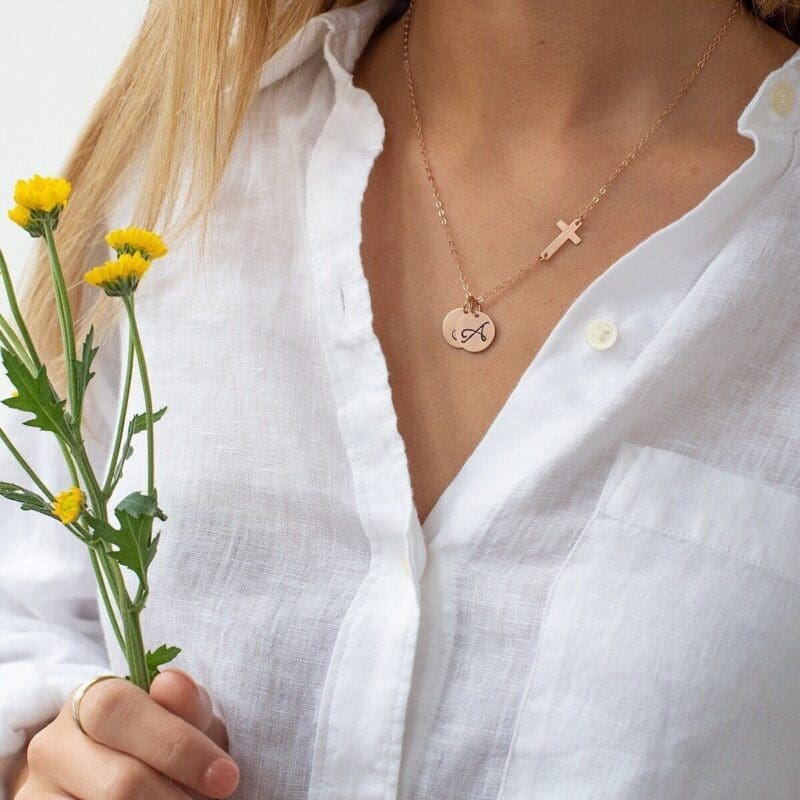 Surprise your loved one this Easter with a personalized, handmade charm necklace by Isabelle Grace. This beautiful charm necklace effortlessly entwines faith and love with a cross and up to six more initial charms. Available in silver, gold, or rose gold and three font styles. It is also their #1 bestselling necklace!
Delysia Chocolatier
Delysia Chocolatier's luxurious handcrafted chocolate-filled Easter baskets are perfect gifts for both children and adults alike. Their Easter chocolate collection features award-winning chocolate truffles, delectable chocolate bunnies, and playful chocolate Peeps.
The decadent chocolate truffles, for example, include flavors like Mint chocolate chip, Cookie dough, Salted caramel, and Marshmallow. The molded chocolate bunnies are available in milk, white, dark, and bittersweet chocolate. In addition, each chocolate-filled Easter basket also comes with a super cute stuffed animal. Shop their full collection here.
Have a Cheesy Easter Gift Collection
Cheese Brothers
Based in Wisconsin, Cheese Brothers creates and ships cheese and gift packages nationwide. Just in time for Easter, Cheese Brothers has curated two gift boxes: "Have a Cheesy Easter" gift pack and the deluxe version of the same name.
It is a perfect gift basket to share at a family gathering or ship to friends out of state to let them know you are thinking of them. All items in the package, including the cheeses, jam, and caramels, are locally produced in Wisconsin.
Hippity Hoppity Collection
P.L.A.Y.
Surprise your pup with this eggs-tremely cute Hippity Hoppity Toy Collection from P.L.A.Y.!
Every bunny will love trying to capture these two Funny Bunnies from inside the carrot toy, going on an Easter egg hunt to fill their Egg-cellent Basket, plus you'll love watching your dog play with the Chick Me Out toy.
The toys are crafted with an eco-friendly PlanetFill® filler made from 100% post-consumer certified-safe recycled plastic bottles. Machine washable and dryer friendly. The toys also feature AZO-free dyes.
Hoppy Easter Color-A-Treat Cookie Coloring Kit
Corso's Cookies
Your kids will instantly get excited about the holiday weekend with this super cute and yummy Easter cookie coloring kit by Corso's Cookies, a company based in Syracuse, NY! This easy grab-and-go activity is an entertaining Easter craft to enjoy with your children at home or Sunday school without the hassle and mess of cooking and dying eggs.
The Hoppy Easter Color-a-Treat™ contains delicious, individually wrapped sugar cookies, featuring darling Easter chicks, bunnies, and sheep your kiddos can color with edible food markers. The character coloring art is already printed on each cookie.
LAKE
Perfect for celebrating Easter at home with the whole family, LAKE's new curated collection of Easter-themed loungewear and pajamas features a new matching classic bunny print for babies, kids, and moms, along with coordinating pastel colorways and trendy gingham sets.
The super soft pajama sets are perfect for creating memorable and cozy holiday moments while gathering together for Easter Sunday brunch and even egg hunting. LAKE pajamas and loungewear are made of 100% Pima and Poplin cotton.
Lavender Rosemary CHOCO BODY SCRUB
Butter & Me
Got a craving for chocolate this Easter? Discover the Lavender Rosemary Choco Body Scrub and experience the sweet treat of chocolate without any guilt. This Choco Body Scrub, made with Lavender Oil and Rosemary Oil, is an indulgent way to polish away dull skin while leaving a delicious aroma on the skin.
Plastic-free and handmade in the USA.
Lip Gloss
withSimplicity
Products by withSimplicity are with simple processes and sustainable practices. Their Lip Gloss, for example, is a non-sticky gloss infused with antioxidant-rich botanical extracts and mineral pigments that leaves lips hydrated & luscious.
Available in eight different shades, their Lip Gloss is cruelty free, vegan, and made in the USA.
MYPadL

Banz
MyPadL
MYPadL Banz are a great way to customize and personalize your Pickleball Paddles and make for a cute Easter gift.  Easily tell whose paddle is whose with 13 Banz colors to choose from, 5 font types and countless emojis. With so many options, you can truly make your pickleball paddle all your own.
When you order 4 or more MyPadL Banz, you'll receive 50% off each, and no two Banz need to be alike.
New Zealand
Honey

Co.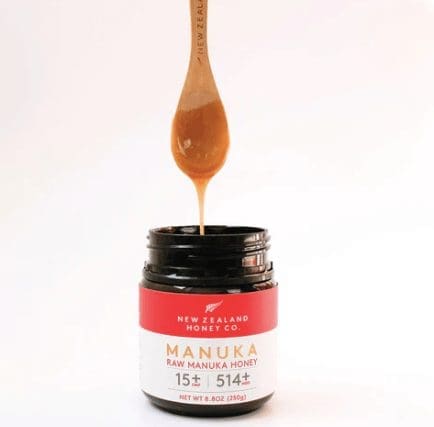 New Zealand Honey Co.'s manuka honey adds that sweet taste to the Easter holiday while delivering proven health benefits in gastrointestinal, immune support, skincare, haircare, first-aid, wound care, and oral health areas.
Their honey is UMF Certified (Unique Manuka Factor), a critical accreditation representing authenticity and the highest testing standards for any honey in the world. New Zealand Manuka honey is great on toast, as an ingredient in your favorite smoothie, drizzled on top of yogurt and granola, and more.
One-Step Tie-Dye Kit
Tulip Color Crafts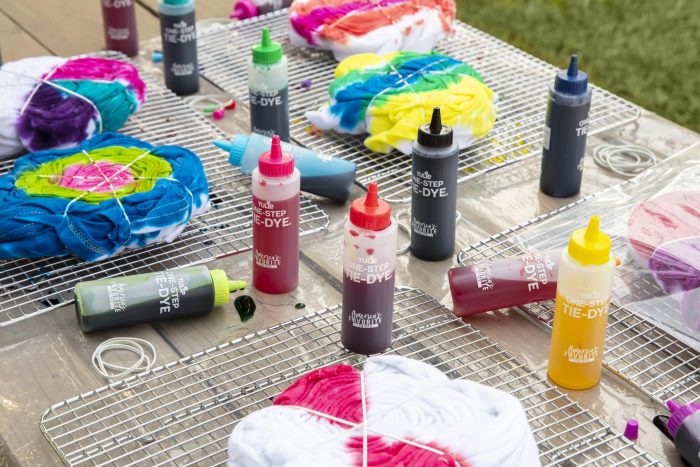 Tie-dye never goes out of style! Their Tie-Dye Kit is fun for parties, everyday crafters, and family activities. Get bold, non-toxic color in every bottle with a simple one-step process. Just add water, shake, and apply for vibrant color that lasts wash after washing.
Whether you're painting, drawing, or tie-dyeing this Easter holiday, its extensive line handles all crafting needs. Available on Amazon and on Walmart. Refill packs are also available.
PAAS Egg Dyeing Kits
CVS
Available at CVS nationwide, these egg coloring kits will get your youngest family members 'eggstra excited' about the Easter holiday.
PAAS Egg Decorating Kits include PAAS Eggsperiments Active Volcano Egg Dyeing Kit, Glitter Color Cups Egg Decorating Kit, Crystal Growing Egg Science Kit, Marble Egg Decorating Kit, and more.
Tru Earth
Tru Earth offers a wide selection of eco-friendly laundry items and products for the home. Their plastic-free products are manufactured in Canada and their wide selection of items makes for great gifts for Easter.
Favorites from their collection include the Bamboo Rounds Reusable Makeup Remover Pads, Tru Earth Eco-strips Laundry Detergent, and Beeswax Snack Bags 4 Pack. Purchasing their products make for an excellent way to reinvest in the environment and your well-being.