Fashion Designer Aysha Saeed, CEO and Creative Director of AYSHA New York, discusses her brand AYSHA NY in this exclusive interview. Saeed originally launched her fashion label in 2016 in Manhattan's Garment District. AYSHA NY adorns a niché group of driven women who want to elevate their wardrobe to express both their achievements and individuality.
Our conversation focuses on how she developed her signature styles, investing in fashion as consumers, and of course her perfect day in NYC.
Tell us about your background and how you developed your brand, AYSHA NY?
I was born in Lahore, Pakistan, and moved to the USA with my family when I was 12 years old. My teenage years were quite unhappy and painful as I tried to fit into American culture. I attended a small town high school in New Jersey where I stuck out, had no friends and lacked confidence. To overcome this, I needed to come up with a plan, which involved fashion.
I always loved fashion and getting dressed up, so I made a conscious decision to become the best dressed girl in high school. Whether I really was the best dressed or not I am not sure, but I did accomplish getting a lot of attention and compliments from others. Those compliments made me feel great, and those positive feelings built my confidence.
The Emergence of Fashion at a Young Age:
At a young age, I learned that by choosing what I put on my body, I could control how others treated me and how I was perceived. I learned that clothing can play a pivotal role in our lives. I continued to use fashion to express myself and build my confidence throughout my college years and into my adulthood at my various jobs in the financial sector in New York City.
Even though I did quite well within the financial sector, my heart was not filled with joy. So I took a leap of faith and finally quit my secure job to pursue a dream of becoming a fashion designer. I spent the next five years working in Milan and Paris, learning all things fashion. I took any paid or unpaid jobs that I could, as long as they were in the fashion industry. Instead of going to fashion school, I treated my time in Europe as on-the-job learning.
Eventually, I had the great privilege of working with D&G and Dior as a hand embroidery and production consultant. It was at these luxury houses that I started to develop my own sense of style, which led me to want to start my own brand in NYC.
The journey of building my own brand took many twists and turns, but eventually with sheer force and determination, I built AYSHA NY, against all odds.
What were the most poignant challenges with the development? How did you overcome them?
When I started my brand, it lacked a clear identity and direction because I had too many people telling me how to run my business and most importantly, I lacked experience. Then there came a point when I stopped listening to people and started to listen to my inner voice and trust my judgment.
I took time out to get clarity on my WHY? Why am I doing what I am doing? To answer this question, I visited my past to build my future. Here's what I realized: as a teenager, I loved fashion so much because it gave me confidence and allowed me to fit into American culture. I recalled what a pivotal role fashion played in my entire life. So I decided to build the AYSHA NY brand to share this message with other women.
I wanted to encourage them to see that they too can embrace fashion (regardless of their size and shape) and allow it to make them feel great and boost their confidence. At AYSHA, we help women use fashion as a tool to empower them and to control their perception.
Getting clear on my WHY was a game-changing moment for my brand. Based on this clarity, I was able to create a vision, a brand mission and the rest of the pieces started to fall in place. Our mantra and values continue to attract talent and stakeholders who also believe and relate to our WHY.
"Fashion and style to me are part of our identity. It is our way of sending signals to the world as to who we are."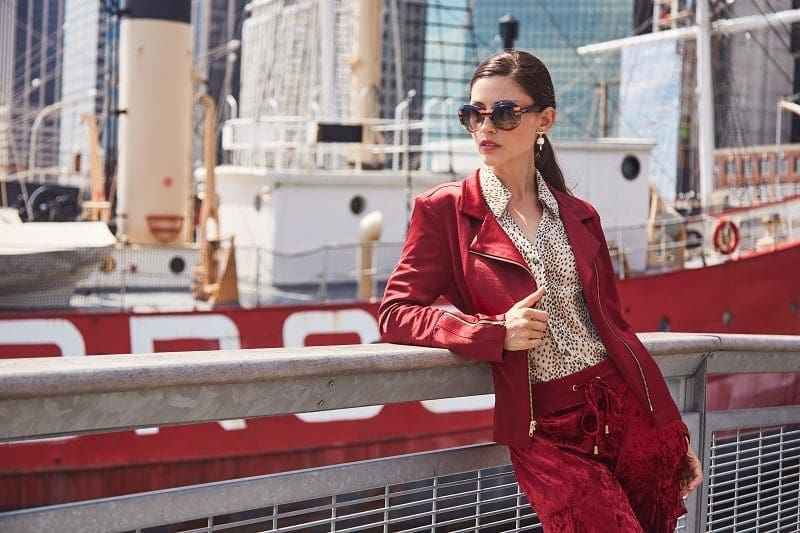 What does fashion mean to you? How do you embrace your sense of style?
Fashion is my passion. My world revolves around what I wear and what styles I am offering women. Fashion is not just a piece of clothing. Fashion and style to me are part of our identity. It is our way of sending signals to the world as to who we are.
Mind you, not every day I am all dolled up. I believe in having your "downtime days." But on days when you have to "show up," those are days when you can really rely on fashion to give you that boost.  When I need to bring my A game, what I choose to wear is equally important as to what I will say.
I view clothing as our icing on the cake.
Describe your perfect day in NYC.
My perfect day would be a combination of AYSHA New York work and spending time with family and friends. As an entrepreneur, my work is always with me and I don't mind. For example, quite often on the weekend, I have creative strategy calls with my team.
During the week, I am too busy running my fashion company, so those strategy calls do not happen. I also take time out on the weekend to design new collections or visit places to get inspired. Just recently, I visited an Orchid Farm right outside of Manhattan. It was breathtaking and I left so inspired.
Having yummy cocktails and dinner with family and friends is key. I LOVE great tasting food. If I had not become a fashion designer, I would have wanted to run a restaurant or do something food related.
COVID influenced me to start to exercise more and I will try to keep that going. I love doing quick YouTube workouts and going hiking. Catching up on news is important. I watch CNN in the evening, while I am answering emails after dinner.
Watching Netflix is also key to relax and zone out. Reading a great book truly relaxes me and I look forward to it on the weekends.
Which styles did you develop first? Are there any new/up and coming concepts in the works?
For the past few years, our AYSHA Blazer was one of our bestselling styles. The blazer was available in sizes 00 to 16. Because of the pandemic, I changed direction to meet women's current needs, which is why our current collection is called: Dressing for the Now. It truly speaks to the lifestyle we all are living in: casual and relaxed looks. We stayed true to our brand aesthetic and made this capsule collection comfortable-yet-chic and luxe.
The Only Pant is our bestselling piece from this collection. Even our AYSHA Blazer can be paired with The Only Pant.
It is important to me that we offer women new styles they can pair back to something in their closet they already have from us.
"I want AYSHA NY to be part of New York City's comeback story."
Why is investing in fashion as consumers so essential, especially now?
If one is looking for an instant energy boost or wants to change how they look and feel, I always say go ahead and put on your favorite outfit and pair of heels. Instantly you will feel transformed.
That is the power of fashion. It transforms you physically and mentally, which is why I advise women to invest in their wardrobe. It's a form of self-care and an instant confidence builder. What you chose to put on your body can relay so many messages.
For example, if you want others to know you think outside the box, then dress in a way that says that. Don't wear boring colors or styles. Mix things up, be unexpected in your clothing choice.
If you want others to perceive you as an industry leader, then dress like a leader. Take time out to style your outfit. Make sure the color and style is appropriate for your shape and age.
During current times, buy less but buy well. Buy styles that will stay with you for years to come. If you want to buy something super trendy, then go for one or two inexpensive items. But overall, quality outfits that fit you well should be perceived as an investment in yourself.
Also, buy with purpose. Look closely at the values and business practices of the brands you are supporting. Do they share your values? Now more than ever, use your spending power to send a signal to brands that are being marketed to you.
Why is NY the perfect backdrop for the launch of Dressing for the Now?
Dressing for the Now collection is our COVID pivot launch that is available nationwide through our e-commerce site. We designed this relaxed, luxury capsule collection intended for days when you need to go from school drop-offs, to a Zoom meeting, to an outdoor dining experience. From the modern velvet joggers and tops to the mohair oversized wrap coat, you will feel good and look chic effortlessly, no matter where your day takes you.
We chose NYC as the perfect backdrop for the photoshoot and called it: Love Letters to NYC. As a brand, we wanted to celebrate all things NYC, such as Pizza, Brooklyn Bridge, Yellow Taxi, etc.
During COVID, NYC was hit hard and I personally wanted to play a role in bringing it back. A few months ago, I had a choice to move out of Manhattan and re-start our brand outside of NYC as a less expensive option, but I chose to stay.
In addition to staying in the Garment District, we doubled-downed on our values of manufacturing everything in NYC. I moved our design studio closer to our factory and made a commitment to our suppliers that we will continue to produce our current Dressing for the Now and future collections in NYC.
Being in New York was and still is a dream for me and many people around the world. This city has provided me so many opportunities and has allowed me to live out my dream of building a fashion brand. Now it is my time to give back to this glorious city that is going through tough times. I want AYSHA NY to be part of New York City's comeback story.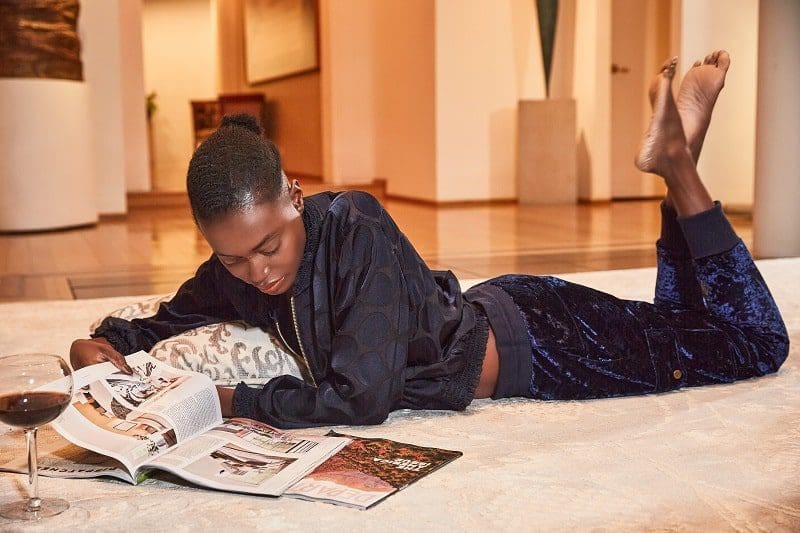 Which pieces from your capsule collection are your predicted/current best sellers?
From our Dressing for the Now collection, The Only Pant, made from Italian crushed velvet that comes in seven different colors, is turning into the best seller. Its style and fit really speak to the times women are living in currently. The fact that it is produced in NYC and 12 small businesses are involved in making the garment really matters to our customers from a sustainability standpoint.
Furthermore, based on our customers' needs, we are also offering a matching Puff T-shirt, Drape Top and Sports Jacket, creating a very stylish and comfortable monochromatic look that goes from desk to dusk. We offer these styles in a variety of colors, including sage green and scarlet red, creating a truly perfect outfit for the holiday season, as well.
Even during a pandemic, we are staying true to our brand aesthetics, designing clothes that women can wear now and five years from now.
The Only Pant is a perfect example of a truly timeless style, and we are excited to see it on women in New York and beyond.