As spring is right around the corner, bridal season is close behind it. Second to the wedding gown, a bride's jewelry is essential for completing the perfect wedding day look. shopworn jewelryoffers luxury pieces from brands' past season's inventory, offering considerable discounts with the maintained trait of being unworn.
Elana Birnbaum, Director of e-commerce for ShopWorn, is preparing for her upcoming nuptials and has hand-selected these five jewelry pieces as must haves going into the bridal season. shopworn jewelry is also perfect for the individual who wants a symbol of their undying love for their significant other this Valentine's Day and beyond.
Mikimoto 18k White Gold Diamond and White South Sea Pearl Drop Earrings
These lovely Mikimoto earrings showcase White South See Pearls dangling from elegant diamond flowers. The diamonds' total weight measures .62ct, with a drop of 31.2mm, and a total weight of 9.3g.
The earrings are shipped with a Mikimoto box.
Lalique Eros 18k White Gold Diamond Bracelet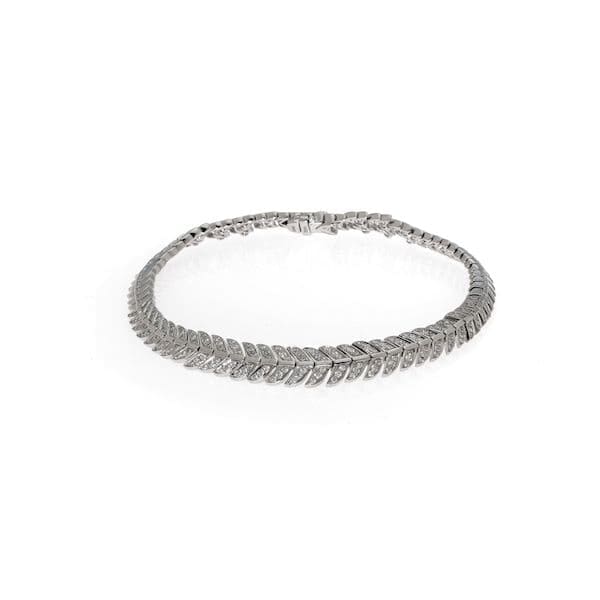 This breathtaking Lalique White Gold Diamond tennis bracelet is designed to symbolize an arrow from Eros, the God of Love.
The bracelet features a white gold set covered in dainty diamonds. The thickness of the piece is 8mm, with a length of 8in, and a weight of 26.3g. With purchase, the bracelet comes in a Lalique box.
Roberto Coin 18k White Gold Diamond Ring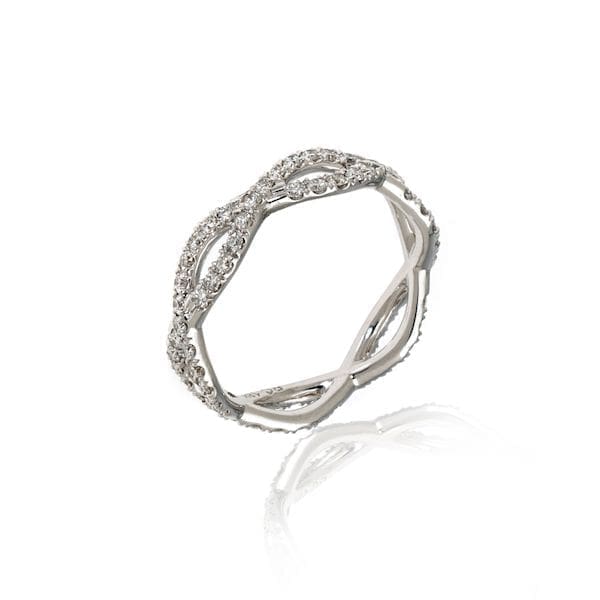 This stunning Roberto Coin White Gold Diamond Ring features a total diamond weight of .7ct, with a structure of diamond studded intertwining infinity designs.
The Roberto Coin 18k White Gold Diamond Ring is a size 6.25, with a band width of 5mm and a weight of 2.4g. The ring is shipped with a Roberto Coin pouch.
Mimi Milano Fiori 18k Rose Gold and Pearl Necklace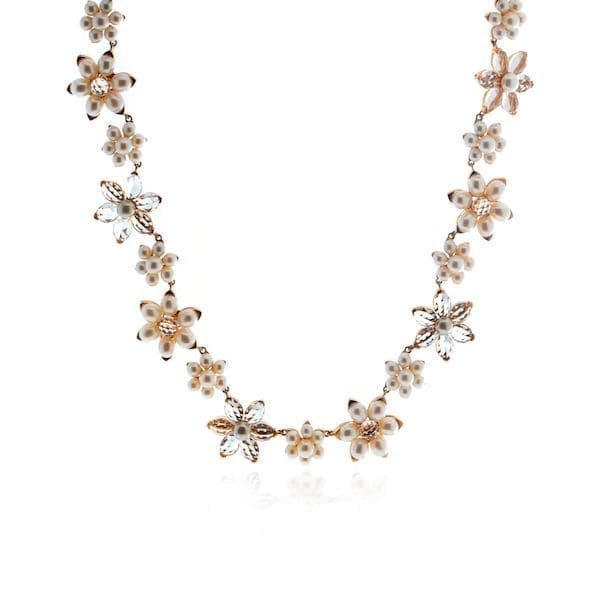 This dazzling Mimi Milano Fiori Rose Gold and Pearl choker necklace features an alternating floral pattern composed of white cultured pearls and rock crystal. The necklace's chain is adjustable, and is 14 inches at its longest. The decoration size is 20mm and it weighs 52g.
With purchase, the necklace will arrive in a Mimi Milano box.
Fred of Paris Fleur Celeste Platinum Diamond Ring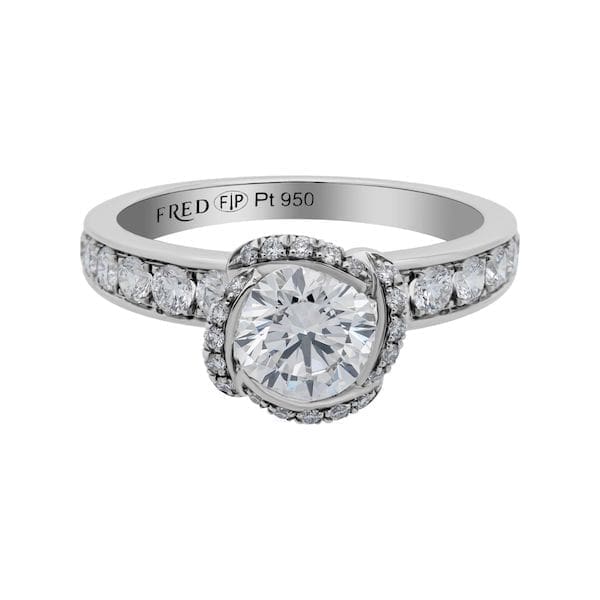 Featuring a dazzling 1.22ct, round cut diamond with a solitaire set. The Fred of Paris Fleur Celeste Platinum Diamond Ring is available in size 4.75, with a decoration size of 0.30in and a weight of 5.14g.
The ring comes along with a Fred of Paris ring box, as well as a G.I.A Diamond Certificate.
About Shop Worn
With prices at 40% to 80% off the original retail prices, demonstrating your eternal love with sparkly things doesn't have to be expensive for the wallet. Because ShopWorn works directly with brands and their authorized retailers, all items are assured to be 100% authentic. In order to further build trust between the site and the buyers, each luxury piece is photographed by an in-house photographer, rather than using stock photos, so whatever is ordered online will look exactly as pictured when received.
Unlike pre-owned sites, ShopWorn baubles come with hefty savings, guaranteed authenticity and a comfort in knowing you'll be the first to own your new treasure. At any given moment, shopworn jewelry features a 'Flash Sale' section on their website, showcasing items for as much as 80% off of the original price! Signing up to their newsletter will get you even bigger savings.
In order to find the newest deals, ShopWorn features all of their new items in the 'New Arrivals' section of their website. You can use detailed filtering options, such as diamond clarity, country of origin, material, etc. to find exactly what you're looking for.
Free shipping is available on all US orders, and authenticity is always guaranteed.
Available Brands Currently on the Site
Balmain
Dior
Versace
Gucci
Prada
Breitling
John Hardy
Swarovski