We highlight takeout, curbside pickup, and delivery options in Riverhead. From pizza and tacos to sushi and steak.
Cliff's Rendezvous
Cliff's Rendezvous is doing pickup, delivery as well as alcohol to go. Whether you're in the mood for seafood, a burger and fries, or a steak, Cliff's Rendezvous has you covered. They are open from 11:30am-8pm Monday through Friday seven days a week. 631-727-6880
Cucina 25
Cucina 25 is the perfect spot to order from if you're craving pizza or Italian. They open from 11am to 10pm Monday through Saturday and 11am-9pm on Sunday. Cucina 25 is serving their full menu and offers appetizers such as fried calamari, clams casino, buffalo wings, and mozzarella caprese.
If you're looking for something on the healthier side, they offer a garden salad, Greek salad, gorgonzola and salad, with the option to add shrimp, chicken, or avocado. They also offer delicious pasta dishes and baked dishes. 631-381-0388
Haiku Asian Fusion
If you're looking for sushi, we suggest ordering from Haiku. They are open Monday through Friday from 12-8pm and Saturday-Sunday 3pm and are known to be Riverhead's best sushi spot. Asian Fusion/Japanese cuisine, as well as soups and salads are available. Haiku has kitchen entrees such as Kabayaki, Seafood Tempura, Chicken Teriyaki, and many more delicious options. Fish is sourced from Braun Seafood Co. Phone orders and curbside only. 631-727-7778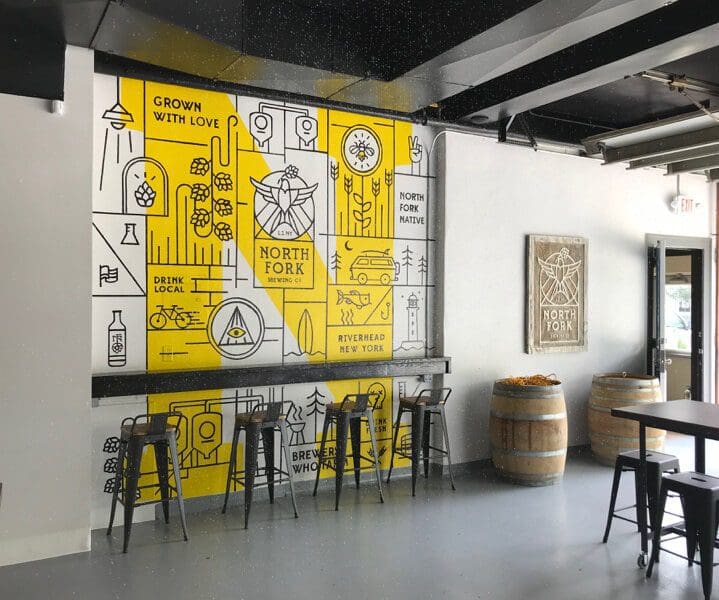 The North Fork Brewing Company
The brewery is doing pick up if you're looking for local beer. They are offering their full menu of drinks, available for pick up Wednesday through Friday 2-6pm, Saturday 12-6pm, and Sunday 1-6pm. 631-591-1191
Pulaski Street Grille
Pulaski Street Grille is open for available for takeout & curbside pickup. Available dishes include assorted salads, sandwiches, signature burgers, and complete dinner specials daily. Currently, they are open every day except Monday from 12-7pm. Delivery is also available through DoorDash. 424 Pulaski Street. 631-722-4220
RGNY Vineyard
RGNY is offering to-go purchases, curbside pick-up, and free delivery to those who live on the North Fork. They also launched Quarantine Kits, which include adult coloring books, at home blending session kits, and at home tasting kits. With their blending session kits, you can be your own winemaker at home! Create your own custom blend from their Merlot, Cabernet Franc, Cabernet Sauvignon, and Petit Verdot (pictured below). They also have a drive-thru wine stand for those who can stop by. 631-298-0075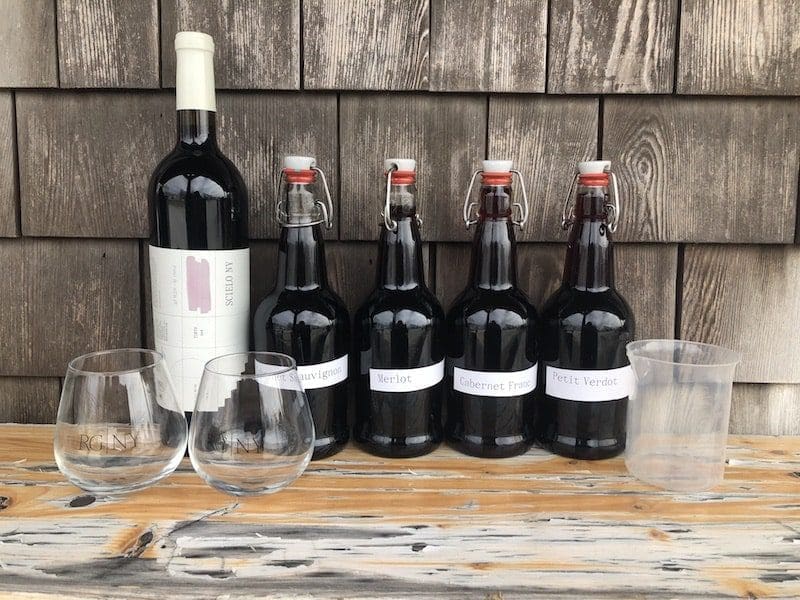 Star Confectionery
This beloved soda fountain since 1920 located in the heart of downtown Riverhead offers takeout, curbside pickup, and free delivery. Their full menu is available. Some of our favorites include classic sandwiches like hot pastrami on seeded rye, classic tuna melt, and bacon cheeseburger deluxe. Combine your order with a homemade fountain soda like homemade cherry, and vanilla coke, fresh squeezed lemonade, or an egg cream. Star Confectionery is open seven days a week, 8am-2pm. Breakfast is available until 11:30am. 631-727-9873
Taco Bout It
Taco Bout It is a great Mexican food spot to order from. They are open Monday through Sunday 11am-9pm offering their full menu. Whether you're in the mood for tacos, burritos, or tostadas, Taco Bout It has you covered. They also offer sandwiches, soups and salads if you're looking fotr a healthier option. 631-574-8787
Click here to see more restaurants offering takeout and delivery across the North Fork.