Severus Snape's Potions Class is now in session. The Cauldron, a magical cocktail bar based in London and New York, is a brilliant concept for Harry Potter fans and those who love a magical dining experience.
Pay the bar staff, but don't expect them to serve you a drink. Instead seek help from the Unicorn. Just wave your wand and enjoy unlimited bright pink, Unicorn blood cocktails made from a mix of freshly made syrups, juices and gin.
This is the unexpected scenario experienced by guests at the Cauldron cocktail bars in London and New York although 'magic wands do not protect against hangovers'.
The Magical Mission
The Cauldron's co-founder, Matthew Cortland, comments: "Our mission is to bring fantasy to life with science, technology and design. And so, our team of engineers and prop makers seek creative ways to make magic real for our customers. Magical creatures from mythology are such a fun way to do that and the unicorn, as one of the most well known mythological creatures, is a perfect fit."
Plus we do love glitter!" he adds. "It is a perfect mix of fun, camp and glitter to hit at the note of childhood nostalgia that we are aiming to achieve with our experiences. The Unicorn Blood cocktail is certainly delicious."
New York's Fantasy Themed Food
The Cauldron is not just a place to drop by for a drink or two. In New York you can enjoy a fantasy themed food offer in the restaurant.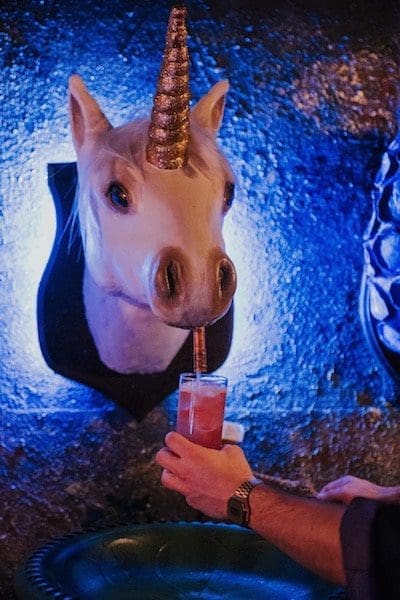 Book up in advance and you take part in a Professor Snape's potion style class, making up a range of gin-based cocktails. Guests use a working magic wand to brew molecular cocktails that bubble, smoke and change color.
Robes on, wands out, and guests meet magical creatures dispensing cocktails, a fantasy map and a divination fountain. Above all, this is a place to have fun.
The Cauldron Brings Fantasy to Life
As Matthew points out, this is where they "bring fantasy to life with science, technology and design, and to create a community of people who believe that magic is possible."
Just remember to sober up before getting on your broomstick at the end of the evening.
Feeling inspired by the idea? Matthew is now inviting guests to become owners. "We have just launched our first investment campaign to turn customers into owners.  It's live on Seedrs."