The Lofoten Islands in Norway are undoubtedly one of the most beautiful places on the planet. There is a lot to do and many things to see on the islands, so here we've prepared an introductory Lofoten travel guide to the 5 islands that make up the Lofoten Islands.
It's not possible to cover every destination in Lofoten in one article (that would be an epically long post), but here we will give you a brief introduction to the best places, views, hikes, and accommodations on the islands. Dive in and discover Norway's spectacular Lofoten Islands!
Introduction to the Lofoten Islands
What are the Lofoten Islands?
The Lofoten Islands are a chain of 5 Islands in Arctic Norway. The islands are the self-proclaimed "the most beautiful islands in the world" and one visit to Lofoten will leave no doubt in your mind that they just might be right.
The islands are not huge, but they are incredibly rugged and connected by only one main road, making travel time a bit slower than driving down a motorway. The five islands are similar, yet different in their own way. When planning a trip to Lofoten you'll have to decide where you want to stay and what you want to do. That's where this article comes in.
Where are the Lofoten Islands?
The Lofoten Islands are in Northern Norway on the North Atlantic coast. They start at the village of Hanoy and run south from there to the end of the E10 road at A (that's the name of the village), covering about 180 km.
The nearest cities of any sort of considerable population are Narvik and Harstad, home to over 20,000 people each. While the nearest notable city is Tromso, about 380 km north of Hanoy.
How to get to the Lofoten Islands
The Lofoten Islands are actually quite easy to get to, thanks to numerous regional airports on and near the islands. Most people fly into one of the regional airports and rent a car.
For more information about getting there, check out this detailed guide on how to get to the Lofoten Islands.
Lofoten Islands weather
The weather in the Lofoten Islands is not going to trick you into thinking you're in the Mediterranean. It's cold, cloudy, and gloomy most of the time, even in the summer. Rain is common and seemingly falls without end.
The best time of year to visit is June – early September, when summer is in full swing, and you have the best chance for clear skies. There's also 24 hours of daylight starting in mid-May and lasting till late July.
The islands are unique for having a temperate Arctic climate. The temperature only varies by about 2-3 degrees Celsius each day, no matter what season. It hardly ever gets hot. And it doesn't actually get too cold, with the average January low being about -1 (30 F).
Transportation
You'll want to have a rental car or van for your trip to Lofoten. There is a pretty good bus system, but you'll really want the freedom of your own wheels on this trip.
Now let's get into the 5 islands of Lofoten. These are ordered from north to south in the following sections.
Austvågøy
Austvågøy is the northernmost and largest of the Lofoten Islands. It's the second most populated island and home to the largest town in the archipelago, Svolvaer.
Main attractions
Although it's the largest island, visitors to Lofoten usually spend less time on Austvågøy than other islands. That doesn't mean there aren't amazing things to do on the island, though.
Henningsvaer
At the far southern tip of Austvågøy you'll find the beautiful fishing village of Henningsvaer. The town is most notable for having probably the most picturesque soccer field on the planet. You've surely seen photos of it taken from drones.
Henningsvaer is more than just a soccer pitch though. The town has colorful wooden buildings and features the towering peak of Festvågtind in the background.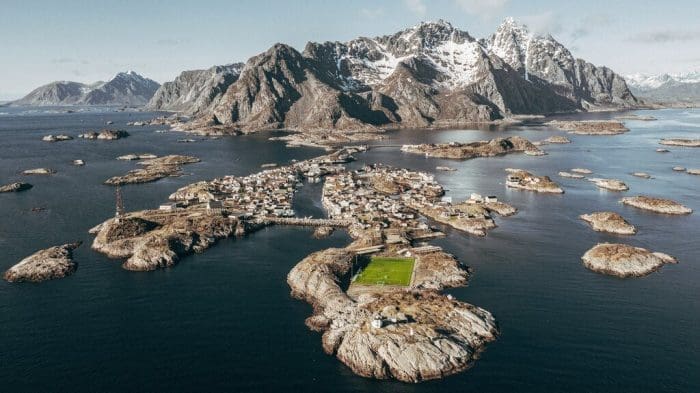 Svolvaer
Svolvaer is not the prettiest town in Lofoten by any stretch of the imagination. But it's the main population center and where you'll find the most restaurants, stores, and tour operators.
In Svolvaer you'll also find the Lofoten War Memorial Museum, Magic Ice Lofoten (an ice sculpture museum), and the Lofotpils Brewery, the only craft brewery on the islands. There are large hotels in Svolvaer as well, but do yourself a favor and avoid those.
Instead stay in a rorbu – a traditional Lofoten fisherman's cabin. They are all over the islands and most feature full kitchens and living rooms.
Djevporten
Djevporten is a funky rock formation of a loose rock basically bridging between two cliffs. It's the end point of a steep 2-mile round trip hike from the town.
Top things to do
There are a ton of things to do on Austvågøy for the adventurous and the not so adventurous. If you want to do all the activities here, better plan on spending at least 3 days on the island.
Trollfjord cruise
One of the most popular activities in all of Lofoten is taking a fjord cruise. Multiple outfitters based out of Svolvaer offer short cruises down the iconic fjord, which is only reachable by sea. The cruises are either 2 or 3 hours and start at NOK 1190 (about $110 USD).
Fishing charters
Another popular sea-based activity is going out fishing. There are various options for a half-day fishing charter from Svolvaer. All fishing gear will be provided, and you'll be taught how to catch some cod if you're a beginner. Tours start at about NOK 1000 ($93 USD) and run year-round, even through the winter.
Hiking
Like anywhere in Lofoten, hiking is the go-to activity on Austvågøy. With so many rugged peaks, there are endless hiking opportunities on the island. Some of the most popular hikes are:
Djevporten: hike to a funky rock as discussed above.
Festvagtinden: 1.6-mile round trip hike up nearly 1700 feet for great views of Henningsvaer.
Tjeldbergtinden: 2.5-mile round trip hike just outside of Svolvaer.
Museums
In Svolvaer you'll find the Lofoten War Memorial Museum and the Magic Ice Lofoten (an ice sculpture museum). The War Museum is dedicated to the region's WW2 history, while Magic Ice Lofoten is a collection of fantastic ice sculptures that are visible all year round.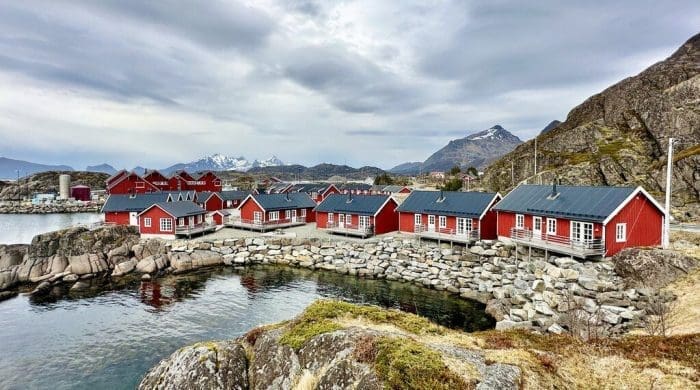 Where to stay
I recommend staying outside of Svolvaer, either in Henningsvaer or Kabelvag, or in between those villages. Some recommendations for specific accommodation can be found below.
Nyvagar Rorbuhotel: A beautiful hotel comprised of dozens of rorbus, complete with a restaurant, bar, and reception area.
Tobiasbrygga: A small hotel with large apartment-style rooms in central Henningsvaer.
Lofoten View Kabelvag: A holiday home for rent in Kabelvag that features a balcony with beautiful views.
Gimsøya
By far the smallest of the Lofoten Islands, Gimsøya is basically just a couple mountains coming out of the sea. Most people totally skip Gimsøya, but they're missing out on a few interesting things.
Main attractions
Gimsoy Kirke
Probably the most scenic cathedral in Lofoten, The Gimsoy Kirke is a white church built with traditional Nordic architecture. It's basically in the middle of nowhere, right on the northern coast of the island. It's about a 10-minute drive down a tight one lane road to get there and you can't actually go inside the church, but it's worth a stop if you have time.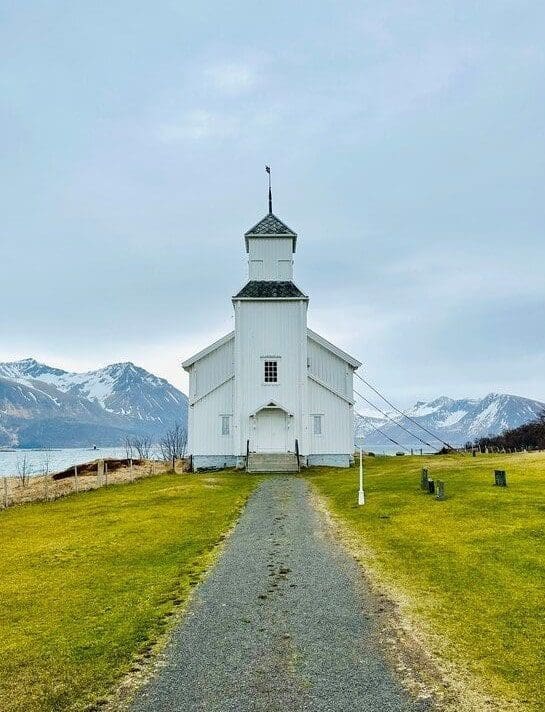 Lofoten Links Golf
If you ever dreamed of teeing off on a round of golf at midnight then Lofoten Links is for you. The hotel has an 18-hole golf course that's open from early May to mid October. You can book a round of Arctic golf on their website.
Top things to do
As a tiny island, there is not a whole lot to do if you're not going to play a round of golf. I hope you like hiking.
Hike Hoven Peak
The main hike on the island is the Hoven Peak hike. It's a seriously steep hike up the island's second highest mountain. You'll gain nearly 2000 ft (610m) in just 1.5 miles on the way to the top.
Where to stay
There are very limited lodging options on Gimsøya. The main hotel is Lofoten Links, which features numerous accommodation types across the street from a rocky beach. There are other options, however, if you're looking to stay at a holiday home, like Lillevik Lofoten.
Vestvågøy
Vestvågøy is one of the more popular islands in Lofoten, thanks to its amazing beaches, scenic mountains, and restaurant options. One thing to know before visiting Lofoten is that there are far fewer restaurants than most major tourist destinations. Stay on Vestvågøy, though, and you'll be fine!
Main attractions
Most people stay 2-3 days on Vestvågøy in order to fully appreciate the island. There are a ton of things to do and many places to see to keep you busy.
Lofotr Viking Museum
The viking museum is located at the location where the largest Viking long-house ever known to exist was found. A long-house is basically a traditional Viking home. It's long and thin, hence the name. The long-house has been rebuilt and turned into a museum.
Unstad Beach
Unstad Beach is a beautiful beach that is famous locally for being a great surfing spot. Most people come to Unstad to surf, but it's also possible to come just to appreciate the beauty of the scenic beach between towering peaks.
Haukland Beach
Haukland Beach has been named by Lonely Planet as the most beautiful beach in Europe. One visit and you'll see why. The white sand and turquoise water will fool you into thinking you're in the Caribbean. The jacket that you're wearing will remind you, however, that you're not.
Leknes
Leknes is the second most populated town in Lofoten. There are not a ton of points of interest in the town, but it does have plenty of restaurants, bakeries, shops, and supermarkets.
Ballstad
Ballstad is a beautiful town on its own little island at the southern coast of Vestvågøy. There are tons of lodging options at the base of the steep mountain, yet few restaurants. The view from the bridge to the island is unbeatable.
Lofoten Seafood Center
The Lofoten Islands produce a lot of seafood, and you can learn all about it at Lofoten Seafood Center. It's not really a museum, but a private seafood business that has a showroom and some exhibits. It's free to stop by and learn all about how they farm salmon and catch cod.
Top things to do
There are a ton of things to do on Vestvågøy. These are mostly outdoors based, but so is life in Lofoten. When the weather is poor – as it often is – there isn't a whole lot to do on the island other than relaxing at your rorbu with a nice glass of wine.
Hiking
There are dozens of epic hikes on Vestvågøy. We can't go through them all here, but the most popular hike on the island is the Mannen Peak Hike. This short hike takes you up a steep mountain high above Haukland Beach for some of the best views in all of Europe.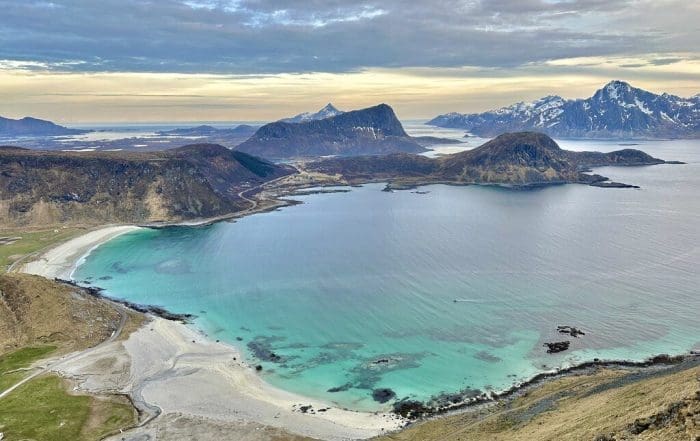 Go to the beach
It doesn't get warm enough to lie on the beach too often in Lofoten. But should you get that rare event, a day at Haukland Beach can't be beat. There are a ton of beaches on the island, but Haukland and neighboring Vik are by far the best beaches to spend your time at.
Surfing
As mentioned before, surfing is a popular activity at Unstad Beach. You'll need a full wetsuit for surfing in the Arctic, but it's an experience you won't soon forget. Consult Unstad Arctic Surf for more information.
Kayaking
Kayaking is a popular activity at Haukland Beach. Haukland Beach's tourism department manages kayak rentals and will hook you up with a nice day on the sea.
Where to stay
There are a lot of lodging options on Vestvågøy. I recommend either of the two options below, though there are many other fantastic places to stay on the island as well.
Statles Rorbu- og Konferansesenter AS: A large property with many different types of rorbus to stay in. The owners are extremely friendly and the views from the balconies are superb.
Lofoten Basecamp: A collection of rorbus on the water. They face south, so they get precious sunlight in the winter months when the Polar Night ends.
Flakstadøya
Flakstadøya is a stunning island, complete with towering peaks coming straight out of the sea and charming fishing villages. It's a less crowded island, as it's so rugged, but you'll want to spend at least a day exploring the island.
Main attractions
Flakstadøya has a number of things to do and see. We will go through a few of them here.
Ramstad Beach
Ramstad Beach is one of the most beautiful beaches in Lofoten. A long stretch of white sand with nearby beach cabins, it's a popular beach for day trippers and campers alike. No other beach on the island even compares to Ramstad.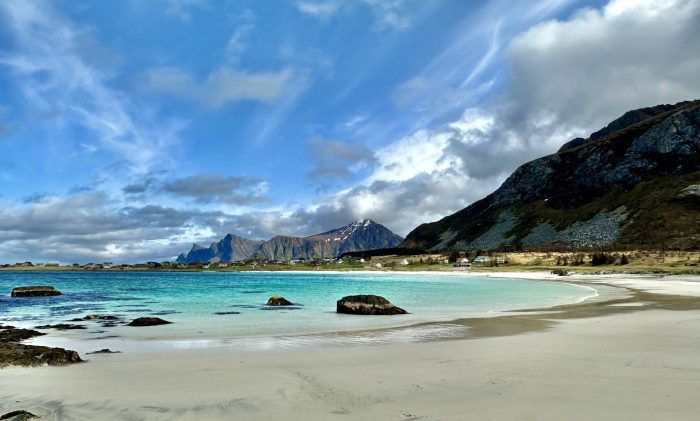 Nusfjord
Nusfjord is probably the most beautiful and historic fishing village in the Lofoten Islands. Tucked away along a fjord at the southern side of the island, Nusfjord has been populated for generations. It's tiny and easy to walk around in an hour or two.
Storvarnet Viewpoint
One of the most Instagrammable places in the Lofoten Islands is a seemingly random spot in the road on the way to Nusfjord. From here you stare straight down a sheer cliff of granite. The road isn't usually too busy so it's possible to stop on the road for plenty of photos.
Top things to do
Hiking
The hikes on Flakstadøya are not quite as popular as the big hikes on Vestvågøy and Moskenesøya. This means you'll be able to find some solitude should you choose to hike on the island. The best hike on the island is Volandstinden Peak trail. It's about 3 miles out and back and takes you up 1500 ft (457m).
Photography
As mentioned already, some of the most photogenic places in Lofoten can be found on Flakstadøya. The island is seemingly one giant art canvas. Stop as often as you can to photograph the fantastic landscapes. Nusfjord also makes a stunning background for fjord photography.
Where to stay
There are plenty of places to stay on Flakstadøya, even if most people skip over the island in favor of its more popular neighbors.
Ramberg Gjestegård: If you want to stay directly on the beach, this is the place for you. They also have campsites and a delicious restaurant.
Nusfjord Arctic Resort: If you want a little luxury in Nusfjord, this is the perfect option.
Moskenesøya
Finally, we get to the southern end of the Lofoten Islands. Moskenesøya is the most popular island and what most people think of when they think "Lofoten Islands." The village of Reine is thought to be the most beautiful town on the islands.
There is a major ferry terminal in the tiny village of Moskenes that connects the southern tip of Lofoten back to Bodo on mainland Norway. Bodo also has a regional airport and many people visiting Lofoten choose to fly to Bodo and take the ferry to Moskenes.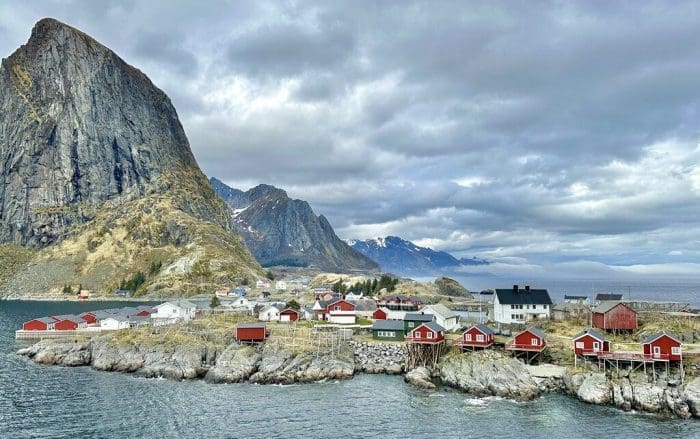 Main attractions
There are a ton of beautiful places to see on Moskenesøya. In fact, some people who visit Lofoten never even leave this one island. It's got everything you would ever need for an amazing Arctic vacation.
Reine
Reine is one of the most scenic villages you will ever see. Tucked in between towering peaks and with coastline galore, it's the most popular place in Lofoten. For as popular as it is, there are minimal restaurants and only a few places to stay.
Hamnoy
Hamnoy is basically just a collection of rorbus and houses on a tiny, rocky island on the highway to Reine. But the backdrop of the steep mountainside behind the village makes it one of the most photogenic places in Norway.
Reinbringen
The most famous view in all of Lofoten is from the top of the Reinbringen mountain just outside of Reine. It's about 1700 steps to the top of the mountain. The steps were built by Nepalese Sherpas in 2018, making the hike accessible to anyone who doesn't mind climbing 1700 steps.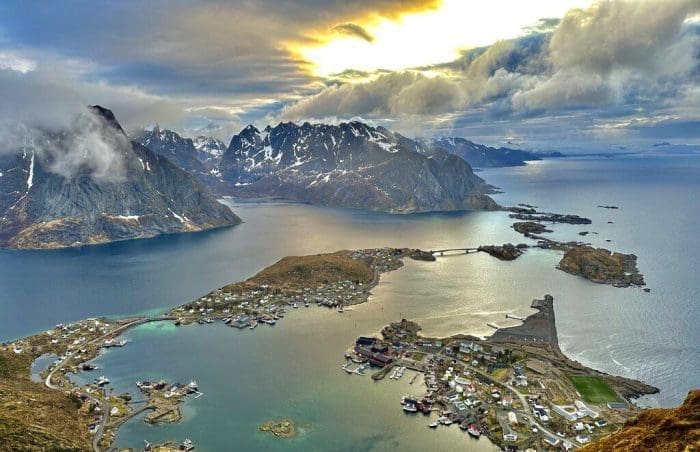 Kirkefjord
Kirkefjord is a deep fjord that almost splits Moskenesøya in two. You can take a ferry down the fjord to the dock to explore the pristine beauty of a part of Lofoten not accessible by car.
Kvalvika Beach and Ryten Peak
Kvalvika Beach is one of the most scenic beaches in Lofoten. It's only accessible by a 1.5 mile hike each way from the parking lot. Above the beach, Ryten peak rises into the sky. It's popular to combine the beach and the peak into one amazing hike.
Top things to do
Hiking
As usual, hiking is the prime activity on Moskenesøya. Aside from the Reinebringen hike and the Kvalvika Beach / Ryten hike, there are dozens of other epic hikes on the island. If you're up for an epic overnight hike, head down to the end of the E10 Highway and walk to the south tip of the island, up and down mountains without another soul in sight.
Kayaking
Kayaking is a very popular summer activity in Reine. There are multiple outfitters that will take you on a kayaking tour around the fjords. Just be prepared to pay top dollar though. 2-hour kayaking tours start at over $100 per person.
Photography
Moskenesøya is a photographer's dream. There are so many photogenic spots on the island that it's hard to choose a favorite. Literally anywhere you go around Reine is amazing. But if I had to choose, I'd say the view from the bridge to Hamnoy is the best!
Where to stay
While Renie itself may not have as many accommodation options as you'd expect, outside of the town there are plenty of options. Here are a few recommendations.
Rostad Retro Rorbuer: a quiet rorbu with an epic view of Hamnoy. It's hard to beat staying at Rostad!
Sakrisøy Gjestegård: one of the most famous accommodations in Lofoten, the hotel is a collection of yellow rorbus on the sea with views of Reinebringen.
The Manor House in Hamnoy: one of the top-rated hotels in the region, there are a few rooms to stay at in this large house in the tiny village of Hamnoy.
South of Moskenesøya
While those 5 islands make up the Lofoten Islands, there is another gorgeous island south of Moskenesøya that many people consider part of Lofoten. Vaeroy is not accessible by ferry, but the island features some of the most splendid mountains in Norway. It's a tiny island, basically a mountain that came out of the sea. The ferry runs multiple times a day so it's easy to visit as a day trip from Reine.
Final Word
The Lofoten Islands are one of the most beautiful places on earth. After reading this Lofoten travel guide, you're now familiar with all 5 of the Lofoten Islands and have a good background for planning an awesome trip to this amazing part of Norway!