Go a little off the beaten track when visiting Italy and discover the charm of pretty towns and villages rich in heritage and culture, as well as local food specialties. Below we take you across the Bel Paese and uncover some of the most beautiful towns and villages across Italy.
Bellagio, Lake Como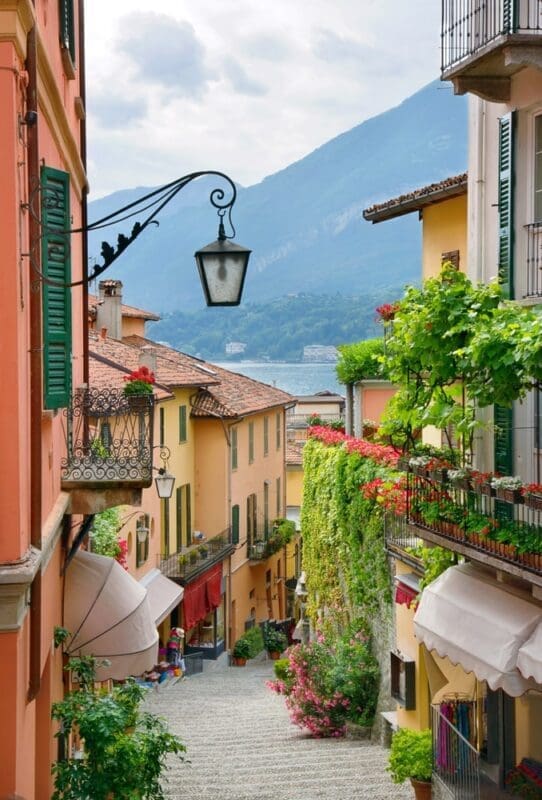 This pretty lakeside town in Italy has attracted countless visitors over the centuries including Pliny the Younger, Franz Lizt, Al Pachino, George Lucas and George Clooney.
Explore the lovely shops in the old town and climb the alleyways to the medieval Basilica of San Giacomo. Discover hidden secrets within the gardens of the nineteenth century Villa Meizi such as the Japanese style pond, caves and a museum of Napoleonic memorabilia.
Take a boat trip on the deepest lake in Italy and enjoy freshly caught fish at Bellagio's restaurants. Try specialties like Risotto con il pesce persico while dining on lakeside terraces.
The Rockafella Foundation owned hotel Villa Serbellioni offers superb accommodation surrounded by over 50 acres of gardens and parkland.
Castelmezzano, Basilicata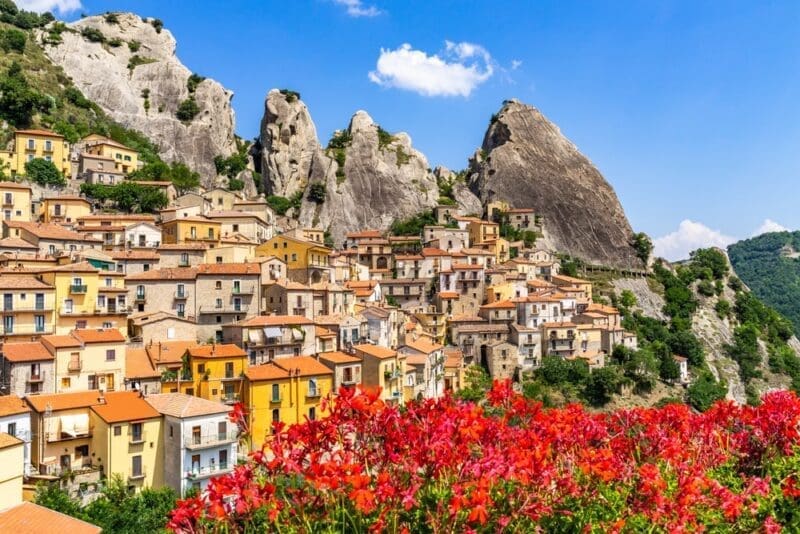 Fly through the air at 120 mph on the Flight of the Angel zip wire experience between the rocky mountain peaks of Castelmezzano and Pietrapertosa for incredible scenic views of the Dolomites Lucane Park. According to legend, this is where the Mafia began when landowners were forced to negotiate with brigands for return of their property.
Mostly medieval in style, Castelmezzano involves lots of steep stairs carved into the rock. Stroll around the remains of the Norman castle walls and climb the Gradinata Normanna leading to the castle's look out point.
Don't leave the town without trying some of the local food specialties such as Strangolapreti containing ricotta cheese & mint, kid with barbecued potatoes and Crosti desserts made with honey. Most visitors rent apartments or houses such as the Casa del Mago in the centre of the Castelmezzano – said to have been the home of a local magician.
Cefalu, Sicily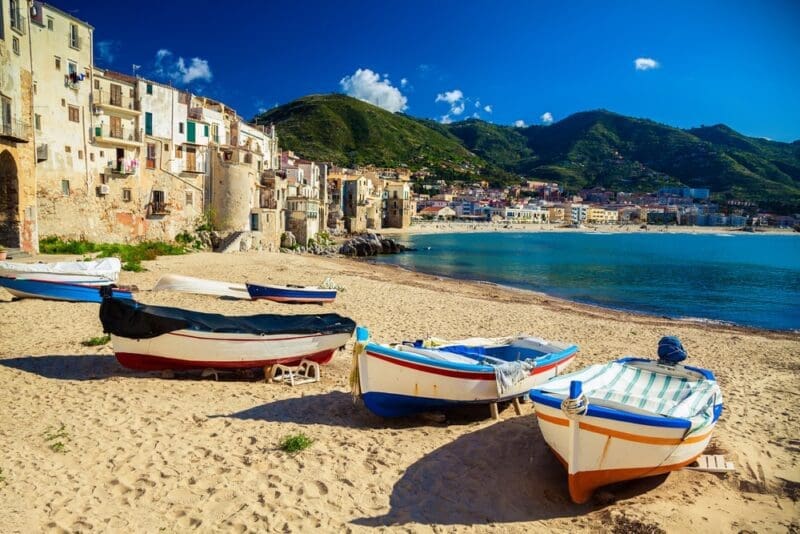 The mosaic of Christ Pantocrator above the Cathedral altar has UNESCO world heritage status. According to legend, the cathedral was built here rather than in the nearby Palermo following a vow made to the Holy Saviour by the Norman king Roger after his escape from a storm and gaining sanctuary on Cefualu's beaches.
Equally amazing is the Medieval Wash House which was used by villagers into the twentieth century. Imagine having to climb the steep lava staircase with your washing daily to reach the natural spring flowing from cast iron lion's heads.
Beach side hotels such as Hotel Kalura are ideal for enjoying the best of Cefalu's varied activities. Try the carne murata built in layers like a Norman stronghold, or the Pasta a Taino cooked in a large earthenware pot and the brioche con gelato.
Marzamemi, Sicily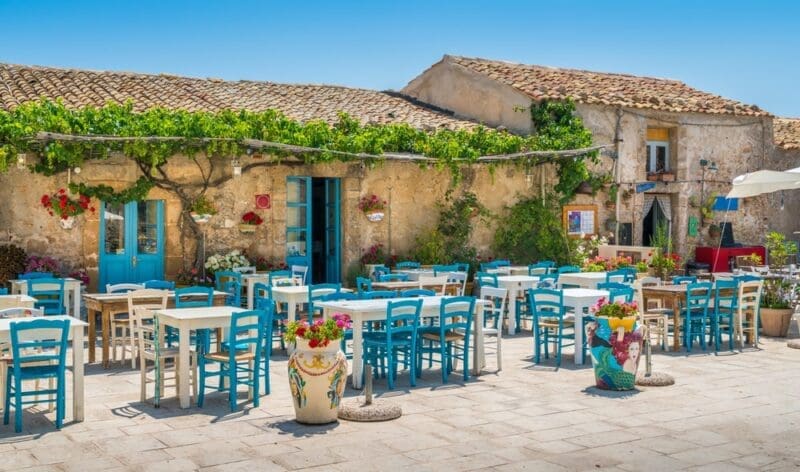 Take in a diving tour to explore the shipping wrecks around Marzamemi, or visit the Ille des Vengeurs local nature reserve. The first Tonnera devoted to catching tuna in eastern Sicily was built here and remained operative until 1969.
Mediterranean seafood dishes are popular in local restaurants like SAMA and Donna Nina. At the Hotel Villa Guilia, you can enjoy old world elegance on an estate that produces its own wines and olive oil.
Orta San Giulio, Novara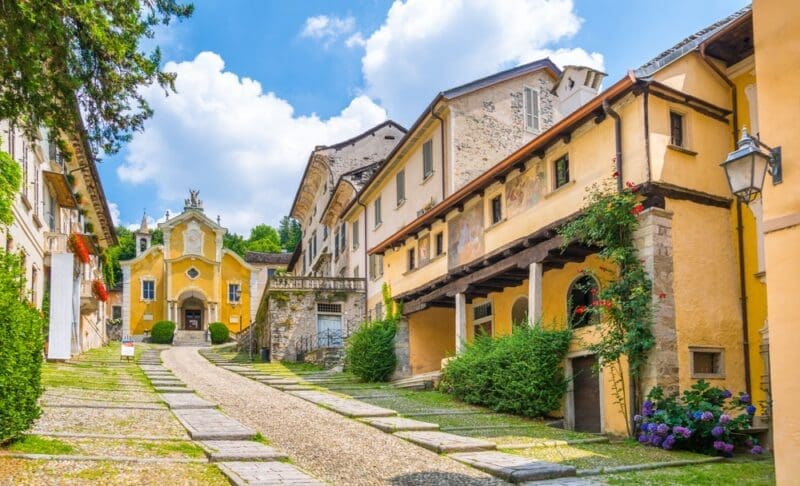 Visit a museum devoted to over 400 years of cooking at the Museo Degli Albergheri. Or head for the Sacra Monte historical park containing buildings with over 800 frescoes, and sculptures telling the story of St Francis of Assisi. The nearby Island of San Guilio seems to almost float on the lake.
Villa Crespi, a Moorish revival style palace hotel offers guests Michelin starred restaurant dishes based on Piedmontese traditions. Local specialties include Piedmontese Beef and the Castelmagno cheese that has been produced since the Medieval period.
Positano, Amalfi Coast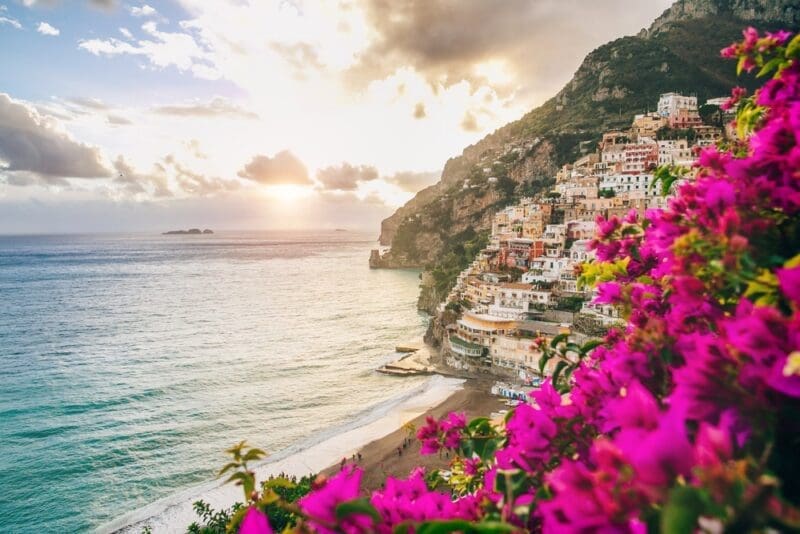 According to legend, Poseidon, the Greek sea god to created Positano to show his love for Pasithea, goddess of rest and relaxation. Buildings hug the cliffs, and the presence of 30 stone watch towers bear witness to centuries of pirate attacks.
Many houses are topped with white domes that are filled with sand to keep the buildings warm in winter, cool in summer. Enjoy cliff top walks, and the clear waters of Amalfi Bay.
Superb views are offered by Hotel Royal Positano with its lush garden and sun terraces high above the cliffs.
Spello, Umbria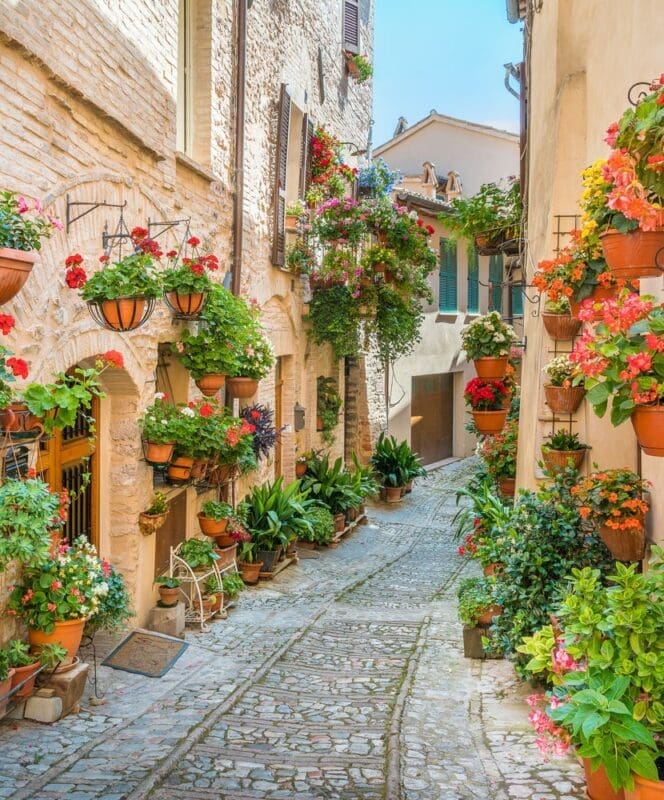 A town of flowers, Spello, located just south of Perugia, is a beautiful town in Italy renowned for its Infiorata festival held every summer. Village streets are covered in complex flower art designs. If you miss the festival, the Infiorate Museum highlights the traditions and some of the amazing designs that adorn Spello's streets.
Not to be missed is the Roman Villa dei Mosaica. It is filled with dozens of stunning floors ornamented with mosaics of wild animals, mythical creatures and geometric designs.
Stop off at Cantino di Spello for freshly made pasta with special sauces such as Ragu with wild boar before seeking out the seventeenth century Hotel Palazzo Bocci with its frescos and secret courtyard garden.
Stintino, Sardinia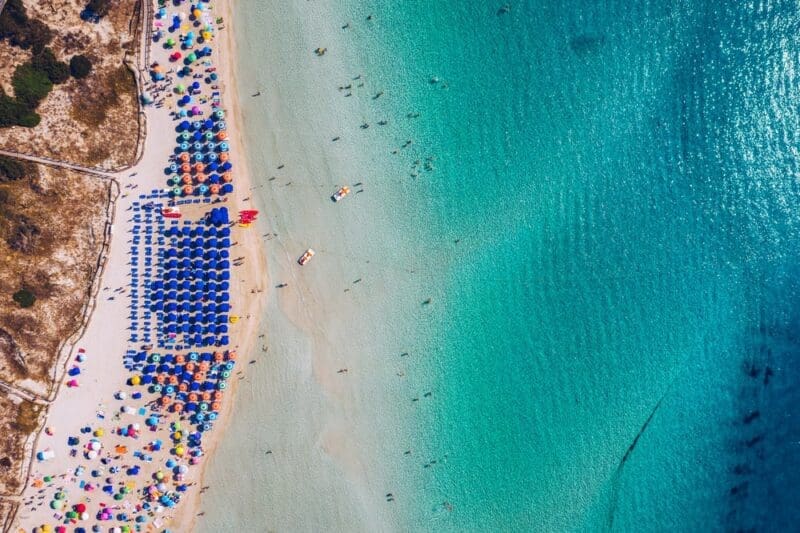 A marine paradise with snorkeling, scuba diving around coral reefs as well as dolphin and whale watching characterizes this little town in Italy was built by a group of fishermen in 1885.
Seafood dominates the local cuisine especially shellfish, urchins, clams and mussels. Some impressive hotels cater for tourists such as the Park Hotel Asinara decorated in traditional style or the Cala Rosa Club Hotel with its network of individual villas.
Vernazza, Cinque Terre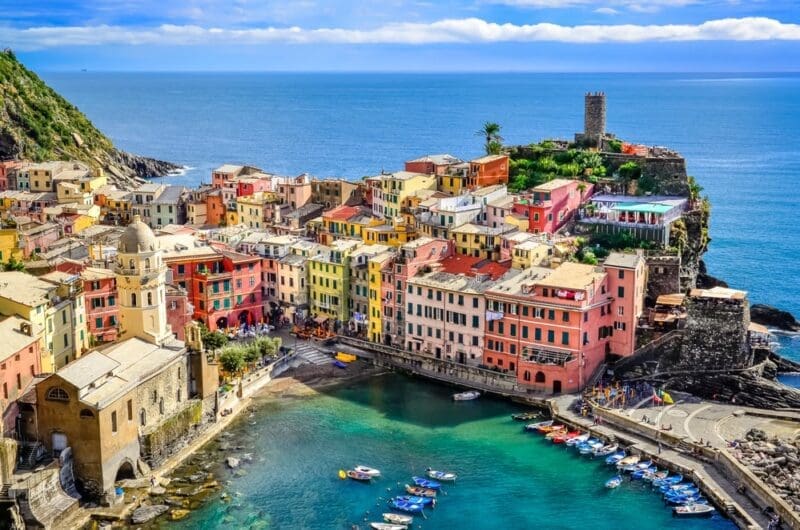 Follow an age-old Way of the Cross processional route linking Vernozza with the Nostra Signora di Regiio Sanctuary. Look out for the Festa dei Pirati. Festa dei Pirati can occur anytime in the year when Saracen pirates renact famous raids from the past.
Search out local dishes like ravioli with walnut sauce at restaurants such as Porto Roco.
Vipiteno, Trentino-Alto Adige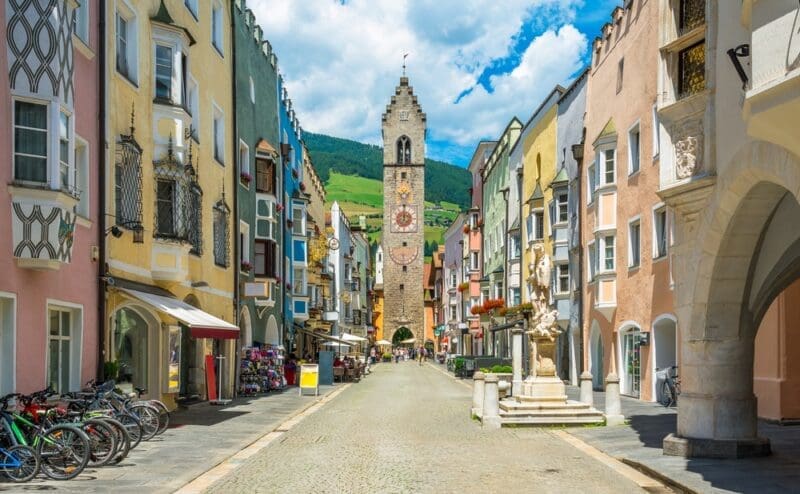 More Austrian than Italian, Vipiteno is a pretty Italian town close to the border and is often known as Sterzing. Dining here is a wonderful mix of Tyrolean and Italian dishes, amid pretty balcony bedecked hotels like Hotel Mezzaluna.
People have lived here since Roman times. Now dominated by medieval architecture, it is a charming place with views of the Tyrolean mountains. Discover historic wood carving, frescos and Renaissance art in the town's museums, churches and art galleries.