If your idea of places to eat and drink in Scotland are dominated by images of lots of tartan, wood and stone then prepare to be surprised. While traditional Scottish styles can still be found, there are increasingly lots of extremely unusual and quirky venues attracting diners.
Roseleaf in Leith
Edinburgh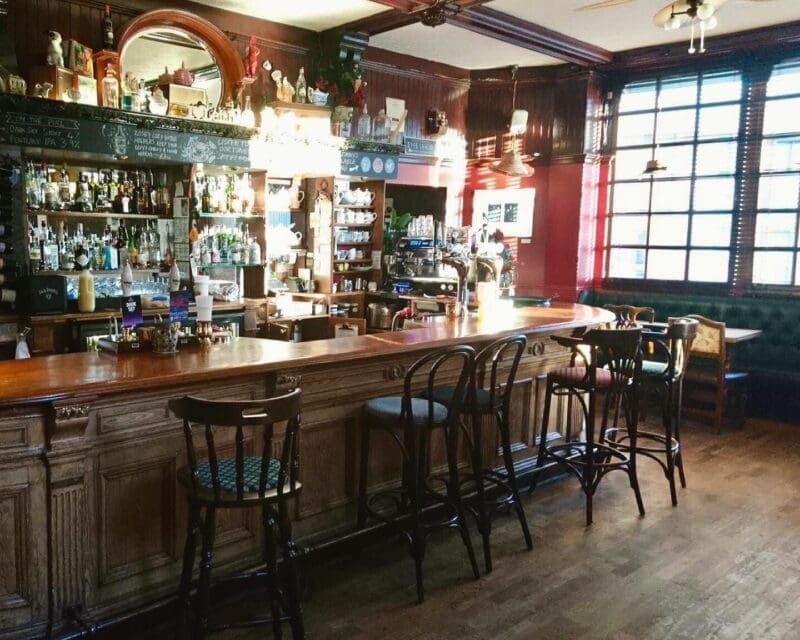 Roseleaf in Leith is typical – this is where the Mad Hatter's tea party runs truly wild.  Cocktails are served in teapots, mis-matched vintage furniture adorns the bar while you might need to duck your head to avoid the hats hanging from hooks suspended in midair from the ceiling.
Ask for a menu and you might find yourself being given an old magazine, leaving you to hunt through the pages to find the menu. Make your choice from quirky fare such as Okey Dokey Gnocchi, Finger Lickers, Chunky Cullen Skink or the Big Yin breakfast.
Hoot the Redeemer
Edinburgh
Head over to Hoot the Redeemer in Edinburgh to find one of the city's most eccentric cocktail bars.  Walking through the ornate entrance door guarded by a Tarot reader, you might be forgiven for wondering where exactly you are.  Apart from 1950's New Orleans influence, there is also a ceiling modelled on the Sistine Chapel.
Order alcoholic ice cream or an icy gin, rum or tequila slushie from a vending machine.  Play some retro arcade games and admire the vintage magician posters, while relaxing on cinema style seats.  This is the perfect place to try Scottish beer and cider such as Thistly Cross, Fallen Brewing and Barney's beer, since the owners pride themselves on supporting local companies.
The Voodoo Rooms
Edinburgh
Not far away is The Voodoo Rooms, specialists in music, entertainment and food. Ornate ceilings, elaborate carvings and huge arched windows characterize the dining area while menus range from Spicy Merguez meatballs to Katsu Cod and Parmentier Potatoes.
Want a drink? On offer is one of the largest selections of alcoholic drinks in the city, with at least 60 varieties of tequila and rum always available.
Badger & Co
A slightly calmer ambiance pervades Badger & Co, although even here there is a distinct unusual quality. Ask for a cocktail and you may find the image of a nattily dressed frog on top, for this is the former home of Kenneth Grahame, author of the children's classic tale Wind in the Willows.
Paintings of the various riverbank characters can be found on the walls, and the furnishings are very much Edwardian comfort with chandeliers, wood paneled walls and leather Chesterfield antique style seating.
Local and seasonal specialties dominate the menu including classics such as Bubble & Squeak soup (a mix of braised leek, savoy cabbage, potato, crème fraiche, poached egg or beef shin croquette), Steak & ale pie, Loch Awe Salmon and Hop Scotch Fries (Haggis, Cheddar and Sriracha).
Artisan Cheesecake
Edinburgh
Anyone that is seeking a sweet treat head for Artisan Cheesecake in Edinburgh is a best Places to Eat Scotland. Their slogan is simple – 'If you can't buy happiness … explain cheesecake'. The hardest part is choosing between around 250 different types of cheesecake, with flavours changing daily.
In total they make over 400 varieties of irresistible desserts including vegan versions. By far the most popular cheesecake is Eton Mess. The biscuit base is topped with a very rich, creamy cheesecake, a massive topping of meringues, followed by whipped cream and strawberries.
If you can resist the temptation, you can also choose from a range of homemade bagels with healthier fillings!
Kelvingrove Café
Over on Scotland's west coast, the second biggest city Glasgow has equally quirky dining options. The Kelvingrove Café was once a Victorian ice-cream parlour, but is now a chic bar restaurant serving churros, salted beef mac and cheese, as well as an extensive range of spirits.
Ubiquitous Chip
Founded over 40 years ago, Ubiquitous Chip focuses purely on Scottish regional food. They use the finest local ingredients such as Oban landed hake or Ramsay's of Carluke bacon. A sprawling venue, it stretches over several rooms and terraces all equally unusual in décor.  Imagine an indoor rainforest, cobblestoned floors, brilliantly lit atriums, botanical batiks, walls covered with murals, a koi carp filled pond and lots of fairy lights and you will begin to get a flavour of this iconic venue.
It also houses the smallest pub in Scotland – the Wee Whisky Bar. The Wee Whisky Bar serves more whiskies per square foot than any other bar around.