Within the boundaries of Belgravia and Victoria is Eccleston Yards, a collection of independent-like minded businesses that have a focus for wellbeing and creative enterprise. A short walking distance from Victoria Coach Station, Eccleston Yards consists of several shops within the sectors of fashion, fitness, food, and retail from cryotherapy and bootcamp to a wine bar and pottery studio.
Discover the Shops at Eccleston Yards
Dining
Eccleston Yards is considered by many to be one of the most beautiful places in London to visit. Between browsing the market's many traders, refuel at the famous Wild by Tart, serving a selection of seasonal small plates and desserts, along with takeaway cocktails and wine.
Or pop into Morena, Eccleston Yards' Latin American inspired café, known for their totally Instagrammable brunch dishes. Explore Jones Family Kitchen, this very British restaurant serves some of the best steaks in London.
Shops
There are several shops in Eccleston Yards where you can discover your creative edge. Begin at 50m, an experimental concept store dedicated to supporting and showcasing emerging designers. Then for your furry friends, head over to Over Glam, a pet fashion brand that sells adorable and very stylish clothes and accessories for dogs and cats.
For the runners in your life, head to Run and Become to find their (or your) perfect running shoe. Run and Become is an independent store that incorporates an authoritative range of the largest selection of running apparel, shoes and accessories.
Fitness and Wellness
Eccleston Yards is full of fitness and wellness options. From Los Angeles-based Barry's and Europe's popular Hotpod Yoga to a drop-in art experience at MasterPeace and SMUK, a natural beauty and lifestyle luxury studio, there is something for everyone. 
Classes, Specials & Workshops
A selection of offerings at local businesses include:
A combined class of yoga, meditation, and cryotherapy every Wednesday and LondonCryo
A free class when buying a class pack of 10 at Barry's Bootcamp
A 90 minute mindful painting class running for six weeks at MasterPeace
A special intro offer of £9.50 for a 10-day pass at Hotpod Yoga
delicious healthy dishes, including a superfood salad and non-alcoholic cocktails will be served at Jones Family Kitchen
You could easily spend the day or a few days here. Try something new and explore everything from meditation classes at Re:Mind (London's first meditation studio) and learn about new and emerging designers at the fashion concept store, 50m.
The Eccleston Yards Market
The Eccleston Yards Market has returned this spring in the heart of Belgravia! The market takes place every Sunday from 11am-5pm. Londoners and visitors can discover beautifully baked goods, hand-crafted homeware and accessories from a range of independent and small, artisan businesses.
Shoppers may also enjoy live sets from up-and-coming indie, pop, and country musicians from 12-4pm every weekend.
The Market is free to experience and located in a stunning outdoor courtyard tucked away from the hustle and bustle of Central London.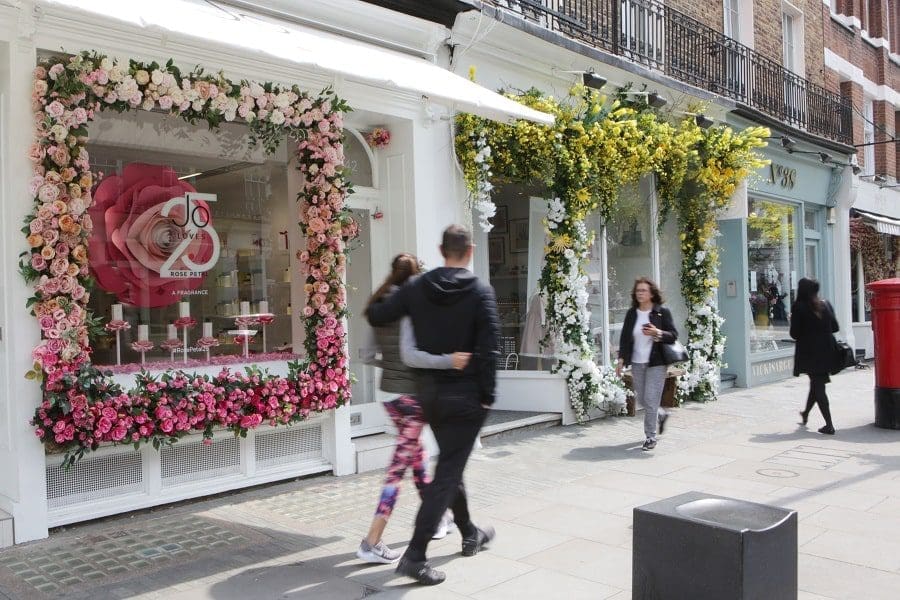 Elizabeth Street Neighbors
Eccleston Yards is next door to Elizabeth Street, home to a collection of boutique high end retail brands and considered to be one of the most beautiful places in London. Elizabeth Street is home to the Insta-famous restaurant, Peggy Porschen.
A perfect way to entwine your visit to Eccleston Yards is to mix a little bit of shopping along Elizabeth Street at Beulah London, ME + EM, and even the highly regarded milliner, Philip Treacy, has his storefront on this stylish, on-trend street.
Grosvenor Britain & Ireland
Eccleston Yards is part of the Grosvenor Group, one of the world's largest privately-owned property companies. They manage and invest in property in more than 60 cities around the world.
Grosvenor Britain & Ireland are currently creating other developments in Oxfordshire and Cambridgeshire.