Brisbane and the surrounding regions in Queensland, Australia have an incredible array of wineries to explore. 
If you're a wine lover, get ready for an epic adventure as you explore the diverse flavors and stunning vineyards that this area has in store for you. 
This article will take you on a tour of the top Brisbane wine experiences, showcasing the most captivating wineries that are guaranteed to leave a great impression.
Get ready to sip, swirl, and savor your way through Brisbane's vibrant wine scene!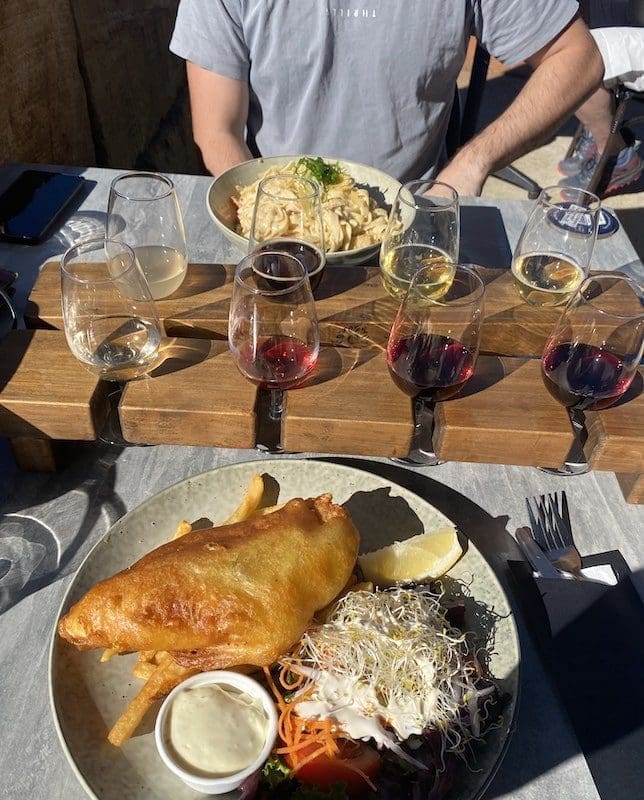 City Winery 
For those who prefer to stay closer to the city, City Winery brings the winemaking process right into the heart of the city. 
Visitors can witness the craftsmanship behind the wines, participate in interactive workshops, and sample a wide range of locally produced varietals. 
Although you won't get to enjoy the gorgeous vineyard scenery as you taste the delectable drops, City Winery offers a range of unique experiences, from wine blending workshops to vintage winemaking experiences and private chef-led degustation dinners.
Plus the central location in Fortitude Valley means you can enjoy indulging in wine without worrying about a dedicated driver or splurging for an Uber! 
Sirromet Wines
Just a short drive from Brisbane's city centre, Sirromet Wines is one of the most popular wine tours in Brisbane that you simply cannot miss!
Located in the scenic Mount Cotton area, this place is a wine lover's paradise. The views of the rolling hills alone will take your breath away, and the wines? Let's just say you're in for a treat.
At Sirromet Wines, you can take a guided tour to go behind the scenes of the winery facility and picturesque Mount Cotton vineyards. You will hear the tale of an Australian family who created one of the most famous wine brands in Queensland and will finish the tour with a private wine tasting of 6 Sirromet wines.
Or why not opt for a self-guided wine-tasting experience? Purchase a wine flight and choose between a White, Red, Mixed or Premium wine flight, and for a bite to eat, grab a grazing platter to share.
If you're still feeling peckish, treat yourself to a wonderful meal perfectly paired with a glass of their finest wine. Talk about a match made in heaven!
For something a little more romantic, consider booking one of Sirromets' seasonal picnic experiences whether it be getting cosy with an evening under the stars with your very own firepit and hamper or soaking in the sun and wonderful fragrance in the lavender field. 
Tamborine Mountain
A picturesque retreat located in the Gold Coast Hinterland, Tamborine Mountain is home to some of the region's most charming wineries. 
Tamborine Mountain offers a diverse range of wineries, each with its own unique character and style, making for an excellent day trip of winery hopping.
Embark on one of the many tour options to sip on handcrafted wines and engage in informative tastings while enjoying sweeping views of the surrounding rainforest. 
 Let's unpack the top wineries in the region.
Witches Falls Winery
A pioneer in the region, Witches Falls Winery is a family-owned establishment that has been crafting exceptional wines for twenty years.
Known for its cool-climate wines and similar growing conditions to the Northern Rhone in France, Witches Falls Winery offers light, bright and crisp wine varieties. 
Step inside the rustic tasting room and indulge in guided personalised tastings of their handcrafted wines, including popular varietals like Chardonnay, Shiraz, and their renowned Verdelho. Tastings are $15 and will typically last one hour. During this time, you will try six different wines tailored to your preference!
The winery also offers informative tours of its vineyards and winemaking facilities, providing a deeper understanding of its winemaking philosophy and techniques.
Cedar Creek Estate Vineyard & Winery
Cedar Creek Estate Vineyard & Winery offers a truly idyllic wine experience on Tamborine Mountain. 
This winery showcases stunning views of the vineyards and Tamborine National Park. Join a guided tour of the vineyard, sample some estate-grown wines at the cellar door, and even enjoy a leisurely picnic on the grounds.
Looking for a relaxing spot to grab a bite? Cedar Creek Estate's vineyards have got you covered! Lunch in the Gazebo surrounded by gorgeous gardens is always a treat. 
Mt Tamborine Vineyard & Winery
Tucked away in the stunning region of Mt Tamborine, this place makes for a wonderful stop-in to taste some of the region's best wine. 
Rolling hills, lush greenery, and vineyards surround the winery and make for the perfect backdrop as you enjoy a guided wine tasting.
When it comes to their wines, these guys know their stuff. They put heart and soul into handcrafting wines that are bursting with flavor. From crisp whites to bold reds, you'll find something to suit your preference.
Now, let's talk about the cellar door experience. The friendly and knowledgeable staff are there to guide you through the tastings, sharing their passion and expertise along the way. Whether you're a seasoned pro or a wine newbie, they'll make sure you feel right at home.
But it's not just about the wine here. You can also take a vineyard tour and get an up-close look at the winemaking process. Walk through the vineyards, learn about grape growing, and see firsthand the dedication that goes into making those delicious wines.
Oh, and did we mention that this place is also an incredible venue for weddings and special events? Picture saying "I do" surrounded by vineyards or partying the night away with your loved ones in this idyllic setting. It's pure magic.
Sunshine Coast Hinterlands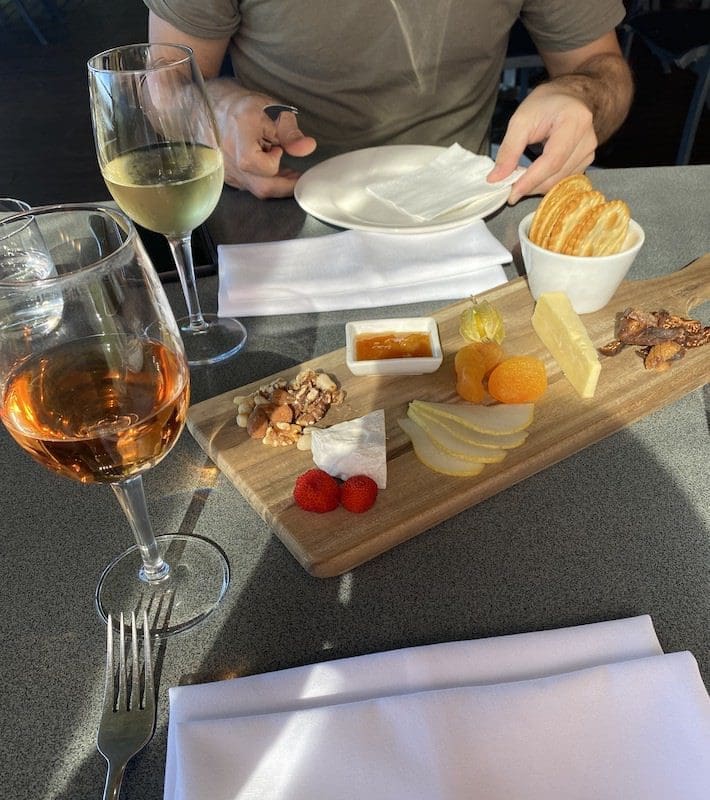 Moving north of Brisbane, the Sunshine Coast Hinterlands is a hidden paradise for wine enthusiasts seeking a unique and unforgettable experience. With its lush green landscapes, mountain views, charming towns and perfect climate, this gorgeous hinterland is home to a collection of boutique wineries.
Below are the best wineries in the Sunshine Coast Hinterlands, showcasing the best wine tours and wineries.
Flame Hill Vineyard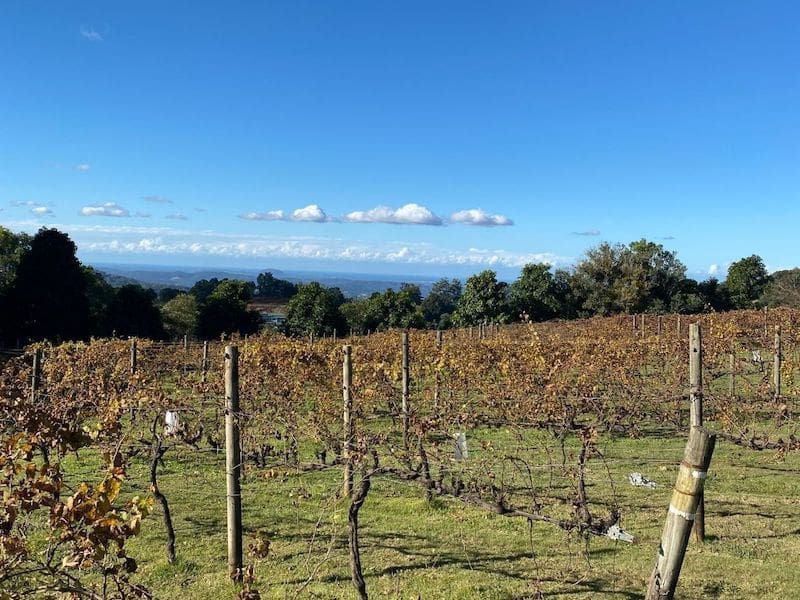 This award-winning winery boasts a stunning 300-acre property with vineyards, a cellar door, a restaurant, and even luxury cottages for those seeking an extended stay. 
Wine tours at Flame Hill Vineyard offer a unique opportunity to experience the vineyard firsthand, taste the exceptional wines, and indulge in a gourmet meal prepared with locally sourced ingredients. The panoramic views of the vineyard and surrounding countryside only add to the visit.
Located in the charming town of Montville, Flame Hill Winery is a fantastic spot for wine lovers. This family-owned winery is all about quality food and great wines.
At Flame Hill Winery, they've got a great selection of wines for you to taste to find the ideal wine suited to your palette. 
But it's not just about the wine here. Take a walk through the vineyards, snap some Insta-worthy pics, and soak in the breathtaking views. And if you're up for it, go for a guided tasting session where the friendly staff will give you the lowdown on each wine, making you feel like a true connoisseur.
Feeling peckish? Head to their restaurant, where they serve up mouthwatering dishes made with fresh, local ingredients. Seasonal specials appear on the menu including beef, lamb, fish and even rabbit! The food and wine pairings are on point, creating a flavor explosion that'll leave you wanting more. This is proper fine dining.
Additionally, what sets Flame Hill Winery apart is its commitment to sustainability. They're all about organic farming and taking care of the land. So you can feel good about sipping on those delicious wines knowing they've been made with love and respect for the environment.
The Barrel at Clouds Vineyard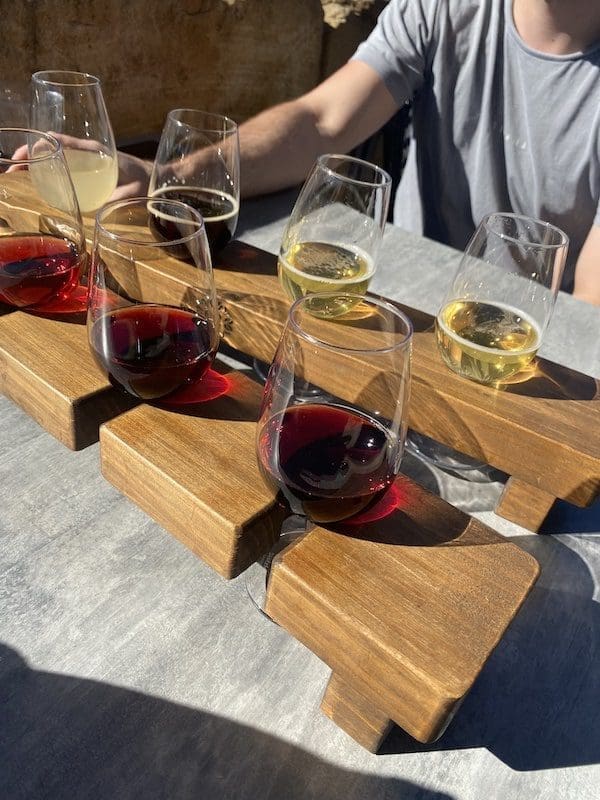 The Barrel at Clouds Vineyard, located in the enchanting countryside of Maleny, is an absolute gem for wine lovers and those looking for a chill time in the beautiful countryside.
They've got some seriously delicious wines that'll make your taste buds do a happy dance. From crisp whites to smooth reds, their selection is on point. Make sure to grab a wine-tasting paddle or they even offer a wonderful selection of craft beers on a paddle if you or your partner are more into cold brews. 
The best part? You can actually wander through the vineyards and soak in the stunning views. It's like a wine lover's dream come true. And don't worry if you're not a wine expert – the friendly staff will guide you through tastings, sharing their knowledge and passion for the wines.
But Clouds Vineyard is more than just about the wine. They've got a laid-back, relaxed atmosphere that's perfect for unwinding. Grab a bottle of your favorite vino, find a comfy spot in their outdoor seating area, and just let the world melt away. It's pure bliss.
If you're feeling hungry, Clouds Vineyard has you covered. Their onsite restaurant serves up delicious bites. You can indulge in some mouthwatering dishes made with locally sourced ingredients whilst you sip on your Chardonnay. It's a match made in culinary heaven.
Clouds Vineyard is a popular spot for couples and families so make sure to book in for lunch as tables can fill fast!