Wherever you go in Amsterdam, cheese is never far away. There are hundreds of cheese shops with a vast range of options. There are world famous cheeses like Edam and Gouda. Then, there are the unusual ones like Borenkaas, Blu de Graven and Deflt's Blu. Journey further and find experimental tastes like asparagus flavored cheeses.
Getting Around Amsterdam
Fast train links mean that you can explore regional cheeses in less than an hour.
Buying an IAM card is the best way to explore Amsterdam and the surrounding area. Initially focused on the Amsterdam tram network, it has steadily expanded to include travel via the train network to many outlying towns and cities. 



Amsterdam is the dairy epicenter of the Netherlands. Here in the capital city is where the Dutch know how to showcase their love for cheese. Some of the best cheese shops and vendors are found all across Amsterdam. 
There are also inexpensive daily tours that can be booked online or in person via Tours & Tickets. This tour company has several outlets around the center of Amsterdam. All tours leave from a departure point close to Amsterdam Central station, and they are extremely well organized.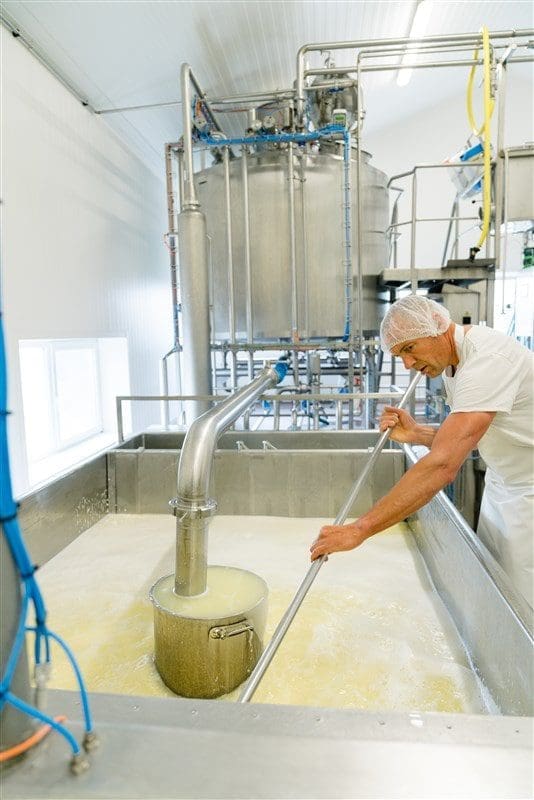 The Amsterdam Cheese Museum
The Amsterdam Cheese Museum is a good starting point for discovering the story of Dutch cheese. 
Located close to the Anne Frank house in the Pinsengracht, this small museum offers a fascinating introduction. Staff wear traditional clothing, and you can taste different varieties in the ground floor shop.  
Reypenaer Cheese
Reypenaer Cheese is based in a seventeenth century townhouse close to the city center. The company has been making creamy, artisan cheese at their premises in nearby Woerden for over a century.  
Book a cheese tasting session linked to an expert talk involving six cheeses each paired with white wine, red wine, port or non-alcoholic drinks.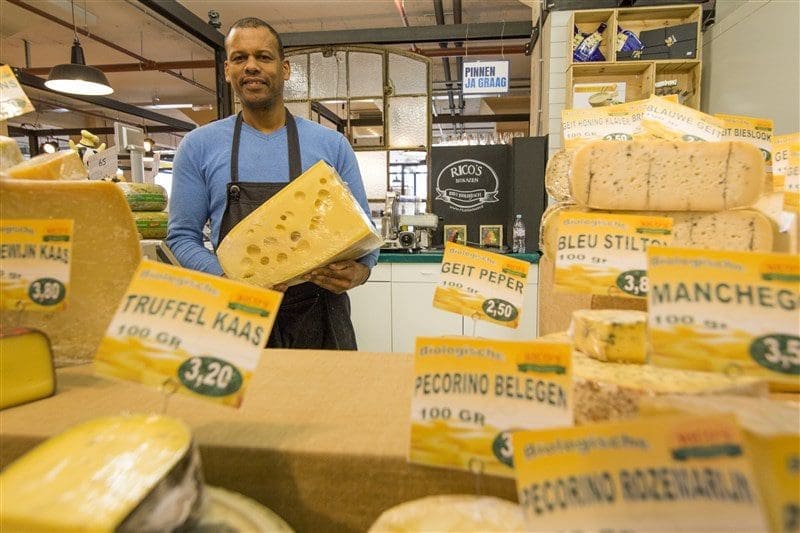 Albert Cuypmarket
Held daily, the Albert Cuypmarket just east of Museum Square is one of the most popular venues as a large proportion of its 280+ stalls sell cheese and cheese related produce. 
The earlier you go, the greater the opportunity to chat with the stall holders and discuss cheese. This is a good place to try other Dutch specialties such as poffertjes (a type of pancake), stroopwafel (a waffle type biscuit) and raw herring. 
The Heineken brewery is not far away either!
Noordermarkt 
On Saturdays, the Noordermarkt in the Jordaan area is fantastic for finding organic cheese as this is a purely farmer's market. Just round the corner is the massive Lindenmarkt selling not just cheese but fruit, vegetables and other produce.
Nieuwmarkt
Also on Saturdays, the Nieuwmarkt near St Anthony's gate is a good option for finding unusual cheeses. This farmers market has been trading here for over 300 years.
Riddammerhoeve Goat Farm
Head out to the Amsterdam Forest on the edge of the city for a cheese making workshop. Held at the Riddammerhoeve Goat Farm, the three hour workshop enables participants to milk goats and sheep. Then, they make their own goat cheese before relaxing tasting and sampling various cheeses. 
There is a shop on site too. Buses to the Amsterdam Forest leave Amsterdam central station every five minutes.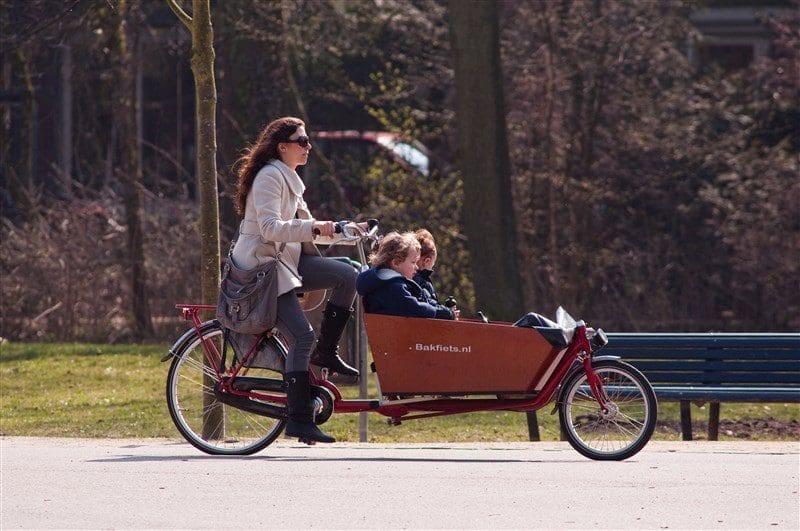 Henri Willig Cheese Shops
Search out the Henri Willig cheese shops on the Kaashuis, Kaaskelder, Warmoesstraat and Singel streets in Amsterdam. These specialty shops sell the wide range of cheese produced at the Henri Willig farms within the Netherlands.
These are not just traditional aged cheeses, but unusual flavors such as Asparagus, fenugreek, red chili pepper, coconut, truffle, honey and thyme.
Old Amsterdam Cheese Shops
Despite its name, Old Åmsterdam cheese is not actually made in Amsterdam! You can visit the Old Amsterdam shops at Damrak, Singel and kaaswinkel in the center of the city. 
Try some of this Gouda type hard cheese, as well as other Gouda cheeses such as those flavoured with Green Pesto, Jalapeño or Chili.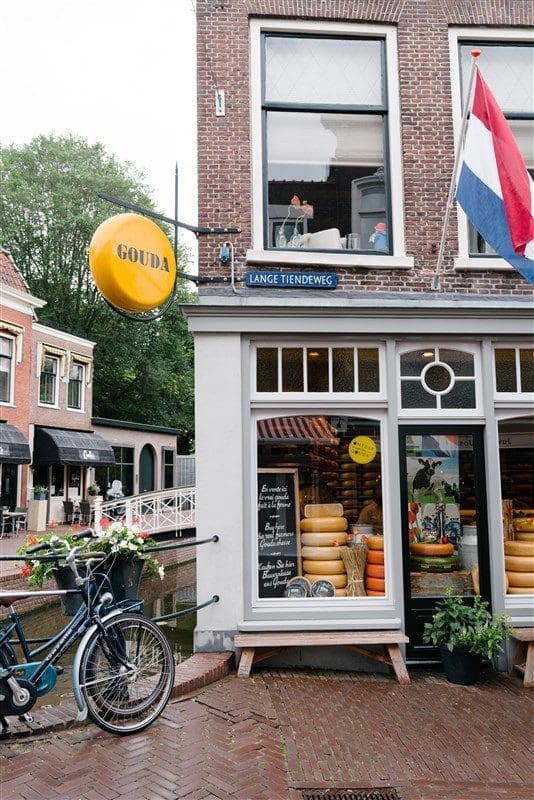 Kaashuis Tromp
Kaashuis Tromp near the Flowermarkt is another good specialty cheese store especially if you want organically produced artisan farm cheese as it stocks an extensive range. This range includes Stolwilker Gaten, Romero and artistically named Old Classic of Van Eck.
Touring Amsterdam's Streets
Almost every street in Amsterdam has a specialist cheese shop where you can buy all kinds of cheeses, plus accessories such as biscuits and preserves. Many other stores such as grocery stores will often have baskets of cheese cubes prominently displayed both inside and out, encouraging potential customers to taste and try their wares. Strolling through Amsterdam's streets becomes a cheese voyage of discovery.
Amsterdam's Bars & Restaurants
Almost every bar or restaurant in Amsterdam has cheese on the menu. Check out the traditional kaasblokjes (bite shaped cheese cubes served with mustard), or the deep fried Kaassouffles and kaaastengels.
In the evenings, most restaurants serve a plate of local cheese as either an entrée or dessert. During the winter, fondue made solely out of Dutch cheese is worth trying.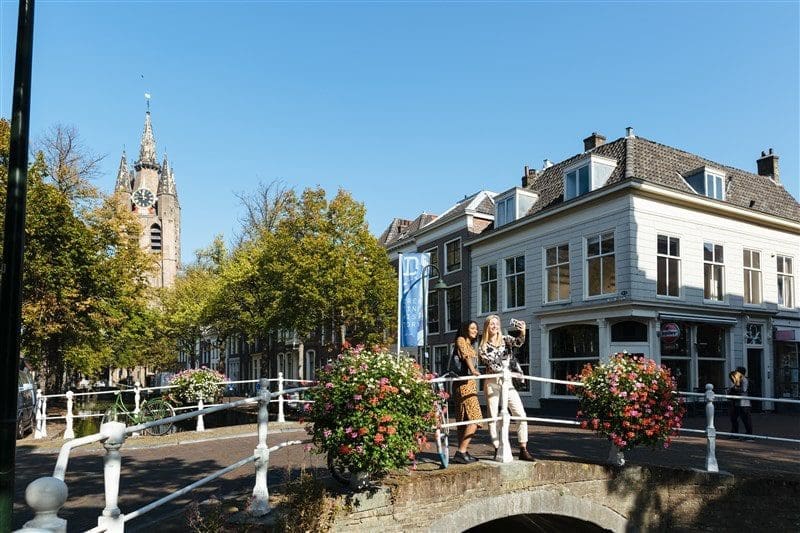 Village of Edam
Just outside Amsterdam is the cheese village of Edam, and throughout the summer they hold historic reenactments of traditional cheese markets when cheeses were brought to market by horse drawn cart or boat.
Gouda
Head for the town of Gouda to discover more about the production of Gouda cheese and watch reenactments of its historic cheese market, held every Thursday between April and August. Cheese made Gouda very wealthy as can be seen from its impressive medieval City Hall, Cheese weighing house, and St John's Church.
Alkmaar
The cheese market of Alkmaar is definitely the most famous of all. Located about 75 minutes from Amsterdam, the cheese market is held every Friday from April to end October. The marketplace is piled with large, colorful wax wrapped cheeses.  
Vemen in traditional white costumes move the cheeses around using barrows. It takes two people to carry a load of cheese. Buying and selling involves customers checking out the cheeses. Then, bargain using a special handshake, the handjeklap, which requires a smack of the hand and the price being shouted out.
While in Alkmaar, visit the Cheese museum located at the Waaggebouw or Weighing House. Overlooking the cheese market, it contains lots of artifacts relating to the cheese industry, showing how it has influenced Dutch society. 
There are even numerous cheese related paintings on view. Browsing the adjacent craft market offers opportunities to buy cheese from local farmers, as well as the small pancakes known as poffertjes.
The Woerden Cheese Market
The Woerden Cheese market, near Utecht, has been trading for over 100 years and still focuses purely on local producers. Every Saturday throughout the summer, local farmers bring Boerenkaas cheese to market. Cheese and local produce are available for sale all day. 
Woerden is just 40 minutes by train from Amsterdam central.
Every June, Woerden holds a special Grass Cheese day.This is when the first young cheese of the season becomes available. Highly prized and tasty, Grass Cheese is much sought after. 
The Grass Cheese day is a celebration of spring and the arrival of new cheeses. The highlight of the event is the auctioning of a massive 150kg Grass Cheese for charity.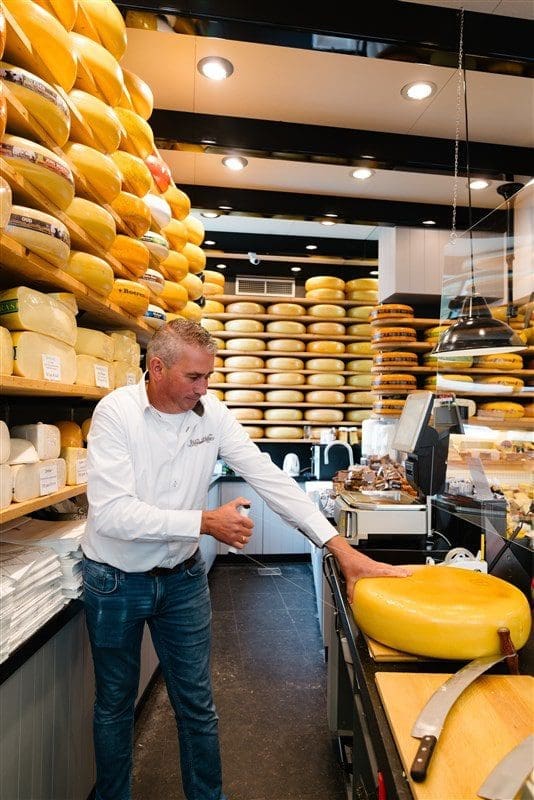 Koeimart
Another festival worth visiting is the annual Koeimart or Cow festival, held every October.It takes over the centre of Woerden, providing all kinds of cow, cheese and agriculture themed activities.Lots of local fresh produce is available for sale in the produce market. 
The Koeimart is a long-standing tradition in Woerden, dating back over 600 years.
Volendam
Located to the north of Amsterdam, Volendam is a fishing village, which has become a popular tourist destination. Although busy, it is a pleasant excursion from Amsterdam especially when combined with the opportunity to visit nearby windmills. 
The village Cheese Factory offers a fun introduction to Dutch cheese. Staff wear traditional costumes, and there are lots of cheeses to sample and buy.