Flowers add a certain aesthetic touch to any room that instantly makes the place more homely and attractive, thus making them a vital and indispensable part of home decor and interior design. Apart from painting floral murals and pasting your walls with floral wallpaper, you can also boost the overall appearance of your home Interior by adding certain flowers to each room.


Here's a list of the best flowers that are sure to add an aesthetic touch to your home's interior.
1. Roses
You may have seen this one coming, but there's a reason why roses are so popular no matter what occasion it's being used for. Apart from all the symbolic weight these flowers possess, they also come in a variety of colors and sizes, making them customizable for any home's interior.
One of the main factors that go into choosing flowers for the interior of a room is the color palette of the room. Roses come in colors that are both mild and sober like cream, baby pink, and white. They are also vibrant and bright like red and yellow, thus one has quite a large color scheme from which they can make their pick.
In addition to this, roses are stand-alone flowers and don't require a fancy vase or additional ferns to make them stand out in a room. Another reason people love using roses is that they can be used to make potpourri even after they've become too dry to be kept in a vase.
If you'd like to check out the various colors of roses that are available, you can try Bouqs which is an online floral service that delivers flowers to your doorstep. 
2. Ranunculuses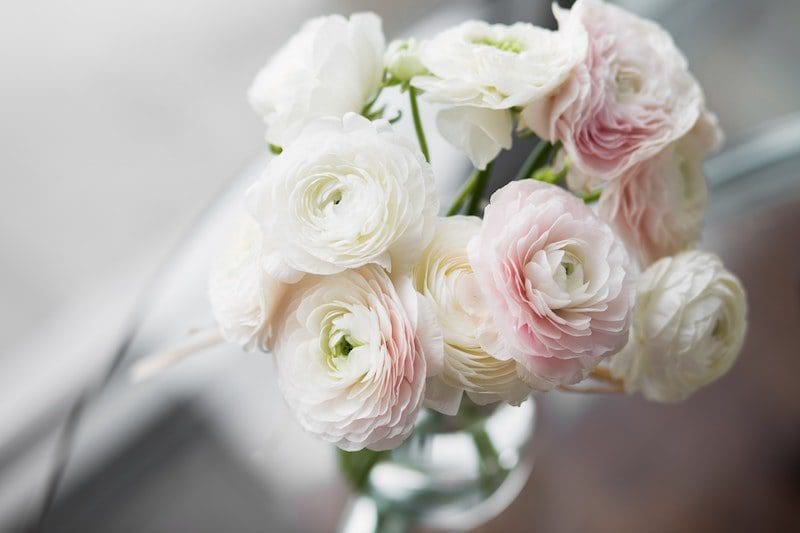 Commonly known as buttercups, these flowers are often used to decorate interiors due to their long vase-life. They come in quite a few colors such as white, pink, and yellow, and are also loved because they can easily pass off as a variety of rose due to their similar petals.
The main benefit of this flower is that it can last for almost a week after it has been cut. Also, Ranunculuses will not wither easily, making it a great pick for those who wish to decorate their homes with multiple vases and floral centerpieces.
3. Hydrangeas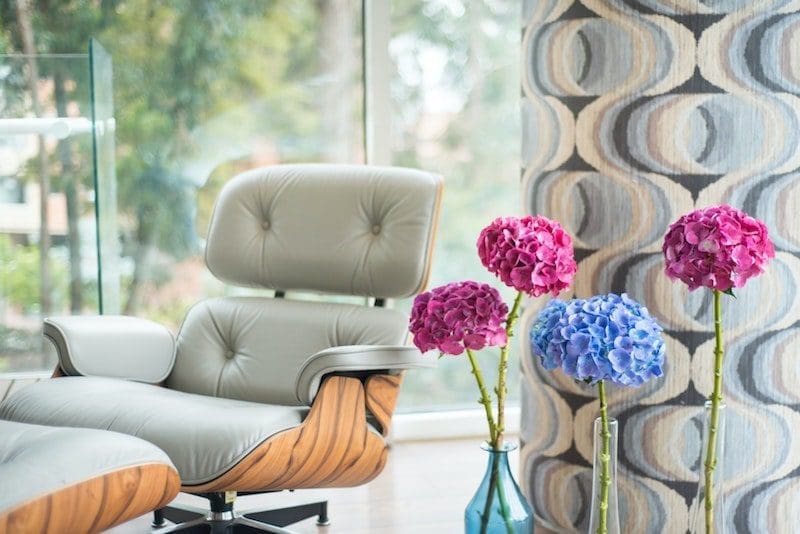 A common favorite among interior designers, these flowers are loved for their texture and versatile looks that instantly make any empty or bald table in the house look classy and elegant. These flowers have woody stalks, so you can help the flower last longer in a vase by increasing the water absorption of the stalk. To ensure this happens, make sure you strip the plant of all its leaves and cut the stalk while keeping it submerged underwater.
Additionally, it's a good idea to make holes in the stem with a needle to increase the water absorption. It's a good idea to change the water in the vase every 3 to 4 days. This will make the flower stay fresh for more than a week.
Conclusion
Here's a summary of 3 of the best flowers that can be used for home interior design:
Roses: These flowers come in a wide range of colors and can be used for subtle and vibrant room settings. They don't require additional ferns or leaves to stand out. 

Ranunculuses: They can easily pass off as a type of rose due to their similar texture and also have a longer shelf life. Their color range isn't as diverse as roses but they still are suitable with most room color palettes.

Hydrangeas: These flowers can make any room look complete due to their voluminous size and fluffy texture. They usually come in soft and subtle colors and have a long shelf life.