If you travel frequently, you are likely familiar with the dreaded layover. But what if you could turn that layover into a great adventure? New York City is one of the best places to do just that. 
This bustling metropolis is home to countless attractions and activities and is the perfect place to make the most of your layover.
In this article, we'll explore why New York City is considered the best place to enjoy the layover and make the most of your next flight.
New York is One of the Top Tourist Attractions
There are many sites to discover and enjoy in New York. From the Statue of Liberty to the Empire State Building to Times Square, there are plenty of iconic landmarks to visit, each representing something special about the city.
The Metropolitan Museum of Art and Central Park are also great places to explore during your layover in New York City. 
The High Line is another great attraction in New York, offering a unique way to see the city from above. You may also find dozens of live music venues, comedy clubs, and Broadway musicals nearby.
And last but not least, if you're looking for amazing food, you won't be disappointed in the variety of restaurants New York offers.
The icing on the cake is that New York has the best shopping in the world. Whether you're seeking designer brands or just some trinkets, there's something for everyone in NYC. 
There are also plenty of markets and flea markets where you can find unique items that will make your trip even more memorable.
So if you're looking for a fantastic place to enjoy your stopover, look no further than NYC. Visitors can easily travel from the airports into New York City via bus, subway, or train, to name a few convenient modes of transportation. You will always have things to do during your visit due to the abundance of sites and activities available.
Let's explore a little more!
Times Square

 
As one of the city's most iconic and bustling areas, Times Square is a visitor must-see destination. The bright lights, billboards, street performers, and crowds make it a unique place to experience. 
Times Square offers a wide range of entertainment options, from Broadway shows to world-class restaurants and shopping, making it a perfect place to spend a layover. 
Additionally, Times Square is easily accessible by public transportation, making it a convenient destination for travelers with limited time in the city. 
Whether you're looking to catch a show, grab a bite to eat, or simply take in the sights and sounds, Times Square is the perfect destination for an enjoyable layover in NYC.
The Statue of Liberty
The Statue of Liberty is a world-renowned monument located in New York City. Millions of travelers visit the island yearly to see the memorial and take photos. 
When on a layover in New York, you'll want to add this to your list of must-see attractions. You can enjoy stunning views of the New York skyline from the base of the statue and climb the 354 steps to the crown if you wish.
Not only is the Statue of Liberty a unique and beautiful symbol of freedom, but it also serves as a reminder of everything that makes America great. 
Taking a tour around the island will give you insight into its history and importance and give you a chance to snap some amazing photos. 
Empire State Building
The Empire State Building is an iconic landmark and stands tall at 1,454 feet (443 meters), providing visitors with stunning views of Manhattan and beyond.
You can observe all five boroughs of New York City – Manhattan, Brooklyn, Queens, Bronx, and Staten Island from the top of the building. The views are always breathtaking, no matter the time of day or night.
On a clear day, landmarks like the Statue of Liberty and Central Park are also visible from up there. So if you're on a layover in NYC, this is truly one of the best places to spend your time!
At the observatory deck on the 86th floor, you'll witness a 360-degree panoramic view that will leave you speechless. You can even purchase a ticket online in advance to skip any long lines that may form during busier times of the year.
Fifth Avenue
Fifth Avenue is the ideal location for shopping, which is one of the major reasons why New York is considered the best place to enjoy a layover.
People come to Fifth Avenue to experience the shopping culture and visit the many world-renowned stores, restaurants, and entertainment venues.
This place is home to some of the most renowned luxury shopping outlets, such as Saks Fifth Avenue, Tiffany & Co., and Bergdorf Goodman. 
Furthermore, Fifth Avenue has everything from premium designer stores to discount shops, so you don't have to worry about having a high-end budget for your layover shopping!
Since Fifth Avenue is located in Midtown Manhattan, it's easily accessible by subway and bus. You can even take a sightseeing tour along this famous street to get an even better experience of its beauty.
There are also many restaurants, cafes, and pubs nearby if you need a break from all the shopping! After all, it is an excellent place to sample the city's best cuisine — from classic New York delis to Michelin-starred restaurants, there are countless options to choose from.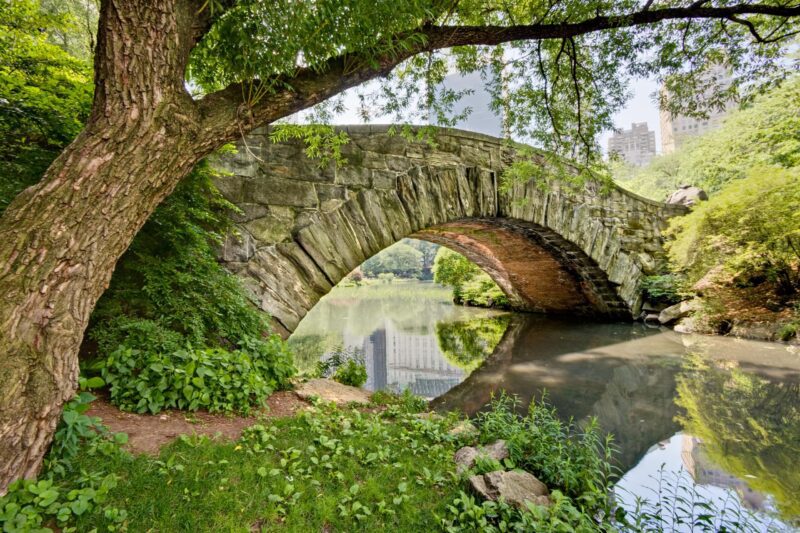 Central Park
There are many reasons why New York is considered the best place to enjoy a layover. Central Park is one of them. Located in the heart of the city, Central Park is a sanctuary.
This 843-acre park offers respite from the hustle and bustle of the city with its ponds, fountains, trails, and grassy fields. It's an excellent spot to unwind during a layover. You can see people from all walks of life in Central Park, enjoying the natural beauty just like you.
There are also many attractions in Central Park, such as the Central Park Zoo, Belvedere Castle, and the historic Cooper Hewitt Museum. So, don't forget to pay a visit to those as well. 
Conclusion
By now, you might have known why New York is considered the best place to enjoy a layover. 
This bustling, vibrant city has something for everyone — from world-famous attractions to delicious restaurants and endless entertainment options.
Additionally, the city's extensive subway system and abundance of taxis and ride-sharing services make it easy to get around and make the most of your layover. 
So if you're ever stuck with an unexpected break between flights, make sure that you take advantage of all that NYC has to offer!