Embarking on a Spanish adventure with your kids in tow? Spain is an amazing, child-friendly destination where vibrant culture, fascinating history, and breathtaking landscapes come together to create a family holiday like no other. From the sun-kissed beaches of Mallorca to the historic streets of Toledo, each location is packed with potential for fun, learning, and making memories as a family.
Whether you're watching your kids' eyes light up at the sight of a majestic castle, hearing their giggles as they splash in the Mediterranean, or sharing a family moment under the starlit skies of Tenerife, Spain has something that will cater to families of all kinds.
In this post, you'll find the top 8 places to travel with kids in Spain, ensuring your vacation is fun and memorable. These destinations are not just kid-approved; they're parent-perfect, too, blending relaxation and recreation to create the ultimate family getaway.
Barcelona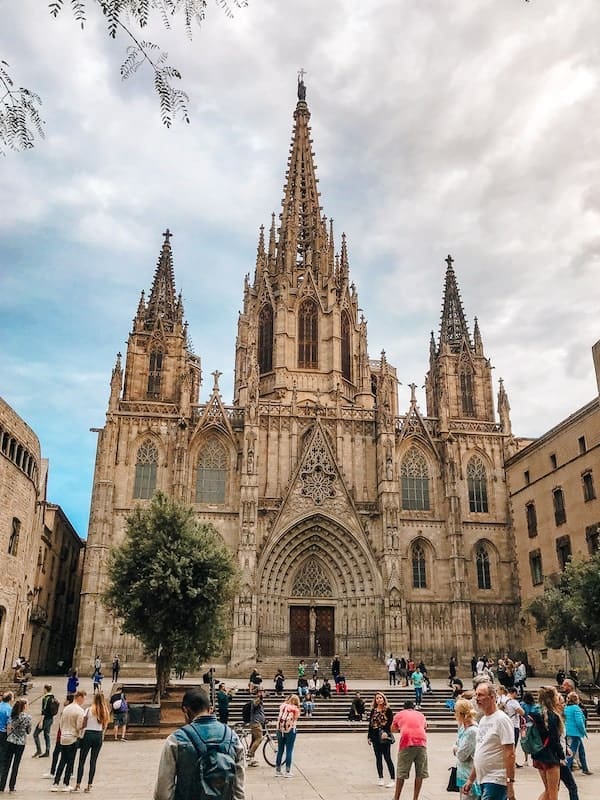 Barcelona is one of the best family destinations in Spain! It's an incredibly vibrant city that has a blend of culture and history and has things to do that kids and parents will enjoy doing.
A great thing to do for families is to explore Park Guel, a park that features beautiful gardens and lots of architecture such as famous works by Antoni Gaudi. Families should also not miss the Barcelona Aquarium, which is one of the largest Aquariums in Europe.  Kids can explore an underwater tunnel that will bring them face-to-face with sea life.
There are many charming streets and neighborhoods to explore in Barcelona, such as El Born or the beautiful Gothic Quarter where kids can marvel at the gothic cathedral!  If you and the kids want to hit the beach, visit the La Barceloneta neighborhood!
A few "cons" of Barcelona that families need to know is that everything happens late in Barcelona, like much of the rest of Spain, and dinner restaurants may not open until 8 or 9 p.m.  The main spots to visit are also pretty spread out so you may want to take advantage of public transportation to make it easier on the kids as opposed to walking,
Madrid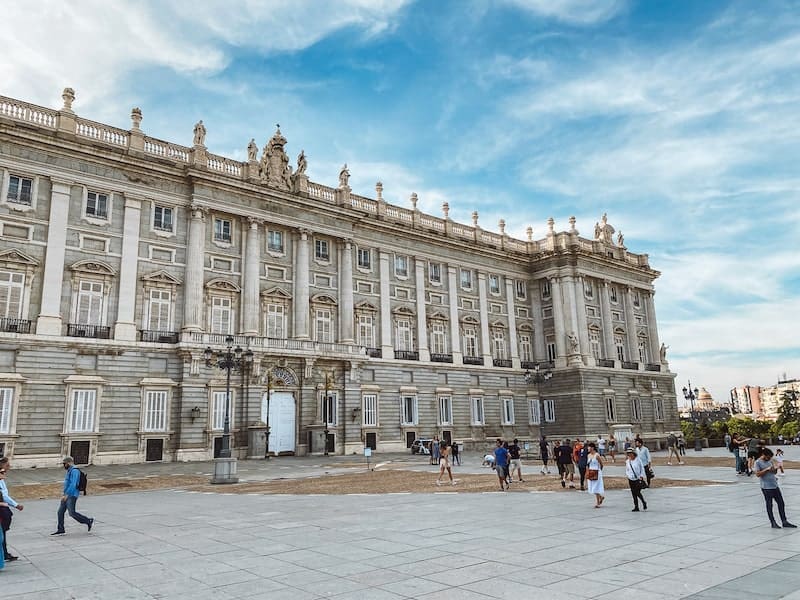 Being the Capital and largest City of Spain, Madrid is an excellent choice for families as it has so much to do and feels more authentic than the more-touristy Barcelona.
Families will love wandering through the paths of El Retiro Park and relaxing by the pond of Glass Palace and the kiddos will love feeding the ducks and turtles that call the pond home. You'll also have the opportunity to rent rowboats which is fun for the whole family. For something more adventurous, families can visit Parque Warner Madrid which has rides, rollercoasters, and the opportunity for kids to meet some of their favorite cartoon characters.
Madrid is home to the Madrid Zoo Aquarium which features both animals and sea life as well as education that children will love.  Or visit the National Museum of Natural Sciences to learn about the history of the world, including the always-favorite among kids: dinosaurs!
Madrid is home to incredible food, including Churros Con Chocolate, and both kids and parents will love eating them at Chocolateria San Gines, the oldest in Madrid. For an easy lunch or dinner, both kids and parents will enjoy wandering around Mercado San Miguel and eating local snacks and tapas.
Granada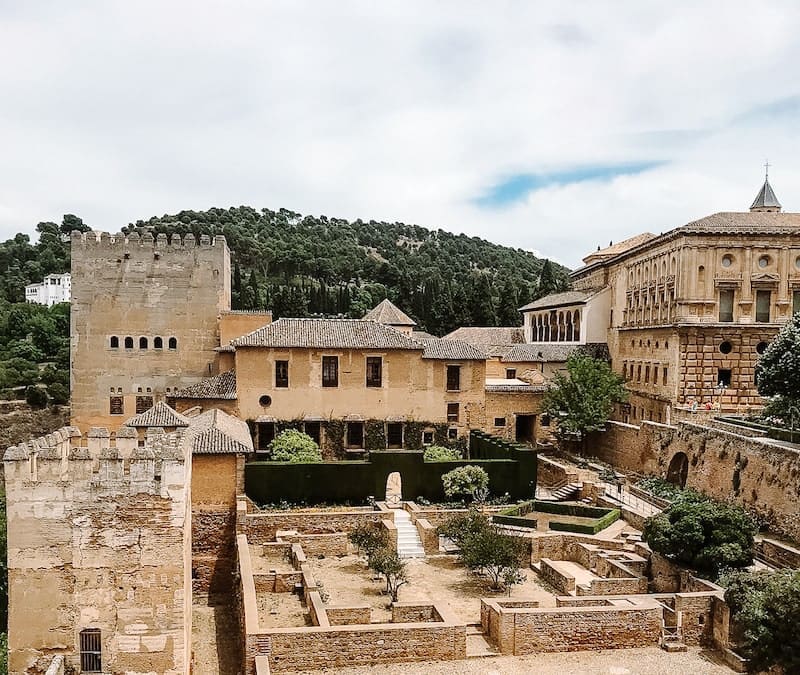 If your kids love castles, Granada is the place to go!  The main attraction here is the famous Alhambra Palace which is a stunning fortress with vast gardens.  The Alhambra is a great place to spend an entire day as both kids and parents will love wandering around and feeling like you've gone back in time.
Granada also has an old Moorish quarter, Albayzin, with winding streets and many unique and colorful spots that kids will love to explore, and adults will love to pick up some great Spanish souvenirs at! It feels like a little piece of Morocco, which makes for an interesting difference from the rest of Spain for both kids and adults. For families that want a little more education, the Parque De Las Ciencias has many interactive exhibits that kids will love to play with.
If you want to get out of the city, Granada sits at the base of the Sierra Nevada mountains which will allow families to hike and ski or do other outdoorsy activities that the whole family will enjoy.
It's important to note that Granada gets VERY hot in the summer so this might not be the best time to visit with kids. The Albayzin is also very hilly and steep, so it's recommended not to bring a stroller here! You might regret that choice!
Valencia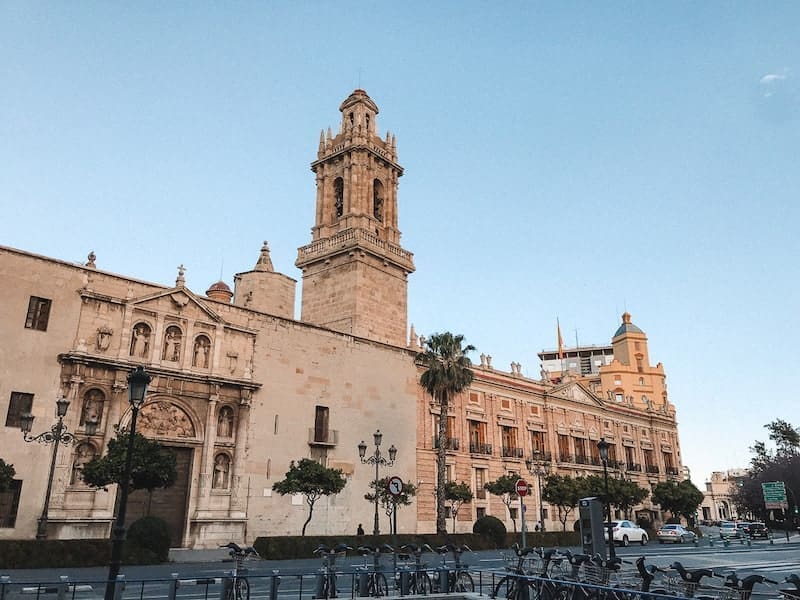 Valencia is a city in Spain that feels like it was made for families as there is so much that both kids and parents will enjoy! There is a mix of science, art, and nature that other cities in Spain don't have making it one of the best family holiday destinations in Spain!
The Ciudad de las Artes y Las Ciencias has a science museum, planetarium, and aquarium all in one! You can spend many days here with kids exploring exhibits, gazing at stars, or coming face to face with sea life.  For kids that prefer animals to fish, check out Bioparc Valencia which focuses on African wildlife habitats.
For something more relaxing, Valencia has the beautiful Turia Gardens where families can walk or ride a bike. Let's not forget the sunny beaches of Valencia which are great for parents to relax while the kiddos splash in the Mediterranean or build sandcastles.
Valencia also has many festivals that make it unique and fun for both parents and kids. However, it's important to note this means that old town can get very busy, so you'll need to keep an eye on your children or check festival dates before planning a trip!
Seville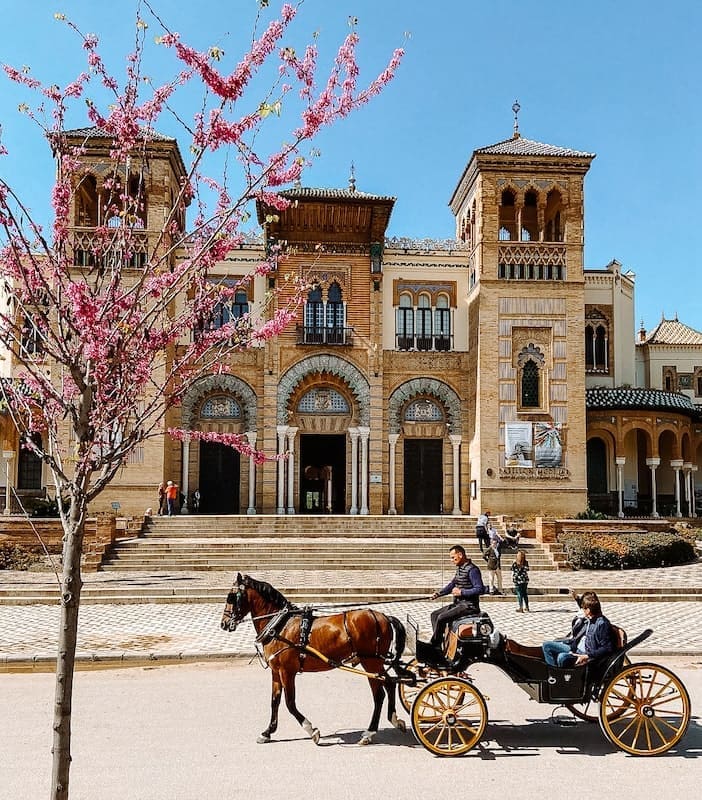 When you think of traditional and authentic Spain, you think of everything that is Seville. The birthplace of Flamenco, Seville is a lively and very walkable city that has lots to do to entertain both kids and adults.
Seville is home to the Isla Magica, a historically themed amusement and water park that will take families all the way from 16th-century Spain to the New World. It's not open all year, so make sure to check opening times before your trip.  If you want history without all the rides, check out the Royal Alcazar, the sprawling royal palace of Seville. For something more relaxing, rent a rowboat and ride along the Canal in Plaza Mayor or stroll around the beautiful Maria Luisa Park to get into nature.
No trip to Seville would be complete without a Flamenco show and both kids and adults will be mesmerized by the colors, sounds, and intricate footwork of the dancers! Families can even purchase traditional flamenco outfits in one of the many stores if they want to take that memory home with them.
Don't forget to go on a "tapas crawl" – not at all like a bar crawl – where you and the kids can sample the best tapas as Seville has one of the best culinary scenes in all of Europe! When you book Spain group tours, be sure to inquire about a tapas crawl. In some tapas bars, you'll get a free tapa with the purchase of a drink which is a great way for families to stretch their budgets!
Mallorca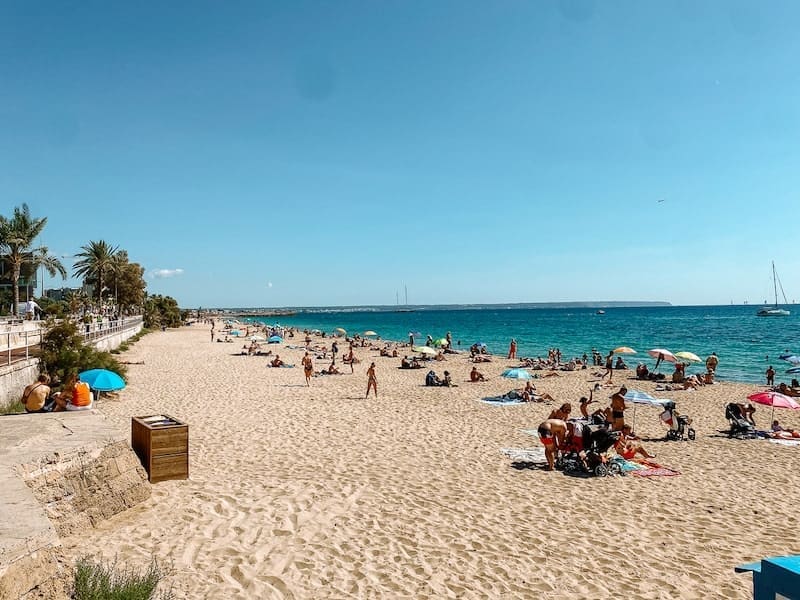 Mallorca is one of the gorgeous Balearic islands just off the coast of Barcelona and it's ideal for family-friendly holidays in Spain if you're looking for the most relaxing vacation with lots of sun, beach, and all-inclusive holidays in Spain for families!
Mallorca is known for its stunning coves and beaches with shallow water and white sand that are great for parents to lounge at and kids to play at. Kids will love jumping around in the warm Mediterranean water or taking a catamaran cruise around the island.  Bonus: the catamarans usually serve wine which parents will enjoy while aboard!
The main city, Palma, has a very walkable and beautiful old town with beautiful churches and artsy shops to explore with your children. You don't need a car to see the main sites which is great for families who are unsure if they want to deal with rental cars or driving in Mallorca. Or, take your kiddos on a unique experience when you can ride an antique train through the UNESCO World Heritage Sierra Tramuntana Mountain Range all the way to the cute village of Port Soller. Kids Another unique experience is to explore the Caves of Drach, one of the largest cave systems in all of Europe!
The traditional Mallorcan food also focuses on a lot of delicious sweets, like the typical Ensaimada pastry or sponge cake, which are both usually eaten for breakfast. What kid doesn't love starting the day with sweets? Of course, there are plenty of amazing gelato stands along the beach to cool off as a family after a hot day if the unique treats of the island are not what your kiddo prefers to eat!
Tenerife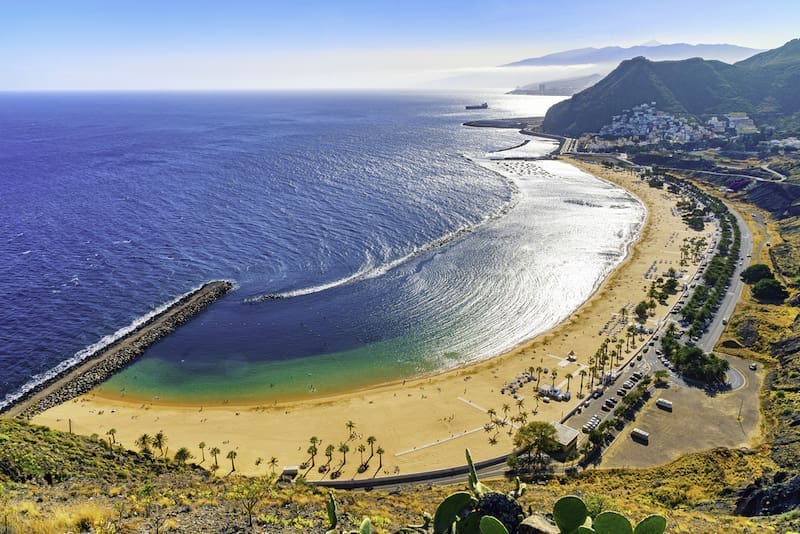 Tenerife is the largest of Spain's Canary Islands and is a favorite for families due to its diverse landscape and amazing outdoor adventures for families looking for something a little bit different! The highlight of Tenerife is Siam park, a Thai-themed water park that has water slides, wave parks, and lazy rivers for both kids and parents to enjoy.
If you're looking for more education, you can check out Loro Parque, an amazing zoo that has animals from around the world and an orca show. Tenerife is home to Teide National Park which houses Mt. Teide, an active volcano on the island. Don't worry, it's completely safe and kids can explore a volcanic landscape that will make them feel like they are on Mars. Both kids and parents will love the beautiful views as you ride the cable car ride up the mountain, creating some amazing memories as a family!
Toledo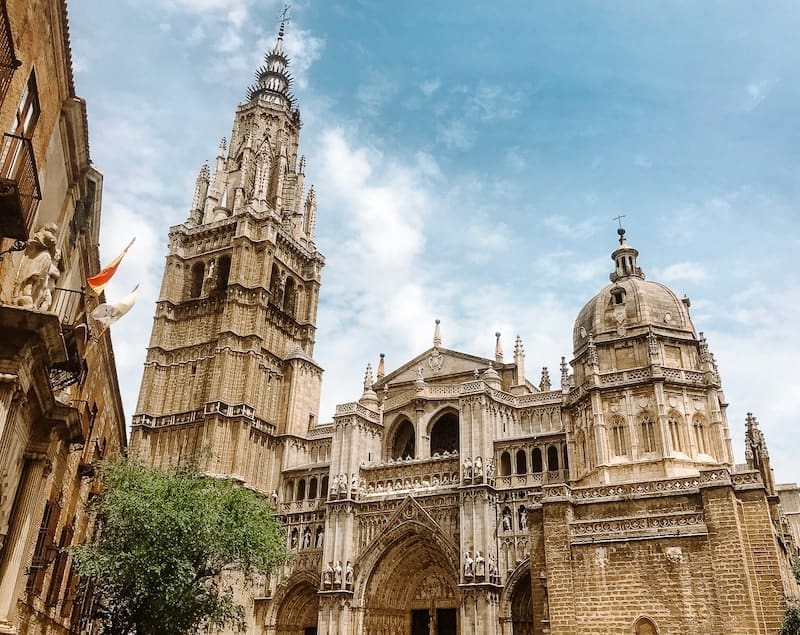 If you're a family of history lovers, you will love exploring the Medieval city of Toledo!  Wandering around the streets of this small city feels like you've stepped back in time!  Toledo once was the center for sword marking and kids can learn all about Medieval times though experiences that educate them on knights and even how to make a sword!
The Alcazar, the main castle of Toledo, has many halls and towers that kids will love exploring and feeling like they are truly a king or queen of the castle! After you've explored the Castle, families can wander over to the Toledo Cathedral which has beautiful stained glass and art that both kids and parents will find stunning.
The town is small and easily walkable making it a great destination for families to explore without being in the hustle and bustle of the larger cities. End your trip with some famous Toledo Mazapan, a sweet treat for all ages!! 
If you don't want to spend a lot of time in Toledo, it's only 30 minutes by train from Madrid so it's a great thing to add to your Madrid itinerary!
Conclusion: 8 Best Holidays in Spain for Families
So, is Spain a great place for families? Absolutely! All these cities are some of the best holidays in Spain for families because they all offer something different based on the kind of vacation you prefer to have as a family. From history and castles to educational experiences and even amazing aquariums and zoos, Spain has something that both parents and kids will love!