Nestled on the eastern coast of Spain, Valencia not only boasts a captivating fusion of contemporary culture and historic charm but also serves as a perfect launchpad for a myriad of breathtaking day trips.
Before you embark on these adventures, it's essential to savor a piece of Valencia's unique identity, known for its sun-drenched Mediterranean climate and the tantalizing scent of paella, its signature dish. From the sun-soaked shores of Costa Blanca to the tranquil waterways of El Palmar, each day trip promises a memorable escape within arm's reach of the vibrant city of Valencia.
Benidorm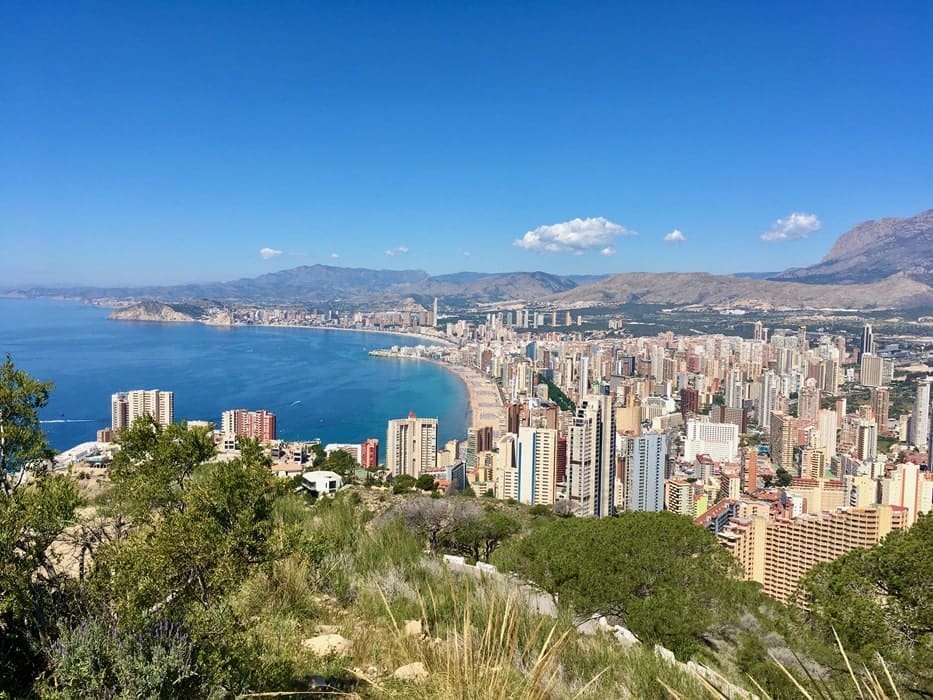 By Sabine of Discover Spain Today
The vibrant seaside resort of Benidorm makes for an excellent day trip from Valencia which is just a 1.5-hour drive to the south. Benidorm offers something for everyone, from stunning beaches, a lively atmosphere to wonderful entertainment options, making it a great destination for a day trip. You won't be disappointed!
Benidorm boasts a variety of attractions for everyone, including family-friendly theme parks like Aqualandia, Terra Mitica, and Terra Natura. For food lovers, explore the beachfront and old town area, brimming with bars, restaurants, and shops. Don't miss the "Tapas Alley" in the old town for an authentic Spanish culinary experience, followed by a drink in one of the many local bars and cafes.
Benidorm is divided into two main beachfront areas with the Old Town and the Balcon del Mediterraneo as a charming bridge between both areas. Levante beach, catering to international visitors, offers a vibrant atmosphere, especially at night. In contrast, Poniente beach is favored by Spanish tourists and provides a more relaxed and tranquil setting.
For those looking to stay overnight, consider Hotel Cimbel. Even though it is situated right by the beach and various entertainment options, the hotel itself offers a quiet and sophisticated atmosphere.
Costa Blanca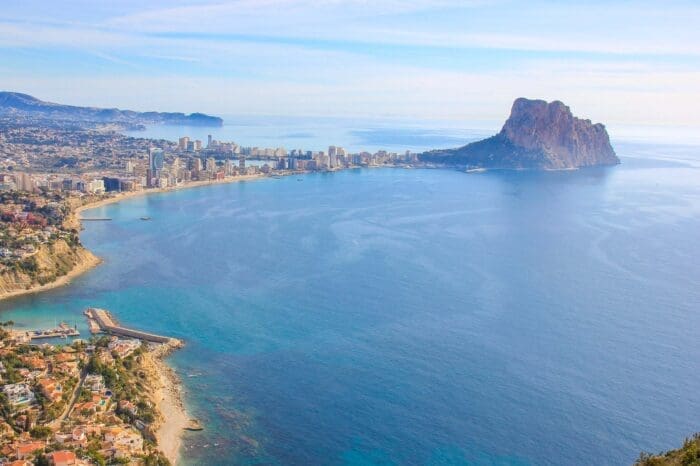 By PlacesofJuma
A trip from Valencia to the beautiful Costa Blanca is a real highlight! The so-called "White Coast" of Spain is located in the province of Alicante, about 150 km away. On a tour, you will not only see breathtaking beaches like Platja de la Granadella or Cala del Moraig, but also a multitude of lovely attractions and pretty villages. A must-see is Altea, a white town with a beautiful old quarter overlooking the sea.
Another highlight is Benidorm, the so-called "Manhattan of Spain", where you can have fun in the various clubs and amusement parks. Furthermore, Villajoyosa, a colorful beach town in the heart of the Costa Blanca, is charming and well worth a visit! Alicante, the capital city, with its beautiful old town and castle is certainly worthwhile.
However, the landmark of the Costa Blanca is the Peón de Ifach in Calpe, which rises 332 meters above sea level and covers an area of 47 hectares. This natural treasure, together with the blue sea, forms a picturesque backdrop. Many people go hiking there. It is an incredible experience. You will have a magnificent panoramic view of Calpe and the Costa Blanca when you reach the top.
Cullera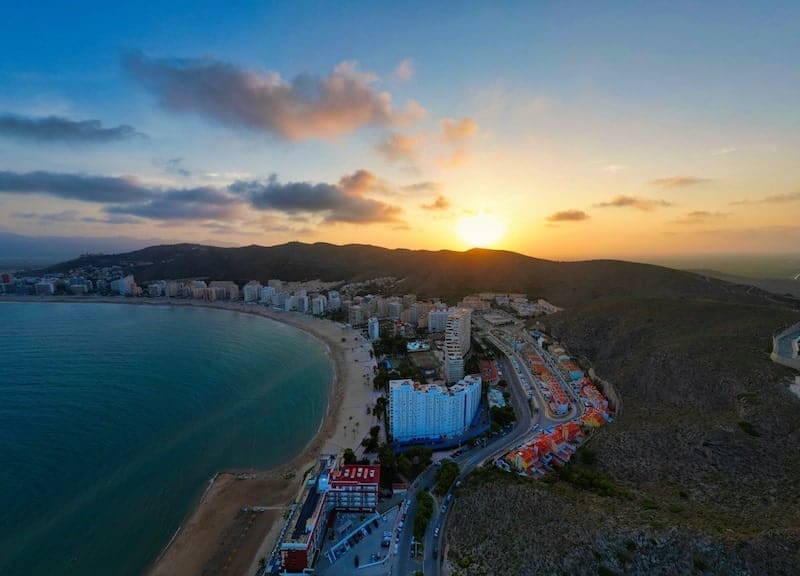 By Samara of Spain Awaits 
Cullera is a lovely city in Spain's Valencia region, just 25 miles from Valencia.
Located right on the Mediterranean Sea, Cullera boasts 10 miles of coastline and 11 beaches, the majority of which are recognized for their cleanliness and services with quality seals.
Aside from the beach, there's no shortage of things to do in Cullera. At the Dragut-Cave Museum you can learn about how Cullera was attacked by a Turkish pirate in 1550, and you can get a better understanding of the history of rice at the local rice museum, inside an old hermitage. There's also a Spanish Civil War aircraft shelter, the Cullera Castle, and a Fallas museum, which showcases the history of the longstanding traditional Valencian festival.
If you're in the Valencia region, you must try an authentic paella and it doesn't get any better than at the award-winning La Mar Salá restaurant, on Playa del Dosel, where the specialty is rice. Casa Picanterra is another stellar option, serving traditional Valencian cuisine with an avant-garde touch. It's located in a stunning location, beside La Laguna del Estany, a serene saltwater lake.
If you're visiting with kids, they're going to love Aquopolis, one of the few water parks in the region. This massive park has slides for all ages, from a special area for little kids to long, winding tunnel slides for older, more daring ones.
When you visit Cullera, stay at the Cullera Holiday Hotel, a 4-star hotel on Playa del Racó. From the Utopia Gastrobar and the state-of-the-art gym to the pool and chill-out area, this hotel is just a 4-minute walk from the beach and 2.5 miles from the train station. It uses environmentally friendly products and prides itself on its commitment to sustainability.
El Palmar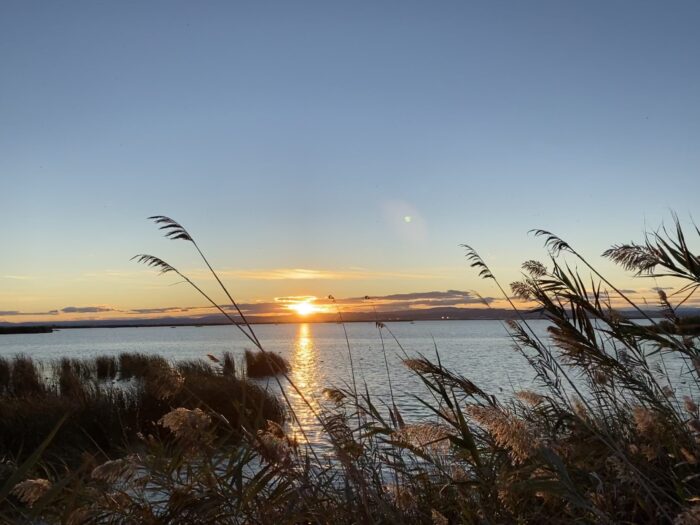 By Tina of Veganderlust
One of the most sustainable day trips you can do from Valencia is to go to El Palmar by bike, a small village where paella was created. You'll cycle past rice fields and into a national park where you can eat delicious paella made using only local ingredients. 
On the way to El Palmar, you'll pass the coastline, rice fields, small villages and a lake in a national park. There are dedicated bike lanes for most of the way but, unfortunately, not all of the way.
In El Palmar, multiple restaurants are selling traditional Valencian paella with rabbit and chicken. You can also get vegan paella with just local ingredients. Paella in El Palmar comes in a really big pan, most restaurants only serve paella for at least 2 people. The paella is prepared completely fresh, so you might need to wait for up to an hour for your meal, but the result is worth the wait. 
On the way back to Valencia you can catch the sunset over the rice fields if you time it right. It's truly a beautiful sight to behold. 
Just make sure your bike has lights if you plan to get back to Valencia after sunset, and that you have enough battery on your phone for navigating and taking pictures.
La Fuente de los Baños de Montanejo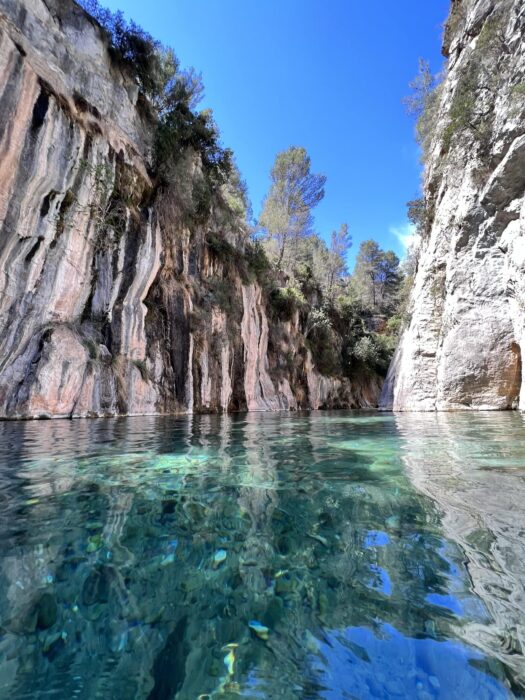 By Steff Kulis of JustTravelous
The beautiful La Fuente de los Baños de Montanejos is a short one-hour drive north of Valencia and is a great addition to a 3 days in Valencia trip. These thermal baths are at the base of a canyon and boast a year-round temperature of 25 degrees.
As you dip your toes into the water, have courage and go forward to feel the warmer waters, as the thermal waters are 100 meters from the entry point. Swim to the left from the entrance to explore a small cave (note: the cave is very deep, so adequate swimming abilities are required). The beautiful canyon can get crowded in the summer, so explore in the spring or fall to avoid the crowds. It is easy to walk through most of the thermal baths, and the warm waters make it suitable for any age and families. The parking lot is only 100 meters from the entrance of the baths.
The thermal baths are next to the small but charming town of Montanejos, so pick up some sandwiches from the local bakery and enjoy the baths and the surrounding area for the full day.
If you stay the night to explore more of the region north of Valencia, Hotel Rosaleda del Mijares is a budget friendly choice.
Madrid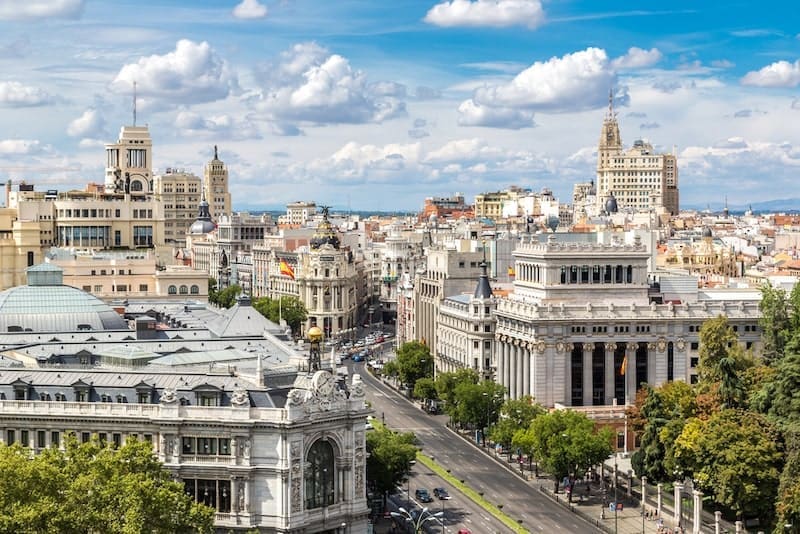 Madrid, the vibrant capital of Spain, is a fantastic day trip destination from Valencia for numerous reasons. Located approximately 350 kilometers to the west, Madrid is easily accessible by high-speed train, taking just under two hours, making it an ideal option for a day excursion.
There are a number of activities to explore, from world-class museums such as the Prado and Reina Sofia, which house masterpieces by renowned artists like Picasso, Goya, and Velázquez, to the stunning Royal Palace. History buffs can also visit the Temple of Debod, an ancient Egyptian temple relocated to Madrid, offering a unique cultural experience.
Food enthusiasts will have the opportunity to explore Madrid's culinary scene. Savor traditional Spanish dishes at restaurants like Casa Botín, the world's oldest continually operating eatery, or dine at the Michelin-starred DiverXO for a contemporary gastronomic experience.
Stay at the Hotel Ritz Madrid, a historic palace turned elegant hotel, offering impeccable service and a central location in the heart of the city.
Madrid truly offers a perfect blend of culture, cuisine, and history for an unforgettable day trip from Valencia.
Parc Natural l'Albufera and El Palmar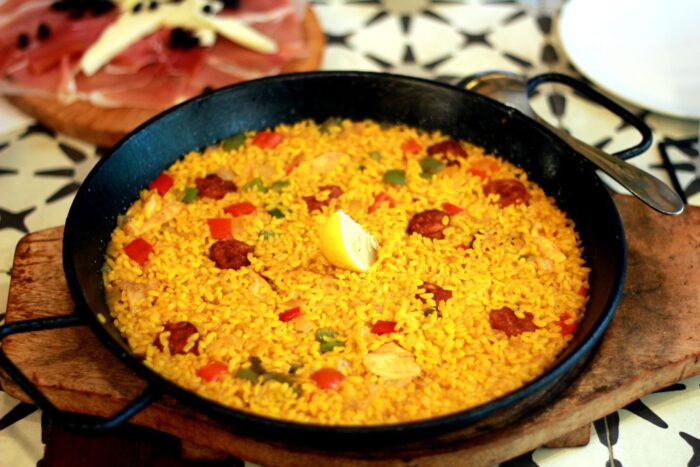 By Annelies De Gelas 
Just a stone's throw away from the bustling city of Valencia, you can find a serene escape that is steeped in tradition and offers beautiful natural surroundings. It's the village of El Palmar and Parc Natural de l'Albufera. This day trip is a great way to dive deep into Valencian culture and visiting both El Palmar and the park is a great day out without having to venture too far out of the city.
Parc Natural de l'Albufera is known as one of the most important wetland areas on the Iberian Peninsula. It covers around 21.000 hectares and the freshwater lagoon is home to a diverse range of fauna, especially birds, making it a hotspot for birdwatching. A boat ride is the best way to explore the area.
El Palmar was once a traditional fishing village but is now known to be the center of Valencian gastronomy, particularly for Spain's iconic dish, the paella. Located on the banks of l'Albufera, El Palmar is full of cozy traditional restaurants that offer tourists a chance to try authentic paella, cooked over an open flame, and made with rice cultivated from the surrounding fields. If you are a plant-based foodie, El Palmar is also one of the best places to try vegan paella near Valencia! Arroceria Maribel is a place that comes highly recommended.
The park and El Palmar are only around 20 kilometers from the center of Valencia so you can hire bicycles for the day or, alternatively, take bus 24. There are no accommodation options in El Palmar but a great eco-friendly place to stay in Valencia itself is Zalamera B&B.
Sagunto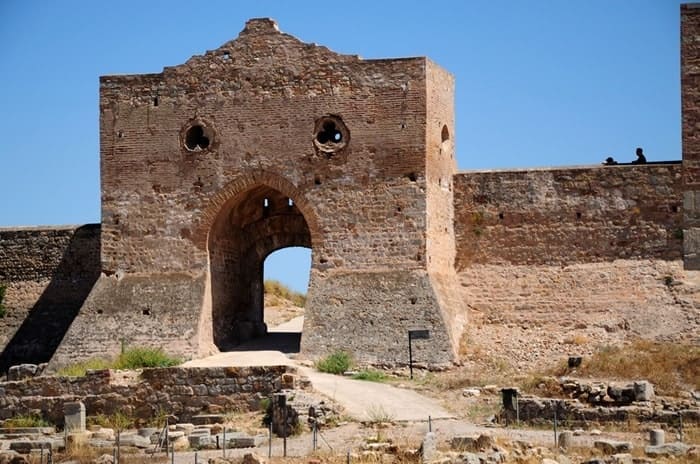 By Valencia Revealed
Situated just a few kilometres north of Valencia, Sagunto is a captivating town with a rich past that is like a woven tapestry of cultures. Iberians, Romans, Muslims, and Christians have all contributed to the town's unique architectural heritage.
The list of the top things to do in Sagunto is crowned by its imposing castle overlooking the town. But Sagunto is also renowned for its Roman theater that dates back to the 1st century.
The town's Old Jewish Quarter is another must-see, featuring winding streets and centuries-old buildings. And if you're looking for more family friendly activities, look no further than Sagunto's beaches, situated in the modern part of the town.
For when you're hungry, you should try the tapas and paellas at Taperia La Pepa. In the mood to splurge? Check out Arrels Restaurant, a place renown for its fine dining that made it all the way into the Michelin guide.
When it comes to accommodation, consider staying at Sagunto Castillo 17, a fantastic apartment with a central location that provides a cozy base to explore this enchanting town and its surroundings.
Torrevieja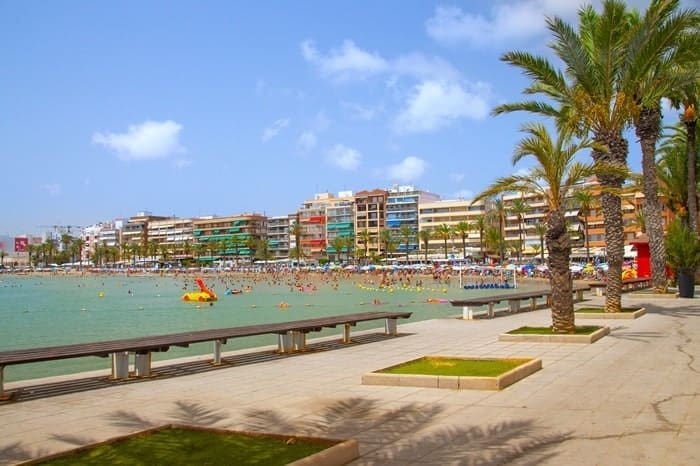 By Adri of Traveltipzone
Torrevieja is a great choice for a day trip from Valencia, Spain. Torrevieja, a coastal town, is about a 2.5-hour drive south from Valencia. It has beautiful beaches, a lively feel, and the unique Salinas de Torrevieja Nature Park. You can also get there by public transport, mainly by bus, in around 4 hours.
Close to the town, you will find the Pink Salt Lake. This special place surprises visitors with its pink color, coming from the high salt content. It is worth walking along the lake and discovering the area. You can join a guided tour or explore by yourself to see the lake's unusual color and the salt formations along its edge.
In Torrevieja, make sure to visit Plaza de la Constitution, a beautiful square, and one of the city's parks. Parque de las Naciones is a good choice, especially for families. Another fun option for families is the Aquopolis Torrevieja water park.
While you are there, try the local Spanish food and famous wines. For dining, El Patio Chico in the city center and Restaurante La Boca on Playa de los Locos beach come highly recommended.
If you decide to stay overnight, consider the 4-star Dña Monse Hotel Spa & Golf. Or, stay at the 3-star Hotel Playas de Torrevieja.
In summary, a trip from Valencia to Torrevieja and the Pink Salt Lake gives you an interesting mix of nature, culture, and fun. Whether it's a short day trip from Valencia or part of a longer journey around Spain, Torrevieja has something special to offer everyone. 
Xàtiva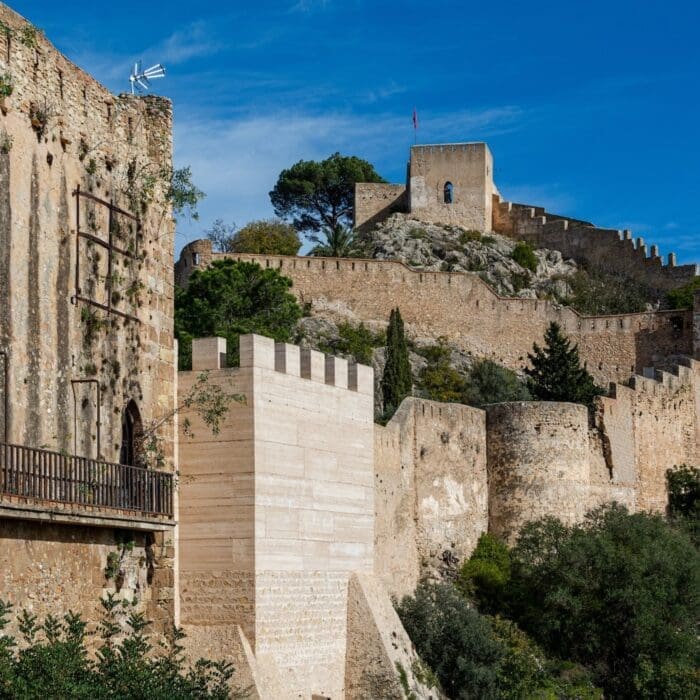 By Anna Hamilton
Just an hour's train ride from Valencia lies the picturesque town of Xàtiva. Tucked away amidst lush mountains and rich in history, this town offers visitors a deep dive into Spain's fascinating past combined with stunning natural landscapes.
Xàtiva is most renowned for its imposing castle that perches high on the hill, dominating the skyline. With origins tracing back to the Iberians and Romans and later expansions by Moors and Christians, the Castle of Xàtiva is an incredibly interesting showcase of the area's complex history. 
It's easily the highlight of the town when it comes to things to see and do for adults and kids alike. As you wander through its towers and ramparts, you can enjoy panoramic views of the town below and the surrounding countryside, while also taking in the over 2,000 years of history that have happened here.
Just make sure to wear comfortable shoes, as the ascent to the castle is a bit steep – but the views from the top are well worth the effort!
When it comes to where to eat, I definitely recommend the Restaurante El Túnel. Its shaded courtyard is the perfect spot, especially on a warm day, and the paella I tried there was excellent (which, of course, you have to eat as easily the most famous Valencian food out there).
For those wishing to extend their stay, the Hotel Mont Sant is an ideal choice. This former monastery has been carefully restored to offer modern comforts while retaining its historic charm. With its serene ambiance, manicured gardens, and breathtaking views, it's the perfect place to relax after a day of exploration.