Stroll through the Snow Queen's enchanted winter wonderland or discover the magic of Cinderella's palace. This is Blenheim Palace and Belvoir Castle as you have never seen them before – and they are not alone in creating such dramatic transformations. Across the United Kingdom, historic houses are increasingly taking on a totally new image for the Christmas season.
The Snow Queen at Blenheim
State Rooms where Winston Churchill and Lady Astor once walked have been exquisitely transformed into a glistening Land of Snowflakes. A silvery frost-covered forest has taken shape and visitors pass through larger-than-life shimmering crystals. The Snow Queen has taken up residence, and reindeers are trying to save the children. Antique furniture, statues and family portraits blend into a fantastical landscape peopled by fairytale characters.
The magic doesn't end when visitors pass into the gardens. Their majestic gardens have been covered by a brilliantly lit illuminated trail of ethereal lights. These lights cascading down trees create a perfect opportunity to enjoy a magical Ice Kingdom Afternoon Tea in the Orangery!
Belvoir Castle
Cinderella goes to the ball at Belvoir, a beautiful Regency castle in Leicestershire. Walking up the winding path lit by twinkling lights towards the hilltop castle, you feel like Cinderella as you pass through the castle doors, encountering the stepmother's jewel coloured glamour alongside Cinderella's own simplistic, naturalistic world. No banquet awaits in the State Dining Room – instead the Fairy Godmother transforms a pumpkin into a carriage.
Over in the Kings Suite, the Prince and his staff seek to find the identity of the owner of a tiny slipper while in the Regents Gallery Cinderella wears a stunning white peacock gown for her wedding while Santa Claus is tucked away in the Old Kitchen.
Bamburgh Castle
Sited high above a windswept golden beach, Bamburgh Castle is a stunning Northumbrian landmark. Tales of ghosts are replaced by a whimsical, fun festive experience inspired by the Twelve Days of Christmas. As visitors pass through the historic rooms, they encounter lords-a-leaping, swans-a-swimming, gold rings, a partridge in a pear tree, ladies dancing and many more.
Stunning theatrical sets, thousands of baubles, twinkling lights, magnificent Christmas trees and floral displays make this a spellbinding visit celebrating Bamburgh's 3,000-year-old history.
Castle Howard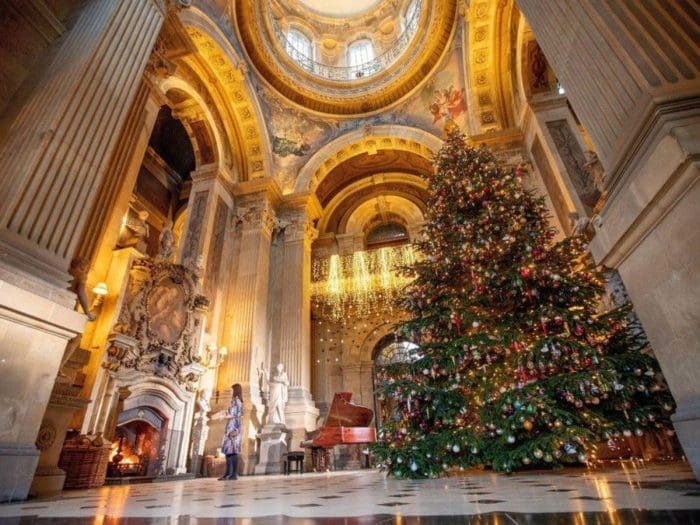 Best known as the filming location for Brideshead and Downton Abbey, this massive Yorkshire historic house becomes a fairy tale landscape. Grand rooms are transformed into magical forests and faraway kingdoms. A very large beanstalk is growing in the Garden Room, while elsewhere in the castle there is Little Red Riding Hood encountering a wolf, Hansel & Gretel with their candy covered cottage, Rapunzel complete with imposing tower and Cinderella with a pumpkin carriage.
All convene at the end for a glittering Met Gala style ball, with music echoing down the corridors. As night falls, twinkling Christmas trees and winter lights highlight the building exterior and the adjacent grounds.
Wentworth Woodhouse
It's the night before Christmas and all are asleep, tucked up in bed when Santa Claus is due to arrive. But all is not well in these dreamy state rooms at Yorkshire's Regency style Wentworth Woodhouse – for the evil Krampus is planning mischief. Can Christmas be saved? Will Santa ever arrive?
One of the grandest Georgian houses in England, this is a house that has had more than its share of dramatic tales over the centuries. One tale involves housing a menagerie and using it as a teacher training college.
Doddington Hall
A pretty Elizabethan manor house in Lincolnshire, it is famed for its tapestries and walled gardens. Now it has taken on a very different ambiance as Tales from the Riverbank have transformed its Tudor rooms. The outside comes inside, as the riverbank flows through the hall accompanied by winter stories of the characters who live there.
Holkham Hall
Deep in the Norfolk countryside, Holkham Hall was once the centre of an agricultural revolution. There are oceans of greenery everywhere. Climbing the steep stairs leading into the state rooms is like climbing through a woodland. What makes it an even more spectacular transformation is that every room is lit by flickering candlelight just as it would done a century or more ago.
Opulent Christmas decorations adorn the greenery bedecked state rooms, and even the sculpture corridors. Festive scents together with the aroma of woodlands and burning candles make this an intensely memorable experience
Chatsworth House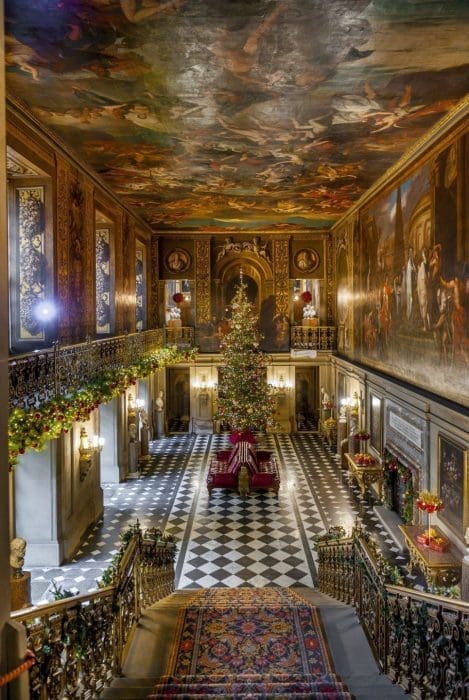 Dominating any visit to the Peak District, Chatsworth House and gardens are spectacular at any time of the year. But this Christmas it has taken on a totally new guise. Enter through the great doors into the depths of a Nordic winter where the Norse God Loki, a powerful wizard and mischief maker has used shape shifting powers to cast a spell over Chatsworth.
Experience immersive roomscapes complete with intricately sculpted 'ice' walls, giant woodlands and sparkling pine forests hide scenes from traditional stories such as The Little Fir Tree, The White Bear or The Snowdrop. Loki naturally makes an appearance with stories and music enticing visitors into the illuminated trails around the garden.