Doha is one of the fastest growing cities in the world. In the last 10 years, Qatar's capital has seen rapid expansion and received international attention in anticipation of the FIFA World Cup. 
There are over 3,000 restaurants within city limits. With a large population of expats, visitors will be surprised to find authentic meals, from Italian to Indian cuisine. 
Here are 8 noteworthy restaurants to try when visiting Doha, Qatar. 
Morimoto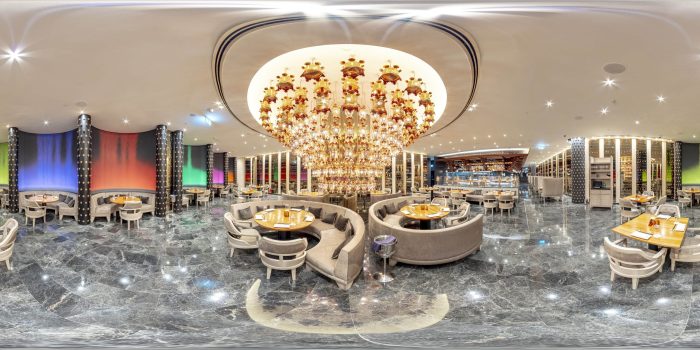 Located in the Mondrian Hotel, Morimoto is a popular spot to see and be seen. The posh setting and dim lighting are perfect for a night out on the town with friends or a date night. It's a modern Japanese restaurant serving classics like sushi, sashimi, and gyoza. The dishes are also very Instagrammable.
Try the Wagyu beef, Ishiyaki style, thinly sliced and seared on a hot stone at your table. For dessert, don't miss the Bonsai, an edible chocolate tree adorned with matcha as the leaves and soil that is almost too pretty to eat. 
Shay Al Shoomos
Start your day off right with breakfast at Shay Al Shoomos, a locally owned restaurant in Souq Waqif. It is a favorite of celebrities and royalty alike, with a picture of Her Highness Sheikh Al Mouza in the dining room. It is owned by a Qatari woman who reinvented the traditional regag bread recipe in over 30 different ways.
Resembling a crepe, try combinations like egg and tomato, cheese and honey, or saffron. They come in various shapes, from cones to quesadilla style, and you can have side items liked baked beans or minced meat. Wash your meal down with milk with turmeric or Arabic coffee.  
B-Lounge
Found in the Doha marina, this waterside restaurant boasts panoramic views and has indoor and outdoor dining. It is a happening spot at night, with DJs and mixology events. They have a Friday Froze Brunch from 1pm to 4pm.
Go to B-Lounge during lunch for a relaxed meal. Their trio of ceviche is fresh and their grilled lamb chops savory. The lobster dumplings with a creamy tom yum sauce are the ideal mix of decadence and spice. They also have a vegetarian menu available. 
Parisa
Easily the most ornate restaurant in Doha, Parisa is a must if you want to dine in opulence. They have a VIP dining room that has hosted the Sheikh himself. They open at 1pm but go for dinner if you want to experience Souq Waqif at night.
The menu is Persian with grilled kebabs, lamb stew, and pomegranate meatballs. For dessert, don't miss the pistachio saffron ice cream. Reservations at Parisa are recommended. 
ADRIFT Anda
ADRIFT Anda is an Italian concept by chef David Myers that is located in Le Royal Meridian in Place Vendome, now the largest mall in the Middle East. Part pizzeria, part steakhouse, part trattoria, the restaurant features an open kitchen so you can see your food being prepared from scratch.
The selection of cured meats is a hearty appetizer. The pasta at ADRIFT Anda is made in-house and the spaghetti alla carbonara is indulgent, with bacon bits to boost the flavors and topped with freshly grate mozzarella. For dessert, don't miss the panna cotta, with hues of red from the grape vinegar figs. 
Fiko
A favorite for those visiting Msheireb Downtown Doha, this is the first branch of a famous restaurant located outside of Türkiye. The service at Fiko is fast and efficient. The menu is modern, provided on a tablet with pictures of all the dishes.
Feast on Turkish delights, like traditional mezze such as hummus and atom, lamb kebabs, lahmacun, and baklava. They specialize in craft mocktails, making zero proof drinks look more appetizing than those containing alcohol. Reservations can be made ahead of time by phone. 
Boho Social
Boho Social is a colorful restaurant in Katara Cultural Village, overlooking the Qatar skyline. They have seating on the terrace and air-conditioned outdoor spaces with floor-to-ceiling windows to not impede your view.
The kale and quinoa salad are a healthy start with mango, pomegranate, charcoal corn, and a cumin dressing. The harira soup is a Moroccan inspired lamb and lentil dish. The grilled giant prawns live up to their name and are approximately 6 inches long. The desserts at Boho Social are a draw in and of themselves, from fondant cakes to homemade churros.
Chac'Late
There is no shortage of chocolate shops in Doha, but Chac'Late is a must for those with a sweet tooth. The honey cake is always a hit, with a layer of honey cream, roasted walnuts on top, and chocolate sauce served separately for an additional charge to smother over the dish.
Their waffles are loaded high with fixings, and they have hand crafted chocolate truffles that you can eat there or take to-go. They are gluten-free options, as well as breakfast, sandwiches, salads, and even a chocolate fountain.