A memorable dinner leaves a lasting impression. Good conversation, new connections and delicious food set the ideal scene for old friends to reconnect or new acquaintances to come together. While the thought of playing host may feel intimidating, being adequately prepared and thoughtful of what the season offers will allow you to throw a successful event. 
From planning the ultimate menu with delicious and fresh ingredients to setting the perfect scene for your guests to relax and chat, you will allow yourself plenty of time to mingle with your guests and even indulge in your SMOK vape kit.
Choose the Perfect Theme
Choosing a theme is the first step to planning and hosting a successful dinner party. It determines what you decide to serve, how you decorate the room and your choice of entertainment. 
While your options may be endless, you can narrow down your choices by asking yourself a few simple questions. You need to decide why you are hosting your dinner party. Are you trying to impress new colleagues or entertain old friends? Is it a celebration for a major holiday or a celebration for a big sporting event? Understanding the purpose of your evening will help you decide on the best theme. 
Deciding on the Right Menu
Good food brings people together. Every memorable dinner party tells a story, with the menu being the main plot. But creating something extraordinary doesn't mean it has to be over-complicated or difficult. 
Deciding on the perfect menu is simpler than you may think. Stick to dishes you have already successfully cooked in the past, choose ingredients that are in season and readily available and choose meals that can be cooked in advance and reheated when needed, allowing you to focus on welcoming and hosting your guests. 
Finally, remember to double-check any dietary requirements and allergies that you need to account for when planning your meals. 
Prepare Ahead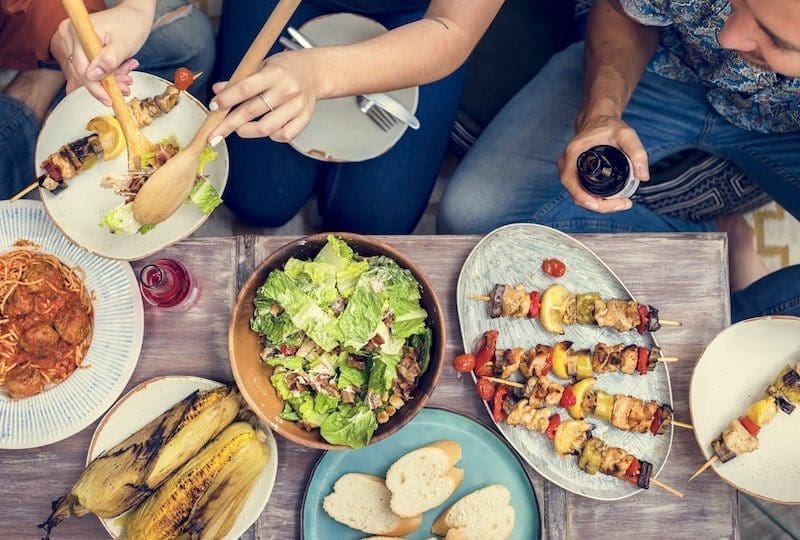 The best way to ensure you don't forget any ingredients or essential details that could affect the success of your party is to plan ahead and check your list twice. Write a shopping list that details everything you will need to create your setting and prepare your meals, which you can refer back to as needed. 
Being well-prepared will prevent you from feeling overwhelmed as it will highlight what can be done in advance and allow you to budget your time on the day to complete your tasks without neglecting your guests.
Create the Ultimate Setting
Your tablescape and decorations set the tone for your event. It is the backdrop for your delicious menu and determines how your guests feel when sitting down to eat. Relaxed and elegant evenings work best with soft lighting, delicate flowers and soft background music. 
Depending on how formal you hope the evening to be will dictate how you choose to set the table and the elements you want to include. But a beautifully dressed table will always have a tablecloth, a table runner, a centrepiece of flowers or lit candles, properly laid plates and silverware, folded cloth napkins and name cards. 
Additionally, you should include at least two glasses for guests, used for water and their beverage of choice.  
Consider the Seating Arrangements
An often overlooked aspect of a successful dinner party is the conversation. And as the host or hostess, you can create the ideal setting to allow engaging and free-flowing conversation to occur. This begins with your table setting and seating arrangement. 
While you can seat your guests in any order you like, experts recommend a few clever tricks to spark engaging chat and allow strangers to get to know one another when they first meet. Don't seat romantic partners or spouses next to each other, as it could encourage them to only speak with themselves. For special events, the guest of honour should be seated at the head of the table. 
For networking events, seat guests that share similar interests next to one another. If you have more introverted guests, seat them next to extroverted personalities that will draw them into the conversation. And finally, if you realise you are inviting one person who doesn't know your other guests, allow them to bring someone along to prevent them from feeling uncomfortable and excluded. 
Embrace the Season
When planning your menu, try to include as much produce as possible that is fresh and in-season. Not only will they taste the best, you won't have to break your budget to pay for your ingredient list. 
Additionally, try including local products when selecting cheeses, meats and bread. It is a fantastic way of highlighting what the area has to offer and a surefire way of guaranteeing your desired ingredients will be available. 
Be Realistic
You may want to go all out with a spectacular menu to impress your guests, but it is important to remain realistic about what you can make at home and what your skills allow you to complete successfully.
Cooking large amounts of food in a standard kitchen will already be a challenge, so don't make things harder for yourself by choosing ingredients that require more work or vastly different cooking times. This will allow you to be more consistent with each course and ensure your food is delicious and properly prepared for you and your guests to enjoy.