The narrow streets of York are always thronged with visitors. These travelers are keen to explore the city's Viking past, Roman remains, and the impressive medieval cathedral. Many visitors to York in the United Kingdom are also drawn by the food and drinks, while others are pleasantly surprised by the selection on offer. The best way to discover a city's history and culture is through its food and drink offerings. Learn more by reading our York Food and Drink Guide.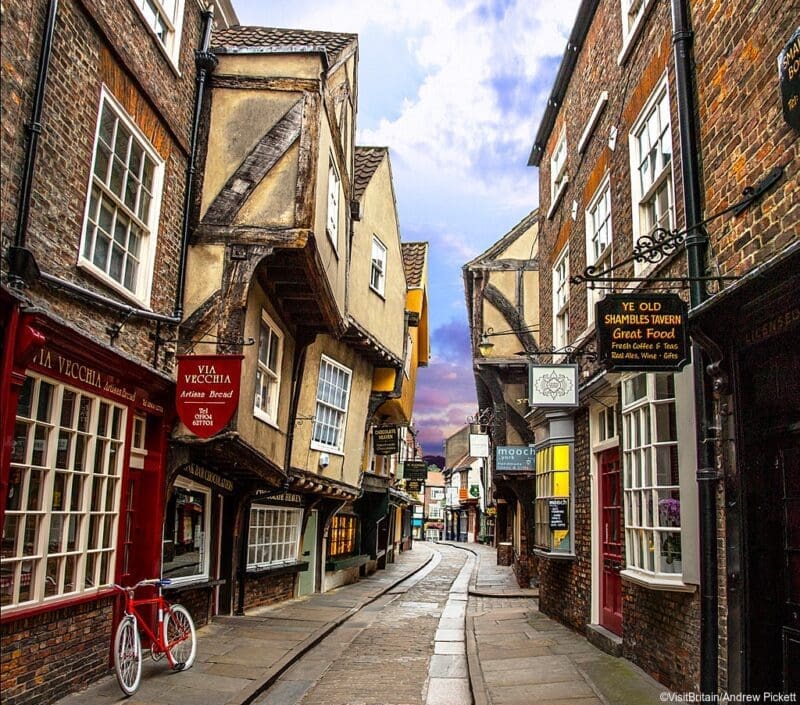 Foods to Try in York
Yorkshire Pudding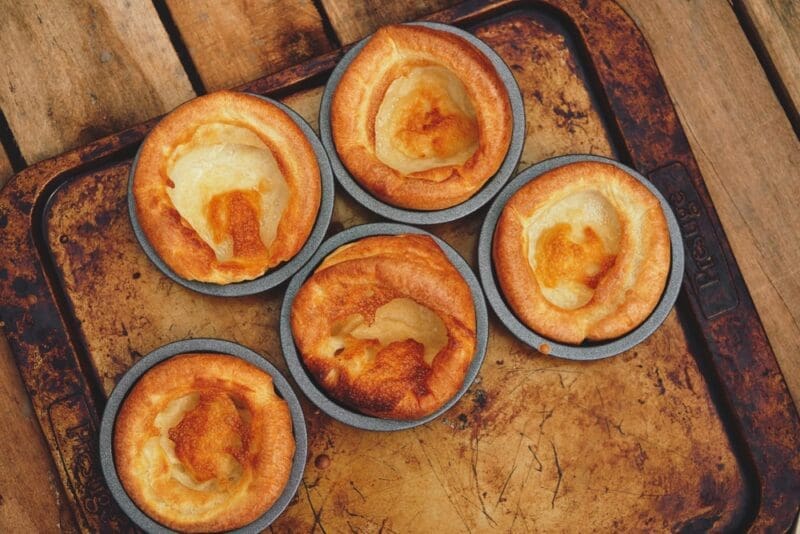 Since this is Yorkshire, most cafes and pubs offer a range of meals complete with the classic Yorkshire pudding. It is a baked dish made from a batter of eggs, flour, milk and water that dates back centuries.
Usually served as part of a main meal, it is also served on its own with the centre filled with produce such as sausages, mashed potato and even curry.  In recent years, the concept has extended to create sweet versions filled with jam or chocolate.
Yorkshire Parkin
Visitors with a sweet tooth can also try Yorkshire Parkin. Yorkshire Parkin is a strong, dark, moist, spicy cake made with gingerbread, oatmeal and black treacle. It used to be made only in the winter but is now available all year round.
Surprisingly, parkin is a very hard cake when first baked. It becomes soft and moist once it has been stored in a sealed container for several days.
Yorkshire Curd Tart
Alternatively try a Yorkshire Curd Tart. A bit like a cheesecake, it is always made with fresh curds, butter, dried fruit and flavored with nutmeg before being cooked on a shortbread pastry base.
Bettys York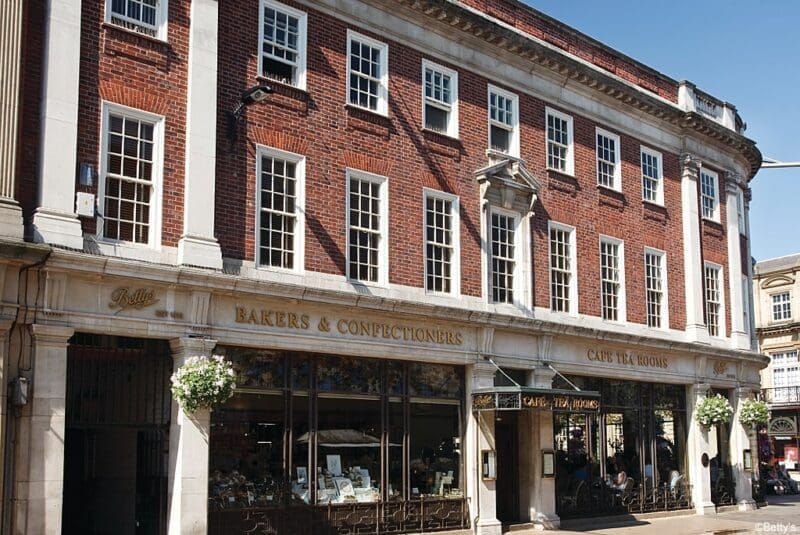 By far the best place to try sweet treats like this is Bettys York. Afternoon tea and cakes at Bettys is a must-do for any visitor to York. The food is totally irresistible, with delectable cakes of all kinds including the specialty Yorkshire Fat Rascals. These might look a bit like a fruity scone, but it is more than a scone.
Originating in Yorkshire over a hundred years ago, the idea was developed into a specific Yorkshire Fat Rascal at Bettys Tea Shop. These are big, thick scones almost a cross between a rock cake and a scone. Each Yorkshire Fat Rascal is hand decorated with cherries and almonds to create a face on top.
York Chocolate Story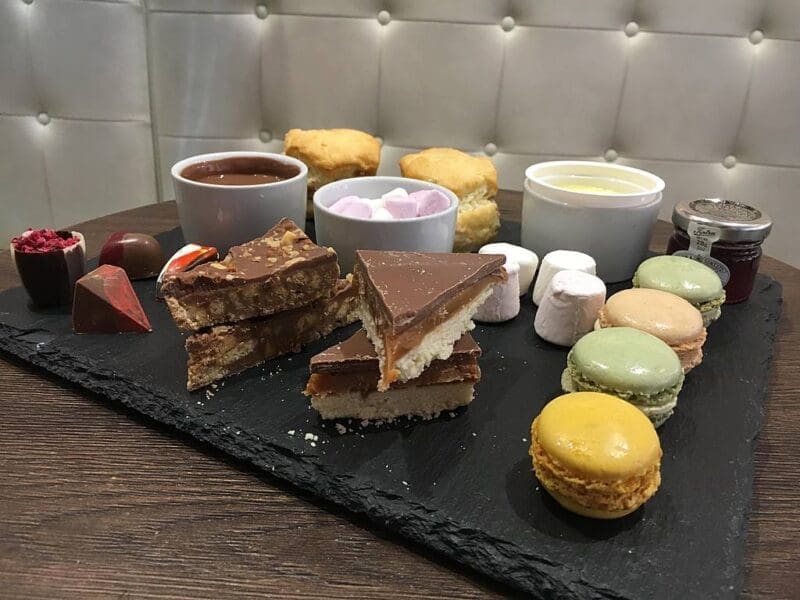 Another source of sweet treats is the York Chocolate Story. York is where some of the biggest British chocolate brands were first created back in the nineteenth century.  Rowntrees and Terry's became household names, especially the Terrys Chocolate Orange (a orange tasting chocolate ball divided into segments) and the KitKat, a crisp biscuit and chocolate confection. At the York Chocolate story, you can discover the story of chocolate making in York and even try making your own chocolate creations.
Dinner Cruise Along the River Ouse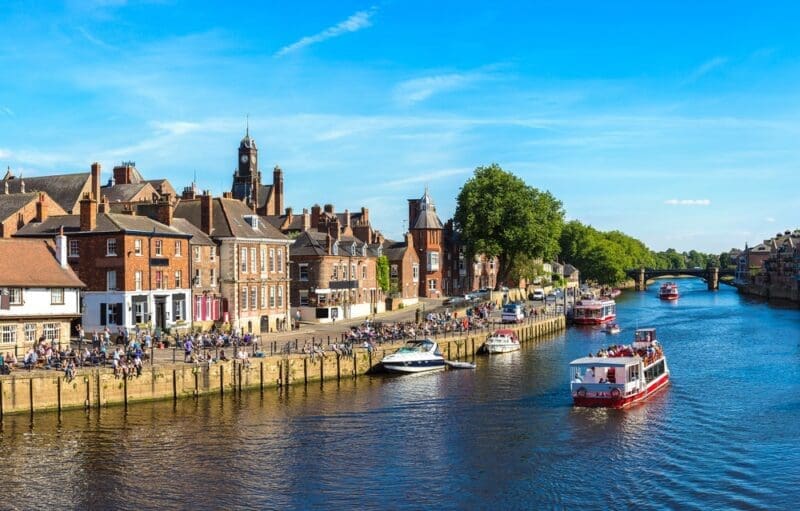 Equally fun as part of your York Food and Drink Guide is to take an evening dining cruise along the river Ouse which passes through the center of York. The scenery is spectacular, as the route passes many historic buildings. This includes the thirteenth century Bishopthorpe Palace which is home to the Archbishop of York.
The cruise takes place on the Captain James Cook, the largest boat to sail along the river Ouse. While enjoying the three-course meal which usually includes Yorkshire specialties, you can listen to live commentary about the places you are sailing past.
Explore Your Inner Viking in York
For a very different dining experience as part of your York food and drink guide, why not explore your inner Viking? Try your hand at axe throwing at The Hilt, and find out how often you can hit the target. These are real, sharp axes and it does take some skill to make an impact. Afterwards, head over to the nearby Valhalla for ale, mead, meat, cheese and fish (plus some tasty cakes) while listening to rock music.
Ale Trails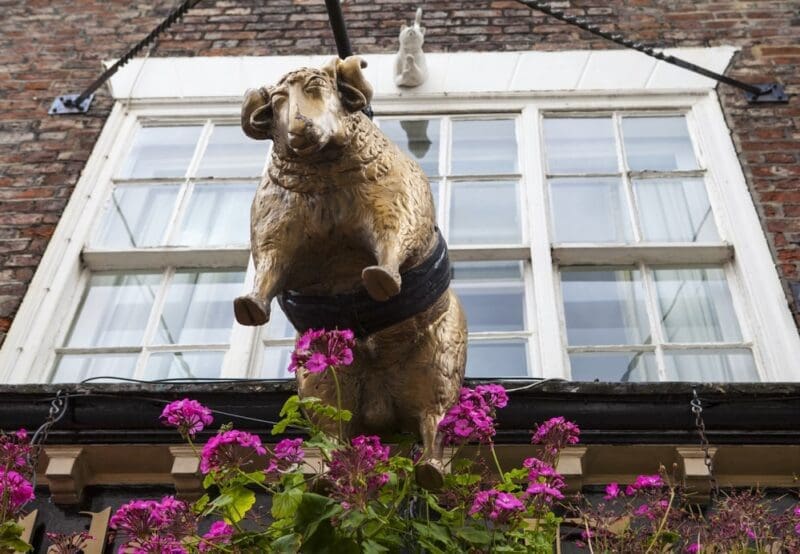 As befits a city with a Viking heritage, good ale has always been important. There are numerous ale trails which can be followed around the city. These trails provide an opportunity to try out a variety of pubs and local ales. Be warned – many of the ales can be quite strong and is always served with a foamy creamy head at least a couple of inches thick.
Good pubs to try include the Blue Bell in Fossgate, which has an original nineteenth century interior. The pub is very compact and covers several small wood paneled rooms. The Blue Bell also always offers around seven different local beers from the hand pumps on the bar.
For a very atmospheric experience try the Snickleways Pub Crawl created by Within the Walls, established in 2012. Snickleways are a York tradition described as 'a narrow place to walk along' and involve pubs with names like Hole in the Wall, The Kings Årms, Golden Fleece, and the Fossgate Tap.
For those with wanting a more ghoulish experience, try the Haunted York Pub Crawl. This is the city of over a thousand ghosts. Some of these ghosts may be encountered in pubs like The Snickleway Inn, the Old White Swan or the Golden Swan.
Each route involves around 8 different pubs within easy walking distance. There would be plenty of time to appreciate the variety of beers and the drinking experience making a visit to York extremely memorable.