Are you considering relocating to Miami? Miami, Florida, is known for its stunning beaches, diverse culture, and bustling entertainment scene. This thriving metropolis boasts a rich history and an array of attractions that cater to a wide range of interests. 
With a growing job market, a plethora of recreational activities, and a unique blend of cultures, it's no wonder many people are drawn to this sun-soaked paradise. In this comprehensive guide, we'll cover essential tips for relocating to Miami, ensuring you're well-prepared for your exciting new adventure and ready to make the most of everything this vibrant city has to offer.
What To Know Before Relocating To Miami
Preparing for the Move
Researching Miami Neighborhoods
Miami is a vibrant and diverse city, with each neighborhood offering something unique. Before you settle on a location, it's essential to research and visit various neighborhoods to find the one that best suits your lifestyle, budget, and preferences. Some popular neighborhoods include Brickell, Coconut Grove, Coral Gables, and South Beach.
Organizing Your Belongings
Moving to a new city can be stressful, but being organized can help make the process smoother. Start by decluttering and sorting your belongings into categories: keep, donate, and discard. This will not only make packing more manageable but will also save you money on moving costs.
Hiring a Moving Company
Choosing the right companies relocating to Miami is crucial for a successful relocation. Research various movers, read reviews, and get quotes from multiple companies. Make sure the company you select is licensed and insured, and ask for references to ensure you're making the best choice.
Cost of Living in Miami
Housing Costs
The cost of living in Miami is relatively high, especially when it comes to housing. Whether you're planning to rent or buy, it's essential to budget accordingly. Be prepared to spend a significant portion of your income on housing expenses, especially if you want to live in a desirable neighborhood or close to the beach.
Transportation Costs
Public transportation in Miami is limited, so owning a car is often necessary. Factor in the costs of car payments, insurance, gas, and parking when budgeting for your move. Alternatively, consider carpooling, biking, or using ride-sharing services to save money on transportation.
Grocery and Dining Expenses
Groceries in Miami can be more expensive compared to other cities, so be prepared to adjust your budget accordingly. Dining out can also add up quickly, but with a diverse food scene, you'll have plenty of affordable options to choose from.
Adapting to Miami's Climate
Miami's tropical climate is one of its main attractions. However, newcomers should be prepared for hot, humid summers and the occasional hurricane. Invest in a good air conditioning system, and make sure to stay hydrated and protected from the sun.
Finding Employment in Miami
Miami's job market is steadily growing, with opportunities in various industries such as tourism, finance, healthcare, and technology. Before relocating, it's a good idea to start your job search early and network with professionals in your field. Consider attending local job fairs, networking events, or connecting with Miami-based professionals on LinkedIn.
Education and Schools
If you have children, researching schools should be a top priority. Miami has a diverse range of educational options, including public, private, and charter schools. Additionally, there are several well-regarded universities and colleges in the area, such as the University of Miami and Florida International University. Be sure to research schools in your desired neighborhood and consider the quality of education, commute times, and extracurricular offerings.
Social and Cultural Life
Miami's rich cultural scene offers countless opportunities for socializing and entertainment. From art galleries and museums to sports events and live music, there's always something to do. Familiarize yourself with local events and organizations to make new friends and become part of the community. Don't forget to explore the many festivals, farmers' markets, and cultural events that take place throughout the year.
Healthcare and Wellness
Having access to quality healthcare is essential when relocating. Miami is home to several top-rated hospitals and medical centers, such as the University of Miami Health System and Jackson Health System. Research healthcare providers in your area and ensure you have the necessary insurance coverage for your needs.
What To Know About Miami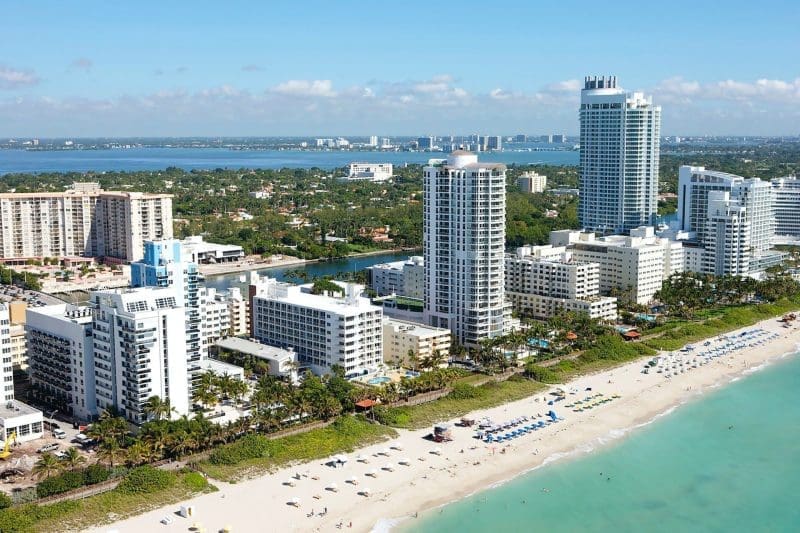 Relocating to Miami can be an exciting and rewarding experience, but it requires thorough preparation and planning. By researching neighborhoods, organizing your belongings, understanding the cost of living, and familiarizing yourself with the local job market, you'll be well on your way to a successful transition. Embrace the city's unique culture, and don't forget to enjoy everything Miami has to offer.
Is Miami a safe place to live?
Like any major city, Miami has its safe and less-safe areas. By researching neighborhoods and taking standard safety precautions, you can minimize risk and feel secure in your new home.
How is public transportation in Miami?
Miami's public transportation system is limited compared to other major cities. Owning a car is often necessary, but alternative options include the Metrorail, buses, trolleys, and ride-sharing services.
What are the best areas for families in Miami?
Some family-friendly neighborhoods in Miami include Coconut Grove, Coral Gables, and Pinecrest. These areas offer good schools, parks, and a strong sense of community.
How can I make friends and connect with others in Miami?
Join local clubs, attend community events, volunteer, or participate in sports leagues to meet new people and establish connections in your new city.
How can I prepare for Miami's hurricane season?
Keep an eye on weather updates, have an emergency plan in place, and maintain a supply kit with essentials such as food, water, and medications.