Several studies demonstrate the importance of regular physical activity or exercise in improving overall health. They're also perfect methods for keeping your overall health in perfect form, potentially lowering your risk of feeling depressed and falling sick from serious illnesses like diabetes, heart disease, and cancer. So, you should make time to exercise even if you're mostly at home and working on your laptop. The busier you are, the more you have to devote time to healthy routines.
But it's quite common for some people to assume that working out and living a healthy lifestyle can only be done in a gym, expensive diet techniques, and with some gym equipment. Of course, these things could help you greatly, especially if you have a fitness goal.
There are several methods you can do to keep yourself fit and engage in physical activities without spending much. Some activities such as yoga and meditation are perfect examples, and even outdoor activities such as hiking, and jogging are all options.
Another option is doing calisthenics without having to buy any pricey gym equipment. You can do this in your room or your backyard, and you don't need to have a big space for it. You can live in a small condo or a mixed residential property, and all of them would be suitable for some calisthenics.
Calisthenics and Its Benefits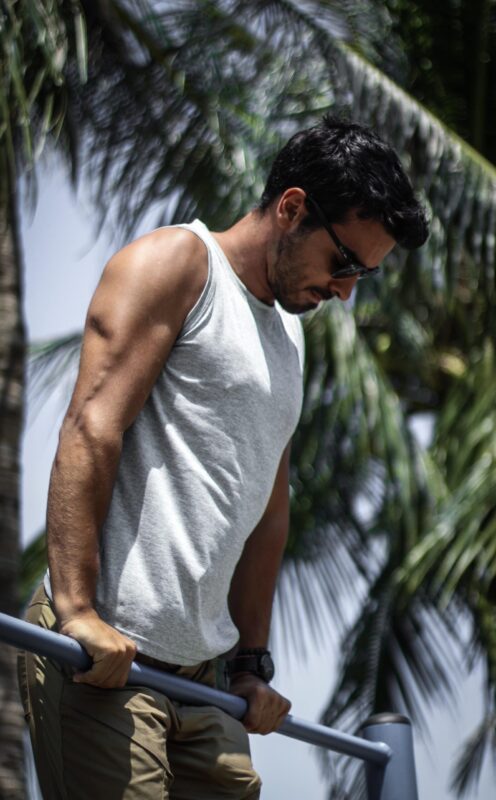 In a nutshell, calisthenics is a practice of exercising that requires little to no equipment – you would only need your body weight for the most part and maybe some things you can find at home.
While some fitness experts and gym-goers might not believe calisthenics to be a better workout than going to the gym, they can nevertheless help you increase your muscle mass, flexibility, endurance, coordination, and overall strength. Of course, the more you do these routines, the better the outcomes for your body will be.
No matter what you want to achieve with your workouts, or even if you only want to do some regular passive exercise, calisthenics can help you. Here are a few of the best calisthenics to do regularly:
Lunges can help strengthen both your legs and your upper body. It's simple calisthenics that wouldn't require you to be buff as you can make lunges with ease.
Keep your upper body straight while alternately bending your knees and lowering your body to the ground. Lunges help you increase muscular mass. This can help flatten and tone your stomach, giving you a six-pack that most fitness enthusiasts work hard for.
Pull-ups are their favorite among calisthenics fans, but beginners could take some time to get used to it. Find or purchase need a pull-up bar to help you perform this exercise. You could use a pull-up bar at a playground or gym, for example, or purchase one for your home.
While this type of calisthenics is a little more difficult, and it might require you to have sufficient strength and muscles before you can execute it daily, it can help you strengthen and definitely build the muscles on your arms and back.
In a way, chin-ups have many similarities to pull-ups. Doing chi-ups might need you to have a supinated grip that will help you lift your body. This type of calisthenics workout helps your upper back muscles become more toned while giving your arms more strength.
Dragonfly is a high-intensity calisthenics exercise that could help you sculpt your abs. Including it in your routine if you've been working on getting those six-packs would be a good idea. You can do this by lying down on your back and gripping support bars while you pull your lower body higher, allowing your shoulders to support your weight.
Because this is an advanced routine, it might not be easy at first, especially for some beginners. Although once you've gotten used to it, you'll notice and feel the changes in your body that will make you want to do it more.
Squats help you lose weight by burning calories and strengthening your knees and ankles. This exercise also helps strengthen your legs and focus on your tendons, leg muscles, and ligaments.
No Gym, No Problem
Calisthenics might not be a substitute for gym workouts. But, if you can incorporate them into your routine, you would help your body become more toned and flexible.