Aruba Marriott's Executive Chef Ever de Peña at La Vista has invited you to learn how to make a local favorite dish, Keshi Yena. Keshi Yena is a traditional Aruban and Curaçaoan dish made with chicken, vegetables, and spices stuffed in melted Gouda cheese.
Keshi Yena is a perfect dish to make as a family, where the children can choose the ingredients, and mix everything together.
Find a Keshi Yena recipe below, courtesy of Chef Peña.
Keshi Yena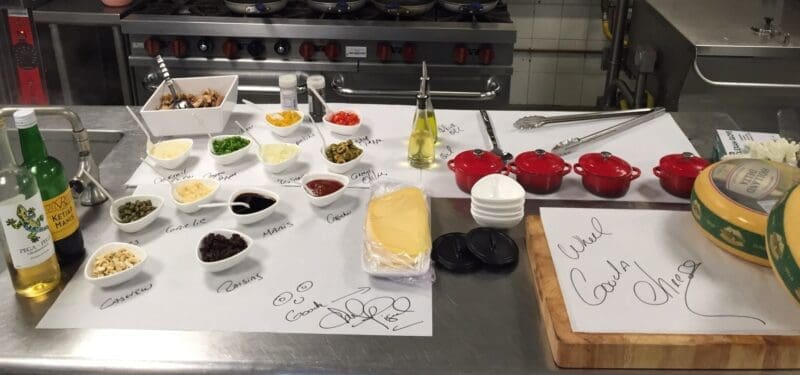 Serves 10-12
For the chicken filling, rub with the juice of several limes:
Season the breasts and thighs with:
Salt and pepper
Poultry seasoning
Shallots
Garlic
Minced onion
Let them stand for several hours. Then either arrange the pieces in a shallow baking dish, and after browning the chicken under the broiler, bake it for one hour at 350°, deboning it when cool enough to handle, or choose this more frugal method of preparation.
Brown the chicken in three tablespoons butter, and then place it in a heavy kettle with:
4 quarts water
2 tsp. salt
12 peppercorns
1 or 2 onions
1 celery stalk with leaves
bay leaf, bruised
Directions
Bring to a boil, reduce heat and simmer for twenty minutes, or just until chicken is tender. Strain and reserve the broth, discarding the vegetables, debone the chicken, and set aside.
After the chicken has been prepared by one of the above methods, sautéed in two tablespoons butter or olive oil:
3 cups Diced Tomatoes
3 cups Diced Onion
3 cups Diced Bell Pepper
3oz Chopped Garlic
Add and stir in well:
5oz Cocktail Onions
5oz Green Olives
4oz Raisin
3oz Cashew Nuts
1 Tbs. parsley, minced, or a few drops Tabasco sauce
12oz Catchup
Salt and pepper to taste
Continued Directions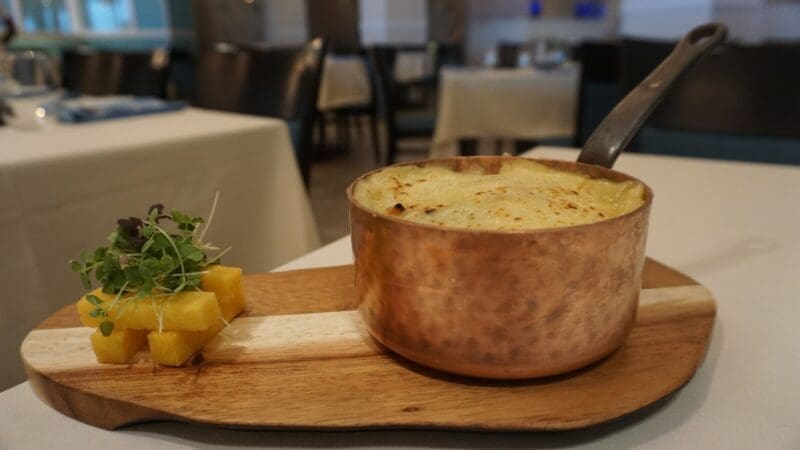 Simmer until the tomatoes are reduced, about 20-30 minutes. Remove from the fire and permit mixture to cool. If Keshi Yena is to be baked, preheat oven. Add rest of ingredients, stir well and place in 13 x 9 x 2 baking pan. Top with 10 oz Dutch Gouda, sliced.
Bake covered loosely with tin foil, 350 degrees for about 60 minutes.50°, if it is to be steamed, begin heating water in the bottom of a double boiler.