Curious to know which restaurants in New York City are offering takeout and delivery for New Year's Eve? Toast the highly anticipated the New Year comfortably and safely at home with all of the trimmings and fixings you would expect when dining out in NYC.


Read on to learn about eight restaurants offering this convenient service, while you reward yourself with more quality time with your loved ones.
If you are looking for in person dining options in NYC, check out our list of New Year's Eve Dining Specials at Restaurants in NYC.
Carmine's
Family-style Italian restaurant Carmine's is offering a Surf & Turf special with Porterhouse Steak and two-pound Lobster Oreganata special on New Year's Eve and New Year's Day. Their full menu will be available. Favorite offerings including Penne alla Vodka, their famous Meatballs, and Chicken Parmigiana will also be available.
Note: Carmine's Times Square location will be closed on New Year's Eve. However, they will be open on New Year's Day. Takeout and delivery are available. 212-362-2200
ICHIRAN
ICHIRAN will be open on New Year's Eve from 12-9 pm at their Brooklyn location, from 12-8:30 pm at their Midtown location, with their menu available for both takeout and delivery.
The family-owned business started as a simple ramen stall in 1960 and created the Five Original ICHIRAN principles which are: Original Spicy Red Sauce, aromatic Tonkotsu broth, solo dining booths, order forms and the Kae-Dama ordering system.
The Hakata-style homemade thin noodles are prepared daily at ICHIRAN's Brooklyn Factory. ICHIRAN's famous ramen, including both their Classic Tonkotsu and Veggie Style, is now available, not only for dining in, but also takeout and delivery. ICHIRAN's online store allows diners to create their own experience with their take-home ramen kit. 212-465-0701
Note: The Times Square location will be closed on New Year's Eve.
J-Spec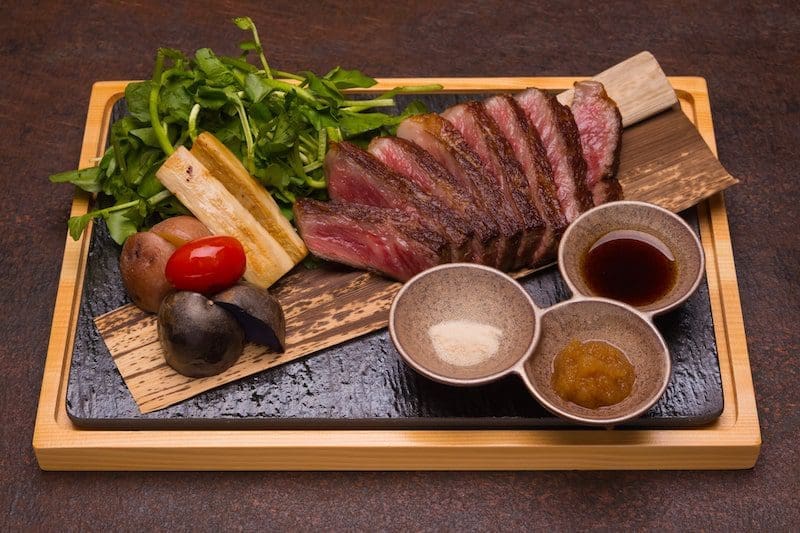 The Wagyu-centric Japanese restaurant, J-Spec, in the East Village is offering takeout for New Year's Eve. Their signature dishes include their Wagyu steaks. Order the Signature Wagyu Flight, A5 Chateaubriand, or A5 Ozaki Striploin. They also have a wide selection of Wagyu Appetizers, and hand rolls.
Wagyu has a distinct texture and flavor profile compared to American beef. The rich fat of Wagyu beef gives a "melts in your mouth" sensation. Takeout orders are available for New Year's Eve dinner. 212-287-0107
Limani New York
Limani New York, located in Rockefeller Plaza, will be open on New Year's Eve from 12-11pm with their menu available for both takeout and delivery.
Limani New York is a Greek-Mediterranean dining destination with a menu that highlights clean Mediterranean flavors spotlighting whole fish. The whole fish is flown in daily from the Mediterranean.
If you happen to stop in for a drink on New Year's Eve, you would be seated at a beautiful white marble bar with a curated selection of specialty cocktails and a global wine list to choose from. 212-858-9200
Pekarna
Pekarna
on the Upper West Side is offering for 
takeout
 and 
delivery
 on both New Year's Eve and New Year's Day.
The restaurant features contemporary Slovenian-American cuisine led by Executive Chef Kamal Hoyte and Consulting Pastry Chef Alma Rekvic.
One of their most popular dishes is the Pekarna Burger, pictured above.
This New Year's Eve, enjoy the Kremšnita Cake or "Slovenian Bled cake" at home. This dessert is a puff pastry with vanilla custard, sugar and seasonal berries with Pekarna's own variation, a passionfruit glaze. 646-974-9070
PJ Bernstein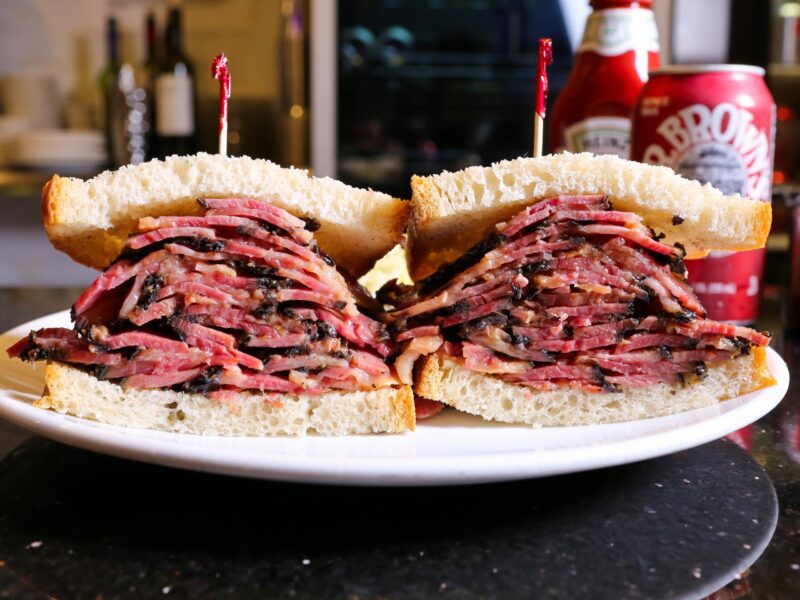 PJ Bernstein will be open on New Year's Eve from 10am-4pm with their menu available for both takeout and delivery.
This iconic Upper East Side, family-owned Jewish Deli is one of the few remaining authentic restaurants of its kind. To this day, the deli continues to be a popular destination for locals and celebrities who have an appetite for PJ's towering pastrami sandwiches and homemade soups. PJ Bernstein has served a number of stars over the years such as Lucille Ball, Liza Minelli, Mel Brooks, and two James Bond actors, Sean Connery and most recently Daniel Craig.
Lucciola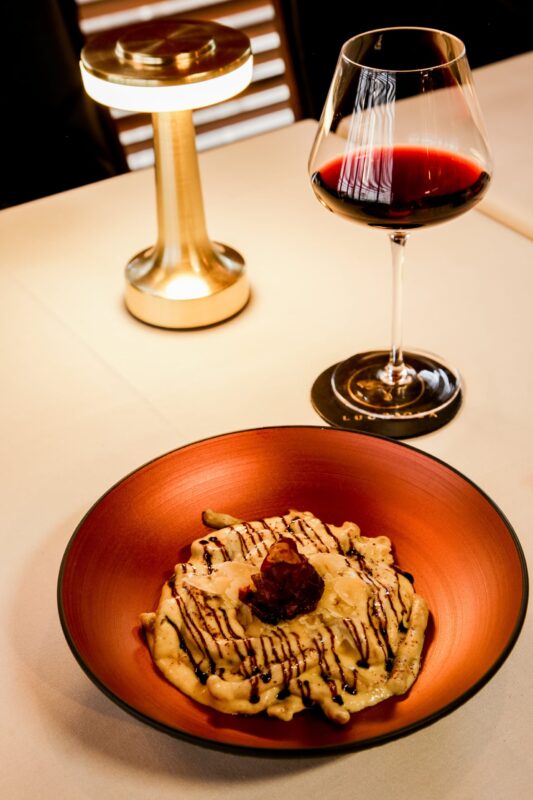 Upper West Side Italian eatery Lucciola, located on Amsterdam Avenue, celebrates the New Year by offering three-course prix-fixe menu that is available for takeout. The menu features popular dishes in the Bolognese tradition such as Handmade Tortellini with Parmigiano Reggiano cream; Passatelli: Italian-noodles made of breadcrumbs, lemon zest, nutmeg, eggs, and grated Parmigiano Reggiano; and Cotechino: slow-cooked large pork sausage from Emilia Romagna served with lentils. Lentils symbolize wealth and good fortune for the coming year. 212-874-7774
Restaurant Daniel
Celebrate New Year's Eve in full style with an indulgent weekend feast presented by Daniel Boulud. The feast includes canapés, dinner, and brunch featuring artisanal cheeses, charcuterie, festive desserts, and more.
Dinner dishes to savor are Black Truffle Layered Moses Sleeper, Meyer Lemon & Crab Panna Cotta, and other delights. Brunch is a selection of Sourdough & Viennoiserie, Smoked Salmon, Molleaux au Chocolat, and more. The dinner packages are available for pickup and delivery. 212-288-0033
Socarrat Paella Bar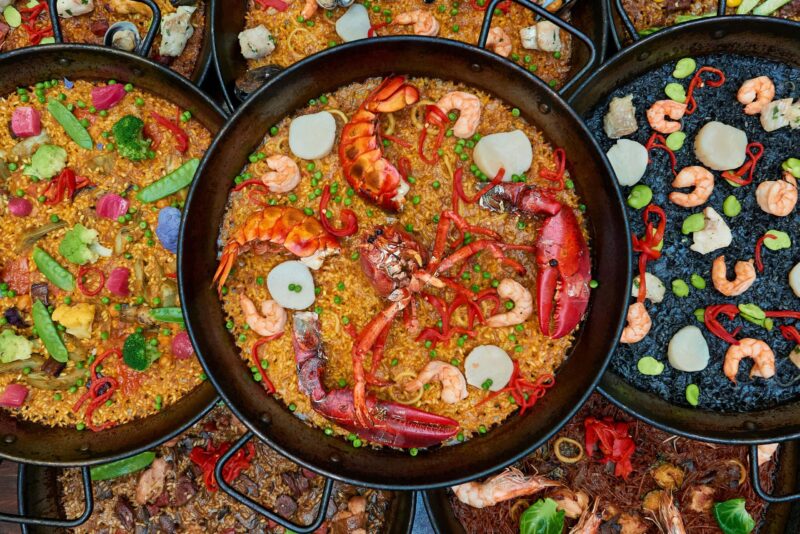 Ring in the New Year with a Spanish feast from NYC's favorite paella restaurant, Socarrat. Socarrat will offer their special holiday menu for takeout for $65 per person.
The special holiday menu features a Lamb Truffle Paella with lamb chops served with shareable tapas. Shareable tapas include Croquetas de Hongo: mushroom croquettes, and Gambas al Ajillo: garlic shrimp. Sweets for sharing include churros with chocolate.
Orders can be placed by emailing athome[at]socarratnyc[dot]com.
Tuscany Steakhouse
Located in the heart of Central Park South, Tuscany Steakhouse will be open on New Year's Eve from 4-11:30 pm with their menu available for both takeout and delivery.
The restaurant represents a more rounded cuisine experience to their patrons with a menu marrying Italian American fare and the classic American steakhouse.
One of their most popular concepts is their USDA Prime Dry-Aged Steaks. The wine list features over 300 new and old-world wines.