Bottino is located in New York City's Chelsea neighborhood on Tenth Avenue. Bottino's Executive Chef and Partner Jamie Kenyon brings forth a chef driven experience for guests with a newly launched menu and refreshed look.
The fresh flavors and calming dining scene are ever apparent, particularly with their colorful menu offerings and garden dining area. Bottino also features a back patio space.
Chef Jamie Kenyon
Chef Kenyon puts his own twist on the comforting Italian food Bottino customers have loved for over twenty years. His menu also features new dishes that evoke a season-focused Italian menu.
In particular, there are "nose-to-tail" and vegetarian offerings. These include the Pan-Seared Branzino Filet, Chicken and Duck Liver Mousse, and Cider-Braised Pork Cheeks. Notable dining experiences to look out for include a chef's table and whole-animal dinners.
Chef Jamie Kenyon began his career at Daniel, followed by Bar Boulud. He was also one of the first employees at Mano in Eataly. He then moved on to corporate Chef de Cuisine for six restaurants at Eataly. His passion for Italian dishes eventually brought him to Bottino with Owner Danny Emerman. Kenyon had originally done some consulting with Emerman before becoming restaurant partners.
Cocktails and Wine
At Bottino, their cocktail menu includes offerings with lots of character and sharp, sophisticated flavor. Notable choices are Grey Gardens: vodka, Earl Grey, St. Germain, Citrus; and Fred & Ginger: mezcal, pear, ginger, fresh lemon.
Sparkling, white, and red wines are available by the bottle and glass. The boutique wine list is selected by Emerman. The list comprises of 99% Italian wines organized by regions. The list offers up to ten whites and reds by the glass.
There is also a small collection of craft bottled beers. The cocktail list changes with the season.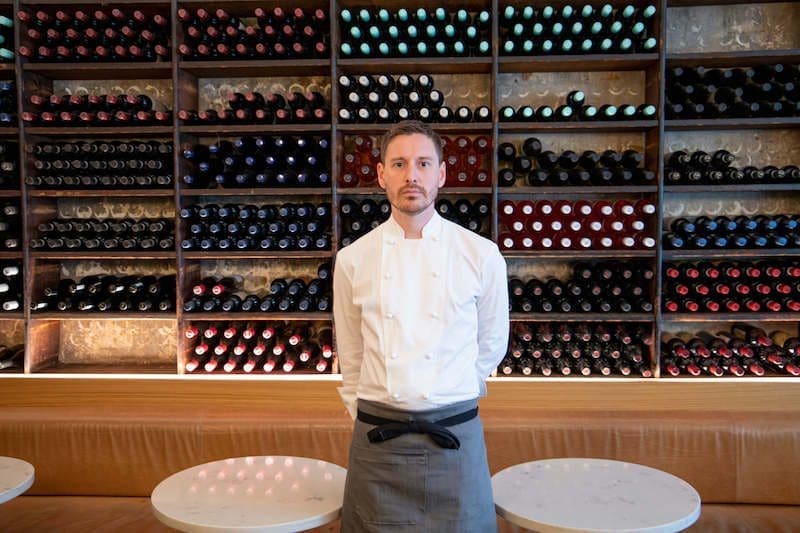 The Menu at Bottino NYC
For lunch at Bottino, a must for a starter is the Baby Beets. Crafted with goat cheese spuma and pistachio, it hits every note. Satisfying, brightly colored, and super fresh. Another surprising must-have is the Honeycrisp Butter Lettuce Salad. It features apple, Stilton blue, spiced walnuts, and honey vinaigrette. The marriage of the spiced walnuts and apples are a festive delight for the season.
Our waiter recommended the Linguine Con Capesante. I now pass this recommendation on to you with five stars. What make this so memorable are the array of ingredients like sweet bay scallops, saffron, garlic chives, and chili flakes. The seasoned breadcrumb also creates a delectable crunch.
The Pan-Seared Branzino Filet has a perfect balance of vegetables and fish. The Branzino is served with roasted cauliflower and pomegranate vinaigrette. The Bucatini Alla Norma with charred eggplant and shaved smoked ricotta comes highly recommended.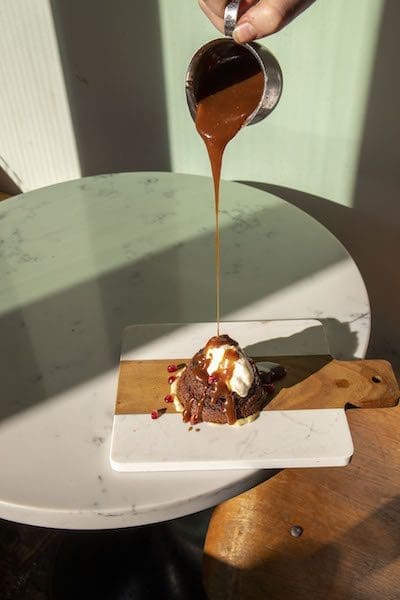 Dessert
Dessert at Bottino NYC is under the direction of sous chef Annabel Sharahy, formerly of Eleven Madison Park. The Seared Olive Oil Cake is a real treat. The tangerine olive oil is carefully poured on top table-side. The cake served with a refreshing scoop of vanilla gelato and touch of balsamic.
Additional choices are a Warm Tuscan Bread Pudding, Chocolate Tiramisu, and Poached Pear & Zabaglione.
Hours
Bottino Italian Restaurant in NYC is currently open for lunch and dinner. Lunch hours are Thursday-Saturday from 12-4pm. Dinner service is Monday-Saturday from 5-9:30pm, and Sunday from 5-8:30pm.
Takeout is also available. Their takeout store is open Monday-Friday from 8am-6pm and Saturday from 9am-6pm.