Send of the year in style paired with delicious cuisine in New York City. East End Taste has curated a list of fourteen restaurants in NYC open and serving dining specials on New Year's Eve. Some restaurants are also serving these specials on New Year's Day and into the New Year. Check with each restaurant for details and make your New Year's Eve dinner reservations early. We list off our top dining picks in alphabetical order.
If you are staying in for New Year's Eve, check out our list of restaurants in NYC offering takeout and delivery.
ART NoMad
Midtown Manhattan
ART NoMad is officially launching its rooftop igloos on New Year's Eve. The igloos will be open throughout the winter Thursdays through Saturdays from 5pm – 1am. All reservations come with a minimum spend of $100/guest before tax & gratuity. Each igloo can host 10 guests per reservation.
On New Year's Eve and throughout the winter, guests can feast on a variety of sharing plates including a Middle Eastern Pupu Plater, Cheese Board, and Dips. The Middle Eastern Pupu Platter, for example, includes harissa chicken sliders, beef kofta sliders, falafel with tzatziki, and mushroom skewers.
Cocktail bottles (each bottle holds approximately 6 cocktails) are available to order to pair with your evening celebration. Popular picks include Time After Time: Grey Goose, pear, elderflower, lemon, honey; and Girls Just Want to Have Fun: vodka, cucumber, mint, and aloe. 212-951-1141
Brooklyn Chop House
Financial District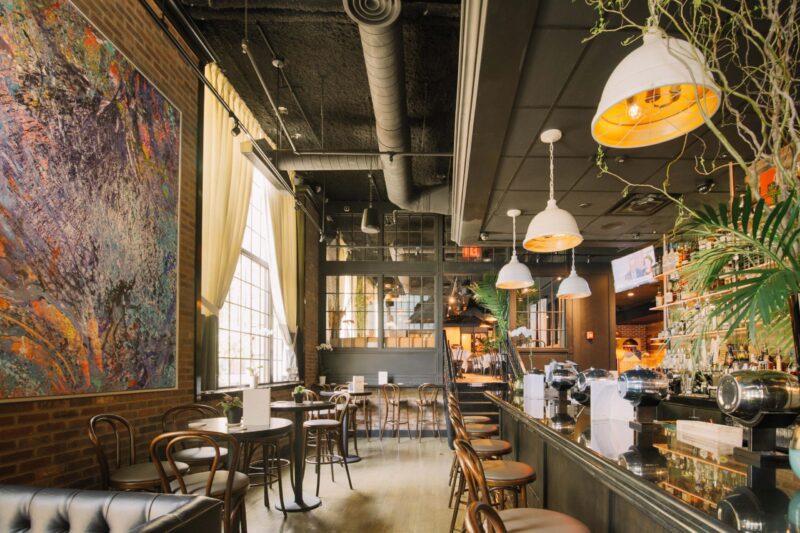 Brooklyn Chop House is celebrating New Year's Eve with a multi course dinner. Appetizer options include rock shrimp tempura, chicken lettuce wraps, chicken satays with peanut sauce, vegetable spring rolls, bacon cheeseburger shumai, or pac man seafood dumplings.
For entrees, guests are given a choice of 24 oz ribeye steak, salt & pepper 4lb lobster for 2, 7lb Long Island Peking Duck for two, spicy Kung Pao chicken, or sea bass with black bean and fresh garlic. The variety of sides will feature different fried rice including lobster, soft shell crab, and chicken among other sides.
Desserts at Brooklyn Chop House include ice cream or sorbet sampler, red velvet cake, or peanut butter cheesecake. A choice of two appetizers and one entree are available to one to five guests. Six guests or more will be served family style. 212-619-1200
Daintree Rooftop & Lounge
Midtown
Party the night away on New Year's Eve in NYC while perched high up in the Manhattan sky with unbelievable views of the Empire State Building.
The special night will include a live DJ, passed hors d'oeuvres, a champagne toast and fireworks at midnight. Doors open at 9pm. 332-799-7399
Haven Rooftop
Midtown
Haven Rooftop at The Sanctuary Hotel will host a New Year's Eve prix fixe dinner with a Silver Package beginning at 5pm. The Silve Package includes an appetizer, entree and dessert.
The Gold Package begins with a 7pm seating. The Gold Package includes an appetizer, entree, and dessert. Lastly, the VIP Package has 9pm seating and includes the prix-fixe menu as well as an open bar until midnight, and access to the New Year Countdown Party. 212-466-9000
Marathi
Tribeca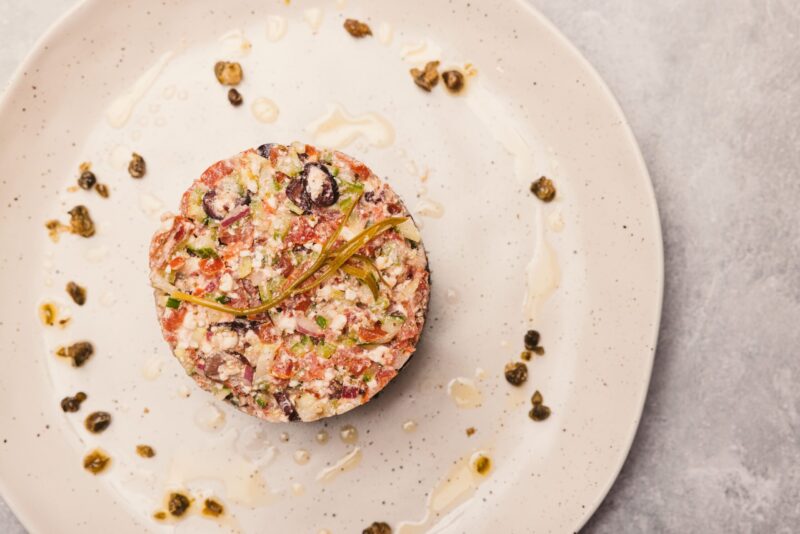 Tribeca's Greek Bistro Marathi is open on New Year's Eve and New Year's Day for brunch and dinner. This lofty restaurant draped in colors of the Mediterranean Sea is celebrating New Year's Eve with a special three-course menu, in addition to a la carte options.
Dishes include Chef Poulmentis's famous Dakos Salad, Lamb Chopped with a colorful ratatouille, and Baklava Saragli as a dessert.
For New Year's Day's brunch, Chef is offering Greek Pancakes topped with honey, yogurt and walnuts giving everyone a sweet start to the year and hearty Pastrami Hash and Eggs topped with sunny side up eggs, leeks, potatoes, and a salsa verde. 212-227-5100
The Musket Room
Nolita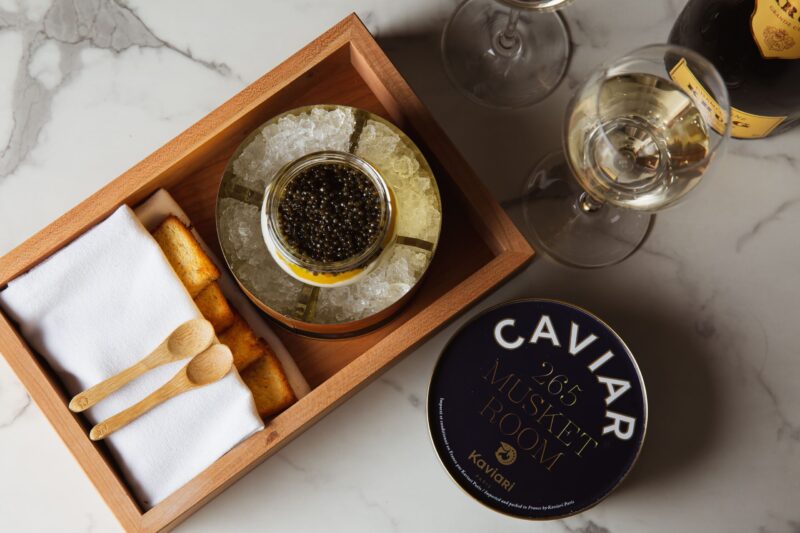 Executive Chef Mary Attea's decadent New Year's Eve tasting menu is available both vegan and omnivore.
The omnivore menu at The Musket Room has caviar toast and a silky foie gras with sherry, dates and almonds. The vegan menu has faux caviar toast with avocado, and a mushroom mousse dish with chestnuts and sage. A regional wine pairing is also available from Sommelier Ramon Manglano. 212-219-0764
Nerai
Midtown Manhattan
Celebrate New Year's Eve in NYC with a curated 7-course chef's tasting menu at Nerai with an optional wine pairing.
Dishes include Fluke Crudo with Kalamata olive, sweet potato, and mint; Lobster Pasta featuring Maine lobster, squid ink linguine and Metaxa bisque; Lamb Loin served with Briam, truffled celery root and grape leaf salsa verde; and Galaktoboureko with Chantilly cream, confit lemon, and cinnamon. 212-759-5554
Ophelia
Midtown Manhattan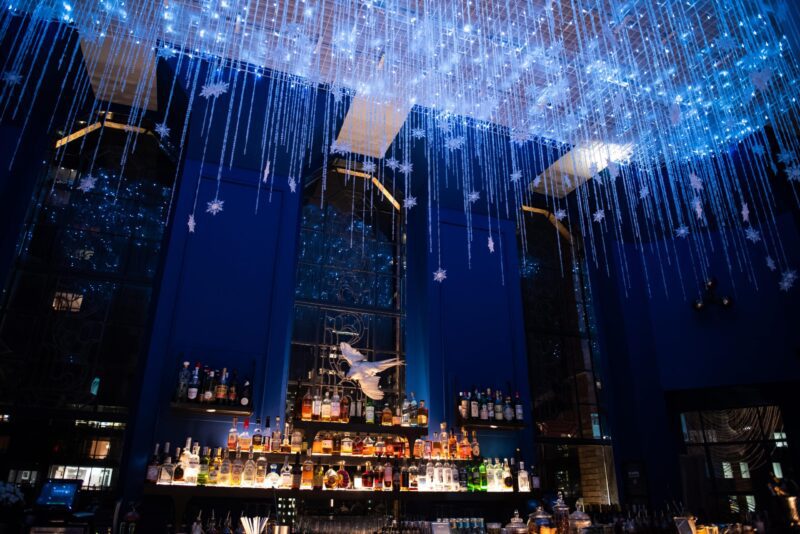 Celebrate New Year's Eve in the Snow Globe in the Sky atop the historic Beekman Tower at Ophelia, an Art Deco-inspired cocktail lounge in Midtown. Ophelia is hosting both an Early Evening Sunset Soirée and a Late Night Bash to reign in the New Year while taking in the unobstructed skyline views.
Both events will have hors d'oeuvres, a live DJ, and all of the accessories needed to celebrate the end of 2021! 212-980-4796
Osteria La Baia
Midtown Manhattan
Inspired by the flavors and scenery of the coast of Italy, the new glamorous midtown restaurant Osteria La Baia offers five-course prix-fixe New Year's Eve dinner.
Its elegant dining room is the perfect place to countdown to New Year with bubbly in hand! Antipasti options include Fluke Crudo with colatura and crispy artichokes, and 30-Month Aged Galloni Prosciutto with whipped ricotta, truffle honey, house bread, and wood-roasted figs.
The first-course choices include Truffle Gnocchi or Lobster Garganelli Calabrese; guests can then pick their favorite secondi choosing from Branzino, or Braised Spirale Short-rib.
After dinner, guests can toast the New Year with a glass of Champagne while mixing and mingling during the live DJ set. Reservations are available beginning 6pm. 917-671-9898
The Rockaway Hotel
Rockaway Beach, Queens
Celebrate New Year's Eve at Margie's restaurant, an all-American eatery, and The Rooftop at The Rockaway Hotel. Enjoy a cozy, intimate dinner at Margie's with music by Phil Kadet at 8pm. Or ring in the New Year on The Rooftop with a DJ beginning at 8pm, while streaming the ball drop.
Both locations will be serving a 3-course pre-fixe dinner with menu highlights including Coconut Curry Pumpkin Soup (cilantro and toasted pumpkin seeds), Roasted Prime Rib (potato fondant, red wine jus and confit garlic) and Flourless Orange & Almond Cake with mascarpone. Seatings will be at 5pm and 7pm. 718-474-1216
Skirt Steak NYC
Chelsea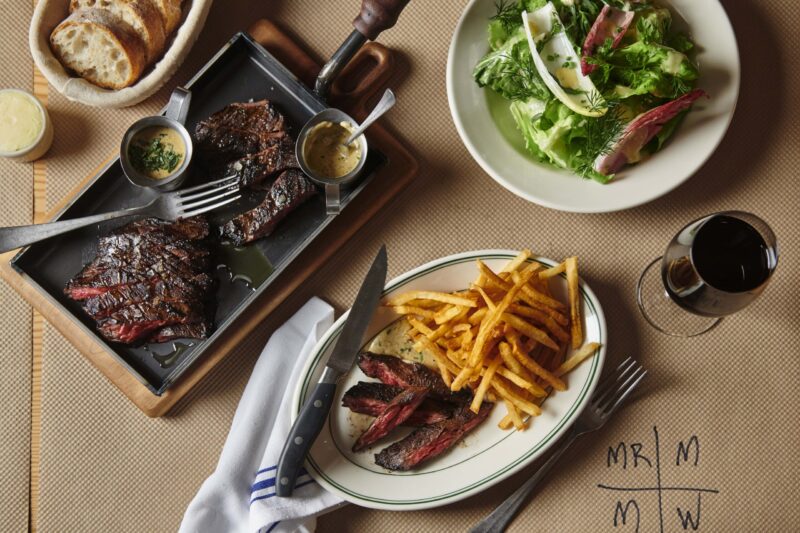 Famed Chef Laurent Tourondel's new restaurant Skirt Steak will be open on New Year's Eve and along with the standard menu featuring his signature American Skirt Steak. It will be served a special and decadent Skirt Steak Rossini with foie gras and fresh truffles. The menu is simple with market greens and unlimited hand-cut French fries served with every entree.
A chef-selected seasonal vegetable is also available as well as a roving dessert cart with rotating selections. From Christmas Eve to New Year's Eve a special holiday Christmas Log (Buche de Noel) will be served. A secret cauliflower steak is offered as an alternative menu item for vegetarians.
Skirt Steak will be open on New Year's Eve 11:30am-4pm, and 5-10:30pm. Note that reservations are only available for groups of seven or more. 212-201-4069
Soogil
East Village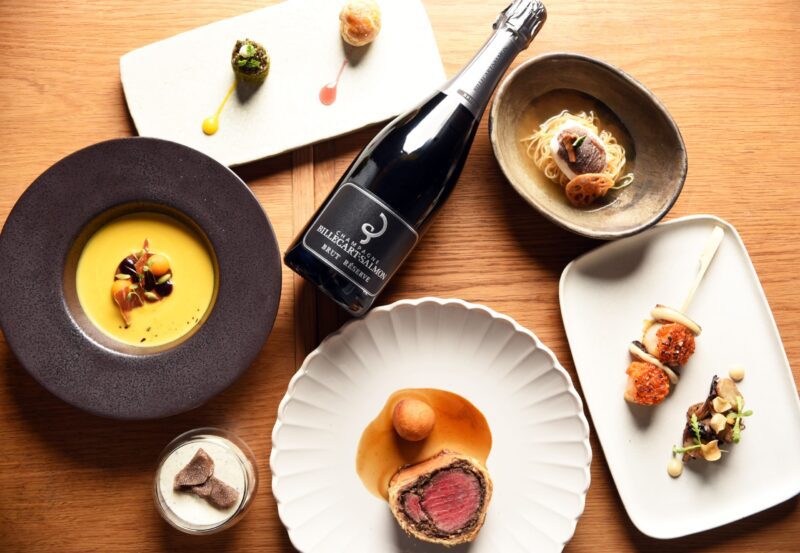 East Village Korean-French restaurant Soogil will be ringing in 2022 with a special Tasting Menu on New Year's Eve.
Highlights include Caviar & Foie Gras, Black Diamond Kaluga Caviar with tuna tartare and foie gras gougere; Turbot with Perigord black truffles, egg noodles and seafood broth; Beef Wellington with shitake mushrooms, prosciutto and spinach; and Truffle + Chocolate, a dark chocolate panna cotta topped with fresh black truffles.
In addition, guests can order chef's signature Uni Bowl with sea urchin, smoked trout roe, seaweed pureed rice, gamtae and Black Diamond Caviar. 646-838-5524
Thyme Bar
Flatiron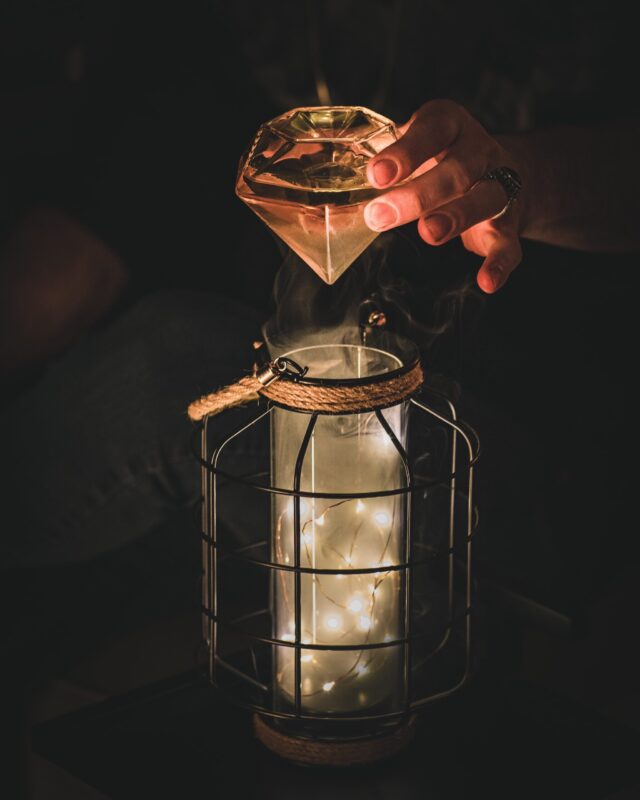 In Flatiron's newest underground speakeasy, Thyme Bar hosts their first New Years' Eve event in their pre-war cellar hideaway from 10pm until 2am, offering a live DJ, Open Bar of special cocktails and unlimited prosecco, passed Hors D'oeuvres, and a Celebration Drink at the countdown.
Thyme Bar is also offering exclusive seating in their upstairs VIP Lounge. The lounge includes pre-assigned seating, and full access to both upstairs and downstairs standing area. There will also be an open bar with special cocktails and unlimited prosecco. 646-828-8707
Watermark Bar
Seaport District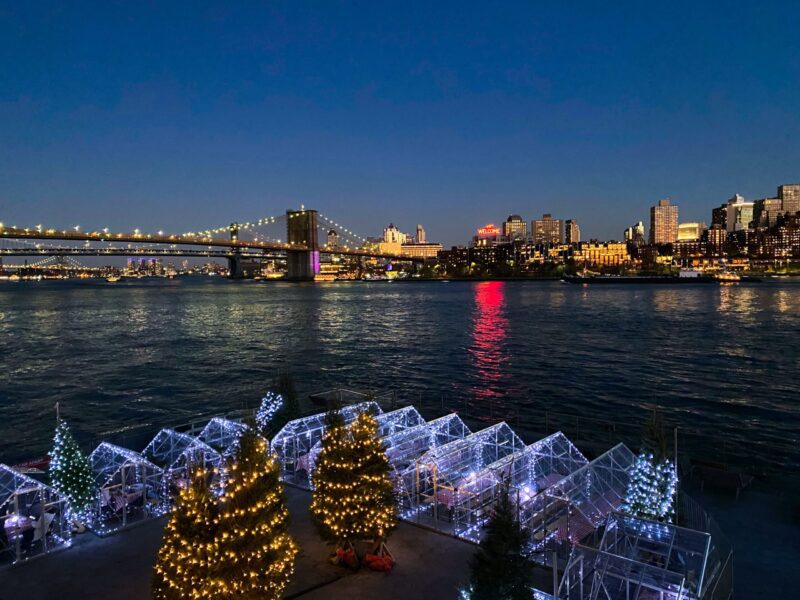 Celebrate New Year's Eve on Pier 15 at Watermark Bar in NYC while dining against the backdrop of exceptional waterfront and panoramic views of the Brooklyn skyline.
The 10,000 square foot outdoor bar, restaurant and event space has been transformed into a Winter Wonderland full of glass houses, lights and festive decor where a party will be hosted to reign in the New Year, complete with a livestream of the famous NYC ball drop on the big screen. 212-742-8200