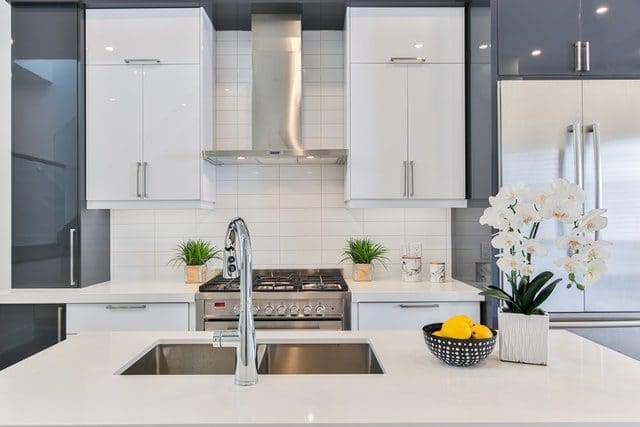 New technologies save us time, energy, and money in several ways. In other words, they boost our living standards. The same goes for modern-day kitchen equipment. Using the latest kitchen equipment for cooking means you will do away with a lot of hassle. Besides, they will enable you to cook healthy meals while spicing up their taste simultaneously.
Manufacturers keep hitting the market with fresh technologies regularly. As a result, it could be overwhelming for an average person to pick suitable kitchen devices. If you are one of them, you could not come to a better place. We have put together a list of smart kitchen appliances trending now:
Smart Faucet
Your kitchen faucet is hands down the most frequently used, touched, and fingered item. The smart faucet has become a popular kitchen device lately. Connecting to a smartphone and using voice control through Google Assistant or Amazon Alexa are the smartest features of the device. Whether you want to get a jug of the cold water for your coffee or 2 cups of the hot water for our morning porridge, you will get it by just uttering a few words.
Blender
Using a blender is not simply about blending anymore. They have come a long way; the industrial hand blender is the tell-tale example. Almost all blenders on the market today are incredibly versatile. Aside from making smoothies, you may utilize them to prepare sauces and dips.
Portable blenders are now available. You may use your power bank or charging adaptor to charge them. After charging for 2 hours, a blender can do roughly six juicing cycles. That eliminates the necessity of using an external power source for every blend.
Food Processor
The food processor is the cook's best buddy. You may use it to shred blocks of cheese and slice sticks of pepperoni. In addition to chopping and slicing veggies quickly, you can prepare mayonnaise and peanut butter.
The food processor works the best when it comes to making dips and pates. On top of that, you can also whip up a delicious batch of guacamole or hummus in minutes. Cleaning food processors is super easy to wash, and the results are far superior to those you would get from purchasing premade foods from the deli or grocery store. Over time, food processors have become a must-have kitchen appliance that can save you a ton of time.
Before purchasing a food processor, ensure it is powerful enough to support tough jobs. If you skip this step, the processor may not chop or combine the ingredients evenly. Sometimes it might even burn the motor altogether. As a rule of thumb, a processor with a 9-cup capacity or more should have a motor with a power rating of at least 600 watts.
Dutch Oven
A Dutch oven is a type of cooking pot that is conical and made of heavy gauge material. These ovens come with tight-fitting lids that can be used on the cooktop or inside the oven. Its heavy ceramic or metal design ensures that the food constantly receives an even, multi-directional supply of radiant heat. Dutch ovens can be used for various cooking tasks, making them a very versatile piece of equipment.
Enameled and bare cast iron are the two primary categories of a Dutch oven. Though both have their respective perks, the contemporary enameled Dutch ovens are more popular. Durability and minimal upkeep are stand features that make enameled Dutch ovens stand out from their counterparts.
Drip Coffee Maker
The drip coffee maker boils the reservoir tank water before distributing it to the coffee grounds in a basket. The water brews the coffee grounds as it flows through the basket, piping hot coffee slowly trickling down into the carafe below.
A drip coffee maker is easy to operate. Even if you have never used it, you are unlikely to undergo any learning curve. When making a coffee, you must add ground coffee to the appropriate coffee filter, set the filter in the machine, and then press the start button. It will not be long before you are sipping on delicious coffee.
Because you can control how much coffee passes through the filter, your java will be stronger or lighter based on your tastes. They can contain a substantial quantity of ground coffee. You should have no trouble finding a drip machine for less than $20. However, if you are looking for a super-sleek, high-end model, expect to shell out at least $500.
Juicer
Get yourself a juicer right away if you do not already have one. These are an absolute must-have for any serious home cook. These machines save you time and effort while extracting more juice than other traditional methods. Furthermore, you will not have to worry about seeds or pulp getting into your juice.
Fresh juices' taste and nutritional content are significantly superior to anything you can buy in a grocery store. You will never want to drink store-bought juice again once you have tasted it freshly squeezed. Serving fresh juice to your guests will have them gushing about the energizing and rejuvenating effects they get.
Juicers may be purchased for as little as $12, making them an affordable option for many families. If you want a high-quality kitchen utensil, you are better off increasing your budget a little more.
Conclusion
After a long day at the office, no one has the stamina to prepare a gourmet meal. Enter the smart kitchen technology! The kitchen appliances above can make your daily life and cooking sessions much more convenient and enjoyable.