In celebration of Pride Month this June, meet these array of rainbow desserts available across NYC. Many of these colorful treats ship nationwide, so you can treat others across all regions of the country.
Amy's Bread
Amy's Bread in Manhattan's Chelsea Market is offering a handful of Pride Month treats. Amy's Bread will be featuring their freshly baked rainbow-frosted cupcakes for all of June. These delicious sweets are available in-store and for delivery through Mercato.
ATL Boards
ATL Boards is a TikTok viral, Candy Charcuterie company based in Atlanta, GA. They source the most unique candy from around the world to bring you the most fun and delicious custom created candy boards.
Owner and designer, Elizabeth Schmitt, combined her passions of food, entertaining and styling when dreaming up ATL Boards and hopes to make the world sweeter one board at a time! Available at Saks Fifth Avenue.
Black Tap SOHO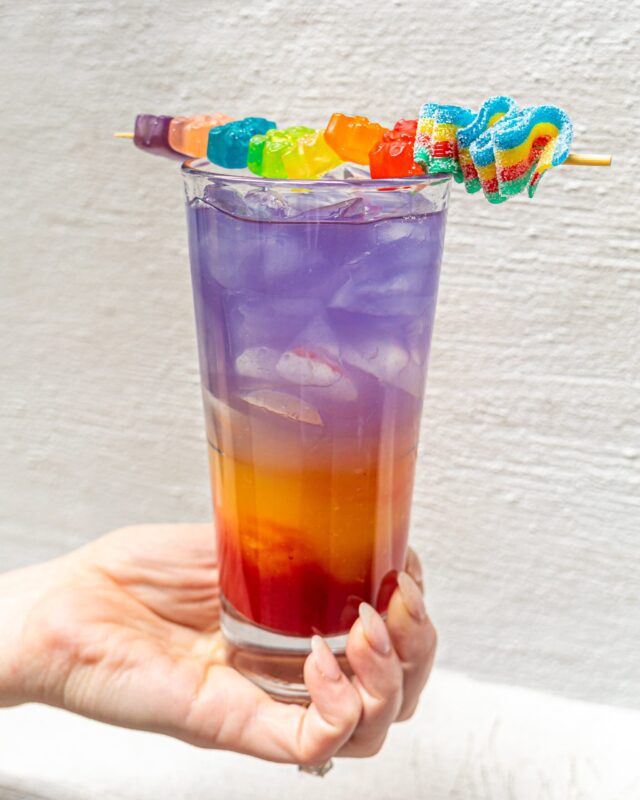 In honor of Pride Month 2022, Black Tap Soho & Midtown in NYC has debuted their Pride Cocktail. This colorful libation is crafted with Pea flower-infused Tito's, Strawberry, Passionfruit, Orange, Lime, and garnished with a Gummy Bear Flag.
$1 of each cocktail sold will be donated to The Center. According to their website, The Center is the cornerstone of the LGBTQ community in New York City. They offer the LGBTQ communities of NYC advocacy, health and wellness programs; arts, entertainment and cultural events; recovery, parenthood, and family support services.
Dana's Bakery
This year for Pride Month, Dana's Bakery is featuring their Pride Box of Macarons. The macaron box features 6 Cotton Candy Flavors like Orange, Cherry, and Green Apple.
Dana's Bakery is donating 10% of all proceeds for the month of June to The LGBTQ Center in NYC.
They are also featuring their Rainbow Black and White Cookies. These treats are very popular for Pride parties and send outs.
Doughnut Plant
A Doughnut Plant tradition since 1997! To celebrate Pride Month in NYC, Doughnut Plant sells a special handmade triangle shaped yeast doughnut with a fresh raspberry glaze and all-natural rainbow stripes.
They first made this doughnut back in 1997, when Mark Isreal, their founder, sold them at the Gay Pride Parade in front of Eureka Joe on Fifth Avenue. They were also one of the first shops to sell their doughnuts.
Doughnut Plant's cake doughnuts are available at The Village Gourmet Cheese Shoppe in Southampton and at Left Hand Coffee in Montauk.
Mini Melanie
Mini Melanie, a Brooklyn-based & sister owned brand that creates classic sweets with a modern twist, is doing beautiful items to celebrate Pride, all of which ship nationwide. These include their Love is Love gift bundle. This gift bundle includes six confetti cake truffles, and two individually-wrapped vanilla rainbow swirl sugar cookies.
For local New Yorkers in celebration of pride month, Mini Melanie can customize special Pride cakes such as this fun unicorn rainbow cake pictured above.
Mister Dips
Mister Dips, set in a retrofitted 1974 Airstream trailer in Seaport and Brooklyn, launched the Pride N' True cone for pride month. This seasonal dairy dip is their June "cone of the month". It is composed of vanilla custard, cake batter, & all the colors of the rainbow.
Proceeds from the sale of each cone support The Trevor Project.
Ole

 & 

Steen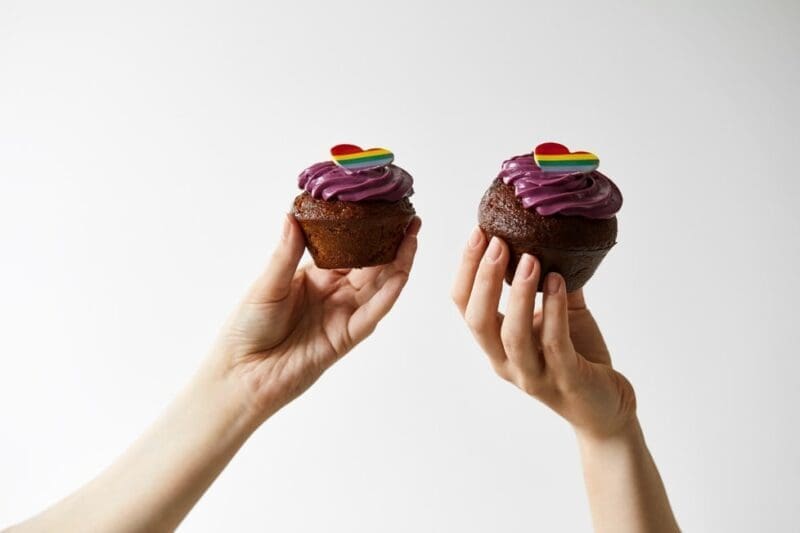 In honor of Pride Month, famed Danish bakery Ole & Steen on Broadway in NYC is partnering with the It Gets Better Project. It Gets Better Project is a nonprofit organization with a mission to uplift, empower and connect lesbian, gay, bisexual, transgender and queer youth around the globe.
From Wednesday, June 15th through Sunday, June 26, 100% of proceeds from the Pride Muffins sold at the three NYC locations (Union Square, Bryant Park and Midtown East) will be donated to the It Gets Better Project.
Ole & Steen has also commissioned artist Sanika Phawde for one-of-a-kind coloring sheets highlighting their mission to be A Better Bakery for All, which will be available for all guests who visit the bakeries.
Padoca Bakery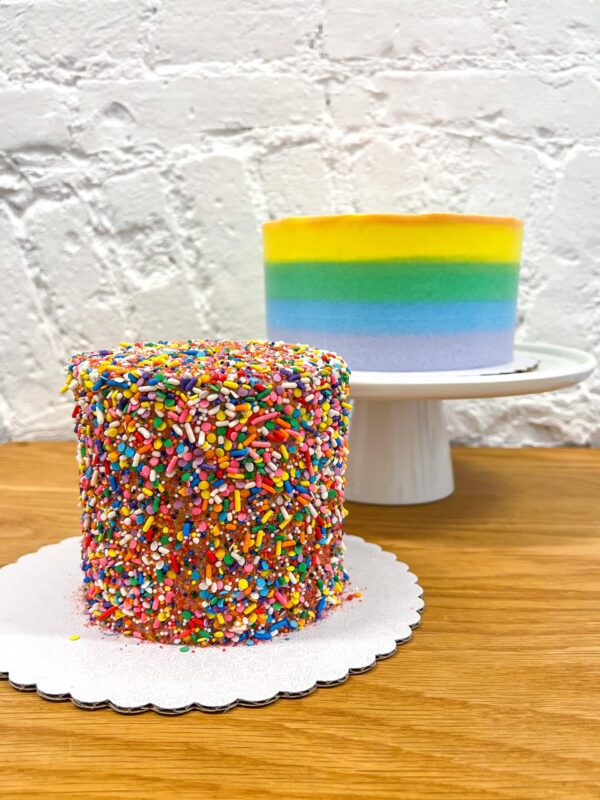 Padoca Bakery in NYC believes the world is a better place when people feel safe to express themselves. To celebrate Pride Month, Padoca Bakery is selling their 4″ Rainbow Cakes in store every day! More sizes and customizations are available every day on their website.
Padoca, a slang term in Brazil meaning neighborhood bakery, makes their baked goods in small batches and cakes are baked to order. They have two locations in NYC, one on East 67th Street, and the second on First Avenue. Padoca also offers local NYC delivery and nationwide shipping.
Seed + Mill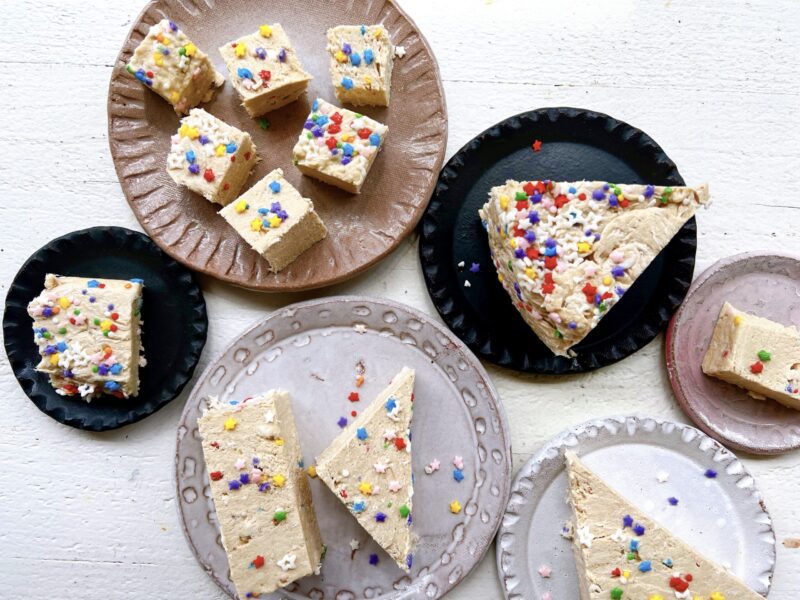 Seed + Mill, a seed-based creator of foods like tahini and halva located in Chelsea Market, has developed a limited-edition pride-infused halva.
The new Rainbow Sprinkle Halva is a colorful treat made with Supernatural Starfetti sprinkles and Seed and Mill's classic Toasted Sesame Halva. 100% of its profits are being donated to the Ali Forney Center, the country's largest nonprofit for LGBTQ+ youth experiencing homelessness.
Rainbow Sprinkle Halva treats are available in-store. For orders via their website, Seed + Mill is donating 5% of all online sales over $75 to the Ali Forney Center.
Sprinkles
For the third year in a row, Sprinkles is partnering with the Los Angeles LGBT Center with an upfront donation, support for their Pride Celebrations, and two sweet treats available at all Sprinkles' bakeries across the country, created in celebration of PRIDE.
Their PRIDE Cupcake is a birthday cake filled with nonpareils, topped with strawberry frosting, and finished with a nonpareil rim. PRIDE Cupcakes are available at all Sprinkles bakeries (pick up and local delivery) across the country.
Sprinkles is also selling their 8" Rainbow Layer Cake. The cake is made with 6 colorful layers of vanilla cake with cream cheese frosting. Inside is a carousel of sprinkles, and sprinkled on top are more carousel sprinkles. The Rainbow Layer Cake is available across the USA.
Tipsy Scoop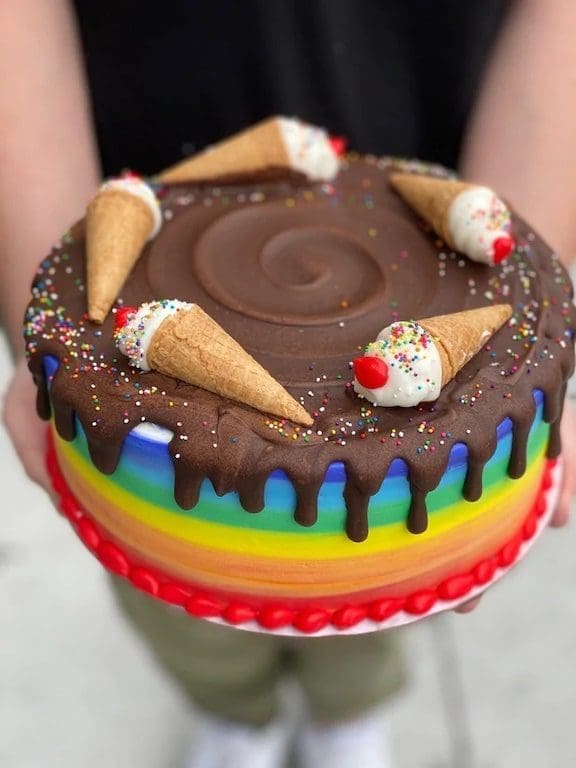 Tipsy
Scoop
is selling their
Boozy Rainbow Ice Cream Cake
in honor of Pride Month this June. The colorful ice cream cake is made with vanilla cake, dark chocolate whiskey salted caramel ice cream, rainbow frosting, and chocolate. It contains up to 5% alcohol by volume.
Proceeds from this flavor will go to the 
Trevor Project
, a non-profit organization providing 24/7 crisis support services to LGBTQ young people.