If you're a self-proclaimed foodie, it's not uncommon to plan a trip around what and where you'll eat. The world is filled with incredible culinary destinations where you can try local flavors and amazing fusion dishes.
Miami is known for its rich heritage and nightlife, but its diverse culinary delights are often overlooked. Yet, Miami is potentially North America's food capital. Here's why you should add Miami, Florida to your culinary travel list, and what you should try while you're there: 
Rich Culinary History
Florida often gets overlooked when considering food-oriented travel destinations, but Miami offers an incredible array of diverse restaurants. You'll find an assortment of Mediterranean-inspired dishes, seafood, and authentic Puerto Rican flavors. 
This city's rich culinary history dates back 10,000 years, with the Tequesta people creating hearty dishes with local seafood, venison, and produce. The Tequesta expanded their repertoire during the Spanish invasion, using food and livestock that were previously unknown in the region. As the invasion and settlement continued and plantation workers were taken from the Caribbean, additional flavors and spices were introduced. 
Things stayed pretty much the same until the 1950s. This was when an influx of Jewish immigrants escaping World War II created a new culinary fusion with cured meats and kosher dishes. In the next 10 years, a wave of Cuban immigrants brought their local flavors to their new home.
Today, Miami offers an amazing melting pot of traditional and fusion cuisine from around the world. 
Best Italian Food in America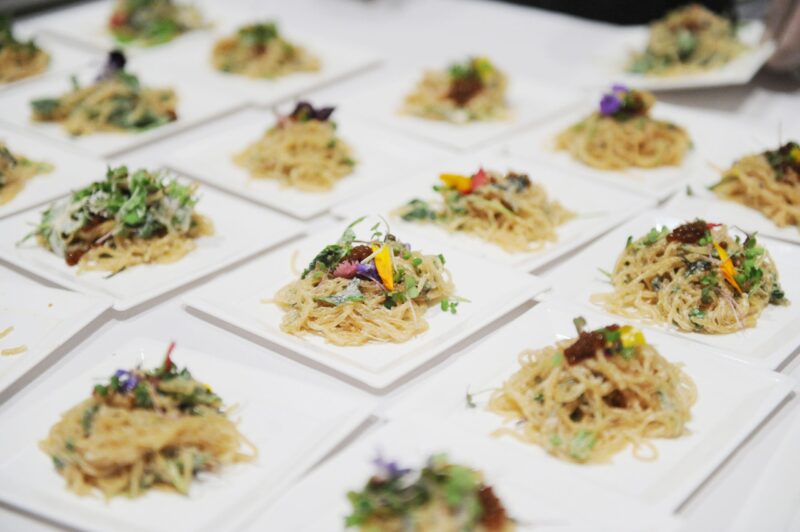 New York and Boston get a lot of credit for their amazing Italian restaurants. However, Miami has some of the best authentic Tuscan restaurants that will make you feel like you've stepped through a magical doorway to Italy.
According to Dish Miami, the Toscana Divino restaurant and the Casa Isola restaurant offer some of the best Italian dishes this side of the Atlantic. Costa Med in Key Biscayne, a classy Mediterranean bistro has been holding its ground for nearly two decades. Everyone from locals to celebrities frequent this humble bistro, and there's no guessing why—the quality of the ingredients and mastery of the chefs is simply indomitable. 
Incredible Latin Flavors
Miami is well known for having amazing Cuban and Puerto Rican flavors. In Little Havana, you can find a wide variety of authentic Cuban restaurants and cafes, including Cuban coffee bars, bakeries, and sandwich stations.
Versailles is a well-known and loved restaurant for both locals and visitors. This restaurant offers a huge range of Cuban food for a one-stop-shop approach.
Home of Floribbean Cuisine
This rich culinary culture has evolved into what's known as Floribbean cuisine. Floribbean cuisine is considered a bit of American with Caribbean and Asian flair. These dishes often replace meat and fat-heavy ingredients with seafood and Southern spices. However, dishes like grits and cobblers are still featured in this regional fusion cuisine.
To experience Floribbean cuisine in Miami, look for dishes like red conch, stone crab, and Old Sour dressing.
Amazing Seafood and Sushi
Coastal cities are known for their access to fresh seafood, and Miami is no exception. Many world-class sushi restaurants in Miami also incorporate inspiration from other cultures, such as sushi tapas with Spanish and Caribbean spices. You can also find unique fish options, like the saltwater eel and rosy seabass. 
Home of the Wagyu Bar
Wagyu steak is considered the world's best steak option. While many luxury restaurants across the US offer Wagyu, this establishment takes a unique approach. In addition to offering this top-grade steak, the Wagyu Bar also teaches you how to choose a cut and how to prepare it yourself. The goal is a culinary experience that you can share with others, both in the restaurant and when perfecting your barbeque skills at home. 
There are many reasons why Miami is the culinary capital of North America. Still not convinced? Check it out yourself and let your tastebuds decide.