COPPA Club Tower Bridge is located by the Tower Millennium Peer, steps away from the Tower of London, and within eyeshot of Tower Bridge. Indulge in flavorful and fun European cuisine in a cozy and chic locations while looking out across the River Thames.
This popular London restaurant features an all day menu that is ideal for everyone: families, groups of friends and colleagues, business meetings, girls' night out celebrations, and much more.
Summer Celebrations
COPPA Club Tower Bridge is celebrating this summer season with a brand-new terrace look as a nod to their theme of 'Summer of Escapism'. Guests can walk through a beautiful whimsical flower tunnel while twinkling festoon lights, and palm trees take center stage. In addition, groups of friends and family members can enjoy outdoor dining in one of their elegant pods.
This season, COPPA Club is also celebrating an exclusive partnership with Château Minuty rosé wine while bringing coastal Cote D'Azure vibes and a new, fresh summer menu. Visitors are advised to book a pod on the terrace well in advance to soak up the sunshine riverside. There are ten private pods available, with nine available to pre-book and one available for walk-ins, with a minimum spend of £30 per head.
In addition, there is an exciting line-up of events. Visitors can expect pop up DJ's, chilled Rosé, enticing cocktails, and mouth-watering nibbles, and much more.
The COPPA Club Menu
The menu includes a wide variety of small and shareable plates, main dishes, pasta, sourdough pizza, and side dishes. They also offer an extensive cocktail menu, low-alcohol cocktails, beer, cider, and wine list. COPPA Club also has a smoothie and juice list.
Notable dishes to try at COPPA Club Tower Bridge include Sprouting Broccoli Salad and Crispy Fried Squid as small and sharing plates. Popular main dishes are the Tuscan Sausage Ragu, Spice Roasted Cauliflower, Smoked Haddock & Salmon Fish Cake, and San Daniele pizza.
Dining in an outdoor pod includes a special dining menu experience. Example menu items include starters of pea, broad bean and courgette bruschetta with buffalo
ricotta, lemon and mint. Main dishes include sea reared trout on la plancha with herbed freekeh, red onion, parsley, lemon and watercress salad.
Cocktails to try are the Pink Negroni, Coppa Tea, and Tiramisu Martini. The Non Aperitivo is a great non-alcoholic choice. It is crafted with Fever-Tree white grape & apricot soda, and orange spritz.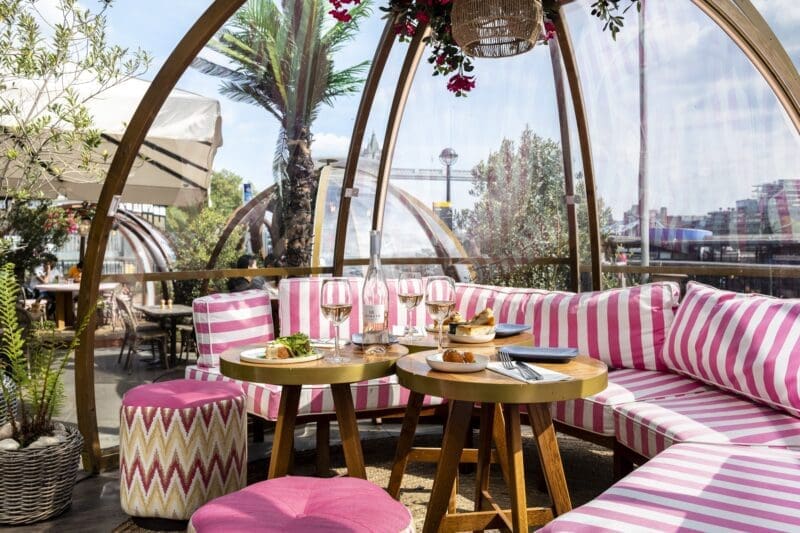 Leaving a busy week behind you? Refresh and restart with their Super Glow Smoothie with apple, banana, orange, avocado, lemon, ginger, turmeric, and pepper.
COPPA Club also has a gluten-free menu.
Please note that their private pods/igloos are up and available to book for dining all year.
Hours & Additional Information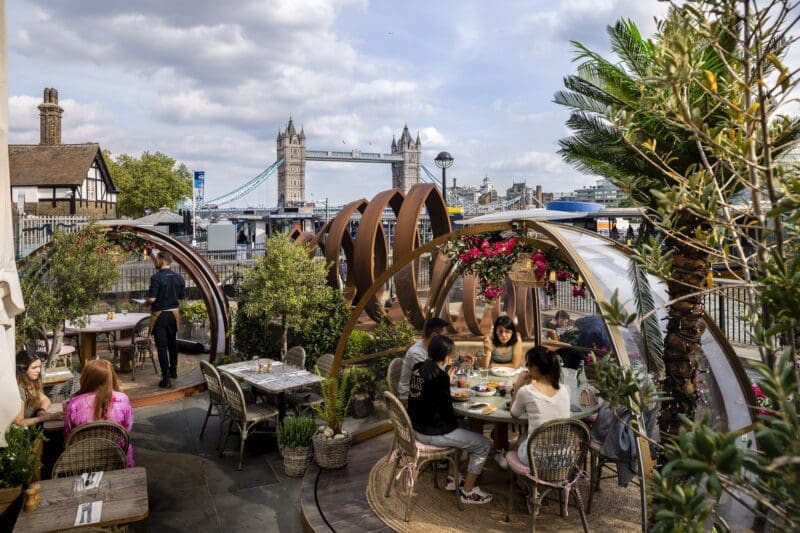 COPPA Club Tower Bridge is currently open Monday-Sunday from 9am-11pm (except until 10pm on Sundays).
Click here to learn more about their Tower Bridge location, to make a reservation, the full menu, and more.
COPPA Club Locations Across the UK
COPPA Club currently has nine separate locations across the southeast and western England. Each venue exudes a unique, individual experience so that no experience is ever the same. COPPA Club opened their first location six years ago in Sonning-on-Thames.
Streatley-on-Thames and Sonning-on-Thames also offer riverside hotel bedrooms to complement the restaurant.
COPPA Club currently has locations in the following city neighborhoods, towns, and villages:
Brighton
Clifton Village
Cobham Village
Henley
Maidenhead
Putney (newest location in southwest London)
Sonning
Streatley
Tower Bridge