Playground in Korean translates to 'noreetuh,' a name that is very fitting for this East Village Hawaiian restaurant. Leave what you think you know about Hawaiian dishes elsewhere. This Michelin recognized restaurant is known for its adventurous fusion dishes that straw away from our 50th state's fare.
Step inside this intimate and chic spot, and you are greeted with walls adorned with polaroid pictures of their diners. This is in addition to little touches of Hawaiian décor like a surfboard and underwater photographs.
The interior is divided into two seating areas: one opposite the petite bar, and a more private dining space with brick walls on the opposite side.
At the helm of this Michelin-recognized modern Hawaiian restaurant is Chef and Co-Owner Chung Chow. Paired with his uniquely crafted menu is an award-winning wine list with over 250 wines by Managing Partner and Co-Owner Jin Ahn.
Chef Chow was born in Hong Kong and raised on Oahu in Hawaii. His menu implements a skilled French technique paired with a modern fusion Hawaiian menu with influences from Japan and Korea.
"If you've ever been curious about Hawaiian food, noreetuh is where you should head first."
Hawaiian Cuisine in NYC
Noreetuh is one of very few Hawaiian restaurants in the New York City metro area, let alone the East Village. If you've ever been curious about Hawaiian food, Noreetuh is where you should headfirst.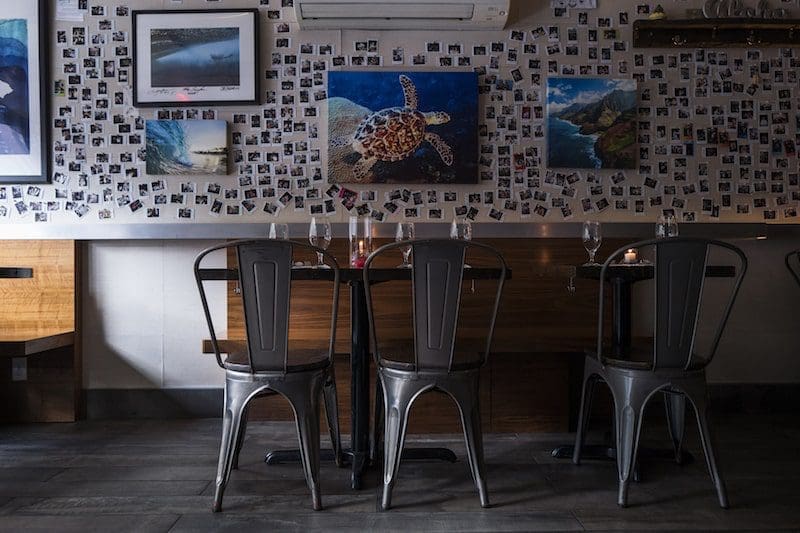 Dinner Menu at noreetuh
The menu starts with an Musubis. Musubis are similar to sushi, or more specifically like nigiri 'sandwich' sushi. Selections include Galbi: braised beef short rib and kimchi; Pork Jowl with scallion and a hint of ginger; and a Hawaiian staple of Spicy Spam, soy mayo and jalapeño. If you never had Spam, try it here.
One particular not to miss is the Japanese scallop crudo with chiles, pickled fiddlehead ferns, and Hawaiian hearts of palm. The Hawaiian beef jerky served with kimchi mayo or imperial wagyu tartare are also smart dishes to try.
For entrées, noreetuh serves pasta, fish and meat dishes. These include Chinese bacon fried rice with mustard greens and shiitake mushroom; Mentaiko spaghetti, lobster stock, chili, aonori, smoked kanpachi; Mochiko Chicken Loco Moco: chicken breast battered with sweet rice flour and fried, served over steamed rice with mac salad and topped with a fried egg and gravy; and the Imperial Wagyu steak with trumpet royale mushroom, roasted carrots, and yuzu vinaigrette.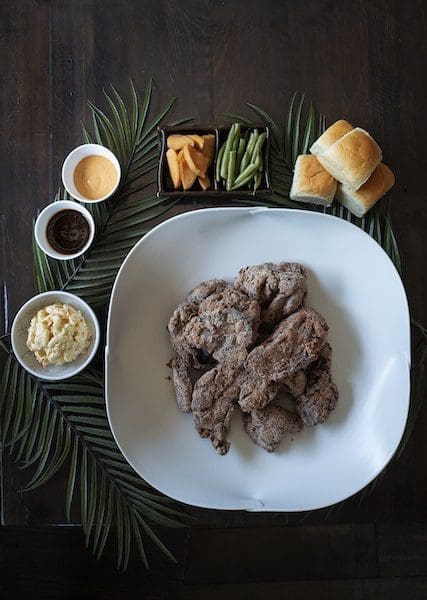 Wine, Beer & Spirits
A true destination for wine lovers, noreetuh spotlighting an extensive collection with an emphasis on French and German selections. Their French wine selection is particularly impressive.
The menu features an expansive Riesling section, highlighting selections with 25 plus years of aging. They offer wines by the glass and bottle, and guests can also bring their own bottles for a small corkage fee. The only way to truly experience noreetuh is with their wine pairing.
Apart from the exceptional award-winning wine list, noreetuh now features a wider selection of beers on draft, and in bottles and cans.
Choices featured are Kona Longboard Lager from Hawaii, Echigo Koshihikari Rice from Japan, Far Yeast Kagua Rouge, a Japanese inspired ale, from Belgium; and Sunday Beer Light & Tight Lager from Brooklyn.
Dessert
Dessert at noreetuh is a perfect pairing for those with a sweet tooth. Chef's Chocolate Haupia Sundae, for example, is a completely different sundae experience with almonds, graham crackers, Hawaiian black salt, and coconut ice cream.
The Chocolate Macadamia Nut Brownie may be the best brownie one will ever taste. It is a classic brownie that is moist and perfectly chocolatey with macadamia nuts for a little crunch. The brownie is paired with their coconut ice cream. Their black sesame ice cream has notes of peanut flavor, which also makes for a great pairing for the brownie.
Hours & Additional Information
Noreetuh is currently open Wednesday-Sunday for dinner beginning at 5pm. Lunch is served Saturday and Sunday beginning at 11:30am. Outdoor and indoor dining is available.
Noreetuh is available to book for large groups and parties. View their group dining menu here.