When Vinny and Debbie Gianetto, and Dr. Jack and Michele McHugh purchased the land that would eventually become Hawk Ridge Winery. The initial plan was to turn the land into a subdivision. But, after seeing the sprawling fields and breathtaking sunsets the space had to offer, they realized the property was destined for more.
In 2014, the co-owners planted the first vines, and in 2017 Hawk Ridge opened their doors to the public. With the winemaking expertise of Maureen Macdonald and a full schedule of events including paint nights, harvest parties, and wine tastings, Hawk Ridge has a lot to offer.
Private Events
For those seeking private events, the Hawk's Nest loft is available for private celebrations, weddings, and events. With 60 acres of land at their disposal, Hawk Ridge has had no trouble adapting to post-COVID regulations.
On 7 acres that are devoted to vines, Hawk Ridge grows 9 varieties of grapes in addition to producing hay. The team has also started planting vegetables that are being used in the on-site kitchen. 
The Founding of Woodbury Brewing Company
As Hawk Ridge was opening the vineyard in 2017, four childhood friends Alan, TJ, Ken, and Tim fulfilled a lifelong dream by opening a brewery together in nearby Woodbury, Connecticut. Woodbury Brewing Company features the expertise of head brewer Ben Gardner who creates the extensive beer menu for this brewpub. The menu offers up to 16 different selections at any given time. The ensures there is a beer for every palette including sours, barrel-aged beer, light lager, and IPAs.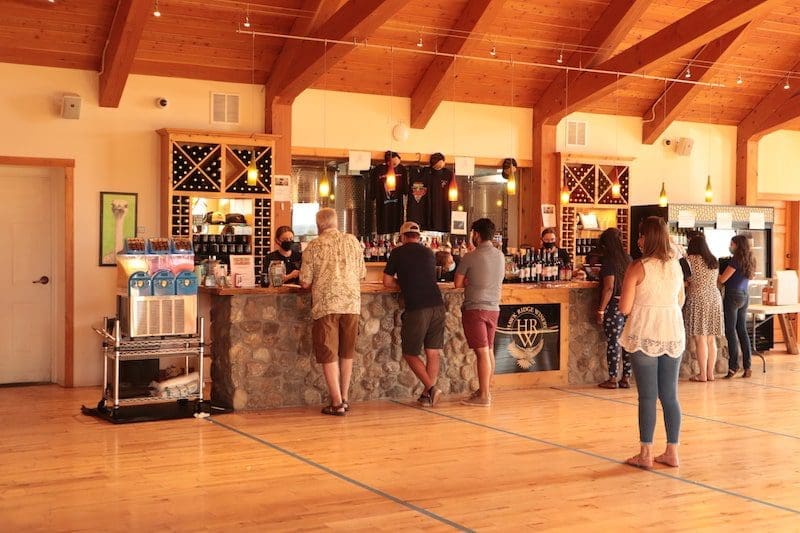 WBC x Local Businesses
Woodbury Brewing Company (or WBC) is focused on community and enjoys a multitude of collaborations with area businesses. Live music is performed each weekend by local artists, and brewing or event collaborations frequently take place between Woodbury Brewing Company and Hawk Ridge, Litchfield Distillery, and Continuum.
In an effort to support local talent, the brewery served local Wes Jerky and Drunk Alpaca snacks. General Manager Josh Metz attributes some of the brewery's success especially given changes influenced by the pandemic to this ethos of being community-oriented and supporting other local businesses.
"The loyal patronage and community support they had developed is what saved the business during the pandemic," says Metz.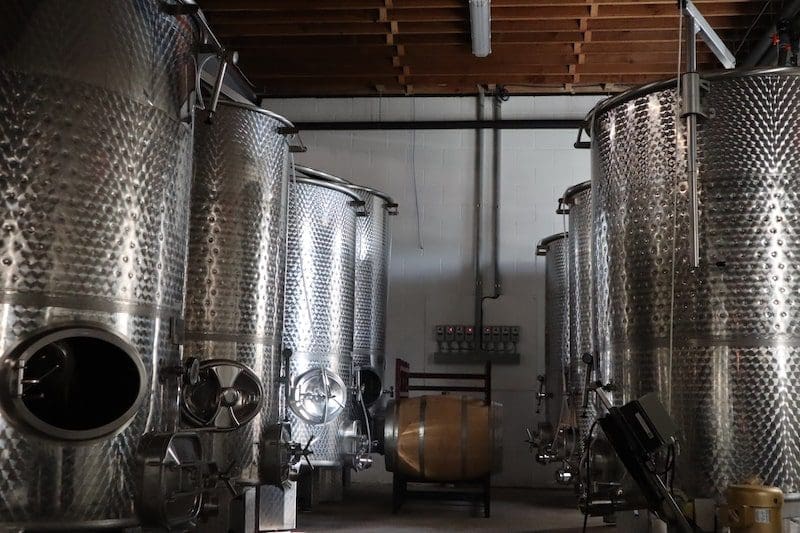 Touring the Cellar
A tour of the cellar afforded a firsthand look at the stainless steel and oak fermenters Maureen uses to age Hawk Ridge's fantastic wines. We also saw the new plastic fermenters that offer the same oxygen permeation rate of 2 years of barrel aging.
On a walk around the bucolic property with one of Hawk Ridge's seasonal wine slushies in hand, Debbie showed us the vines and gardens. The grapes were nearly ready for harvest. A harvest event is scheduled for September 20th. Participants can help the team harvest the grapes and view a wine demonstration. 
The Wine and Beer Tasting
Next, it was time for the main event: a wine and beer tasting that featured a collaboration between Hawk Ridge and Woodbury Brewing Company. This took place on Friday, August 21st beginning at 6:30pm.
Maureen and Ben showed us firsthand that beer and wine can coexist quite happily in the same tasting or dinner.
Not only do certain styles of both wine and beer pair well with the same cuisine, but also with one another. A great example was Hawk Ridge's Summer's Day Surprise white wine and Woodbury Brewing's Goes Together Like Peaches and Cream. The creamy peach flavors of the wine and beer paired amazingly.
The tasting ended with Hawk's Beak Reserve Petite Sirah. This is the winner of the double gold medal of the Amenti Del Vino International Wine Competition. The final tasting also included Woodbury Brewing Company's barrel-aged Don't Go Romanov Russian Imperial Stout, which both featured deep rich flavors perfect for crisper autumn weather and paired well with comfort food classics like lasagna.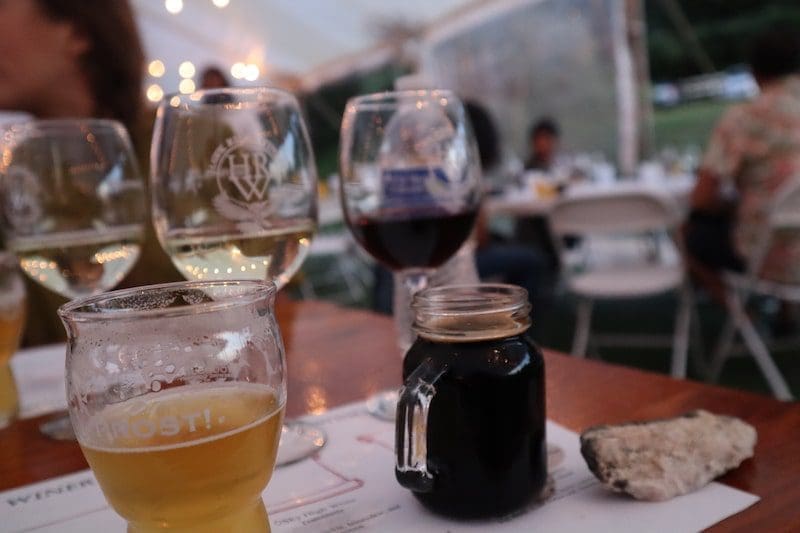 Plans for Expansion
After the tasting, we enjoyed one of the deliciously nostalgic wine-infused freezer pops available at Hawk Ridge. Vinny then discussed the vineyard's plans for expansion.
They have been approved to build another building equal in size to the current tasting room. Additional outdoor seating and pavilions will be added and an outdoor fireplace is scheduled to be built by the end of October.
Personal Pours
At the tasting, the winemaker and brewer personally poured each glass for each guest, and told the audience the history behind each creation. Managers and owners of both businesses were present, mingling with guests, and enriching our experience with stories and conversation. These businesses exemplify the spirit of local artisanal craft beverages.