Connecticut, the state that opens the gateway to the historic charm of New England, is home to many of the region's most beautiful towns and villages. Each of these towns is home to several historic sites and buildings, antique shops, old-school restaurants, and stunning natural landscapes. From Connecticut's coastline along the Long Island Sound to the Litchfield Hills, we explore a curated selection of the most beautiful towns and villages across the state.
Branford
By Samantha Shea of Intentional Detours Travel Blog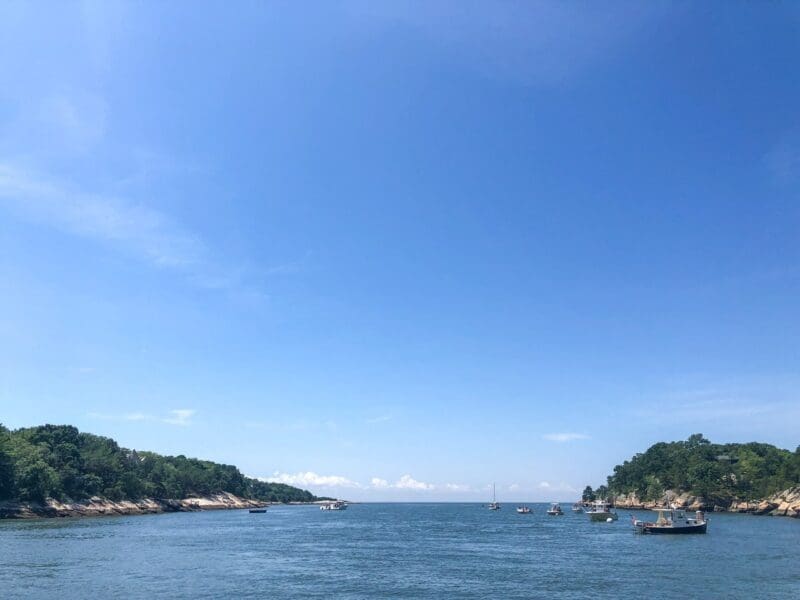 Located just 20 minutes from New Haven, Branford is easily one of the most beautiful towns in Connecticut.
Located along the Long Island Sound, Branford is a paradise for water and seafood lovers, and come summer it's one of the best places in the state to experience it's epic boating scene.
Branford is the perfect place to go for a stroll or head along a coastal cycle ride. It's also one of the best locales in Connecticut for seafood. You can find absolutely mouthwatering lobster and other seafood at Lenny's, which sits aside water and marshes.
Aside from stuffing yourself with some fresh seafood, another highlight of Branford is the Thimble Islands, a small archipelago that you can best experience from a paddle board or kayak which can be rented in summers. If you're a photographer with access to a boat, this is a great place to bring a good camera as the scenery is simply amazing and unique for the state.
The peaceful town is also the ideal place to enjoy nature in New Haven County. The Branford Point Beach is another solid place to while away a sunny afternoon.
You can also swing by the Stony Creek Brewery, which is seated along the Branford River and offers some delicious craft beer creations!
Collinsville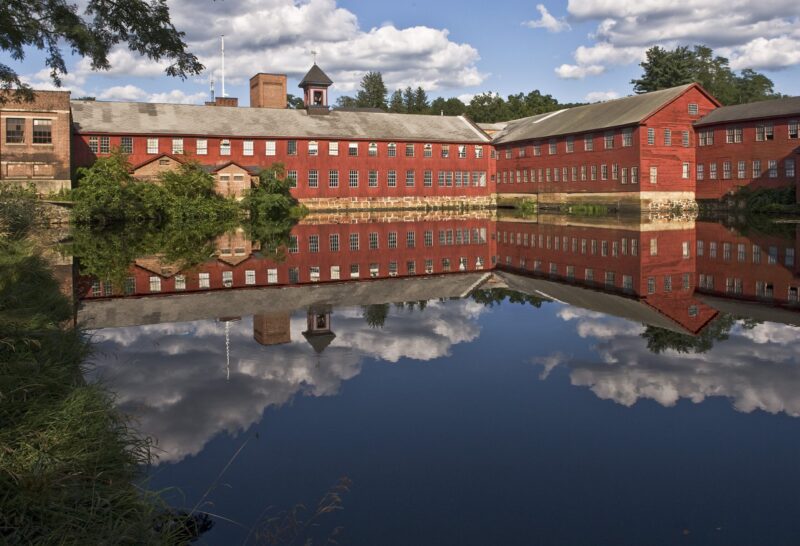 Collinsville, located within the town of Canton along the Farmington River, is considered to be one of the most beautiful villages in Connecticut. This CT village is located a half hour from Hartford, and forty minutes away from Bradley International Airport.
The village was originally built around the around the Collins Company Axe Factory. The factory, which originally opened in the mid 19th century and closed in 1966, manufactured tools such as knives and pickaxes. The building is now home to the Canton Historical Museum.
LaSalle Market & Deli is one of the most popular hangout spots in historic Collinsville. The restaurant features indoor and outdoor seating, live music, and an expansive food menu. Top choices include their pizza, wraps, soups, and sandwiches. Their menu also features a special 'kid's club' section.
Two notable hotels nearby include Avon Old Farms Hotel that is home to an onsite restaurant and tap room, and The Simsbury Inn in Weatogue. Both hotels are open year-round.
Cornwall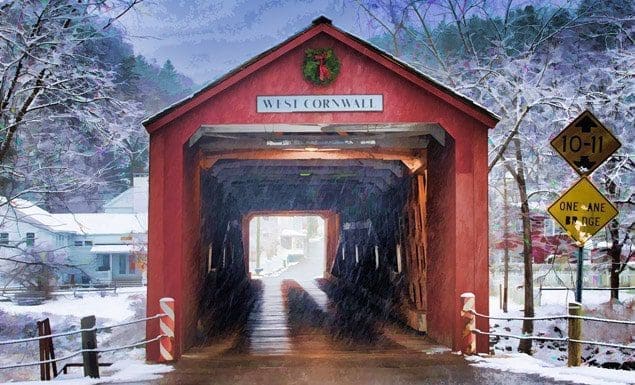 Cornwall is a charming small town located in Litchfield County, located one hour west of Hartford, and one hour north of Danbury. This beautiful Connecticut town was named after the county of Cornwall in England is located on the Housatonic River and encompasses a portion of Mohawk State Forest. Popular activities in Mohawk Mountain State Park include hiking, picnicking, fishing, camping, and cross-country skiing.
The town has also been called the "Home of the Covered Bridge." This is in reference to the 1864 West Cornwall Covered Bridge. Cornwall is also one of Connecticut's smallest towns. The covered bridge is also one of the select covered bridges in New England that is still in service today.
Cream Hill Lake in West Cornwall is a great place to get in touch with nature. The town beach on Lake Road has been a popular local swimming destination for generations.
Cornwall as once the home of Revolutionary War hero Ethan Allen, children's book author Marc Simont, and Union Army General John Sedgwick.
Great places to eat in Cornwall include the Cornwall Country Market, and the intimate RSVP French Restaurant.
The White Hart is a beautiful hotel to stay at in nearby Salisbury. This historic hotel also has an on-site restaurant and general store.
Greenwich
By Anjali Wadhwa of Cheerful Trails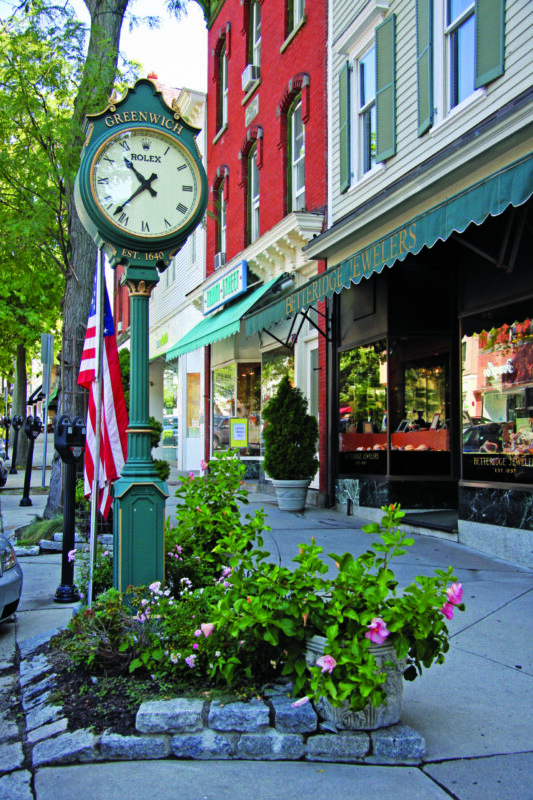 Home to numerous parks, shopping districts, finest architecture, historical hubs, sandy beaches, world-class restaurants and art galleries, Greenwich is amongst the most beautiful towns in Connecticut. It is also known to be one of the richest towns in the United States. Greenwich is just a 40-minute train journey from the Grand Central Terminal, NYC.
This quaint and charming town attracts many tourists for a perfect getaway in Connecticut. There are many opportunities for outdoor adventure seekers too in the town. Visit the Greenwich Point Park to indulge in fun outdoor activities such as hiking, kayaking, canoeing, wildlife watching or to just sit back and relax at the beach. This is also an amazing spot to see a captivating sunset over the waters.
Enjoy the taste of Mediterranean cuisine at Douro. This restaurant is located on Greenwich Avenue, the posh shopping district in Greenwich. Go sailing on a harbor cruise to soak in the beautiful views of Greenwich Harbor and the surrounding natural beauty. Visit the Putnam Cottage and Bush-Holley house to explore some well-preserved historic anecdotes. By the Way Bakery located on East Putnam Avenue is a must stop for enjoying sweet treats.
Plan your stay at the Delamar Greenwich Harbor nestled against the Long Island Sound for the waterfront views and excellent services that will make your trip more memorable. Another great hotel to visit, especially during the warmer months, is The Homestead Inn.
Kent
By Steve of Maps Over Coffee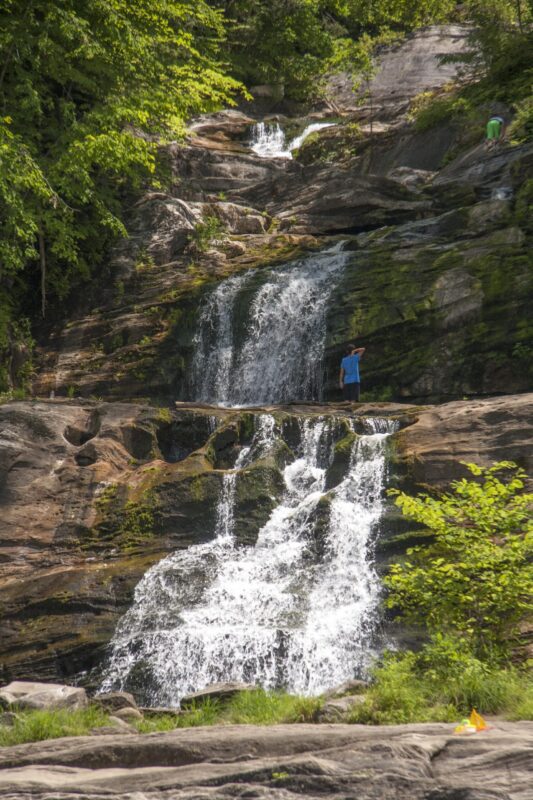 If you're looking for a charming small town in Connecticut to explore, Kent is definitely worth a visit. This historic town is packed with gorgeous 18th and 19th-century buildings, and it's located on the banks of the Housatonic River.
Just 5 miles up the road is Kent Falls State Park. The pathway at the park brings you across a covered bridge to a breathtaking cascade. Stop for a quick photo at the bottom or take a hike up the stairs along the seemingly endless falls.
There's also plenty to see and do in the town of Kent, from touring the local art galleries to boutique shopping. And if you're a foodie, you'll love all of the great restaurants and cafes here! Start with dinner at Ore Hill & Swyft for a farm-to-table experience. But save room for ice cream or hot chocolate at the Kent Coffee and Chocolate Company.
And why not spend the night just outside of town at the Cozy Inn of Connecticut? A charming farmhouse with unique rooms, you'll feel right at home.
Kent is about 30 miles north of Danbury right off of route 7, which winds up being about a 45-minute drive. Or you can drive 35 miles west of Bristol in about an hour.
Litchfield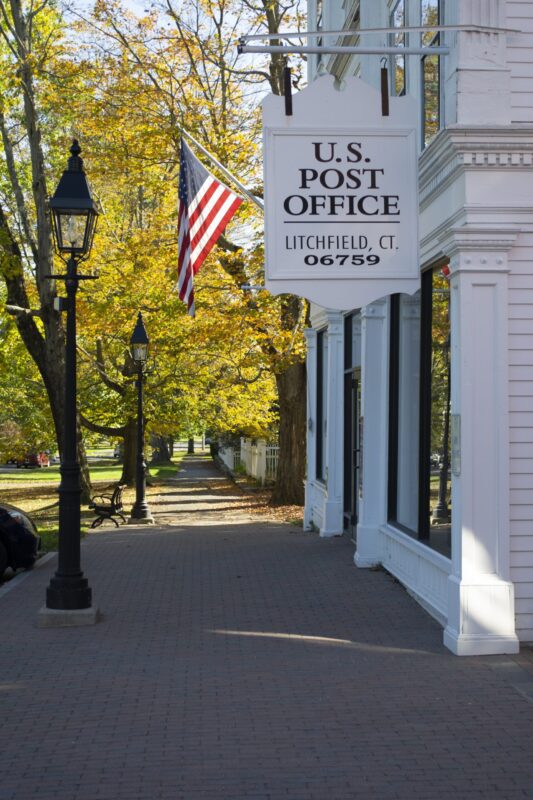 Litchfield is a charming Connecticut town located in northwestern Connecticut. This popular CT destination is located forty-five minutes west of Hartford via the CT 4 route. Litchfield has recently become a popular town to move to, especially for those moving away from New York City. The town center is very walkable with paved sidewalks and easy access to numerous businesses and neighborhoods.
Spend the day surrounded by nature at Topsmead State Forest, Laurel Ridge Farm, and Mount Tom State Park. For those who love to see the wildlife in all their splendor, a visit to Ripley Waterfowl Conservancy is a must. The conservancy offers guided tours by appointment year-round. White Flower Farm in Morris is also very beautiful in-season.
A notable restaurant in Litchfield is West Street Grill that has been in business for over thirty years. This is the first restaurant to establish a high-end American kitchen in Connecticut. Other great restaurants in this beautiful Connecticut town include Saltwater Grill, @ the Corner, and DaCapo Ristorante.
Two of the best hotels in the area are The Litchfield Inn, and the luxurious property, Winvian Farm, located just south of Litchfield in Morris, CT. A stay at The Litchfield Inn includes a complimentary breakfast, complimentary parking available on-site, and much more. Each guestroom is individually designed so no two rooms are the same.
Madison
By Alicia at Travels With The Crew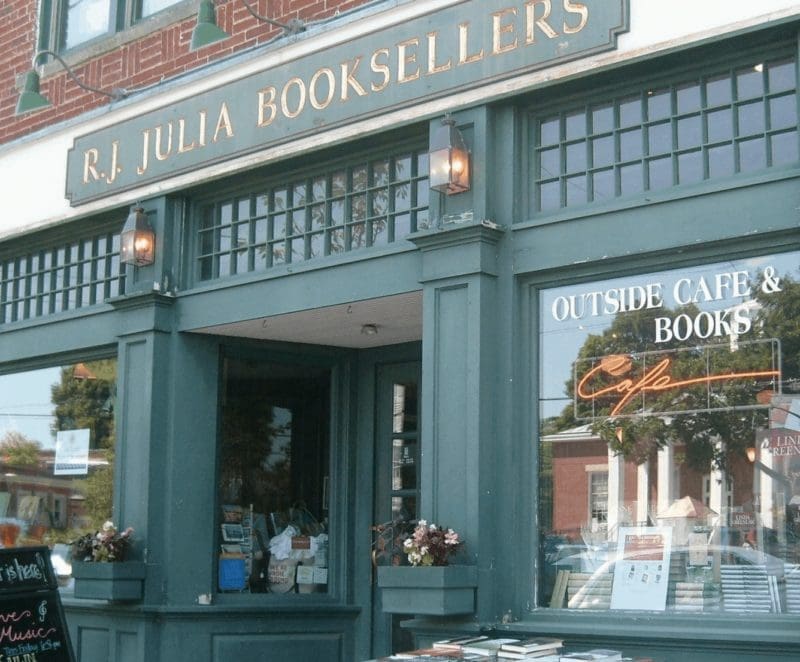 If you're looking for a beautiful small town with charm and character to match, then it's worth the drive out towards Madison, CT.
Located on Long Island Sound, Madison is about 30 minutes east of New Haven, CT, and feels like a world away.
The downtown is a classic example of a New England town with independent stores lining the street. (Stop at RJ Julia Bookstore for awesome book recommendations.)
The biggest reason to visit Madison is the beach. One of the nicest beaches in Connecticut is here, Hammonasset State Park which has nice sand, and lots of room to spread out.
There are fabulous nature programs offered year-round at Hammonasset State Park that your kids would love.
If the beach isn't your thing, you might love the Shoreline Greenway Trail. This trail leads you along the shoreline and through some local forests. The Madison part of this trail (it runs to New Haven) is especially popular with locals and visitors alike. It can get very busy during the summer months so if you want some alone time, get up early or go out in the later afternoon.
Whether you want to round out a day in New Haven, or spend a few days at the beach, you will love spending some time in Madison, Connecticut.
If you are visiting Madison, you need to try Lenny and Joes. This well-known seafood restaurant has some amazing local seafood including lobster rolls, fish and chips, fried clams and more.
The Madison Beach Hotel is a luxury hotel, owned and run by Hilton. If you want a romantic night in a beautiful setting, this is for you!
Mystic
By Lyndsay Crescenti of The Purposely Lost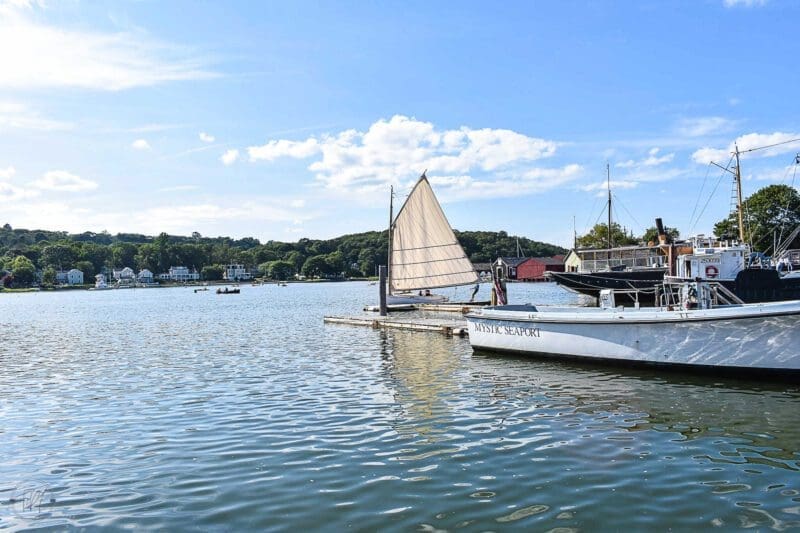 Found on the Connecticut shoreline near the border to Rhode Island and 90 minutes away from Boston, you'll find Mystic–one of the most beautiful towns in Connecticut. While it found its 15 minutes of fame as the location for the 1988 film Mystic Pizza starring Julia Robert, there are many more things to do in Mystic than stopping at the pizzeria.
The Mystic River Bascule Bridge is a drawbridge with exposed internal mechanisms, so you can see the whole bridge rise. It was built in 1922 and is still in use–it opens more than 2,000 times each year to allow huge ships to pass. While you're waiting, get an ice cream cone from the Mystic Drawbridge Ice Cream store, which is just feet from the bridge.
The Mystic Seaport Museum is another major attraction in the city. It's one of the top maritime history museums in the United States, with numerous antique vessels on display, including the wooden whaleship Charles W. Morgan. It also features a working shipyard and a 19th-century town on its grounds. You can also visit the Mystic Aquarium, which houses Steller sea lions and beluga whales.
The Whaler's Inn is a beautiful historic inn in downtown Mystic, walking distance from stores on East and West Main Street, as well as the Mystic River Bascule Bridge and Mystic Drawbridge Ice Cream.
Old Wethersfield
By Elena Pappalardo of The Carry-On Chronicles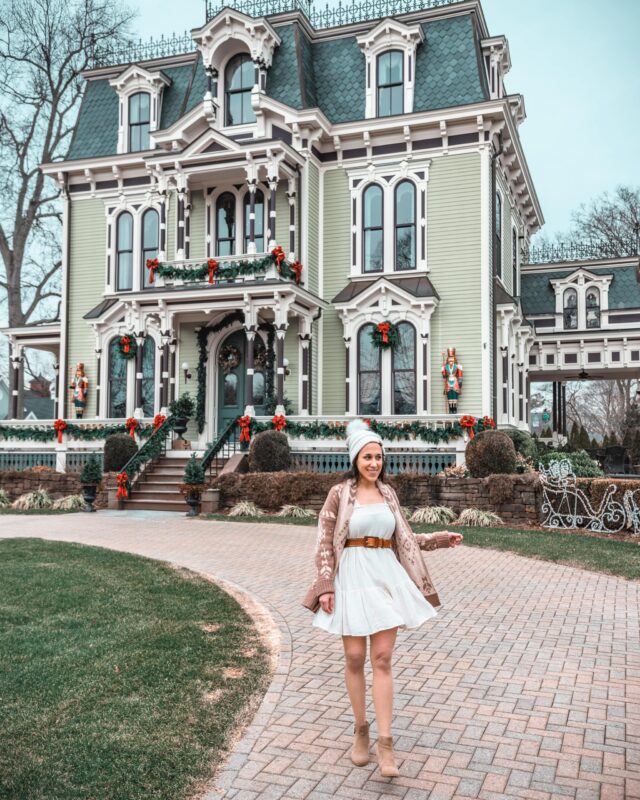 The idyllic town of Old Wethersfield is a true Connecticut gem. Home to the largest historic district in Connecticut, Old Wethersfield is located an easy ten-minute drive from the capital city of Hartford. A neighborhood stroll around the historic district will introduce you to the wonderful character of the town, from the 1752 Joseph Webb home to the Webb-Deane-Stevens Museum, dating back to 1919.
While you are visiting this beautiful CT town, don't miss a visit to the Webb Barn. This rustic landmark is uniquely beautiful each season. In particular, it's stunning when spring flowers are in bloom at the Webb House Colonial Revival Garden, one of the prettiest gardens in Connecticut. It's also a sight to behold in fall, as the leaves change color. This special location is actually a wedding venue, so you may even spot a ceremony in action!
The Heirloom Market at Comstock Ferre is the perfect place to pick up some organic groceries, enjoy a healthy meal, or relax with a coffee or tea. When you're hungry for something a bit more substantial, stop at Lucky Lou's, located in the heart of town. This tasty restaurant serves up modern American cuisine in a historic setting. After dinner, satisfy your sweet tooth at the Main Street Creamery just across the street for the tastiest ice cream in town.
As for picture-perfect accommodations, consider a stay at the picturesque Silas W. Robbins House. This elegant bed and breakfast has loads of Connecticut charm and is like sleeping in a real-life dollhouse!
Stonington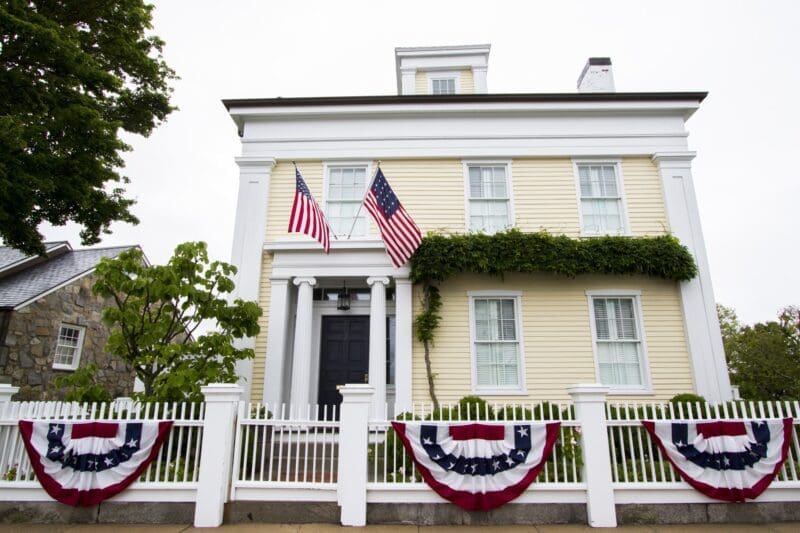 Stonington, one of the oldest and quaintest towns in Connecticut still holds onto its old fishermen's world charm. Only 10 minutes from New London and one hour from Hartford, it's very easy to get there. It's super simple to get there as it's right off of I-95.
With colonists landing there and making it home as early as 1649, Stonington is one of the oldest towns in the state. For example, this town has no less than ten beautiful old buildings listed on the National Register of Historic Places. These include: the lighthouse, high school, more than a few manor houses, and the thread mill. Walking through the historic section of the city with all of its old houses is a must.
Other things to do in Stonington include visiting the Harbor Lighthouse Museum which still has its Fresnel Lens and while you are visiting, you'll learn all about the fishing history of the town. The Velvet Mill is a great place to pick up a piece of art, artisanal baked good, or locally made souvenir as it houses stalls from local artists all year long.
Being a city that faces the Atlantic Ocean, you can also rent a boat or kayak or take a sailing charter out for the day. Don't forget to check out the beach and some of the local breweries and wineries in town as well.
When visiting this historic town, experience the comfort and old-world charm of the Inn at Stonington. This Inn is located right on the waterfront, and each room has its own gas fireplace for just the right amount of cozy.
Stonington is a fisherman's haven, and you won't want to leave town without trying some fresh seafood. The absolute best place to go is the elegant Water Street Cafe. Try some local oysters and don't leave without a decadent homemade dessert.
Washington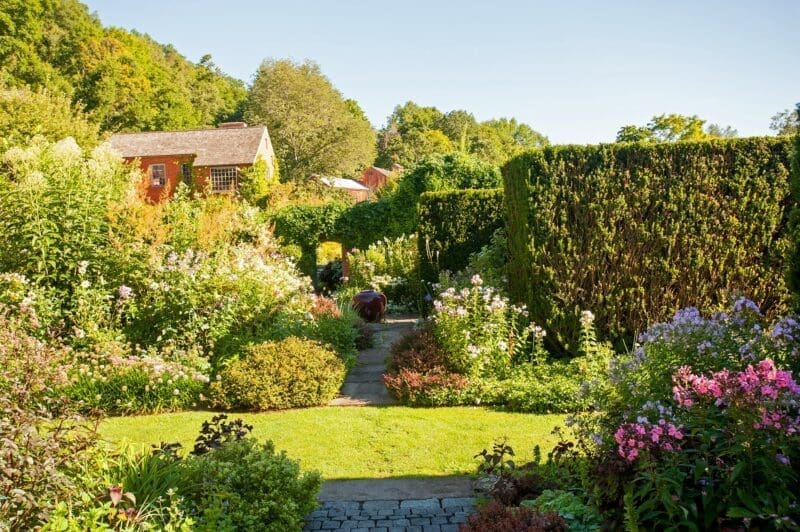 Washington is set in the countryside of Connecticut, just a half hour away from Waterbury. The beautiful town of Washington is known for their picturesque farmland and vineyards, rolling hills, and peaceful country roads with historic colonial buildings. It is a 30-minute drive from Waterbury.
Visit Washington any time of year and be surrounded by breathtaking nature and scenery. Visit Lake Waramaug, the Shepaug River, and Mount Bushnell State Park. Notable attractions include the Loft Gallery at The Smithy. The gallery features rotating exhibition shows of local artists, and Hollister House Garden, pictured above. Washington is also home to renowned historical museums, and two world-famous dance companies.
The town is also home to several gourmet markets and great restaurants. Ones to visit include Marty's Cafe, Café on the Green, and Owl Wine Bar in the nearby village of New Preston.
One of the most luxurious hotels in Connecticut is the Mayflower Inn & Spa. The Hopkins Inn & Restaurant is another excellent choice just north in Warren, CT. This historic hotel is nestled high above the northern shore of Lake Waramaug.
Westport
By Denise of Chef Denise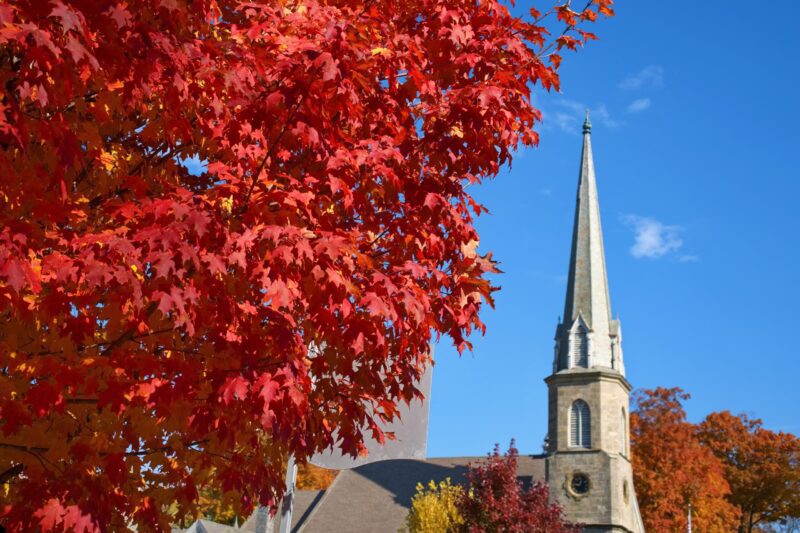 Located on the Long Island Sound, about 30 miles west of New Haven via I-95, you'll find Westport on the Saugatuck River.
Looking at the charming downtown filled with posh boutiques and gourmet restaurants, it's hard to imagine that Westport was once the onion farming center of the U.S. Some of the same things that make Westport a desirable place to live today, made it ideal to grow and ship onions around the time of the civil war: a long shoreline, access to the rail line, and proximity to NYC (less than 60 miles).
More Evidence of Westport's place in history can be found at Campo Beach. Here you'll find a statue of the Minute Man, which honors civilians who took up arms "in a minute's notice" on April 25, 1777, when the British invaded this site.
Campo Beach also was once home to the famed author F. Scott Fitzgerald. The small town of Westport has been home to countless celebrities. Big names include Paul Newman, Martha Stewart, and Rodney Dangerfield.
As a well-known upscale neighborhood, Westport attracts some awesome restaurants too, like OkO Kitchen, The Cottage, and Rive Bistro. As with the food in Boston and other New England coastal towns, seafood is very popular and fresh. Try the waterfront Inn at Longshore for delicious lobster brunch options. It's also the best place to stay in town!
Woodbury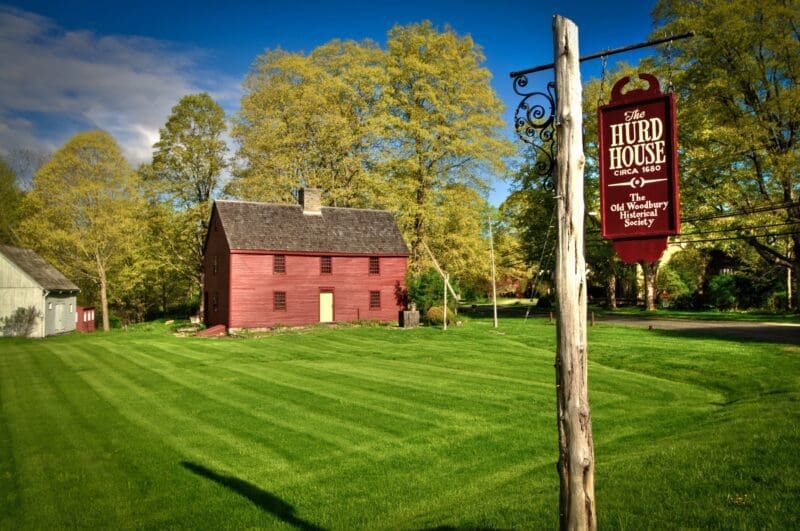 Woodbury is located thirty minutes northeast of Danbury, and less than 15 minutes south of Washington. This beautiful CT town is most well-known for its antique shops, hailing it as the "Antique Capital of Connecticut." In fact, there are dozens of antique shops across the town. Many of these antique shops are located along Main Street.
Woodbury is a beautiful destination to visit year-round. Visit during autumn during pumpkin picking season and catch a ghostly tour with the Glebe House Museum. Or, come in summer to play at Quassy Amusement Park & Waterpark on the border of Woodbury in Middlebury, CT. Woodbury is also home to many bike trails, nature trails, and preserves.
Several high-end and casual restaurants are worth a visit, including Market Place Kitchen & Bar, MIX Prime Steakhouse, Annoula's Diner, and Connecticut's Oldest Inn, the 1754 House Inn. The 1754 House Inn was once named The Curtis House and was featured on an episode of Gordon Ramsay's Hotel Hell.
If you are into health food, stop in at New Morning Market. The market also hosts regular community events. For those with a sweet tooth, stop into Dari Delight Ice Cream Shop, open seasonally.
For an overnight stay, check out the Heritage Hotel in the neighboring town of Southbury. This hotel offers golf, a spa, an indoor swimming pool, and more.