Boston, the capital city Massachusetts, is at the very heart of New England. While this city of academia has much to explore for couples and families of all ages, there are many destinations across the state that are well worth a day trip from Boston, a city that has a wide range of hotels for any budget. We have selected some of the most beautiful and most charming towns across Massachusetts, or also known as The Bay State. These towns are teeming with hundreds of years of history, gorgeous beaches, delicious local food, and plenty of noteworthy sites and attractions.
Looking to move to Massachusetts? Check out movers in Boston to learn more.
Beacon Hill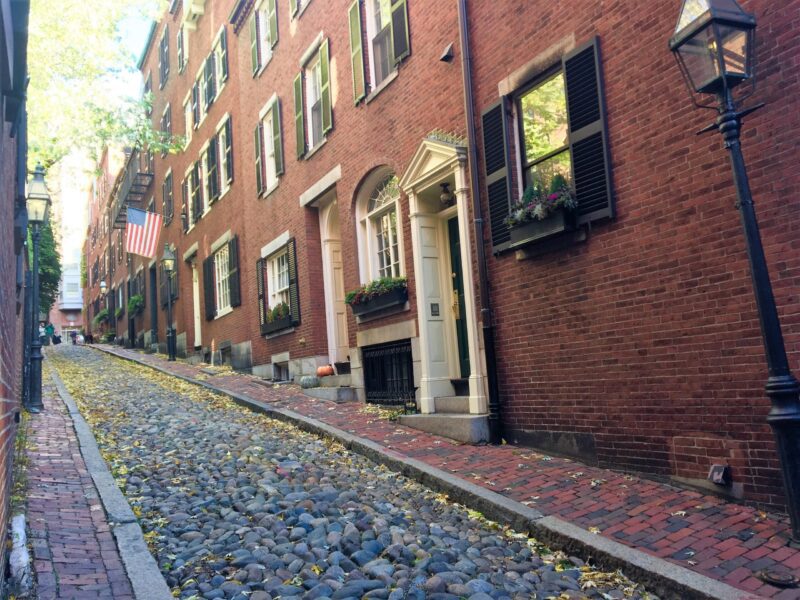 Located in Boston, Beacon Hill is one of the most beautiful neighborhoods in Massachusetts. It is hard to beat the charm of Beacon Hill. This neighborhood is home to historic brownstone buildings, beautiful flower gardens, and narrow cobblestone streets.
The streets in Beacon Hill are lined with gorgeous Federal-style townhouses and historic landmarks. The neighborhood has an upscale feel while still retaining its old-world charm. Beacon Hill is also very walkable, which makes it easy to get around and see the sights.
The Freedom Trail runs near Beacon Hill, and you can easily walk to downtown Boston, as well as several other Boston neighborhoods like Back Bay and Charlestown. Just five minutes of a walk from Beacon Hill are the Boston Common and Public Garden, which are the oldest parks in the country.
The Massachusetts State House is one of Beacon Hill's most notable sites. It features a 23-karat gold dome that can be seen from all over Boston. Other popular sites include Louisburg Square, where many affluent people live; Acorn Street; and Mount Vernon Street, which has some of Beacon Hill's most beautiful brownstones and architecture.
For brunch or dinner, reserve a spot at 75 Chestnut. A cozy interior setting that's also a favorite with the locals, this place offers delicious American food.
For the night, check in at the 5-star Fifteen Beacon, a luxury boutique hotel with priceless service and a homey experience.
Chatham
By Trijit Mallick of Dog Travel Buff
Located at the southeast corner of Cape Cod and surrounded by the waters on three sides, Chatham is one of the most beautiful towns in Massachusetts. You can take a flight to Chatham Municipal Airport or rent a car from Boston Logan International airport which is just 1.5 hours from Chatham.
The nearest major city of Chatham is Boston which is around 88 miles away. With beautiful sandy beaches, cute seaside lodging, a lively main street, and tons of outdoor activities, Chatham offers all the desired experiences for all age groups.
For swimming and sunbathing, visit Chatham Lighthouse Beach. This is a family-friendly beach with gentle surf, fantastic views and endless stretch of soft sands. Chatham Lighthouse is one of the main highlights of this charming town. This historical lighthouse offers amazing aerial views of the surroundings from the top. It was built in 1877 and still it is working as an active US coast guard station.
Next, head to Monomoy National Wildlife Refuge and explore the 7,604 acres of area that has been restricted for migratory birds and animals. Visitors can stroll through a variety of habitats.
Chatham is blessed with natural scenic views and stunning landscapes. Rent a kayak or paddleboard and explore the surrounding area at your own pace. Chatham is a great place to watch the sunset. Lighthouse Beach, Harding Beach, and Monomoy Island are some of the best sunset spots in Chatham.
You can stay at The Old Harbor Inn which is located at a convenient location near the downtown area.
Concord
By Theresa McKinney of Fueled By Wanderlust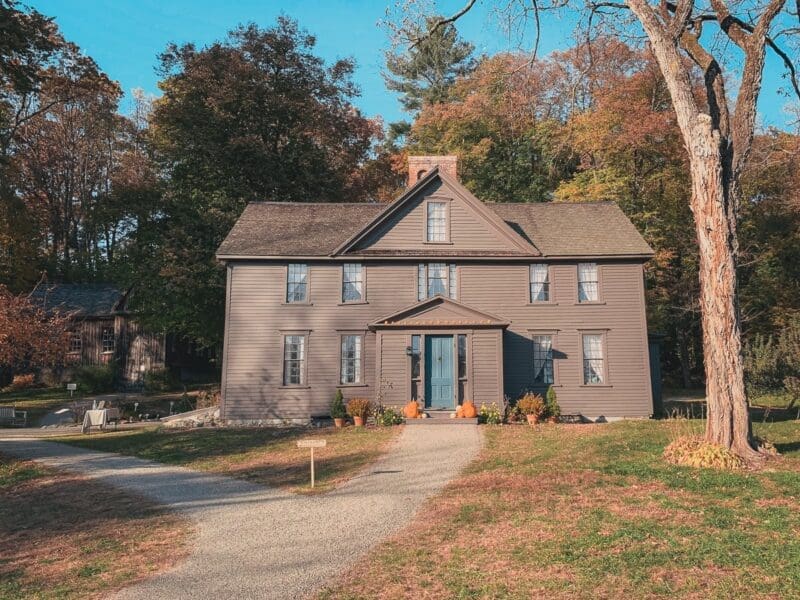 Concord is a charming town located in eastern Massachusetts, about 30 minutes outside of Boston. The town is located within Minute Man National Historic Park and has no shortage of history to explore. Concord is especially pleasant to visit in fall, when its many trees are popping with color.
Upon arrival in Concord, take a stroll through Sleepy Hollow Cemetery to see the Author's Ridge. On this low hill, you'll find the burial sites of four prominent writers: Nathaniel Hawthorne, Louisa May Alcott, Ralph Waldo Emerson, and Henry David Thoreau.
Afterwards, walk just three minutes to Concord's town center. In the town center, you can explore local shops and pop into a café for lunch. For a quaint dining atmosphere, enter through the charming storefront of Main Streets Café for a dine-in lunch or coffee and pastry to-go. For a classier experience, grab lunch at Liberty at the Colonial Inn. This restaurant's space once partially served as a "men's only" bar, with the other portion once being a storeroom for Revolutionary War supplies.
Afterwards, drive just a couple minutes away to tour Louisa May Alcott's "Orchard House".  This was the Alcott's family home, where Louisa wrote and set Little Women. Inside, you can find numerous family artifacts. One in particular is the desk built by Louisa's dad to support her dream of being a writer.
If you have more time, continue exploring Minute Man National Historic Park. Consider hiking the Battle Road Trail. This trail is five miles long and loosely follows the route marched by Militiamen and British Regulars during the Battles of Lexington and Concord.  End your day by checking into The Inn at Hastings Park in nearby Lexington for a luxurious stay that is both historical and stylish.
Nantucket
Nantucket is an island about 30 miles south of Cape Cod in Massachusetts. The island is a popular tourist destination in the spring and summer and is considered to be one of the most beautiful destinations to visit in New England. Some of the most beautiful times to visit Nantucket are during hydrangea season in July. Nantucket is one of the best places in the country, besides the Hamptons, that showcases the beauty and bounty of the vibrant and colorful hydrangeas.
In addition to visiting the famous Nantucket Lighthouse, museums to know include the Lightship Basket Museum, Nantucket Shipwreck & Lifesaving Museum, and the Maria Mitchell Assocation. Round out your visit to Nantucket with a wide variety of activities for everyone of all ages. Nantucket Island Tours, for example, takes visitors away from the downtown area to visit such notable sites as the Old Mill, 'Sconset Village, the Oldest House, and more. Other popular activities on Nantucket include biking, boating, picnicking, cruising/seawater excursions, photography, and visiting the art galleries.
Events that take place in Nantucket throughout the year include the Nantucket Daffodil Festival in April, the Nantucket Food & Wine Festival in May, and the Nantucket Film Festival in June. 
Some of the best restaurants on Nantucket include Rose & Crown and Black-Eyed Susan's for casual dining. For fine dining, Topper's Restaurant overlooking Nantucket Bay and Boarding House are great selections. Should you wish to spend the weekend on Nantucket, stay at The Wauwinet or the stylish Hotel Pippa.
Northampton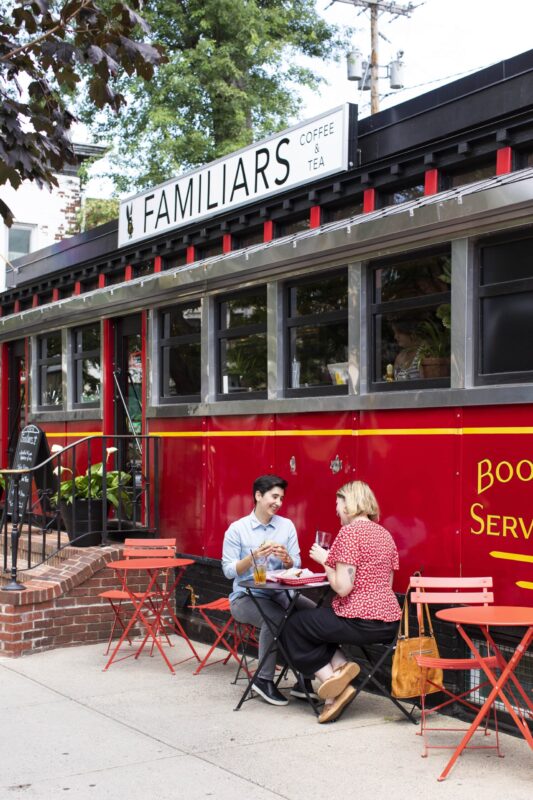 Northampton is considered to be one of the prettiest towns across the state of Massachusetts. Northampton is affectionately known as "the Happy Valley", "Paradise City", and the best small arts town in the nation, to name a few.
Located 25 minutes north of Springfield off of I-91, Northampton is easily accessible by car, bus, train, and by plane via Northampton Airport. The Northampton train station offers Amtrak service to Brattleboro, Hartford, New Haven, and Boston with a transfer. The station is within easy walking distance of Northampton's historic downtown's shops, restaurants and galleries. The train station is also within a close proximity of the Smith College campus.
Come visit Northampton for their wide array of eclectic shops and art galleries, gourmet restaurants with a focus on sustainability, unbeatable coffee shops, and theaters. Northampton is also very well known for their music festivals, Saturday morning farmers markets, pride parades, and so much more.
If you love visiting New England during the Christmas holiday season, Northampton's Main Street is glistening with holiday lights and there are plenty of New England-made crafts and fine goods to discover for gift-giving. Thornes Marketplace, for example, is a perfect one-stop shopping destination that is also home to great restaurants and cafes like Paul & Elizabeth's and Herrell's® Ice Cream.
For an overnight stay in the heart of Northampton, look to Hotel Northampton on King Street. Built in 1927, Hotel Northampton is a member of Historic Hotels of America and is within walking distance of Smith College. The hotel also has two on-site restaurants, one of which is open year-round (Wiggins Tavern). Coolidge Park Cafe is open during the warmer months.
Plymouth
By Brittany Sawyer of Travel By Brit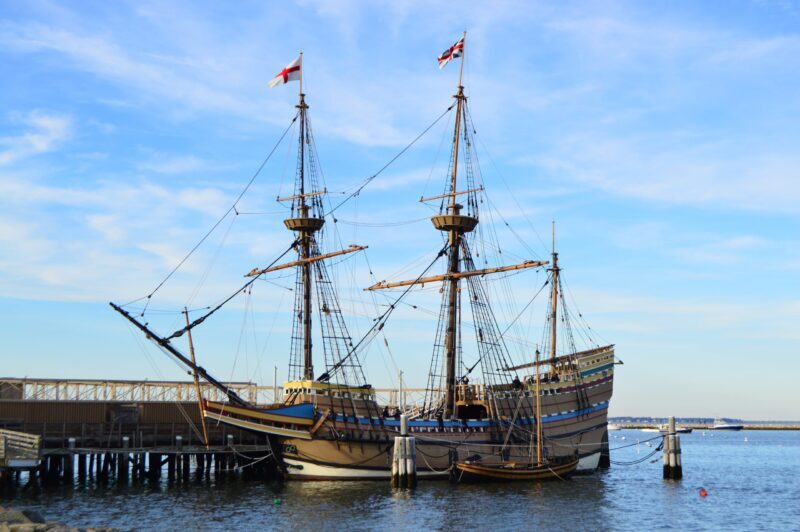 Plymouth, Massachusetts, is one of the most beautiful (and historical!) coastal towns in Massachusetts. Plymouth is located just 40 miles from Boston via the I-93 S and MA-3 S, making this city one of the best stops on a New England Road Trip.
While you're in Plymouth, you can explore the sprawling greenery by hiking, biking, or fishing in the Myles Standish State Forest—filled with 16 lakes!
Plymouth is the location where the Pilgrims arrived in America in 1620. You can learn about this city's unique history as "America's Hometown" at the Plimoth Patuxet Museums, where you can tour the Historic Patuxet, Mayflower II, English Village, and the Plimoth Grist Mill.
When you're hungry, make reservations on the outdoor deck at Mamma Mia's of Plymouth Waterfront to enjoy pizza, pasta, and other Italian-style specialties with scenic views of the harbor.
And if you're looking for somewhere to stay where you can enjoy more views of Plymouth Harbor, consider booking a room at Hotel 1620 Plymouth Harbor. The hotel is equipped with an indoor pool, pub, and casual eatery.
Provincetown
By Kyle Kroeger of Via Travelers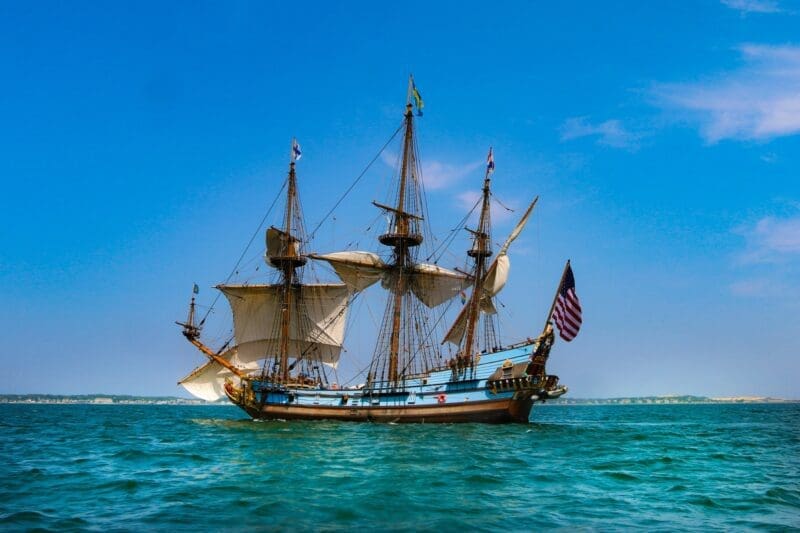 Provincetown is a beautiful town located at the extreme tip of Cape Cod in Massachusetts. The town is known for its art galleries, restaurants, its many beaches, and a doable day trip from Boston.
Some fun activities to do in Provincetown include visiting the art galleries, dining at the local restaurants, and going for a walk on the beach. Another great activity to do in Provincetown is visiting the Pilgrim Monument, which is the tallest all granite structure and a historical landmark in the United States.
The best way to get to Provincetown on Cape Cod is by car. You can take Route 6A from the east or west or take the Sagamore Bridge from Bourne. There is also a smaller bridge, the Veterans Memorial Bridge. This bridge crosses over the Pamet River and connects to Route 6 in Truro.
The best hotels in Provincetown are the Crowne Pointe Resort, the White Porch Inn, and the Surfside Inn. The Crowne Pointe Resort is a luxury beachfront resort that offers guests beautiful ocean views. The White Porch Inn is a charming bed and breakfast that features antique furnishings and lovely gardens. The Surfside Inn is a family-owned and operated motel that offers guests affordable rates and comfortable rooms.
Rockport
By Keri of Bon Voyage With Kids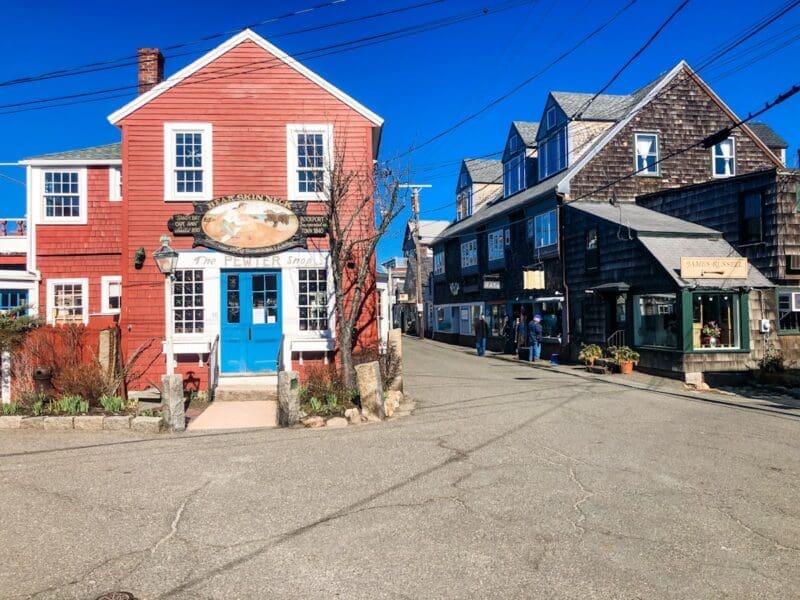 One of the most beautiful Massachusetts towns worth visiting is Rockport, Massachusetts.  About 30 miles north of Boston on Cape Ann, Rockport is a picturesque seaside town popular with tourists, beachgoers, and scuba divers. Rockport is known for its unmatched beauty, rocky shores, and unique Bear Skin Neck area.
This seaside village is full of unique specialty shops, and restaurants. Visitors can find handmade jewelry, gifts, homemade fudge, and some of the freshest and most delicious seafood. This beautiful town in Massachusetts is also popular for the arts and culture. Rockport also is a great day trip if you are visiting Boston with kids.
Rockport is also very close to Gloucester, where there are also popular beaches, cozy inns, and an artist colony. Gloucester is famous for its fishing industry. The town was featured in the book and movie, "The Perfect Storm."
Accessing Rockport from Boston can be done by car (about an hour's drive), by train on the MBTA commuter line from North Station, or by boat if you are captaining your own boat. The closest airports are Boston Logan International and Manchester International airports.
Diners will find a range of restaurants to choose from that range from seafood casual to the Rockport Brewing Company to a finer dining experience at Feather & Wedge, which prides itself on locally sourced food and seasonal menus. My Place By The Sea on Bearskin Neck is a very romantic spot with incredible Atlantic Ocean Views. Their award-winning menu features local fish and many other delicious dishes.
If you choose to stay in Rockport, The Emerson Inn is a historic, ocean-front boutique accommodation with modern amenities. It is an idyllic inn with ocean access, proximity to Rockport, and all of the charm a New England seaside inn can offer.
Salem
By Amanda of Hey! East Coast USA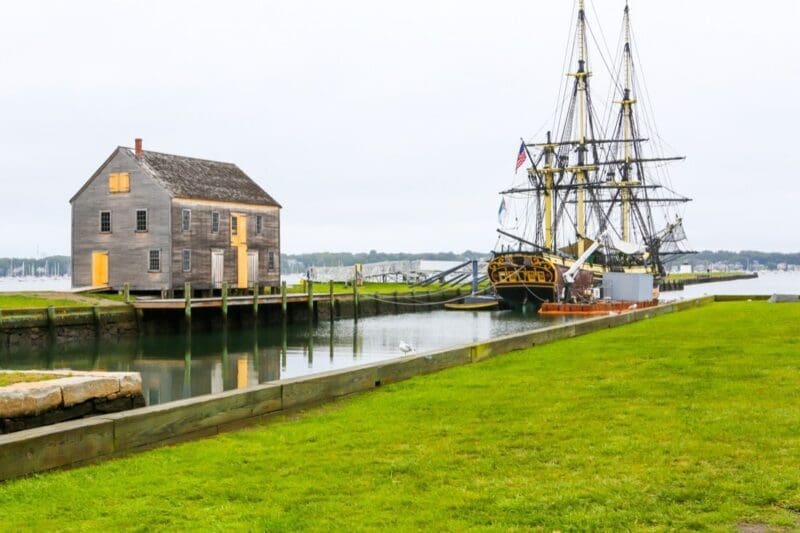 Salem is one of the most beautiful towns in Massachusetts, with its colonial-era homes and historic wharf offering lovely architecture and atmosphere all around.
Located just north of Boston, you can easily take a day trip to Salem. By car, it's only about a 35-minute drive. Take the slower drive along Route 1A to stay by the coast for better views. If you don't have a car, hop on the Rockport line from North Station for the 30-minute train ride. Visitors can also enjoy the 50-minute ferry trip departing from Long Wharf. It is a completely different perspective on the coastline as you depart Boston.
While Salem is undoubtedly best known for its horrific 17th-Century Witch Trials era, the town actually grew to prominence as a shipping port. Both The Witch House and the Salem Witch Museum attract plenty of visitors, alongside film locations for Hocus Pocus.
Also go to Derby Wharf in the Salem Maritime National Historic Site to see the Friendship of Salem, an 18th-Century replica of a beautiful three-masted ship. You can view maritime-themed artwork at the Peabody Essex Museum (PEM). PEM is the oldest continually operated museum in the country. Visiting Salem in the fall offers plenty of atmosphere and activity. However, visits in the fall come with higher accommodation prices as everyone comes for the Halloween season.
Wondering where to stay? If you fancy yourself on par with George Washington, book The Merchant, where he was a former guest. For the evening, head to The Tavern at Hawthorne Hotel to enjoy a cozy pub vibe that will bring you back in time.
There are so many fun, fascinating, and educational things to do in Salem MA and the town truly transforms with each season, so plan to visit more than once!
Sturbridge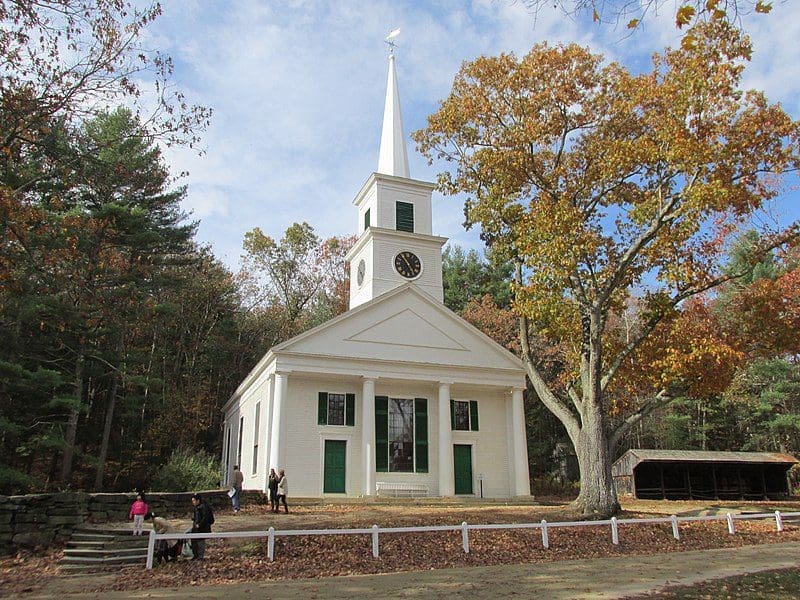 Sturbridge is a town southwest of Boston, located just over the Connecticut-Massachusetts border. Interstate 84, the highway that cuts through the center of New England, is the most direct way to drive there. The town is home to the Old Sturbridge Village living history museum. It is one of the most popular tourist destinations in the state.
Old Sturbridge Village recreates life during the early 1800's and hosts a number of events throughout the year. The village is home to forty restored structures filled with antiques and relics from the 19th century. Visitors will find an authentic general store with plenty of gifts as well as a restaurant and picnic area.
Sturbridge is also home to a beautiful, covered bridge. The town is home to the beautiful Walker Pond at Wells State Park. Walker Pond is a peaceful setting for canoeing, swimming, and fishing during the summer months.
Some of the best restaurants in Sturbridge include Sturbridge Porterhouse for steak and seafood, and Teddy G's Pub & Grille for homemade pizza and excellent pub fare.
A nearby luxury hotel is The Inn at Woodstock Hill in Connecticut. Or for a quaint and cozy stay, look to Laurel Ridge Bed and Breakfast in Warren, MA. For an overnight stay steeped in history, stay at the Publick House Historic Inn.