The historic city of Boston has so much to offer its visitors. With everything from world renowned museums to landmarks recognizing some of the first settlers in the United States, there is so much to see. A trip to Boston, though, would not be complete without taking time to visit quaint coastal areas throughout New England, all just a short car ride away.
Cape Cod
Cape Cod is the perfect getaway from city life in Boston, Massachusetts. As soon as you cross over the Cape Cod canal by car or bus, you can visit the many villages and town areas. A drive down Route 6A is a great way to avoid highway traffic on the Cape and see the many historic homes, inns and shops you may otherwise miss. Route 6A is where you can find many hidden gems like Nirvana Coffee in Barnstable.
Towns across the Cape offer amazing views, delicious seafood and unique shops. Main Street in Chatham is no different, offering access to beaches, parks and art galleries. In the center of Chatham, you can find the Chatham Squire Restaurant and Tavern with casual dining, or you can take a drive to the Chatham Bars Inn for fine dining with a breathtaking view. 
Woods Hole in Falmouth and Main Street in Hyannis are equally filled with shops and restaurants and are the perfect places to catch Whale Watches or other boat tours. If you're lucky, you might even get a glimpse of the seals that call the area home. 
The Lighthouse Inn in Dennis, MA is a welcoming spot to eat and stay. The waterfront location in the center of the Cape is easily accessible to attractions across peninsula.
Hartford
The capital of Connecticut, Hartford, is a short 1.5-hour drive from Boston, and is another historic city you must visit during your time in New England. It is home to the Mark Twain House, which is the beautiful Gothic home turned museum where Mark Twain lived when he wrote many of his famous pieces. Here, you can see Twain's writing room, a permanent exhibit about his life and several rotating collections. 
Across from the state capitol, Bushnell Park is the perfect way to enjoy the city's outdoor space. There you can discover memorials honoring Civil War and Spanish-American War veterans, playgrounds, outdoor art pieces, and the operating 1914 Bushnell Carousel.  
In the heart of Hartford is The Goodwin Hotel, perfect for those looking for a convenient spot to rest their heads after a long day of exploring the city. Nearby, you can find Max Downtown and Trumbull Kitchen, two popular Hartford restaurants. There are also many beautiful towns in Connecticut to explore nearby. 
Martha's Vineyard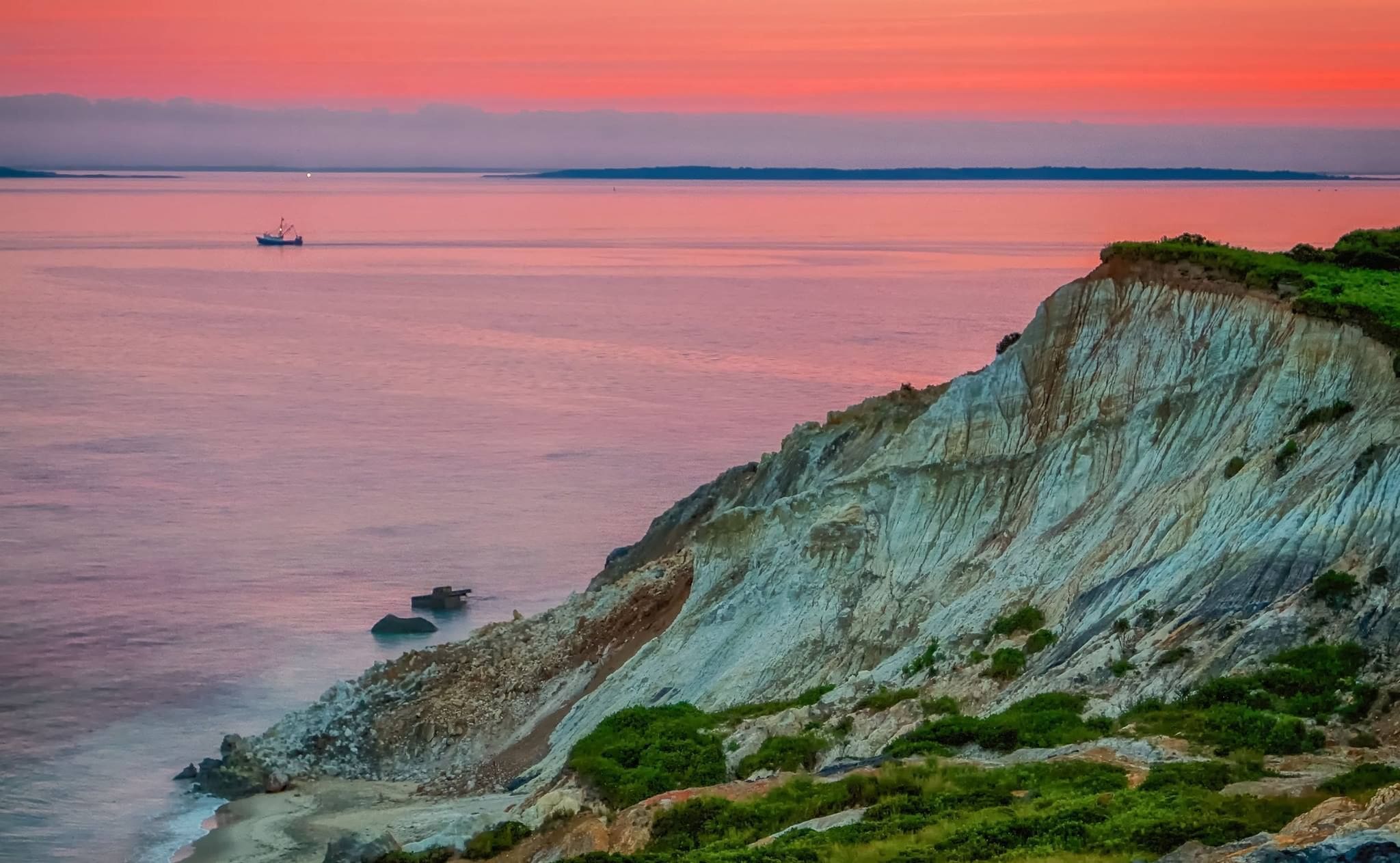 By Lauren Stites of Where the Wild Kids Wander
If you want to escape the city's craziness, Martha's Vineyard is one of the best day trips from Boston! The ferries to bring you to the peaceful island leave from New Bedford, MA or Woods Hole, MA. Both terminals are about 1.5 hours from Boston.
Once you arrive on Martha's Vineyard, there is plenty to do and see. Our biggest tip: rent a bike or bring your own (you can bring them on the ferry for a small fee). It's simple to get around the island with over 40 miles of paved bike paths. The bike paths connect all three "big" towns and give you access to plenty of activities. Some of our favorites are soaking up the sun on State Beach, kayaking in Sengekontacket Pond, and exploring historic Edgartown.
While you are in the towns, take some time to shop at the various boutiques and stores. After shopping, grab a bite to eat at some of the delicious restaurants on the island. We love the Black Dog Tavern in Vineyard Haven, The Lookout Tavern in Oak Bluffs, and The Seafood Shanty in Edgartown. All three restaurants have fantastic views of the water.
If you decide to extend your stay, there are many beautiful hotels, inns, and b&bs on the island. For a quiet escape, we recommend the Winnetu Oceanside Resort in Edgartown. For those that like to be in the middle of all of the action, you'll love the Oak Bluffs Inn in Oak Bluffs.
Nantucket
Just east of Martha's Vineyard is Nantucket, another quintessential island in New England. Ferries are available from New Bedford, MA and Hyannis, MA. These ferries will bring you right to an area filled with historic sites, restaurants, hotels, museums and beaches. 
The island's Whaling Museum offers visitors a unique opportunity to learn about Nantucket's history while providing excellent views of the harbor. The three lighthouses on the island are also must-see attractions, including Brant Point Lighthouse which is the second oldest in America. 
While there are some amazing beaches on Nantucket, Children's Beach is exceptionally family friendly. Within walking distance to the ferry terminal and downtown area, the small beach offers a playground, picnic area and easy access to the town's restaurants like Stubby's and Cook's Cafe.
If you want to get out of the downtown area, Cisco Beach on the south side of the island is a relaxing spot that boasts great waves. Here, the whole family can take beginners surfing lessons with trained instructors. 
If you enjoy your time on Nantucket, you may choose to stay the night at one of the hotels or inns across the island. The Nantucket Resort Collection is very close to the ferry terminal and has 3 different cottage style hotels to choose from.
Newport, Rhode Island
By Pamela of The Directionally Challenged Traveler
If you're in need of a break from the hustle and bustle of Boston, then a day trip to Newport to breath in the fresh ocean air is perfect. Only a 90-minute drive away from Boston is the idyllic seaside town of Newport, Rhode Island. If you're visiting Boston for a while without a car, you can also take a Peter Pan bus to Newport.
Located on Aquidneck Island, Newport is surrounded by breathtaking beaches and sea cliffs. One of the best things to do in Newport is a stroll along the 3.5-mile Cliff Walk to take in the nature of the area. There are a few parking areas, so you do not have to do the whole thing if you're short on time. Park near The Breakers, one of the most famous mansions so you can tour it when nearby. The mansions of Newport are famous for their history and architecture.
Taking a sailboat out on the water is a true Newport experience if you're visiting in the warmer months. In the spring and fall, you can still see sailboats on the water, but in the winter the boats are taken out of the water due to freezing.
Any day trip wouldn't be complete without delicious food! If you arrive in Newport for breakfast, head to Cru Cafe near the Audubon Museum – the blueberry stuffed French toast is delicious! This locally owned business prides itself on using local ingredients. It wouldn't be New England without a seafood meal. The Black Pearl is located on Bannister's Wharf and has views of the harbor but be sure to make reservations ahead of time! You can also stay near the Bannister's Wharf at the Marriott Newport!
A wonderful mixture of nature, history, and food makes Newport one of the best day trips from Boston.
Portland, Maine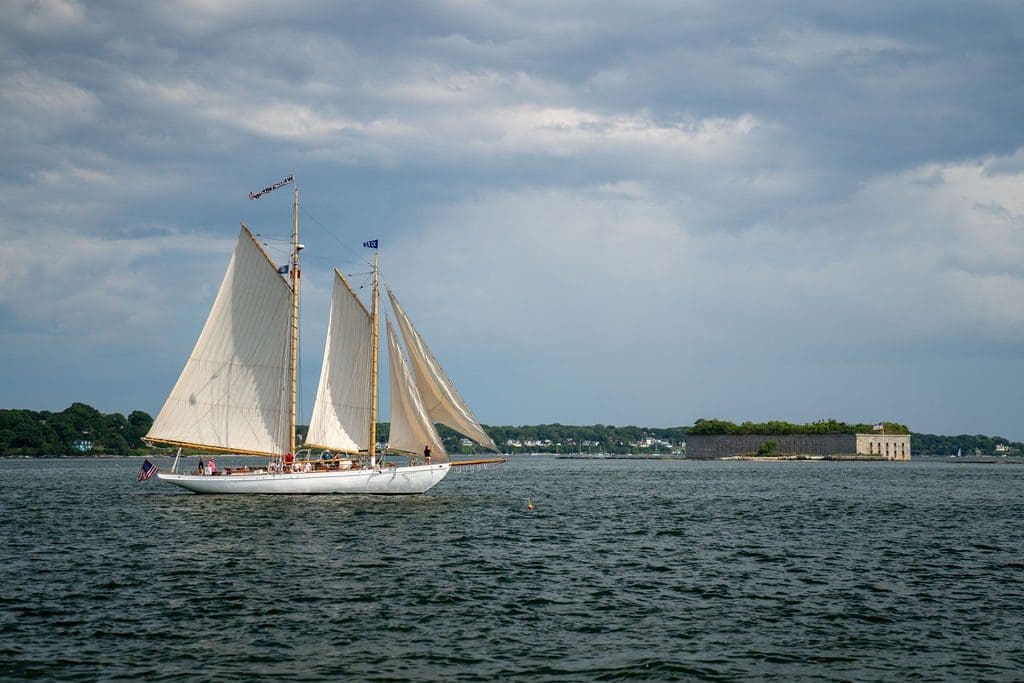 By Leticia Alleyne of Chic Travel Around the World
Portland, Maine is a great city to visit for a day trip from Boston. Located a two-hour drive from Boston, Portland is the largest city in Maine and is known for its delicious, fresh seafood.
The Old Port is one of the most popular places to visit in this charming city. This area is quaint wind reminds you of days gone by past as the buildings are historical and their façade represents the 19th century.
From this port town you can take a ferry. If you adore art, there's the Portland Museum of Art. In addition, if you are traveling with kids, there's the Children's Museum.
If you wish to turn your day trip from Boston into a weekend getaway, the best area to stay is the downtown Portland.
For accommodations, a stay at the charming Chadwick Bed & Breakfast is a great way to explore this exciting city. This accommodation is eco-friendly and has been awarded
Editor's Choice Best Eco-Friendly Lodging by Yankee Magazine and achieved Tripadvisor's Green Leader Award status.
Portsmouth, New Hampshire
By Tegan and Alex of Why Not Walk Travel Guides
One of the easiest and most beautiful day trips from Boston is located a mere hour's drive away by car. No visit to New England is complete without exploring the gem of New Hampshire's Seacoast region, Portsmouth. Portsmouth is one of the oldest cities in the United States, incorporated into the colony of New Hampshire in 1653.
Due to its coveted coastal location, it has been renowned throughout history as a major shipping and commercial hub, and it continues to be popular for shopping even today due to New Hampshire's lack of sales tax. This definitely incentivizes some window-shopping at Portsmouth's many locally owned businesses while you're here!
When you arrive, there's plenty of street parking near Prescott Park, and parking rates are reasonable (~$2/hour.) The park has a beautiful walking path along the waterfront. The walking path leads you to the Strawbery Banke Museum, which boasts 40 beautifully restored period buildings that trace architectural styles and themes in Portsmouth between the 17th and 20th centuries. Portsmouth in general has a lot of period architecture, and you definitely can't miss it as you meander around town.
The main hub of Portsmouth, Market Square, has plenty of local dining options, as well as several ice cream parlors or places to stop for a quick treat. Consider a stay at the intriguing former brewery, Ale House Inn.
If you have a bit of extra time the next morning, note that Portsmouth is located right on the border with Maine. It's a lovely addition to explore Kittery or the nearby beach communities of York or Ogunquit before heading back to Boston.
Providence
By Dymphe of Dymabroad
One of the best day trips from Boston is one to the City of Providence. It is the capital and largest city of Rhode Island. From Boston, it is easy to get to Providence, as the journey by train only takes about 35 minutes.
What's great about Providence is that it feels a lot like a small town, but at the same time it actually is a large city. Furthermore, there are many things to do in Providence. One of the best things you can do here is going to the RISD Museum. You find here a variety of artworks. These range from textiles to sculptures to paintings and coming from all parts of the world.
Another great activity, also for families, is going to Waterplace Park and riding in a gondola!  When you want to go for dinner, you have plenty of options here. Two of the best restaurants are Blake's Tavern and CAV.
For a place to stay, you should definitely go to the Renaissance Providence Downtown Hotel.
Waterville Valley, New Hampshire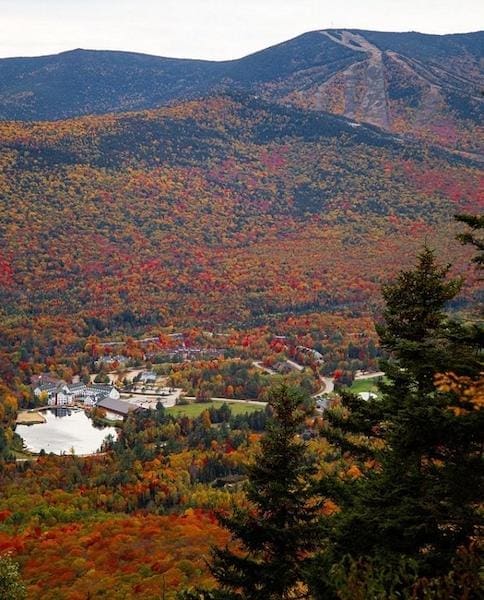 If you're looking for a town that is picturesque no matter the time of year, a 2-hour drive north of Boston will bring you to Waterville Valley, NH. During the winter months, the area offers skiing in White Mountains National Forest at Waterville Valley Resort, a four-season resort. Other cold weather activities include ice skating, dog sledding and fishing. 
During the fall, Waterville Valley provides immaculate views of fall foliage, with peak viewing season being in mid-October. This is the best time to take advantage of the uninterrupted views the area's ski lifts offer. Hiking is also a popular way to see the natural scenery.
Waterville Valley's Town Square is home to a variety of shops and restaurants open all year round. You may enjoy weekend breakfast at the Clubhouse Restaurant located at the Waterville Valley Golf Club. Or grab dinner in the Town Square at Olde Waterville Pizza Co.
Additional reporting by Kaitlin Tracy.