Edinburgh is home to a stunning mix of medieval and Georgian architecture, cobblestone streets, and world-class restaurants. Some of the city's most famous landmarks and events include Arthur's Seat, the gothic Scott Monument, Edinburgh Castle, and The Edinburgh Festival Fringe arts and comedy show. Though what is a visit to Edinburgh, Scotland without taking a day trip outside the city to explore the heart and soul of Scotland? Below we highlight some of the best day trips from Edinburgh, Scotland. These trip ideas are perfect to add as an extension to your vacation through Scotland and or as a weekend or day trip from the capital city.
Blackness Castle
By Moumita & Sankha of Chasing the Long Road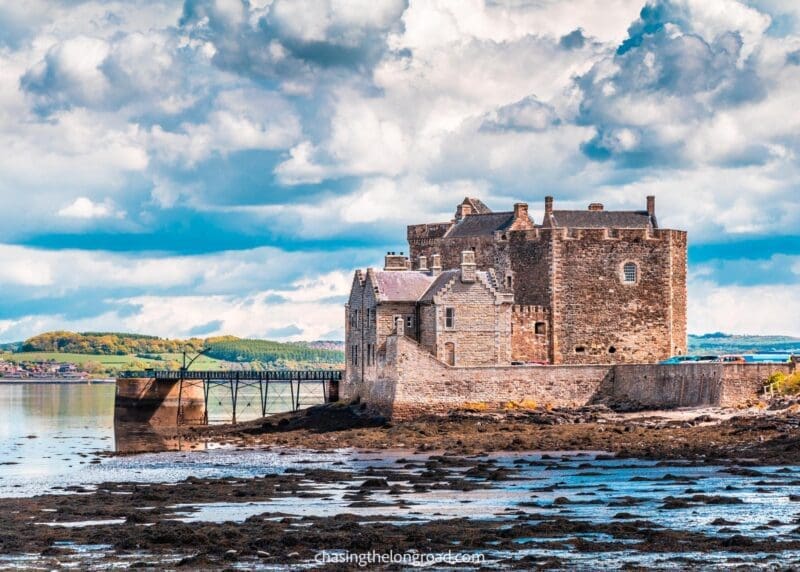 Located about 15 miles northwest of Edinburgh, Blackness Castle is an excellent day trip from Edinburgh. Tucked away on the southern shore of the Firth of Forth in a village called Blackness, this historic fortification is one of the best castles in Scotland. The castle was originally built at the site of a former fort in the 15th century as a residence of the influential Crichton families. The aerial view of this castle resembles a ship – this is popularly called 'the ship that never sailed'.
Step inside Blackness Castle and learn about nearly 600 years of history. Over centuries, it changed its role from royal home to garrison fortress, state prison to ammunition depot. Now, this castle is looked after by Historic Environment Scotland.
From the towers of this castle, you would get a stunning view of the magnificent Forth Rail Bridge – a UNESCO World Heritage site. Blackness Castle has gained immense popularity over the last few years after the feature in the historic time-travelling TV series, Outlander. Some believe the central tower of this castle is haunted.
Blackness Castle is usually open throughout the year. If you fancy a stay near the castle, Champany Inn would be a great choice. They have an in-house restaurant as well. Also, pop into the Lobster Pot near the car park of Blackness Castle. They have lovely seafood selections and brilliant decor with a friendly atmosphere.
Tip: There is a beautiful beach adjacent to the castle. Take a stroll and admire the beautiful view across the Firth of Forth.
Doune Castle
By Vidyut Rautela of Triplyzer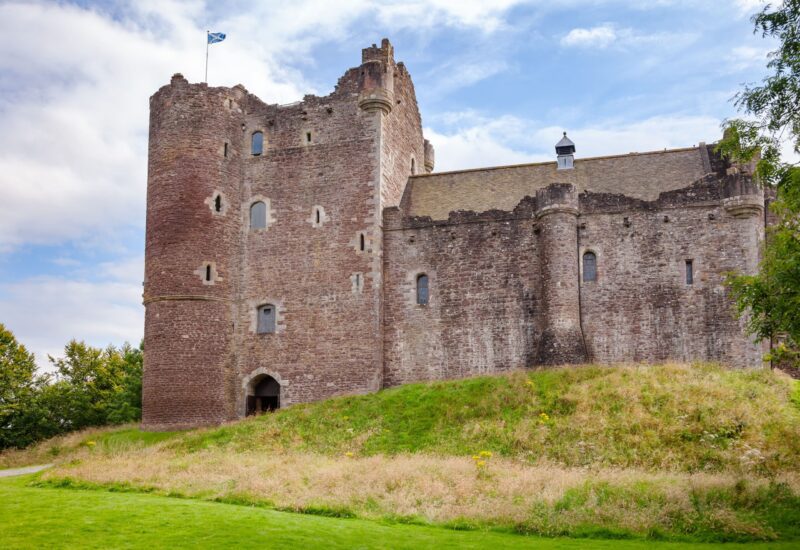 An abundance of natural beauty coupled with a sense of adventure makes Doune Castle a beautiful destination in Scotland. Located on the banks of River Teith and set amidst the beautiful landscape of Stirling is the medieval castle of Doune. Throughout its 700 years of existence, it has seen several changes of ownership. In the 18th century, it was abandoned and left to decay. But thanks to the Earl of Moray, he restored the castle in 1883.
Doune Castle is also famous as a shooting location for quite a few popular movies and shows including, Monty Python and the Holy Grail, the Outlander, and Game of Thrones.
The castle stands majestically atop a hill, offering excellent views of the surrounding countryside. Outside, the 100 feet tall gatehouse faces the expansive courtyard, both are quite a sight on their own.
The castle's numerous rooms are accessed through a set of stone staircases and narrow passageways. The most impressive of the lot is the Lord's Hall, complete with its period furnishing. The Great Hall is the large room that played host to important events. And finally, follow the cobblestone tunnel which takes you to the castle cellar.
Even if you don't want to go inside, the castle grounds are free to roam. Having a family picnic or walking along the quaint riverside is an ideal way to spend a Sunday afternoon here.
The Doune Castle is located eight kilometers from Stirling Castle, and you can easily combine the two in a single visit.
Tip: Buying the explorer pass (£35) will you give access to other sites maintained by Historic Environment Scotland – such as Edinburgh and Stirling Castles.
A great nearby restaurant in Doune village is Buttercup Cafe. This restaurant offers a delicious lunch menu, as well as coffee and cakes.
Stay overnight at The Woodside, and the Red Lion Inn are the two best and the closest places to stay near the castle. But if you are looking for a little luxury, then going with DoubleTree by Hilton might be a good idea.
Dunbar
By Gemma of Everything Edinburgh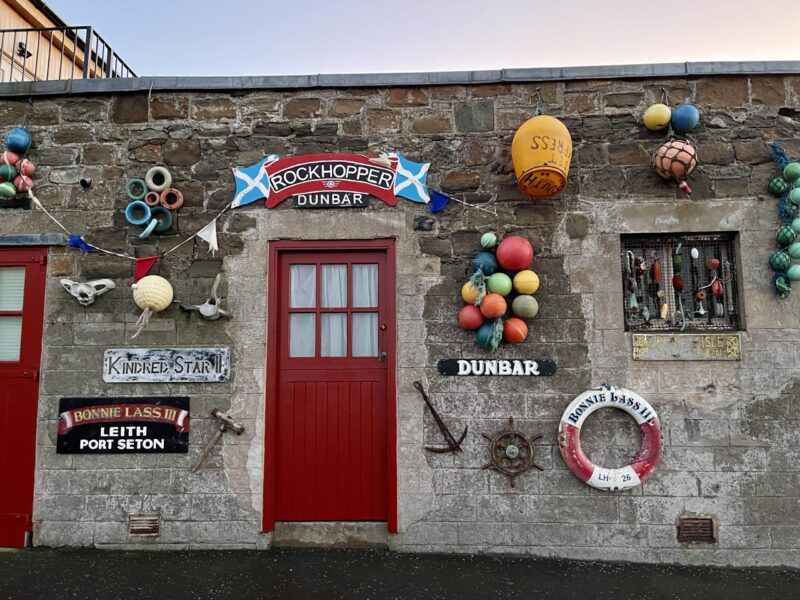 Less than an hour's drive from Edinburgh is the town of Dunbar, which is often referred to as Sunny Dunny! Travel to Dunbar from Edinburgh by driving or hopping aboard the train, which takes less than 30 minutes.
This small seaside town has a lot to offer, especially if you enjoy water sports. Swimming, surfing or simply spending the day sunbathing makes this East Lothian spot a popular one in spring and summer.
If you prefer to stay on dry land, you can still spend time by the water at the harbour.  Watch the boats bobbing about and check out the sculptures which make up part of the Dunbar Art Trail. A favorite is the maritime paraphernalia and Dunbar sign. You'll also see the ruins of Dunbar Castle overlooking the harbour!
Thrill-seekers might want to book a Segway tour with Foxlake, which takes you through forests and the beach.
For food, head to the historic High Street to dine on pizza at Hector's and cakes at Graze Cafe. Enjoy a few drinks indoors or at the beer garden of The Station Yard, located next to the train station.
For accommodation, check out The Dolphin Inn. The Dolphin Inn is a family-friendly and dog-friendly hostel with a large outdoor space for bikes and boards.
Dunnottar Castle
By Ashleigh of Ashleigh's Atlas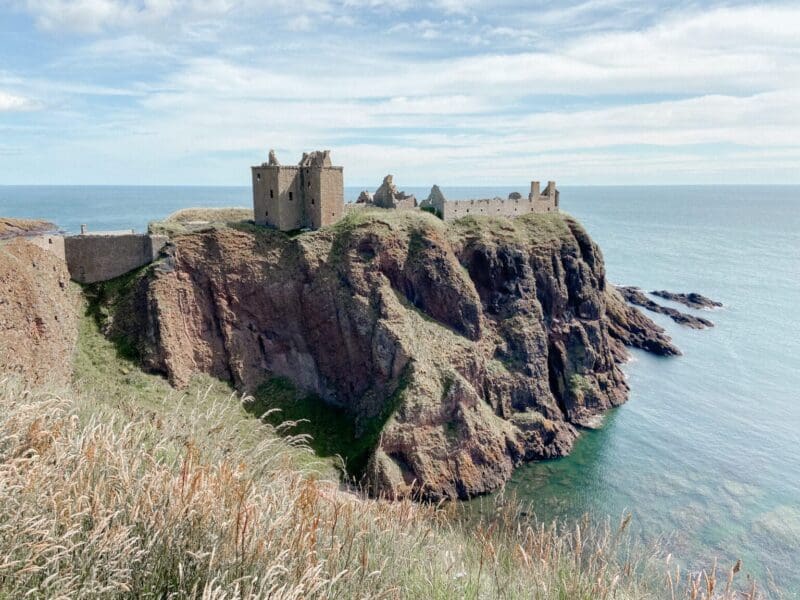 If you're looking for the best day trips from Edinburgh, make sure you go to Dunnottar Castle.
Dunnottar Castle is in Aberdeenshire. It's one of the best castles in Scotland and one you definitely shouldn't miss. The best thing about the castle is the dramatic scenery and location. Dunnottar Castle is on a small rocky island surrounded by steep cliffs.
Most of the castle is in ruins, but there are some parts of the castle still remaining which you can walk though. Even though most if it is ruins, it's still one of the best castles in Scotland because of the dramatic location. It was also the castle which inspired the Disney film Brave!
Most tourists don't go to Aberdeenshire so it's also not as busy as popular areas in the Highlands like Loch Ness and the Isle of Skye.
Just be prepared to walk down a lot of stairs to get there!
Wondering how to get to Dunnottar Castle from Edinburgh? The easiest way to get there is by car (2.5 hours each way). You can also get there by train or bus, but there's no direct train or bus and you'll need to transfer.
Falkirk Heritage Park
By Phil of JOURNICATION Travel Blog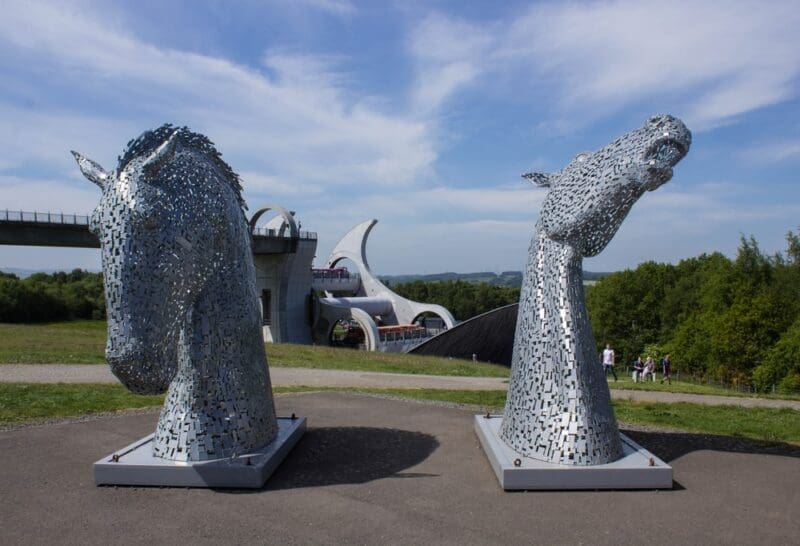 Falkirk Heritage Park is a beautiful park located about an hour from Edinburgh. The park is home to the Falkirk Wheel, the world's first and only rotating boat lift. Visitors can enjoy a variety of activities at the park, including walking, cycling, fishing, and boating.
There are a few great places to eat in Falkirk Heritage Park. The Boathouse Café is a great place to get a bite to eat and offers stunning views of the Falkirk Wheel. The Wheelhouse Restaurant is also a great option and offers a wide variety of dishes to choose from.
If you're looking for a great place to take the family, Falkirk Heritage Park is definitely worth checking out. This park is home to a variety of different historical sites, as well as plenty of open space for kids to run around and explore. Be sure to check out the Children's Garden, which has all sorts of fun activities for the little ones.
The Roman Walls in Falkirk Heritage Park are a series of walls that were built by the Roman Empire. The walls were originally constructed to protect the Roman fort at Camelon from attack. The walls are made from a mix of stone and earth and are still partially intact today.
As the popularity of Falkirk Heritage Park continues to grow, there has been an increased demand for sustainable sleeping accommodations in the area. While there are a few camping grounds in the park, they are often full during peak season. There is a great need for more affordable, sustainable lodging options in the area.
A few companies have started to offer glamping experiences in Falkirk Heritage Park. Glamping is a great way to enjoy the great outdoors while still having all of the amenities of a traditional hotel room. If you're looking for an amazing outdoor adventure, be sure to check out some of the glamping options in Falkirk Heritage Park.
The Falkirk Wheel
By Jan of Leisurely Drives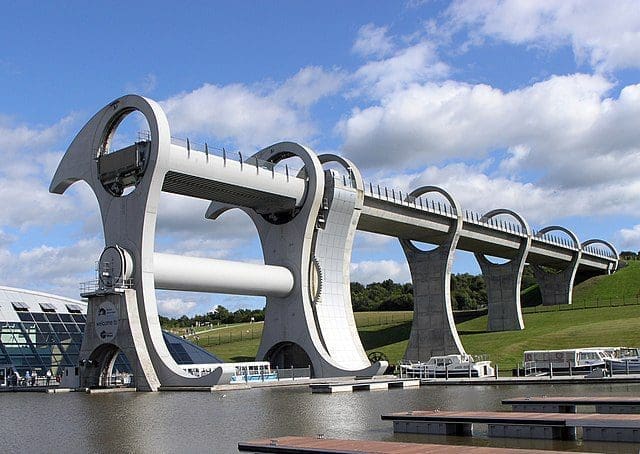 Located in Tamfourhill, Falkirk in Central Scotland, the Falkirk Wheel is a short one-hour drive from Edinburgh. It connects the Forth and Clyde Canals with the Union canal. This giant piece of engineering was opened in 2002 as part of the Millennium Link project.
Using little power and based on the laws of physics, two enormous tubs of water hanging from a giant wheel are rotated to move people and goods from a lower canal to the higher or vice versa in a matter of minutes. Originally the canals were linked by 11 or more locks that took several hours to pass through whereas now, it takes just 15 minutes to lift or lower the boats from one canal to another.
The best things to do here are to take photographs and videos of the wheel in action and, also enjoy a unique ride in it taking in the panoramic views of the landscape as far as Kelpies at a distance as you rise higher.
The visitor centre has excellent models and an exhibition as well as a lovely café overlooking the wheel through huge glass windows. The Falkirk Wheel Café has a good spread of small meals including great soups and sandwiches. Another stylish restaurant serving all-day meals is Boardwalk – just minutes from the wheel.
There are many housing options including Airbnbs and small hotels in Falkirk or you could just do a brilliant day trip and drive back to Edinburgh.
Glasgow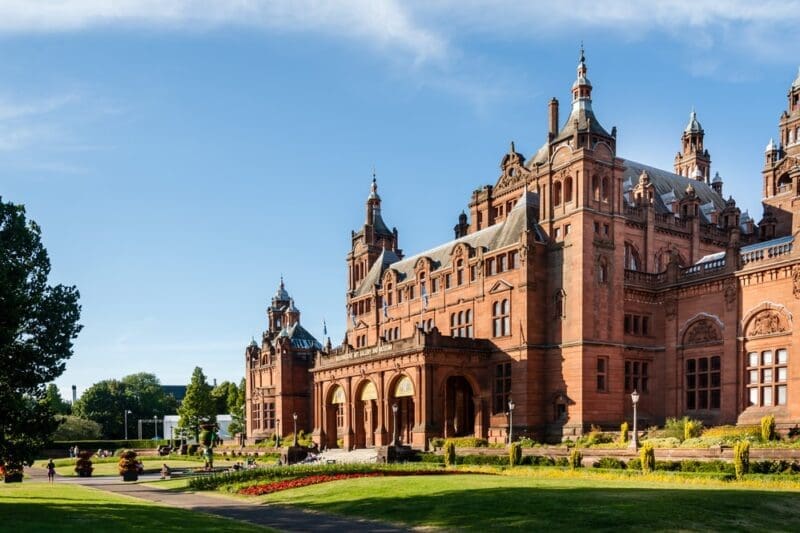 Glasgow is the most populous and largest city in Scotland and is set just one hour fifteen minutes west of Edinburgh and is easily accessible by train or bus. This Scottish city is the perfect destination for shopping, the arts, family activities, and one of the best vegan and vegetarian dining scenes in Scotland.
Weekend markets allow visitors to get up close and personal with the local scene in Glasgow. Park Lane Market, for example, takes place on the first and last Sunday of the month; and the world famous Barras market in the east end has something for everyone.
Notable museums for visitors to Glasgow include the Riverside Museum, Kelvingrove Art Gallery and Museum (pictured above), and The Hunterian Museum that housed within the University of Glasgow.
Outdoor activities include strolling through Glasgow Green, the Botanic Gardens, and Victoria Park, one of Glasglow's prettiest parks.
There are several excellent restaurants to know in Glasgow. Bar Soba, for example, offers an exceptional boozy brunch that has two different locations in the Glasgow. Another great dining choice is The Gannet for a true Scottish fine dining experience. Lastly, Cail Bruich serves up the best of British and Scottish cuisine with the finest seasonal produce and local ingredients. Cail Bruich was awarded a Michelin star in 2021.
Glasgow's picturesque west end is perfect for shopping and strolling, and their food scene is considered to be one of the best in Scotland. The insta-worthy cobbled street, Ashton Lane, a great spot to find popular restaurants and bars. There is also a boutique cinema set beneath a canopy of fairy-lights.
For a luxurious overnight stay, Cornhill Castle Hotel is located about an hour outside of both Glasgow and Edinburgh. Cornhill Castle is considered to be one of the most beautiful castle hotels in Scotland. The castle is surrounded by beautiful nature trails and gardens. This luxurious Scottish hotel has an onsite restaurant called Ghillie Restaurant that is situated on the banks of River Clyde.
Hawick
By Francesca Brooking of Little Lost Travel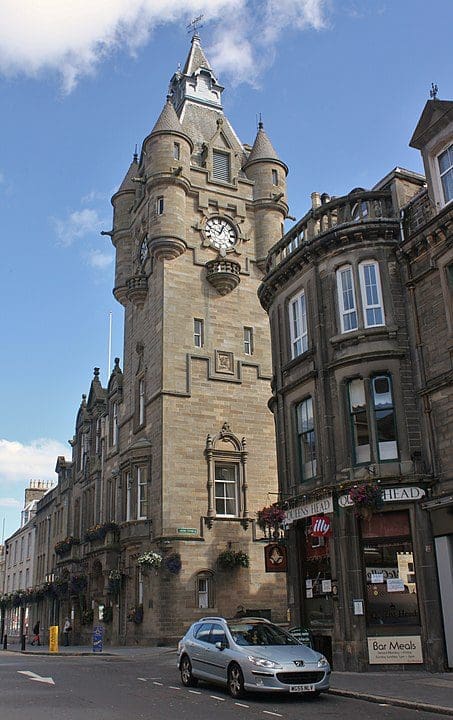 If you're keen to explore the Scottish Borders within easy reach of Edinburgh, Hawick is an excellent choice for adults and families with older children. Don't be fooled by the size of this small town, it's an epicenter of industry and known for its world-famous designer cashmere and tweed. In fact, tweed was invented here!
Part of the heritage Textile Trail, Hawick has a wealth of designer mills including Johnstons of Elgin, William Lockie, Lovat Mill and Hawico. As well as being labels in their own right, these mills have made knitwear for some of the biggest fashion houses in the world.
Each mill has a shop which is the place to go for discounted cashmere. Johnstons of Elgin also offers private morning tours of the mill where you can learn about how its ethical cashmere knitwear is made.
If you like a tipple, make sure you visit Hawick's Borders Distillery which specialises in single malt scotch whisky, gin and small-batch vodka. It's also a zero-waste distillery. All organic by-product from distillation gets composted by two local farms. Here, you can book a distillery tour, do a tasting and buy some souvenirs from the on-site shop.
After a day well spent touring, head to the Night Safe for a relaxed atmosphere and some of the best food around. If you want to stay the night, the Bank Guest House offers stylish accommodation for a good price in a great location.
Melrose
By Heather Cole of Conversant Traveller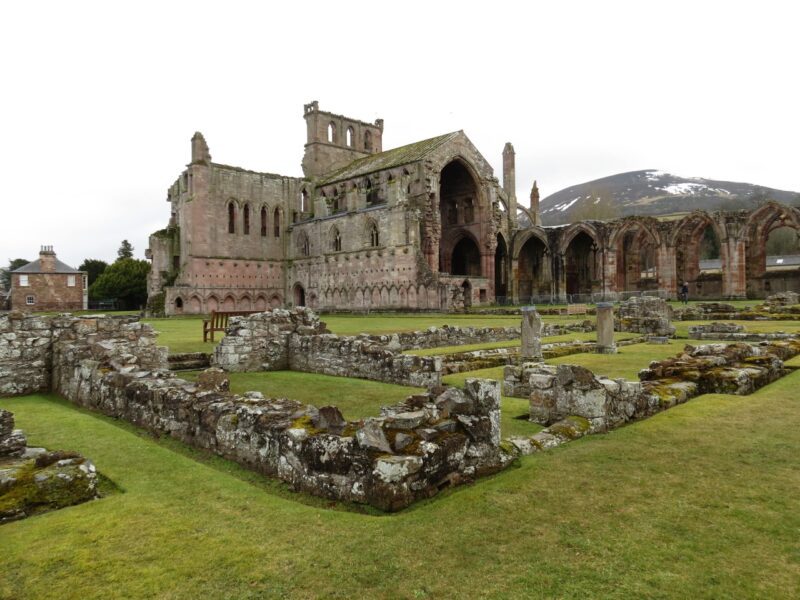 Melrose is a charming town hidden away in the beautiful borderlands of Scotland, lying in the shadow of the rolling Eildon Hills. It's easy to reach from Edinburgh by car or train, with the journey taking less than 1.5 hours. Once you're in town, the star of the show is the 12th-century Melrose Abbey, which is one of the top things to do in the Scottish Borders. The ruins are photogenic, and legend has it that Robert the Bruce's heart is buried here. Climb to the top of the tower for great views over the surrounding countryside.
Take a stroll around the walled gardens at Priorwood (where entry is free), or head out to Abbotsford to explore the former home of poet Sir Walter Scott. There are plenty of woodland trails to discover here, as well as audio tours of the manor itself, and you can enjoy afternoon tea in the café after your adventures.
You can stay in the center of town at the historic Station Hotel or opt for a slice of rural idyll at the Waverley Castle Hotel. When it comes to eating out, Melrose has plenty of choice. Book a table at the stylish Hoebridge for inventive menus and local flavors. Or pop into Seasons for succulent scallops and traditional Scottish dishes. Don't leave without trying the famous honey-filled Melrose tart!
Roslin
By Olivia of Girl With Blue Sails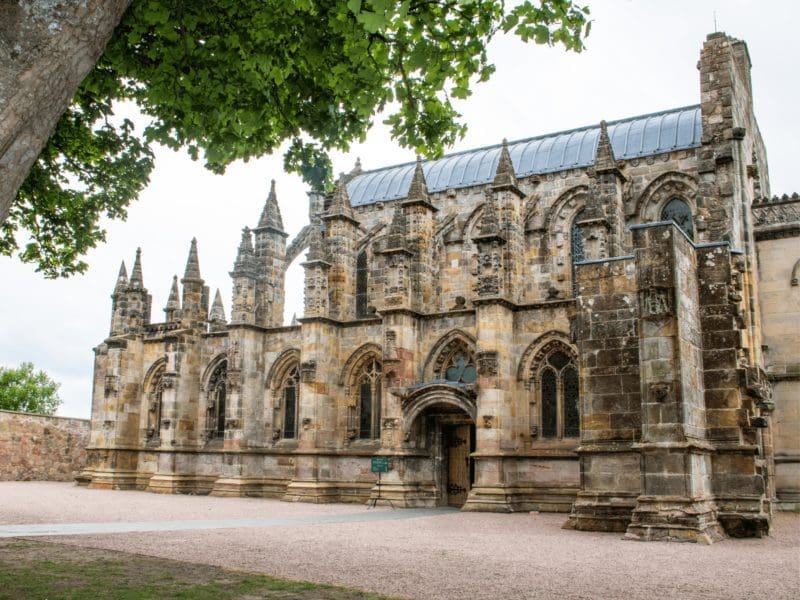 The beautiful village of Roslin quietly rests just 20 minutes away from the bustling capital of Edinburgh. Famous for being the home of Rosslyn Chapel, Roslin is a great town for a leisurely afternoon, a weekend getaway or a restful overnight stop on a trip through Scotland.
The key spot for visitors traveling to Roslin is The Original Rosslyn Inn. This spot has beautiful accommodations and is centrally located. A family business since 1837, they pride themselves on tradition and creating a welcoming atmosphere for their guests.
The Original Rosslyn Inn is also known to have one of the best restaurants in town. This traditional restaurant serves seasonal produce and sustainably sourced fish from local waters. Their indoor dining room is very spacious and inviting, and they have plenty of outside seating as well. Tip: show up on a Sunday for their traditional Sunday roast.
The crown jewel of Roslin, however, is the infamous Rosslyn Chapel. Recently brought into the mainstream media by Dan Brown's novel, The Da Vinci Code, this stunning Chapel remains shrouded in mystery to this day. The chapel was built in the 15th century, has had many famous and royal patrons, and will surely remain standing to welcome many more for years to come.
St. Abbs
By Mohana of Two Together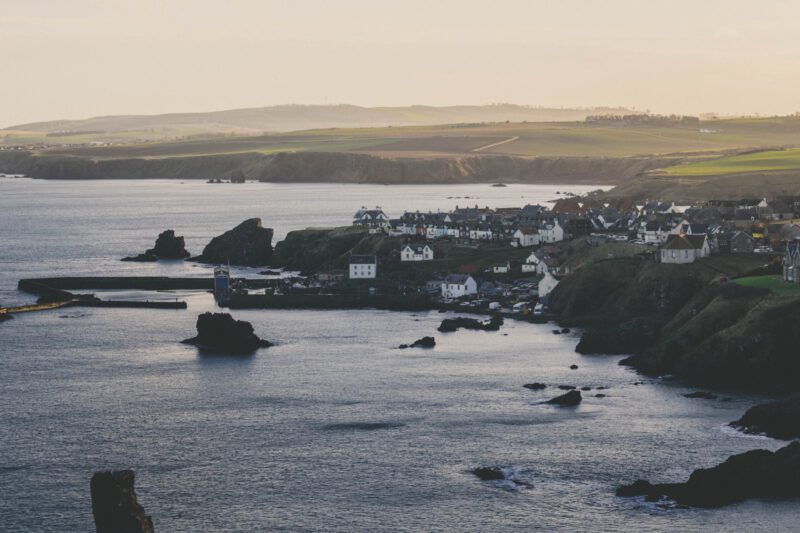 Known for its dramatic coastal cliffs and seabird colonies, the charming fishing village of St. Abbs is just an hour's drive from Edinburgh. You can also ride the train to Berwick-upon-Tweed, then the Borders bus 235 to St. Abbs, and you will be there in 2 hours.
The top thing to do at St. Abbs is to explore the St. Abbs Head National Nature Reserve. A 4-mile loop will take you up around the cliffs from where you can gaze at the clear, blue waters; the historical lighthouse dating back to 1862; and Mire Loch. The walk can be easily done with children. It is beautiful out there. Wildflowers bloom in the warmer months– and perfect for an outdoor picnic, so don't forget to bring a hamper!
St. Abbs is loved by wildlife enthusiasts. Over 50,000 seabirds including razorbills and puffins call these cliffs home. You can also spot cute seal pups in the coves during the breeding season. The area is also popular with divers who are drawn by the rich marine life and underwater scenery.
Post walk, stop by Ebb Carr's cafe for hot chocolate and crab sandwiches, then explore the quaint village. At the harbour, you can see Jill Watson's memorial to the fishermen who lost their lives off the coast of Berwickshire in a storm in 1881.
There are not many places to stay at St. Abbs and Airbnb properties might be your only option. You can continue south to Eyemouth along the Berwickshire Coastal Trail. Airbnb properties and campsites are available at Eyemouth. Braeview Glamping in Coldingham is also recommended by staycationers.
St Andrews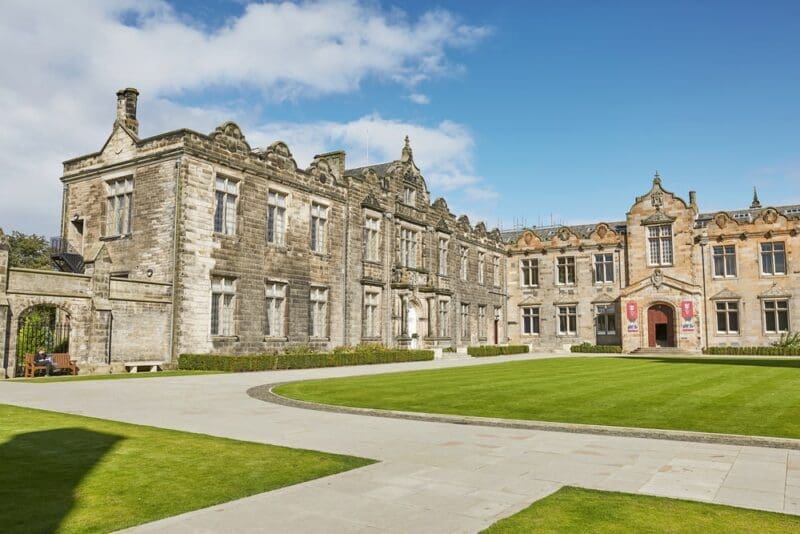 St Andrews is one hour forty minutes north of Edinburgh by car. This beautiful coastal town is home to the third oldest university in the English-speaking world and the oldest in Scotland, University of St Andrews. St Andrews of course is also globally known as the "home of golf".
Perhaps you have seen the movie, Chariots of Fire. West Sands Beach in St Andrews served as the set for the opening scene of that movie.
Notable places of interest in St Andrews include the Museum of the University of St Andrews (free entry), St Andrews Botanic Garden, St Andrews Aquarium, and the scenic footpath, The Lade Braes Walk. In addition, the remains of St Andrews Cathedral, and St Andrews Castle are wonders that can't be missed.
Scotland's Secret Bunker, considered to be a best kept secret, is an opportunity to see where Scotland would have been governed from had there been a nuclear war during The Cold War.
Some of the best restaurants in St Andrews include Playfair's Restaurant and Steakhouse, The Adamson, and Haar Restaurant. All three restaurants are within close proximity of St Andrews Museum and the Botanic Garden.
Looking to spend the night in St Andrews? Of course, you may wish to stay at a golf resort! Hotel Fairmont St Andrews has two golf courses, a spa, and three onsite restaurants. Old Course Hotel is another great choice that is located on the links of St Andrews golf course. The hotel also has a gorgeous spa, indoor pool, and fitness centre.
Stirling
By Sophie and Adam of We Dream of Travel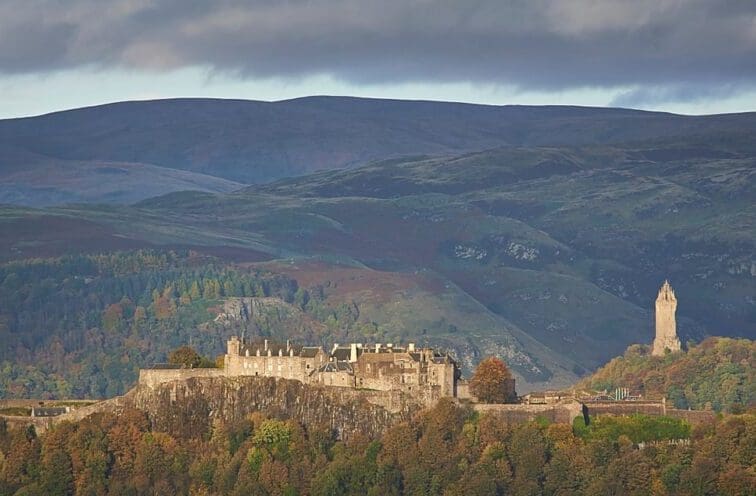 Located just an hour away by train or car, a visit to Stirling makes for the perfect day trip from Edinburgh.
It is home to one of the best castles in Scotland, the eponymous Stirling Castle, perched proudly upon Castle Hill overlooking the city. Dating back to the 15th and 16th centuries, Stirling Castle is one of the largest and most important castles in Scotland.
Stirling Castle has been the site of many important battles and events in history, and today is the main attraction in Stirling. While you can see the castle throughout the city, it is well worth ensuring you take time to visit and explore the castle where you will learn more about its fascinating history.
After visiting the castle, take time to explore the city centre. Although hilly, Stirling is easily navigable on foot and the old town is a wonderful place to duck in and out of shops and cafes. Treat yourself to afternoon tea – after walking around you'll deserve it! The Orangery at Victoria Square offers one of the best.
If you have the time, head to Wallace Monument, another iconic historical attraction for spectacular views back over Stirling.
For those wishing to spend longer in Stirling, Ravenswood Guest House is conveniently located just a mile from Stirling Castle and has exceptional reviews.
Tantallon Castle & North Berwick
By Jonny of Backpackingman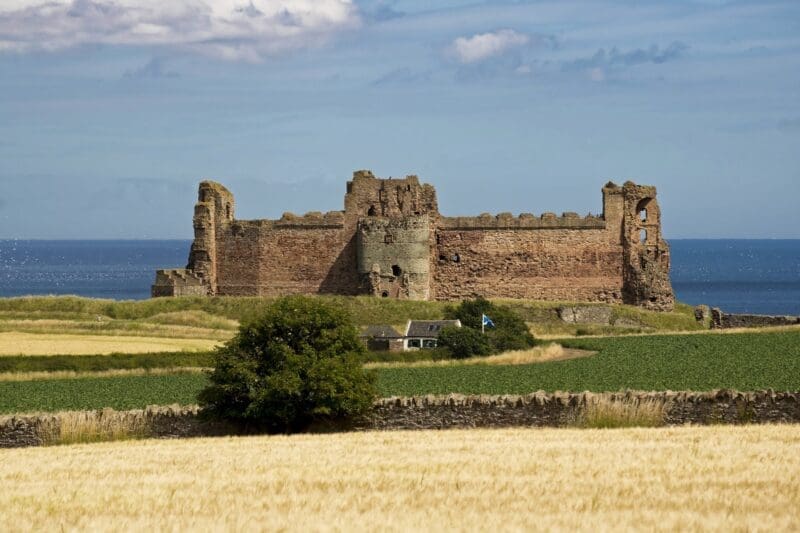 Tantallon Castle is one of the best castles in Scotland in terms of the atmosphere of the place. It dates to the 14th-century but is in a ruinous state today although that adds to the charm of the location by the edge of a cliff with excellent views onto the Firth of Forth.
The castle is located 5km from North Berwick which is the nearest town and is where you can find plenty of cafes and restaurants for a bite to eat and a drink. One recommended place is the Buttercup Café which is a great bakery in the town centre. Also, take a look inside the independent retail shopping center, whynot?, in North Berwick. There you will find 20 local food retailers and a cafe. This is a great place for food options.
Although Tantallon Castle can easily be done as a day trip from Edinburgh, if you don't want to rush then there are plenty of accommodation options there. The Quadrant Bed and Breakfast is a good place to stay.
Getting to the castle is easy if you have your own car as it's just under an hour's drive from Edinburgh. Otherwise, take a train from Edinburgh to North Berwick which takes 45-minutes and then a bus from there to Tantallon Castle stop which takes 20-minutes. It is then a 10-minutes' walk to the castle. You can also easily walk the 3 miles from North Berwick to the castle on a relatively flat coastal path which is highly recommended.
York
By Sarah Wilson of Life Part 2 And Beyond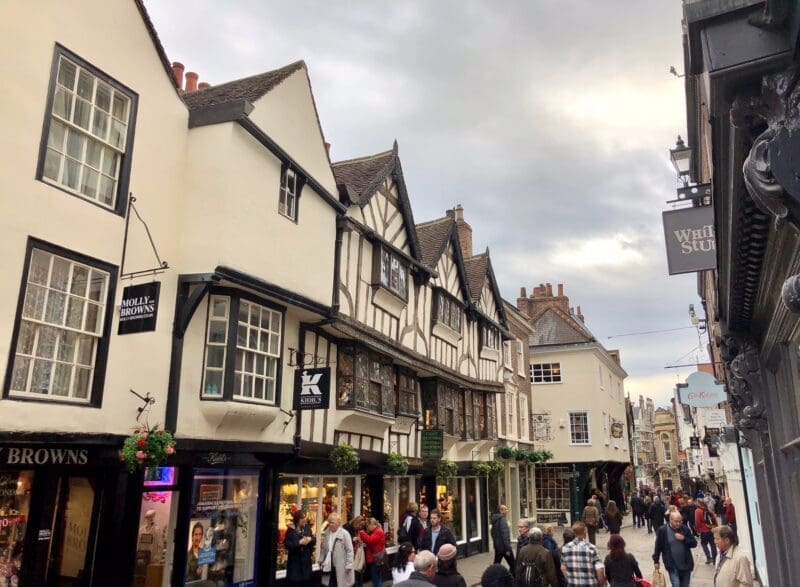 Pop across the Scottish border to England for a fabulous day trip to the historic city of York. You can be in the center of York by train from Edinburgh in under two and a half hours. The train ride is a beautiful, scenic journey.
The city has a long history, dating way back to Roman times. Wander the cobblestoned streets, admire the stunning York Minster Cathedral and walk the ancient walls. Stay until after dark and enjoy a spooky ghost walk through the medieval heart of the city.
Great activities for adults and families include a trip to the unique Jorvik Viking Centre or the fascinating National Railway Museum, the largest train museum in the world.
If you're interested in visiting some of the many fabulous museums and art galleries in York, consider purchasing a York Pass. The York Pass includes many attractions, including the hop-on and hop-off buses and a boat trip along the river.
No trip to York would be complete without a full tea at the famous Bettys Cafe Tea Rooms. Bettys has been serving up incredible teas since 1936. There are a total of six Bettys Tea Room Cafés located around Yorkshire.
Thinking of staying the night in York? Spoil yourself and stay in the luxury Grand Hotel, a perfect location right in the city center and just a short walk from the world-famous York Minster.