Beginning with the first snowfall, Waterville Valley Resort in New Hampshire instantly becomes the place to be for everyone who loves to celebrate the beauty and adventure of the winter season.
From pro-skiers to those visiting for the first time, Waterville Valley, a four-season resort set in the White Mountain National Forest in New England, has everything and more that you would desire.
From a wide range of indoor and outdoor activities, including an ice arena, recreation department, restaurants, shopping, and the ever-convenient Freedom Pass, there is always something to discover.
Waterville Valley is located two hours north of Boston, and five hours away from New York City. Once you arrive, every sort of activity and experience is just steps away, or within the Town Square.
Resort Activities
In ski season, explore the classic and freestyle trails the region is famous for. 62 stunning trails are accessible by 12 lifts. There is also cross country, Nordic skiing, fishing, ice skating, and dog sled excursions.
After a day of alpine skiing and snowboarding, find a wide range of après ski specials at nearby restaurants. Indoor activities include arcade games, a climbing wall, a movie theater, and more.
The Margret & H.A. Rey Center at the Curious George Cottage is nearby. The authors of Curious George once called Waterville Valley, NH their summer home. The Center provides art and science programs for children and adults, including nature-based learning activities.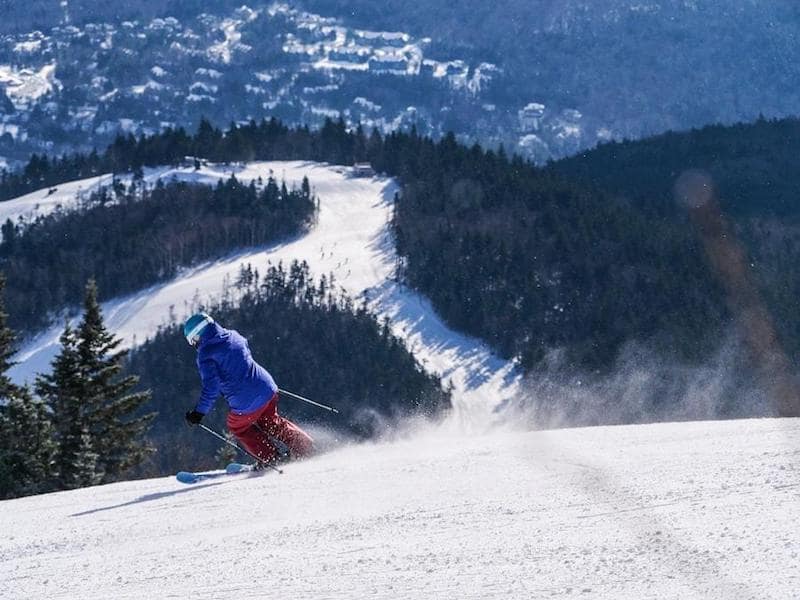 Dining at Waterville Valley
Many dining options are available at Waterville Valley. In between skiing, enjoy lunch with a view from the Schwendi Hutte. Grab a quick bite for breakfast, lunch, or dinner, at Marketplace in the Base Lodge. The Marketplace is also where you can stock up on groceries.
La Hacienda Mexicana, for example, is perfect for a cozy, comforting Mexican spread after a day of skiing. Try their guacamole prepared tableside and mole poblano (our favorite), and finish with helado frito (fried ice cream).
Additional options include Coyote Grill for fresh seafood and grilled steaks, and Mulligans Tap Room & Eatery. Mulligans serves breakfast, lunch, and dinner and is known for their signature sandwiches. In between skiing, visit The Waffle Cabin on weekends and holidays for warm Belgian waffles.
Shopping
Several great shops await guests in the Town Square. Purchase souvenirs, apparel, postcards, sweet treats, and more. There is Toad Hall Toys that has a variety of games, puzzles, and crafts.
Also, a must-visit is Bookmonger, one of the best independent bookstores of New Hampshire. Tax-free shopping is available at the nearby outlet in Tilton that has over 70 shops.
North Conway, also nearby, has over 240 shops along with a Model Train Museum and the Conway Scenic Railroad.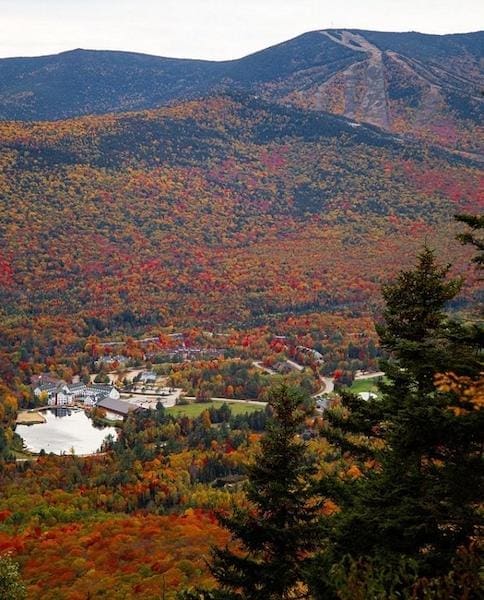 Freedom Pass
The Freedom Pass allows for admission to the White Mountain Athletic Club, ice skating, gym activities, indoor rock climbing, and story time at the Curious George Cottage. With the Freedom Pass, guests also receive discounts at local businesses and attractions. These include zipline canopy tours, Thai yoga, and restaurants in or close to Town Square.
Visit in Summer
Waterville Valley is equally as beautiful in the summer. They offer award-winning clay tennis courts, a historic 9-hole golf course, miles of mountain bike trails, arts and cultural activities, a skateboard park, and more.
There are also programs for the whole family at the Curious George Cottage and Town's Recreation Center. Waterville Valley is also home to the nation's first network of hiking trails.
There are 19 peaks, and 48 trails covering 125 miles of White Mountains terrain.