Outdoor dining has always been one of the highlights of summer in New England. The only thing better than the perfect meal is it paired with a spectacular view.
With a stunning shoreline, quaint cobblestone shopping districts, and oak trees lining nearly every street, Connecticut's capital city and its surrounding towns have no shortage of memorable views. Here are our top six picks for summer outdoor dining in and around Hartford.
Artisan West Hartford
Artisan, located at the Delamar Hotel in West Hartford on Memorial Road, is a romantic and elegant restaurant and tavern. Regional, farm-to-table cuisine is the focus of their menu. Highlights include New England Crab Chowder, Roasted Beet Tartare, and entrees like Jumbo Sea Scallops and Cavatelli Primavera. For dessert, your top choice should be their eye-catching Pavlova topped with an abundance of fresh fruit and mint. Recently, Artisan received the Wine Spectator Best Award of Excellence 2020.
In addition to their beautiful garden patio, there is a casual tavern serving up pub-style fare. Lunch is served Monday-Saturday, and dinner is served seven days. Artisan serves brunch on Sundays only. 860-937-2525
The Elbow Room
There are a lot of great places to dine outside in the Hartford area, but the Elbow Room is the only rooftop patio in the town of West Hartford. The Elbow Room on Farmington Avenue specializes in casual favorites, so think appetizers, flatbreads, sandwiches, and wings. The view of the West Hartford center shopping district from atop the Elbow Room's rooftop patio is lovely. It is that bird's eye view that may help you spot your next shopping destination. 860-236-6195
The Half Door
The Half Door in Hartford, CT is an area favorite for locals. They just reopened on Thursday, June 25th! This European Gastropub is a great spot for brunch, dinner, or casual drinks and appetizers on the patio. The patio is in full bloom with colorful flower window-boxes placed between the fence-posts. There are gardens lining the perimeter of the patio area, and planters aplenty in the seating area. Indoor dining is also available. The Half Door serves brunch on Sundays. 860-232-7827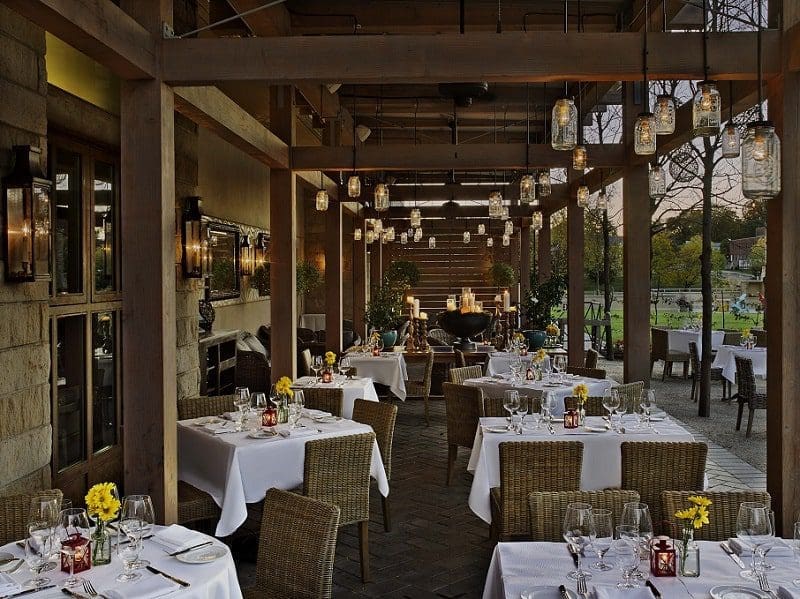 Salute
Salute in Hartford offers a diverse menu with updated takes on classic dishes. Their menu features many seafood and pasta selections along with some paleo options. There is plenty of outdoor seating available at their spacious cobblestone patio. Come in for their 'Happy Couple of Hours' on Mondays and Tuesdays. Feast soon signature appetizers like Sweet Potato Ravioli and Spicy Tuna Tempura Maki, paired with drafts, house wines, or their signature cocktails. This year in February, they celebrated their 10 year anniversary. 860-899-1350
Lucky Lou's
Lucky Lou's in historic Wethersfield offers modern American fare in a welcoming atmosphere. A popular spot for weddings and celebrations, Lucky Lou's Bar and Grill operates out of the historic Deming-Standish House built in 1787. A spacious patio nestled into a garden and adorned with party lights welcomes guests to relax and unwind. Lucky Lou's patio area is dog-friendly.
Lastly, check out their Happy Hour Menu Monday-Friday from 3-6pm. The menu includes a variety of happy hour treats like wings, beef chuck slides, chicken skewers, meatballs, and more. House sangria, beer, and specialty wines by the glass is also available on their Happy Hour menu. 860-257-0700
Max Burger
Max Burger in West Hartford, CT on LaSalle Road is known for its Brandt Farms Beef. They use this particular beef to make upscale, chef-inspired twists on the classic burger. Burgers to note from their menu include the Texican, Maple Whiskey, and Impossible Burger. Enjoy one of their signature spiked shakes with your burger on the covered patio. The heart of the scenic downtown West Hartford's shopping district is your backdrop. Open daily from lunch and dinner for outdoor patio dining. 860-232-3300