While coffee and breakfast can be enjoyed at home, there is something to be said for finding a local coffee shop with a great atmosphere and a fantastic menu built using the finest artisanal ingredients.


In addition to coffee, many coffee shops offer matcha lattes, tea, smoothies, chai lattes, and more. Here is our list of the top six picks for the best coffee shops in Connecticut.
Ayla's Bagels & Coffee
Woodbury
Ayla's Bagels & Coffee is a favorite local haunt in historic Woodbury, CT. They are known for its extensive menu of inventive cream cheese including dilled red onion, lox, scallion and bacon, blueberry, artichoke bacon, and cinnamon walnut raisin.
Ayla's serves their own roasted coffee in house. Their most popular is "Ayla's Cup of Joe". In fact, they use the Bellwether roaster which is the most sustainable coffee roaster in the world. They also offer hot and cold sandwiches, salads, and soups in addition to breakfast.
Cara~Bean Sips Eats and Sweets is a new addition to the Watertown, CT landscape and is the at present moment the only locally owned coffee shop in town. 
Cara~Bean offers latte, espresso, coffee, tea, and more and sets itself apart by offering rice bowls and tacos in addition to the traditional coffee shop menu. They even offer dinner options on Saturday's and rumor has it that live events are in the works for the near future.
West Hartford & Glastonbury
The Hartford Baking Company offers has locations across Connecticut. There are two locations in West Hartford, and a location in Glastonbury that opened in Summer 2020.
All three locations are known for their rotating selection of roasts and brewing methods. Their brewing methods include pour-over, French press, latte, espresso, and drip coffee.
The cafe also serves breakfast and lunch incorporating local ingredients into the menu whenever possible.
J.René Coffee Roasters
West Hartford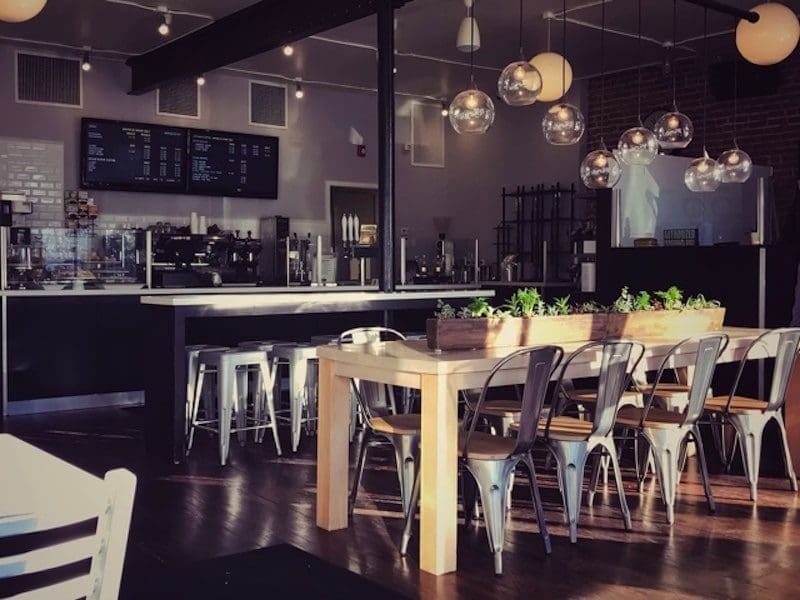 J.René Coffee Coffee Roasters is an artisanal cafe that is equally concerned with providing a social experience as they are with providing a truly delectable cup of coffee. Their menu includes an impeccable espresso to be enjoyed on its own or in a handcrafted latte, cappuccino, or other espresso-based beverage.
The cafe also offers a range of intriguing coffee brewing methods you don't see every day. These include French press, siphon pot coffee, and pour-over methods including Kalita Wave, Hario V60, and Chemex.
Due to the popularity of the first location on Park Rd, J.René Coffee Roasters has opened a second location. This location is in West Hartford Center at 58 LaSalle Road. This new location shares a space with the popular kitchen store, Cookshop Plus.
Plainville & Farmington
Rebel Dog Coffee Co. has two current locations, one in Plainville and one in Farmington. This coffee shop also recently opened a third location in East Hartford. 
This coffee shop in Connecticut has it all. Where else can you order a cup of French pressed coffee, clams casino, and a glass of wine at the same time? Rebel Dog takes its coffee very seriously offering a wide selection of small-batch roasts, pour-overs, specialty espresso-based beverages, and cold brew.
Their menu is extensive and includes a tavern menu available from 11am-3pm. The tavern menu includes small plates, wood-fired pizza, and a large selection of beer, wine, and cocktails.
West Egg Bakery and Cafe
Woodbury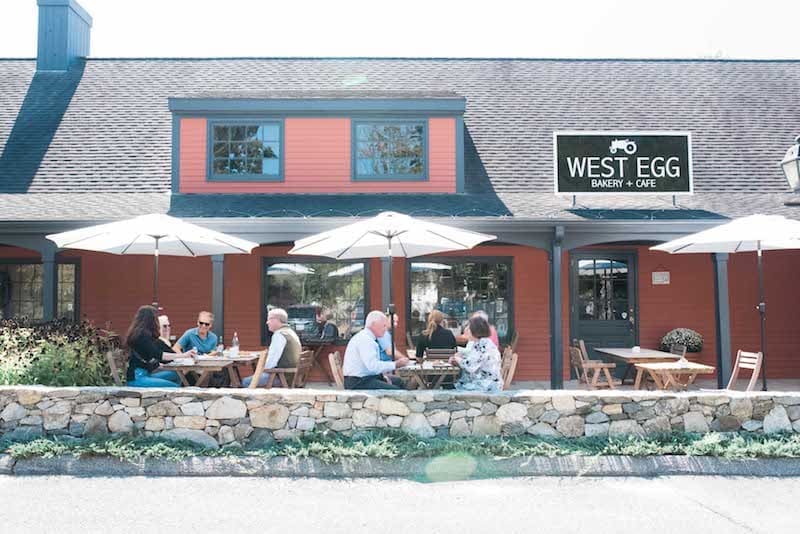 West Egg Bakery and Cafe is the newest coffee shop in Woodbury, CT. This sleek, modern cafe with farmhouse accents serves up the best espresso beverages in town.
Their menu offers a modern take on coffee shop classics Connecticut. West Egg offers 5 different styles of Eggs Benedict as well as baked goods, soups, and sandwiches.